With its marathon 7000 puff rating and standout aesthetics, the Tyson 2.0 Heavy Weight disposable vape enters a crowded market with lofty promises. But does this device deliver satisfying performance to back up the hype? Our in-depth review breaks down the pros, cons, real-world experience, and everything in between.
To separate clever marketing from genuine performance, I rigorously tested the Tyson 2.0 Heavy Weight 7000 Puffs to evaluate its real-world capabilities. Read on for my full breakdown.
Innovative Design Philosophy Sets It Apart
Before even trying the device, the Tyson 2.0 Heavy Weight's design philosophy comes through. Starting with the packaging, easy-access tear strips enable opening the box without destruction – an intuitive touch.
Vibrant images accurately depicting the flavors add flair. It's a distinctive approach that departs from generic disposable vape branding.
The device itself sports a streamlined yet rugged exterior. A subtle wave pattern provides visual intrigue. Prominent Tyson branding ties into the famous heavyweight namesake.
Thoughtful engineering choices like the Type C charging port demonstrate a focus on user experience. For a disposable device, Tyson 2.0 looks and feels remarkably premium.
Muscular 15mL E-Liquid Capacity and Battery
Disposable vapes live and die by their longevity. Here the Tyson 2.0 Heavy Weight impresses with its ample 15mL prefilled e-liquid pod capacity. This massive amount of juice works in tandem with a hefty 550mAh battery.
Together this combo enables an outstanding real-world lifespan. I consistently achieved over 7000 puffs before performance tapered off noticeably.
The Type C charging port also enables faster recharge times compared to old micro USB. Battery life is top-notch for a portable disposable vape.
Carefully Crafted Flavors
Rather than basic flavor profiles, the Tyson 2.0 Heavy Weight offers intriguing options: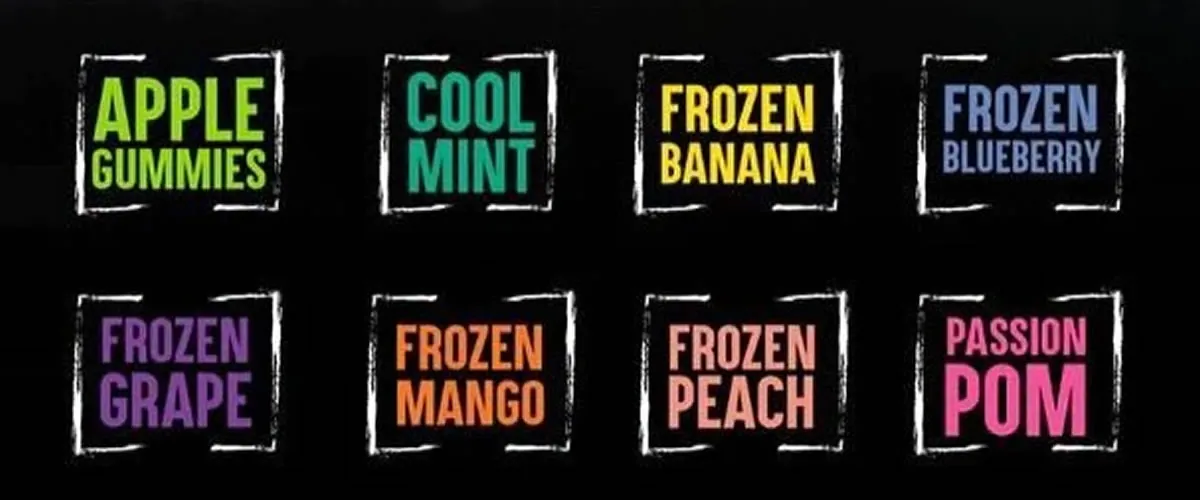 Frozen Mango – Escape to tropical paradise with this chilling mango flavor. The inhale brings the rich, creamy sweetness of ripe mangoes, with hints of peach undertones. As you exhale, the icy blast cools and refreshes your palate. Each puff feels like biting into a frozen mango fruit bar on a hot summer day. A satisfying blend of fruitiness and frost.
Passion Pom – Dive into the unique flavor experience of passionfruit and pomegranate. Notes of sweet and slightly tart pomegranate dominate the inhale with berry and citrus nuances. The exhale reveals creamy passionfruit, blending beautifully with the pomegranate. Those new to pomegranate will discover a complex fruity flavor sensation.
Apple Gummies – Indulge your inner child with this nostalgic blend of tart apples and sweet gummy candy flavor. The inhale focuses on the apple, delivering crisp and juicy apple essence with subtle tartness. Upon exhaling, sugary gummy candy undertones emerge, adding delightful sweetness reminiscent of classic gummy treats. Each puff provides layered apple and candy notes.
By avoiding artificial additives, these flavors emphasize accuracy of the core ingredients. Tyson smartly veered away from generic flavor profiles in favor of bolder, more adventurous taste experiences.
Smooth Performance Rivaling Premium Pod Mods
Given the extended 7000 puff rating, I worried performance might falter or feel inconsistent. But the Tyson 2.0 Heavy Weight maintained impressively reliable vapor production and flavor throughout testing.
Thanks to quality nicotine salts, throat hit remains smooth yet suitably strong. Vapor pours out readily with each draw. And the flavors maintain accuracy without turning burnt or muddy over time.
For a disposable device, the performance competes with many premium pod system mods. Engineering clearly focused on longevity and consistency.
Final Impressions
The Tyson 2.0 Heavy Weight 7000 Puffs disposable vape clearly aimed high – and largely succeeded. The mammoth battery capacity and e-liquid volume enable outstanding longevity matching the lofty 7000 puff rating.
From packaging to design touches, thoughtful engineering boosts the experience. Smooth throat hit, flavor variety and abundant vapor production satisfy across thousands of puffs.
While the flavor options prove divisive for some, Tyson deserves credit for avoiding generic profiles. Beyond minor drawbacks, the Heavy Weight delivers on its ambitious promises.
For those seeking a long-lasting disposable that stands out from the crowd, the Tyson 2.0 Heavy Weight is a knockout. It punches well above its weight class to earn a strong recommendation.
https://ecigator.com/wp-content/uploads/2023/10/1698012037-tyson-2.0-heavy-weight-review.jpg
680
1200
Ecigator
https://ecigator.com/wp-content/uploads/2023/04/ecigator-logo-white.png
Ecigator
2023-10-28 21:52:08
2023-11-09 18:47:55
Tyson 2.0 Heavy Weight 7000 Puffs Disposable Vape Review