The Top 5 Best Blueberry Raspberry Flavored Disposable Vapes
In the vast world of vape flavors, the unique blend of blueberry and raspberry has emerged as a top-tier flavor profile. The sweet tanginess tantalizes tastebuds, delivering a nostalgic flavor reminiscent of favorite childhood treats. When done right, blueberry raspberry disposable vapes provide an irresistible flavor experience that keeps you coming back for more.
In this in-depth guide, we'll dive into the top blueberry raspberry disposable vape options to satisfy your flavor cravings. Whether you're new to vaping or seeking a convenient device to switch up your daily vape, these flavor-packed disposable pens make enjoying blueberry raspberry bliss easier than ever. Let's explore the most recommended picks!
An Introduction to Blueberry Raspberry Vapes
Before jumping into the top disposable vape options, let's look at what gives blueberry raspberry its signature profile that vapers know and love:
Raspberry – Provides natural sweet and tart berry notes. Raspberry is essential for adding depth and fruitiness.
Blueberry – Contributes extra sweetness to balance out the raspberry tartness. Blueberry gives a layered fruit effect.
Cherry – Adds a subtle yet enjoyable fruity tartness. Cherry brings out the berry nuances.
Menthol – Delivers an icy coolness and refreshing finish. Menthol amplifies the sweetness of the fruit flavors.
When expertly blended in optimal proportions, these ingredients create that ideal harmony of sweet and tart flavors that makes blueberry raspberry so craveable. The complexity yet cohesiveness is what sets this flavor profile apart from the rest.
Now let's look at the top disposable vape pens for enjoying blueberry raspberry satisfaction anytime, anywhere.
The Best Blueberry Raspberry Disposable Vape Pens
1. Blueberry Sour Raspberry Elf Bar 600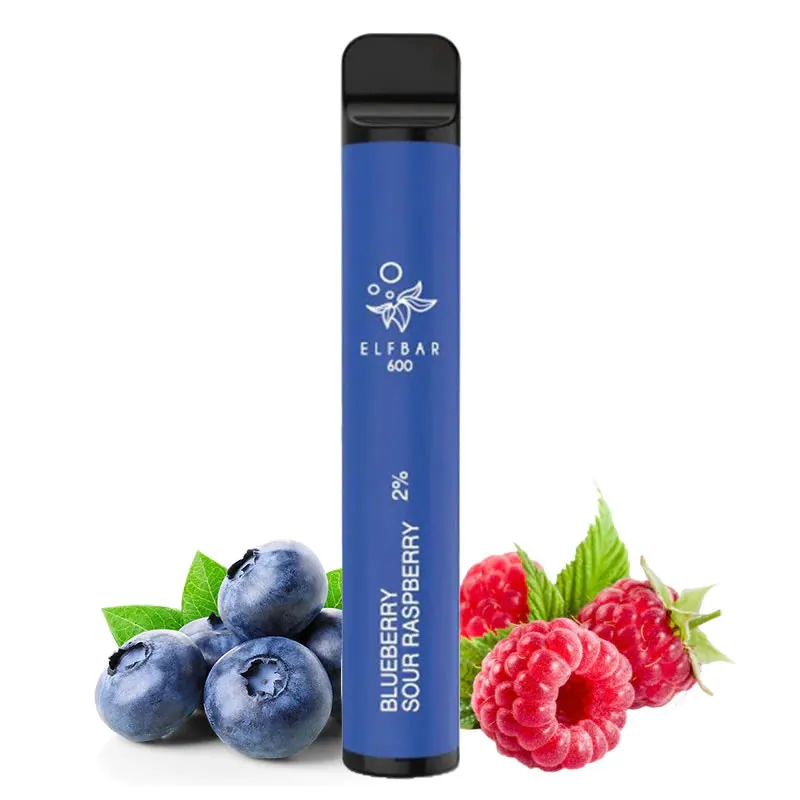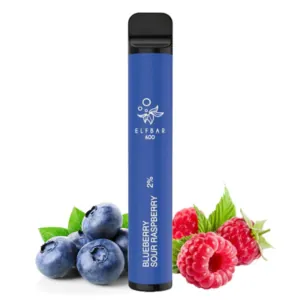 Right off the bat, Elf Bar's offering stands out as the undisputed champion. It delivers an unparalleled blend of ripe blueberries and tart sour raspberries that complement each other flawlessly. Every puff provides the perfect balance between blueberry's natural sweetness and raspberry's zesty kick.
The simplicity and consistent quality make this an ideal disposable for vapers on the go. With 2% nicotine content, it also delivers a satisfying throat hit. For both new and experienced vapers alike, this Elf Bar disposable is hands-down the best for flavor.
Key Features:
2% nicotine
2mL e-juice capacity
550mAh battery
Estimated 600 puffs
Signature blueberry raspberry profile
---
2. Blueberry Raspberry Lost Mary QM600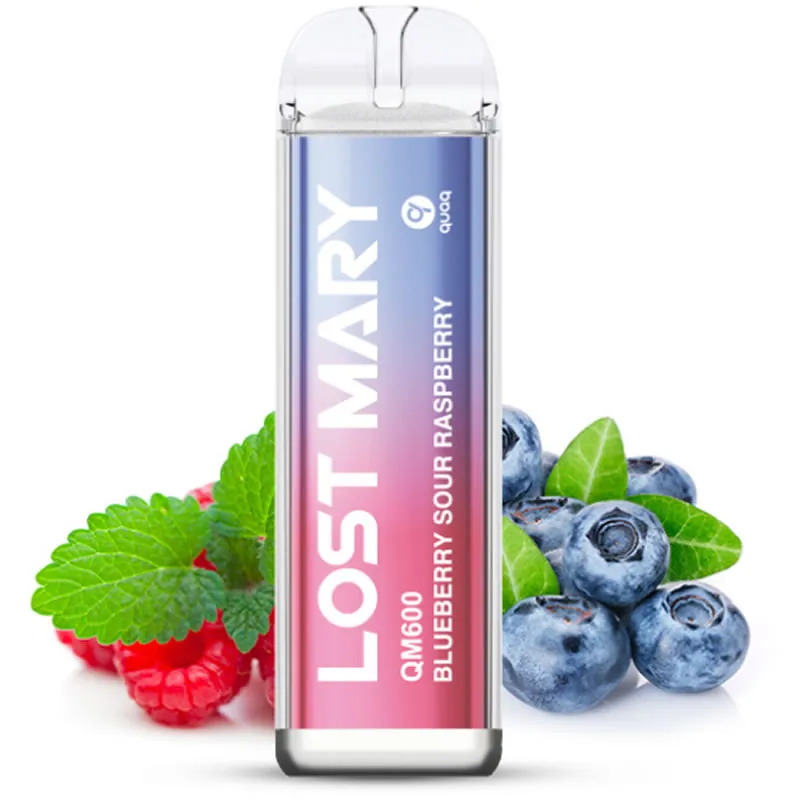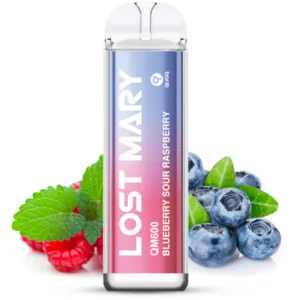 A close second place is Lost Mary's QM600 Blueberry Raspberry Disposable. It strikes a harmonious balance by merging sweet blueberry undertones with tangy raspberry top notes for a truly memorable vaping experience. Each puff allows the natural blueberry sweetness to mingle with tart raspberry highlights.
In addition to its exceptional flavor balance, this disposable vape combines convenience and satisfaction with its 2% nicotine content. For both simplicity and taste, Lost Mary's offering is hard to top.
Key Features:
2% nicotine
2mL e-juice capacity
600mAh battery
Estimated 600 puffs
Spot-on blueberry raspberry balance
---
3. Blueberry Raspberries SKE Crystal Bar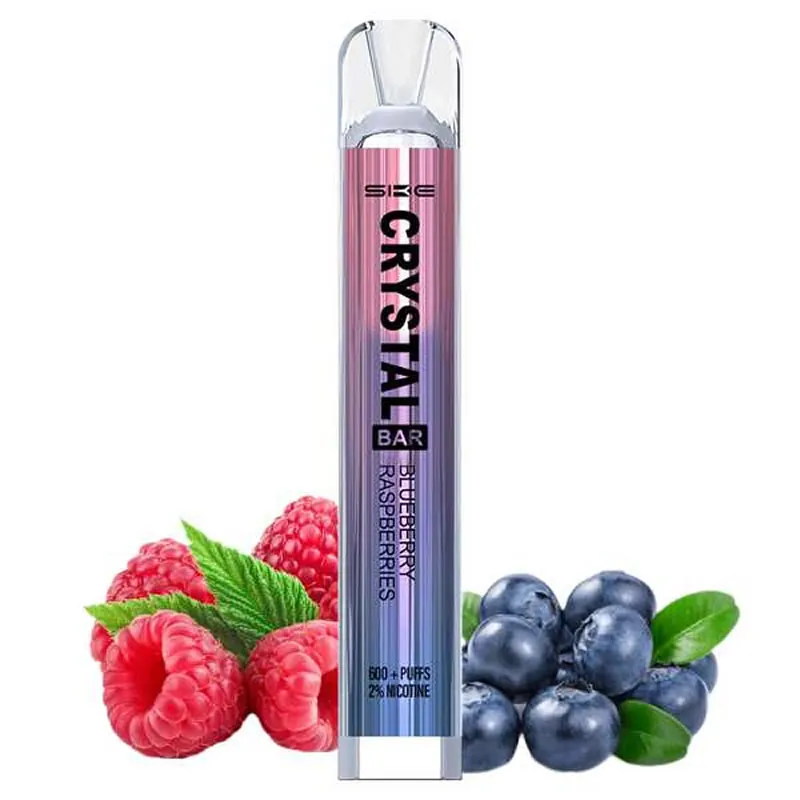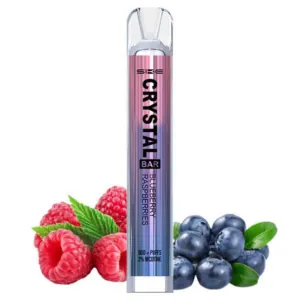 Claiming the third place spot is the SKE Crystal Bar Blueberry Raspberries Disposable. It strikes the ideal flavor harmony between sweet blueberry and tart raspberry for a perfectly balanced fruity fusion. Each puff immerses your tastebuds in layers of sweet and tart berry goodness.
This disposable keeps it simple yet sophisticated with an estimated 600 puff capacity and 2% nicotine content. It proves you don't have to sacrifice quality for convenience. For balanced flavor in a hassle-free device, SKE's option shines.
Key Features:
2% nicotine
2mL e-juice capacity
500mAh battery
Estimated 600 puffs
Balanced blend of blueberry and raspberry
---
4. Mad Blue Disposable Lost Mary QM600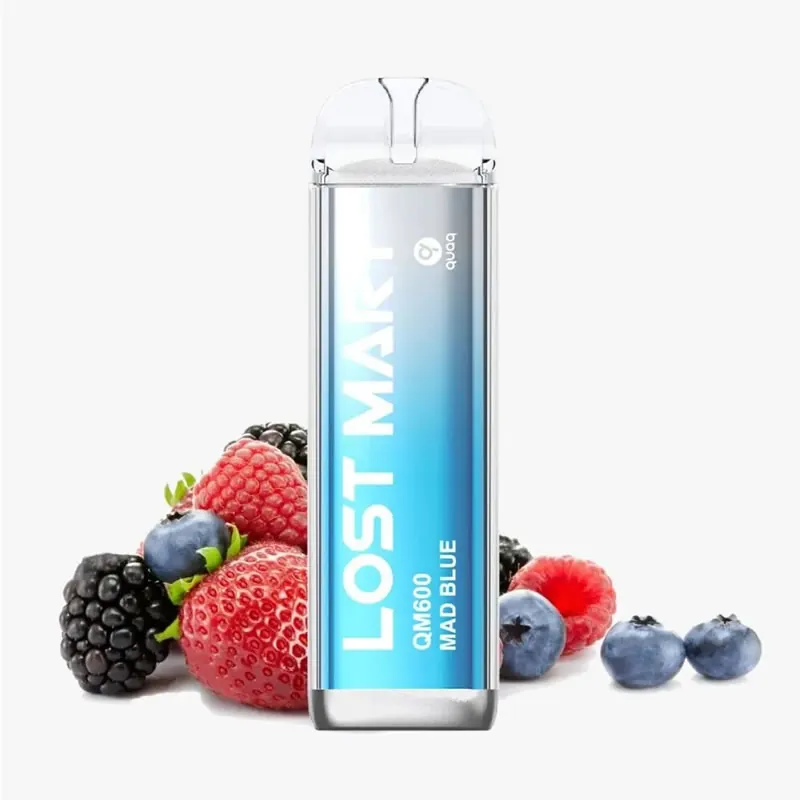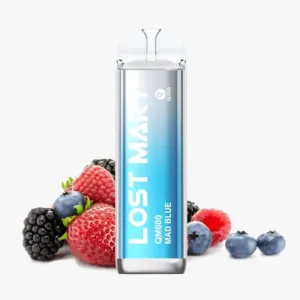 Up next in fourth place is Lost Mary's creative Mad Blue Disposable. It incorporates blueberry, raspberry, and blackberry for a unique trifecta berry vaping experience. Each puff reveals more complexity of the berry blend.
In addition to its standout flavor, this disposable vape provides up to 600 satisfying puffs along with 2% nicotine. For vapers seeking a unique blend that breaks the mold, Mad Blue is a stellar choice.
Key Features:
2% nicotine
2mL e-juice capacity
600mAh battery
Estimated 600 puffs
Creative blend of 3 berries
---
5. Blue Fusion SKE Crystal Bar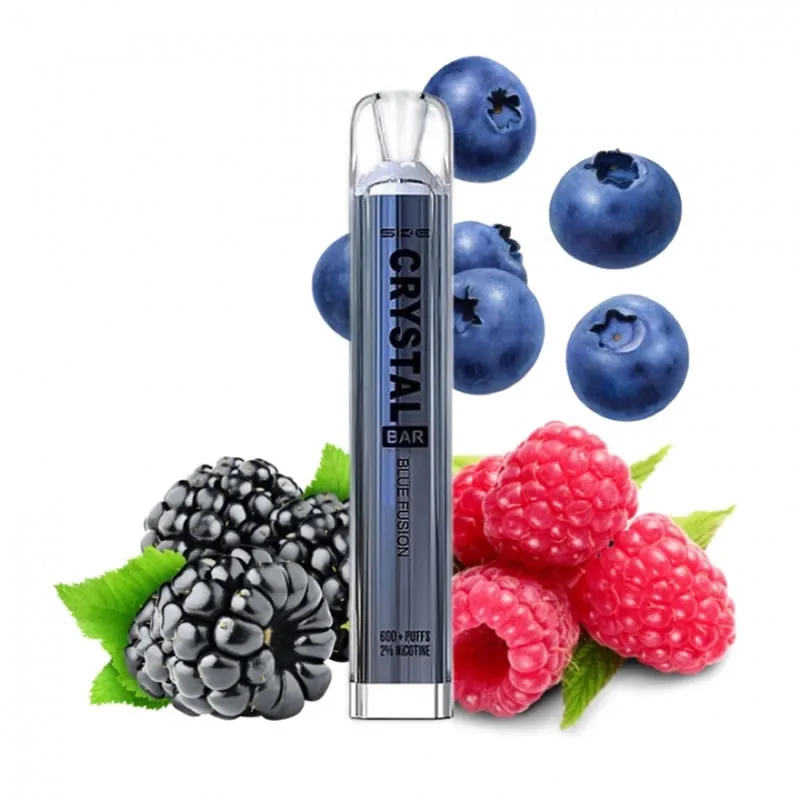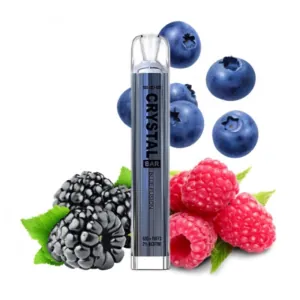 Fifth place goes to the Blue Fusion Disposable by SKE Crystal Bar. This device brings together blueberry, raspberry and blackberry for a creative flavor fusion that really pops. The combination highlights the best of each fruit.
The sweetness of blueberries mixes beautifully with raspberry tartness, while blackberry adds depth. Every puff is a flavor adventure with this unique berry trio. To top it off, this disposable delivers 2% nicotine alongside an estimated 600 puff capacity.
Key Features:
2% nicotine
2mL e-juice capacity
500mAh battery
Estimated 600 puffs
Unique fusion of 3 berries
---
6. Blue Razz Ice Lost Mary BM600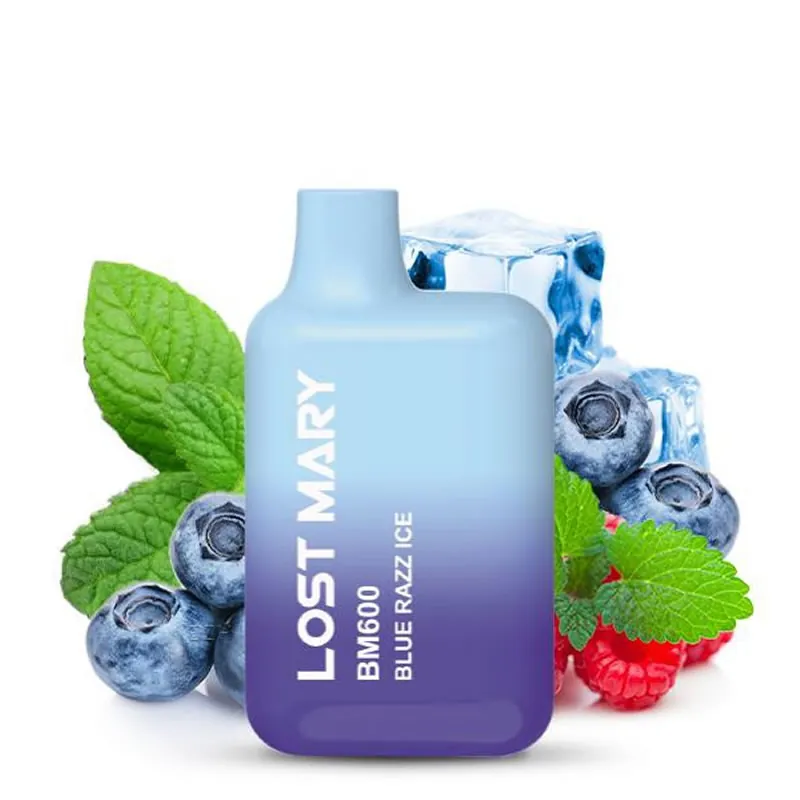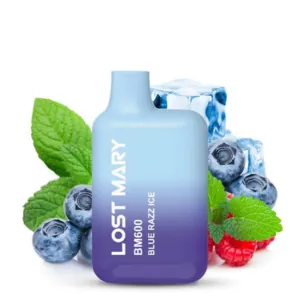 Finally, we have Lost Mary's Blue Razz Berry Disposable in sixth place. It provides a tangy berry vaping experience by blending sweet blueberries and tart raspberries, all finished with a cooling effect. Every puff is a thrilling berry delight.
The streamlined pen-style shape enables easy portability and around 350 flavourful puffs per charge. For simple and bold berry flavours on the go, this Lost Mary disposable keeps it straightforward.
Key Features:
5% nicotine
1.3mL e-juice capacity
350mAh battery
About 350 puffs
Tangy blueberry raspberry flavor
---
Finding Your Perfect Blueberry Raspberry Vape
With this wide selection of outstanding disposable vape options, you're guaranteed to discover one that satisfies your specific taste preferences. Whether you like an authentic re-creation or a creative berry fusion, there's a blueberry raspberry disposable vape for everyone.
Thanks to their convenience, portability, and top-notch flavors, enjoying your favorite fruity vape is easier than ever with these disposables. Pick one up today and taste blueberry raspberry perfection in every puff!
Of course, the world of blueberry raspberry vapes extends beyond just disposables. For vapers using reusable setups, there's a vast range of specialty blueberry raspberry e-liquids that allow for even greater customization and flavor refinement. No matter your experience level or vaping needs, satisfying blueberry raspberry options abound.