Elf Bar vs Geek Bar: Which Disposable Vape is Better

Elf Bar and Geek Bar have earned their positions as the leading disposable vape brands thanks to their hassle-free experience and expansive flavor selections. With pre-filled e-liquid and a built-in battery, both companies enable easy vaping pleasure.
But with so many models available from each brand, it can be tough deciding which is best suited for your needs. This extensive comparison examines all aspects of Elf Bar and Geek Bar to see how they stack up.
Brand Overviews
Elf Bar
From Shenzhen-based company iMiracle Technologies, Elf Bar's rise to fame started with the release of the Elf Bar 600. This compact disposable offered over 600 puffs with nicotine salt flavors like Ice Strawberry and Lychee Ice.
Today, Elf Bar has expanded to offer over 40 flavors across various disposable and rechargeable models. Their minimalist, pen-style devices focus on portability and robust flavor options.
With familiar flavors like Cola and more adventurous choices like Passion Fruit Guava, Elf Bar caters to vapers wanting variety without device maintenance. Their reputation for consistency and affordable pricing continues to win over fans worldwide.
Geek Bar
Geek Bar comes from established vape manufacturer Geekvape, known for their box mods and sub-ohm tanks. Like Elf Bar, Geek Bar found success by meeting vapers' needs for convenience.
Their visually sleek devices feature leak-proof, curved designs perfect for beginners and on-the-go use. While Geek Bar offers fewer flavor choices than Elf Bar, their unique options like Banana Ice and Blue Raspberry still impress.
Various models like the Geek Bar 800 puff disposable and Geek Bar X5500 rechargeable provide options to suit different preferences. Backed by Geekvape's reputation for quality, Geek Bar ensures effortless satisfaction.
Disposable Model Comparison
The Elf Bar 600 and Geek Bar 575 launched their brands to stardom for good reason – their compact size and robust performance make for ideal starters. Let's see how these disposable classics stack up.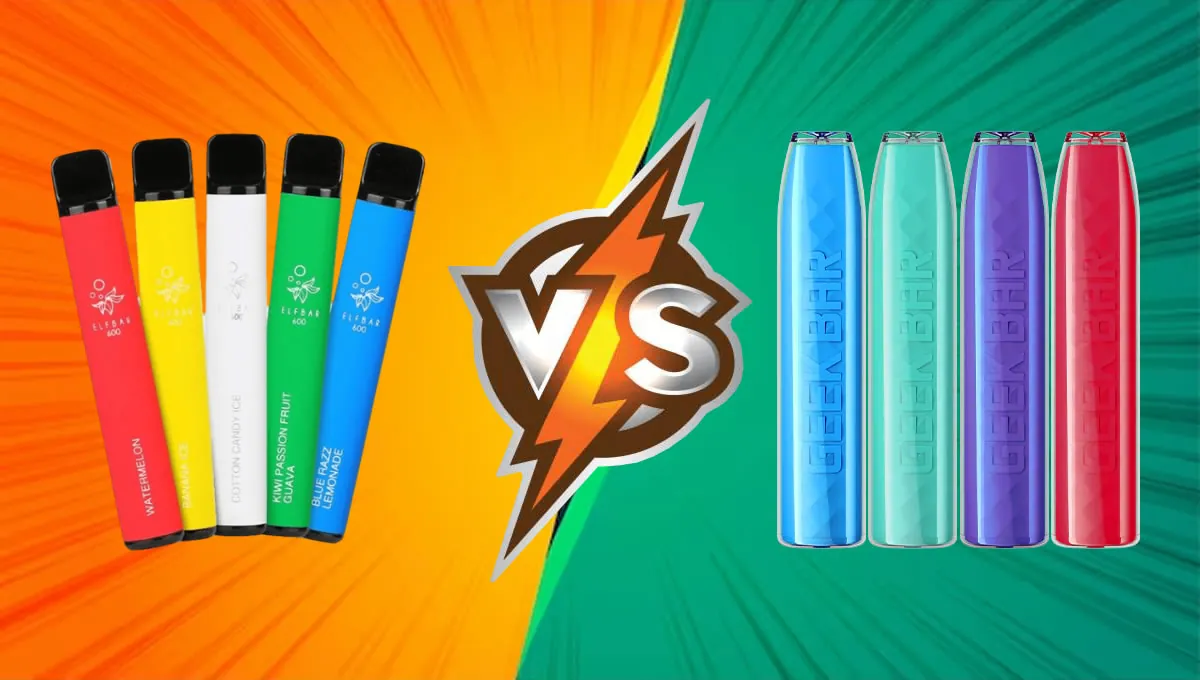 Elf Bar 600
With dimensions of just 104mm x 7mm x 15mm, the Elf Bar 600 remains one of the slimmest disposables around. Its 280mAh battery delivers up to 600 satisfying puffs. Each pod comes pre-filled with 1.3ml of 5% nicotine salt e-liquid.
Despite its small size, the Elf Bar 600 produces impressively bold flavor and throat hit. For only $10-$15, it's an affordable introduction to fuss-free vaping.
Geek Bar 575
At 88mm x 8mm x 15mm, the Geek Bar 575 has an even more compact design well-suited for stealth vaping. Its slightly larger 320mAh battery provides 575 puffs to empty the 1.3ml pod.
Like the Elf Bar 600, the Geek Bar 575 delivers robust throat hit and thick vapor with its 5% nic salt formula. Its curved shape and comfy mouthpiece make it an enjoyable pocket companion.
Verdict: The Geek Bar 575 wins out with a bit more battery capacity in an even smaller package. But both offer exceptional performance from slimline, travel-friendly designs.
Rechargeable Showdown: Elf Bar BC5000 vs Geek Bar B5000
For those wanting expanded battery life, the rechargeable Elf Bar BC5000 and Geek Bar B5000 models offer over 5x more puffs than their disposable counterparts. Let's compare these heavy hitters.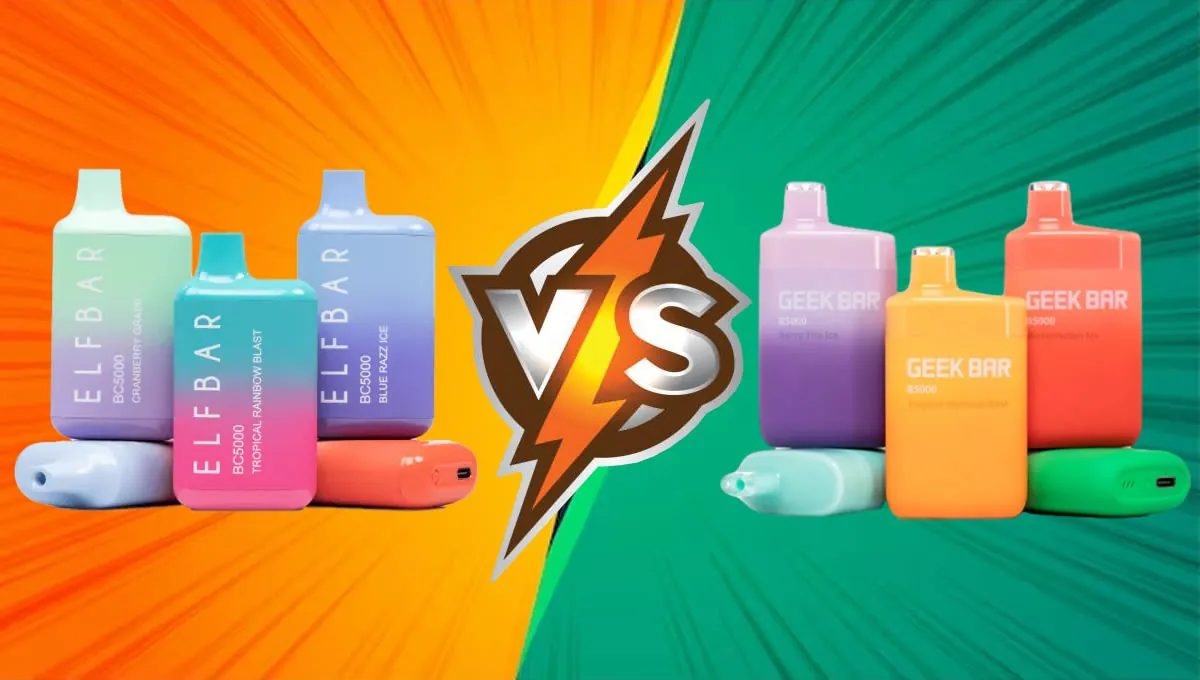 Elf Bar BC5000
The Elf Bar BC5000 provides a mammoth 5,000 puffs from its 650mAh battery. It lasts approx. 500 puffs per charge through its USB-C port. With dimensions of 79mm x 41mm x 19mm, it remains compact for a rechargeable device.
Each BC5000 comes pre-filled with 13ml of nic salt e-liquid in strengths ranging from 0% to 5%. Flavor and vapor production impress just like the original. For under $20, it gives disposable vaping serious staying power.
Geek Bar B5000
Like the Elf Bar BC5000, the Geek Bar B5000 packs a 650mAh battery letting you enjoy 5,000 satisfying puffs. It shares a similar size at 78mm x 42mm x 22mm with a 14ml e-liquid capacity.
The Geek Bar B5000 has a stylish, multi-tone design and the same fool-proof draw activation as the 575 model. It delivers unbeatable value, with rechargeability extending the usage of each $15 device.
Verdict: The Elf Bar BC5000 and Geek Bar B5000 are almost identical in specs and performance. The Elf Bar offers more nic strength variety while the Geek Bar provides greater visual customization. Both give amazing battery life that recharges quickly.
Flavor Selection Comparison
Elf Bar Flavor Options
With over 40 nic salt flavors available, Elf Bar offers options for all preferences. Let's look at some of their most popular flavors in more detail:
Strawberry Ice Cream – This flavor perfectly captures the sweet creaminess of strawberry ice cream. Initial puffs reveal ripe strawberry essence, followed by milky, velvety nuances like the melt of frozen custard on your tongue. Light cooling on the exhale cleans the palate. Vapers praise its authentic dessert flavor.
Lychee Ice – Enjoy exotic lychee fruit enveloped in icy refreshment with Lychee Ice. The initial puffs burst with sweet, floral lychee nectar before cooling menthol creates an exhilarating contrast. Hints of rose add depth to the juicy lychee profile. This unique flavor fusion keeps your taste buds intrigued.
Lemon Tea – For a semi-sweet, semi-tart experience, try Elf Bar's Lemon Tea. Zesty lemon flavors swirl with earthy, freshly brewed tea. Each puff delivers natural lemon zing complemented by mellow tea undertones. An uplifting and relaxing vape.
Cola – This spot-on cola flavor quenches your thirst while satisfying sweet cravings. Fizzy effervescence tickles your tongue before giving way to familiar cola syrup sweetness. Bold and refreshing, it's liquid nostalgia.
Gummy Bear – Indulge your inner child with mouthwatering gummy bear flavor. Each puff mirrors the texture of chewy candy before bathing your taste buds in juicy sweet/tart gummy flavor. It's a playful blast from the past.
Mango – Experience the tropical essence of ripe, juicy mango with this flavor. Sweet mango nectar dazzles your taste buds with layers of creaminess, tartness and true-to-life flavor. Each pull tingles with refreshing mango zestiness.

Geek Bar Flavor Options
Though only 19 flavors compared to Elf Bar's 40+, Geek Bar still impresses with unique tastes like:
Blue Raspberry – This flavor encapsulates the sweet/tart sensation of blue raspberry candy. Each puff bursts with syrupy raspberry essence followed by a tangy berry twist. Cooling on the exhale makes this sugar rush even more addictive.
Watermelon Ice – For the ultimate in fruity refreshment, try Watermelon Ice. Chilled melon flavor meets your tongue before washing over with cool menthol exhale. Hints of fizzy sweetness add dimension to the juicy watermelon profile.
Banana Ice – This ingenious blend brings together fresh, ripe banana and icy exhilaration. Natural banana flavor provides creamy sweetness while the arctic blast cools your taste buds. Well-balanced and deeply satisfying.
Grape – Sweet, seedless grape flavor bursts forth with each puff. Authentic grape juice essence dances on your tongue before lingering with a pleasant tartness. A nostalgic rush of sugary grape goodness.
Mango Orange Guava – Escape to the tropics with this vibrant fruited fusion. Sweet mango and zesty orange swirl with guava nectar to create a sunny flavor medley. Tangy undertones make each pull pop.
Lychee Ice – Savor sweet floral lychee flavor complemented by an exhilarating icy finish. Perfumed lychee richness delights the senses before menthol chills your palate. An irresistible contradiction your taste buds will crave.
Verdict: With 3x the amount of flavors, Elf Bar dominates in variety and options. But Geek Bar still provides solid flavor choices to satisfy any sweet tooth.
Additional Factors to Compare
Beyond models and flavors, other considerations can help determine the right brand for you:
Design – Geek Bar models feature more stylish and eye-catching color schemes and patterns.
Build Quality – Geek Bar devices feel more solid and premium thanks to the brand's reputation.
Beginner-Friendliness – Geek Bar's simpler interfaces and draw-activated use make their devices perfect starter options.
Availability – Elf Bar's worldwide popularity makes their models widely accessible both online and in stores.
Price – Both brands offer very competitively priced disposables ranging from $10-$20 USD.
Which Brand Is Better for You?
When it comes to performance, Elf Bar and Geek Bar are extremely close. Choosing between them depends on your priorities as a vaper:
Choose Elf Bar for:
The biggest flavor selection on the market
Diverse nic strength options
Compact, stealth designs
Proven consistency and reliability
Choose Geek Bar for:
Visually striking and stylish devices
Smoother draw and premium feel
Slightly better battery efficiency
Beginner-friendly simplicity
Both companies deliver exceptional disposable options. Identify whether endless flavor variety with Elf Bar or sleek aesthetics from Geek Bar better fits your vaping preferences.
Key Takeaways from Elf Bar vs Geek Bar
With 40+ flavors, Elf Bar dominates Geek Bar in variety and options
Geek Bar offers more aesthetic visual designs and colors
Popular models have very comparable battery life and e-liquid capacity
Each brand pairs simple interfaces with strong performance
Pricing remains consistent and budget-friendly across both
Finding Your Ideal Disposable Vape
This extensive comparison between the leading brands helps you determine the better disposable vape for your needs. Go with Elf Bar for limitless flavors or Geek Bar for striking visuals and beginner ease – either way, enjoyment and convenience are guaranteed!
Disposable vaping eliminates the hassle of cartridge refills and battery charging. Let your flavor preferences and priorities guide you towards the perfect model among these giants. With their portability, affordability and flavor depth, Elf Bar and Geek Bar enable carefree vaping anytime.
https://ecigator.com/wp-content/uploads/2023/10/1697978883-elf-bar-vs-geek-bar.jpg
680
1200
Ecigator
https://ecigator.com/wp-content/uploads/2023/04/ecigator-logo-white.png
Ecigator
2023-10-22 13:03:19
2023-10-22 13:03:19
Elf Bar vs Geek Bar: Which Disposable Vape is Better