Elfbar TE6000 Review: A Close Look at the New Rechargeable Disposable Vape
The Elfbar TE6000 is one of the latest additions to the popular Elfbar disposable vape lineup. With a monumental 6000 puff capacity and sleek, elegant aesthetics, this rechargeable device aims to satisfy both casual and heavy vapers.
This in-depth Elfbar TE6000 review will break down the key specs, size, performance, flavor options, pros and cons, and frequently asked questions so you can determine if it's the right disposable vape for your needs.
An Overview of the Elfbar TE6000
At first glance, the Elfbar TE6000 exudes quality construction with its transparent casing and metallic accents. The materials give it an elegant, sophisticated look while feeling solid and durable in hand despite the slim size.
Spec-wise, the TE6000 is packed with features:
6000 Puff Capacity – Enables weeks of use for most vapers
10.3ml E-Liquid – Very large for a disposable device
550mAh Battery – Rechargeable via micro USB
4% (40mg) Nicotine Salts – Smooth moderate nicotine strength
Mesh Coils – Optimized for excellent flavor and vapor
10 Flavor Options – From fruity flavors to icy menthol
Draw Activation – Hassle-free automatic firing
With a voluminous 10ml+ juice reservoir, 6000+ puff rating, and USB rechargeable battery, the Elfbar TE6000 provides marathon vaping power in a convenient pocket-friendly form factor.
Size, Look and Feel of the TE6000
The Elfbar TE6000 has an elegantly modern design with its clear shell and metallic trim accents. It comes in a variety of vibrant colors to match any personal style or mood.
In hand, the TE6000 feels deceptively lightweight considering its large e-juice capacity and rechargeable battery. The duckbill-shaped mouthpiece fits very comfortably on the lips during use for extended vaping sessions.
Measuring just 3 inches tall by 1 inch wide, the TE6000 maintains an extremely portable and pocketable size. The compact yet long-lasting design makes it an ideal everyday carry vape.
The size coupled with the durable construction gives the TE6000 a reassuringly solid feel. The materials seem capable of easily withstanding normal wear and tear when used as a daily vape device.
How the Elfbar TE 6000 Performance
In terms of performance, the Elfbar TE6000 delivers highly consistent flavor and vapor output thanks to the efficient internal mesh coils and abundant 10ml e-juice supply.
It has a tighter mouth-to-lung draw that remains smooth yet satisfying. The draw activation triggers instantly when you inhale, producing dense plumes of flavorful vapor.
The nearly silent operation also makes it an ideal stealth vape option for discreet nicotine delivery where needed. With a moderate 4% nicotine salt strength, it provides a pleasant nicotine experience closely resembling smoking a traditional combustible cigarette.
Battery life is decent, if not exceptional, providing approximately 300 puffs per full USB charge. While the lifespan falls short of some extra long-lasting disposables, the 550mAh battery is easy to recharge in 1-2 hours when needed.
The Top 5 Best Elfbar TE6000 Flavors
The Elfbar TE6000 comes pre-filled with your choice of 10 mouthwatering flavors to suit any taste preference. Here are 5 of the most popular and highly rated options: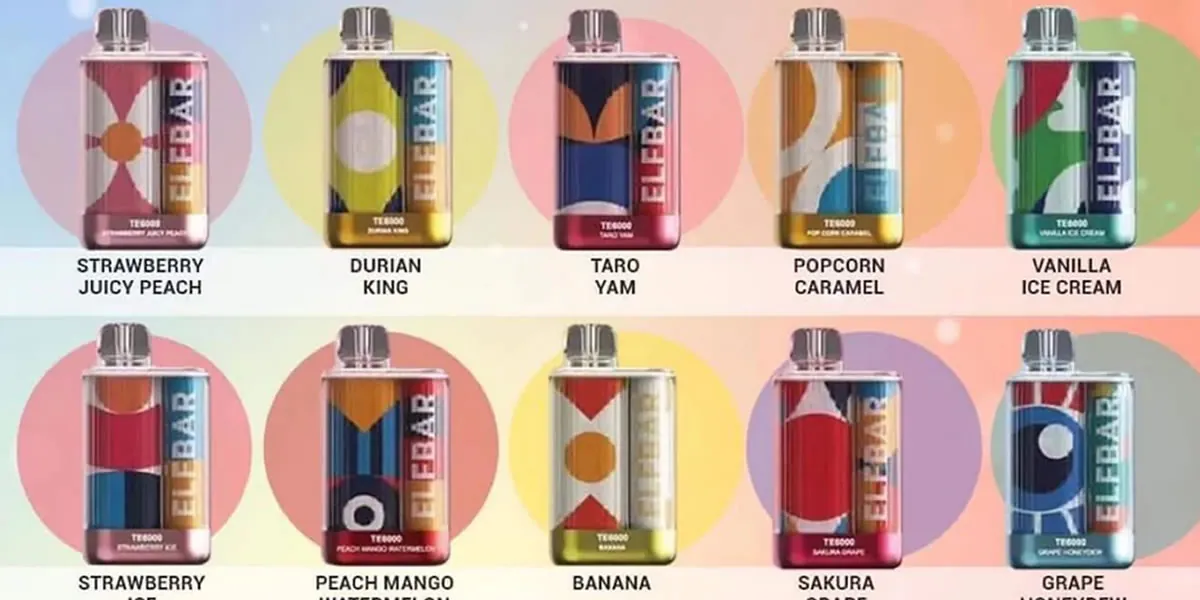 Apple Peach
This sweet and aromatic flavor fusion perfectly captures the juicy essence of orchard fruit. The initial inhale floods the senses with fresh apple and peach notes, as if biting into a ripe harvest apple with peachy undertones.
The crisp apples offer tartness while the peach provides sugary ripeness. Together they create a harmonious balance of sweet and tart. Neither flavor overpowers but instead dances together.
Faint hints of berries complement the stone fruits. And there's a gentle chill on the exhale to refresh the palate. It evokes memories of fruit picking on a sunny day. Each puff feels like an orchard in bloom.
Blue Razz Ice
A frosted oasis for blue raspberry candy fans. The Blue Razz foundation supplies that recognizable sweet and slightly tart candy flavor. Hints of cherry accent the raspberry while avoiding medicine notes.
Menthol provides a bracing chill to elevate the sweet fruity notes. The exhale offers an icy wave that lingers briefly before dissipating. It cuts through the richness without muting the candy essence.
The menthol perfectly balances the sugary candy flavoring. This refreshing icy blend satisfies frozen fruit cravings on hot days. Beat the heat with this crisp candied chill.
Strawberry Ice
Refreshing frozen strawberry flavors chilled by arctic menthol. Sweet ripened strawberries greet the inhale with jammy richness. Hints of cream create a strawberry shortcake effect.
As the strawberry flavor dissipates, it gives way to a frosty menthol surge on exhale. The brisk chill invigorates the palate after the luscious strawberry. Neither mellows the other but instead play off each other.
Well-balanced sweetness avoids candy flavoring pitfalls. And the icy exhale prevents vaper's fatigue from the richness. A strawberry lover's frosted dream.
Kiwi Passion Fruit Guava
A tropical fruit medley with kiwi adding unique tartness. The inhale brings a sweet guava and passionfruit fusion, reminiscent of juice. Tart kiwi notes dance between the tropical flavors, cutting the sweetness.
There's an effervescent quality with the fruits mingling rather than competing. You get ripening guava, fragrant passionfruit, and crisp kiwi in harmony. It avoids sickly-sweet synthetic "tropical" flavors.
The exhale carries lingering kiwi zest, leaving the palate refreshed. This island getaway in a vape uplifts the senses with every puff. A perfectly balanced fruit cocktail.
Pineapple Mango Orange
A sunny blend of juicy pineapple, creamy mango, and zesty oranges. Sweet pineapple provides a bright tropical base while the mango supplies a velvety texture. Bursts of orange citrus prevent one-note flavoring.
The fruits unite to create a lush yet invigorating profile. The pineapple and mango offer richness and body while the orange cuts through with crispness. Well-restrained sweetness makes this an easy all day vape.
Let your senses escape to the tropics with this fruity fusion. Tropical fruit fans will find their bliss here. A rush of fruit flavor reminiscent of luxury fruit blends.
With so many stellar options, most vapers will find one or more ADV flavors to fall in love with.
Weighing the Pros and Cons
Pros of the TE6000:
Massive 6000 puff capacity for extended vaping
Mesh coils optimize flavor and vapor production
Smooth, consistent and nearly silent performance
10 mouthwatering flavor options to choose from
Sleek, stylish and elegant modern aesthetics
Durable construction for reliability
Tighter satisfying cigarette-like draw
Potential Cons to Consider:
Battery life shorter than some extra long-lasting disposables
Not as customizable as mod vape devices
E-liquid capacity non-refillable
Tighter draw not ideal for cloud chasing
While no device is perfect, the Elfbar TE6000 gets far more right than wrong, especially given its ultra portable disposable format.
Frequently Asked Questions
Here are answers to some of the most common questions about the Elfbar TE6000:
How long does the TE6000 last? With normal use, expect around 12-15 days of vaping or 6000 puffs. The 550mAh battery lasts approximately 300 puffs between charges.
How do you use the TE6000? No buttons required! Just remove the mouthpiece cap and inhale to activate the automatic draw. Take smooth, light puffs for best results.
How to charge the TE6000? Charge via the included micro USB cable. Full recharge takes 1-2 hours. Avoid overcharging the battery.
Any maintenance required? None at all. Simply dispose and replace the TE6000 with a new device when the battery or e-juice runs empty.
Can you refill the e-liquid? The Elfbar TE6000 cannot be refilled and is designed as a disposable, one-time use device.
Final Verdict on the Elfbar TE6000 Disposable Vape
In closing, the Elfbar TE6000 exceeds expectations as a compact yet powerful disposable vape. The massive 6000 puff capacity enables weeks of use per device. Flavor and vapor performance remains satisfyingly consistent from first puff thanks to the fine-tuned mesh coils.
Nicotine delivery provides a smooth cigarette-like experience. And the flavors, especially fruity blends like Apple Peach and menthol options like Blue Razz Ice, taste simply stellar. Top it off with sleek, eye-catching aesthetics fitting any lifestyle or setting.
For those seeking a fuss-free yet marathon-lasting rechargeable disposable vape, the Elfbar TE6000 is an excellent choice difficult to surpass at this price point. It hits all the high notes for convenience and reliability.