How to Properly Charge Your Elf Bar Vape (With Handy Tips)
Elf Bar has rapidly become one of the most popular disposable vape brands, offering convenience and a wide proprietary flavor range. But what is the best charger to use with the rechargeable Elf Bar models? This extensive guide will cover all the key charging basics while also providing handy troubleshooting tips and safety guidance.
An Introduction of Elf Bar
Elf Bar manufactures disposable vapes and e-cigs that provide a hassle-free, commitment-free vaping experience. Their low cost and sheer simplicity makes them an appealing option for beginners just starting to vape.
Elf Bar vapes come pre-filled with nicotine salt based e-liquids in flavors like blue razz, lemon mint, strawberry mango and many other fruit and dessert flavors, offering plenty of variety. Some versions contain higher nicotine concentrations for extra satisfaction.
Importantly, Elf Bar produces both rechargeable and entirely non-rechargeable disposable vape models. Only certain designated rechargeable models can and should be charged when empty.
Know more about Elf Bar Vape through the video below:
Why Recharging is Useful for Disposables
Some new vapers rightly wonder why disposable vapes would need charging at all if they are designed to be tossed out when the battery or e-liquid runs empty.
However, today's advanced disposable vapes are engineered to offer an impressive number of puffs before being depleted – some providing over 5000 puffs (such as Rex6000). Depending on frequency of use, one disposable vape can potentially last anywhere from one to two weeks for an individual user.
Rather than installing oversized non-removable batteries with very high capacities in disposables to achieve long runtimes, manufacturers like Elf Bar opt to use smaller yet rechargeable lithium-ion cells.
This gives users the ability to conveniently recharge an empty disposable vape in order to maximize the total number of puffs before the internal e-liquid is fully consumed and the device disposed of. For consumers, it's a practical and economical solution.
What Type of Charger is Compatible With Elf Bar Vapes?
Like the majority of the most modern rechargeable electronics from smartphones to laptops, Elf Bar's rechargeable vape devices use a USB-C style charging connection and are powered by compatible USB-C cables, chargers and power sources.
You cannot directly charge disposable vape pens without using a wired power connection of some kind. USB-C has become an increasingly universal standard.
A dedicated USB-C wall charger with a built-in cable plugs directly into a wall outlet or power strip, providing a simple all-in-one charging solution.
Alternately, you can use a separate detachable USB-C cable. These cables connect the vape through USB-C capable computers, portable power banks, car charger adapters and other USB power sources.
It is important to note that Elf Bar does not provide charging cables or wall adapters included with the purchase of their disposable vape products. As these are designed to be disposable devices, you would likely not want to pay for a redundant charger with every new unit. So charging accessories must typically be purchased separately.
Instructions for Charging Your Elf Bar Vape
Follow these clear simple steps to properly charge your rechargeable Elf Bar vape when the battery runs low:
Locate the small USB-C charging port situated at the base or bottom section of the Elf Bar vaping device.
Take your compatible third-party USB-C cable and insert one end into the charging port on the disposable vape pen.
Next, plug the other end of the USB-C cable into a powered USB port, wall charger or external battery bank with USB-C output.
Check that the indicator light ring surrounding the charging port turns on, which confirms successful electrical connection and charging has started.
The indicator LED will automatically turn off again once the Elf Bar battery is fully recharged. This takes approximately 1-2 hours in most cases.
Finally, simply unplug the fully charged Elf Bar vape and enjoy! The convenient recharge extends its operational lifespan.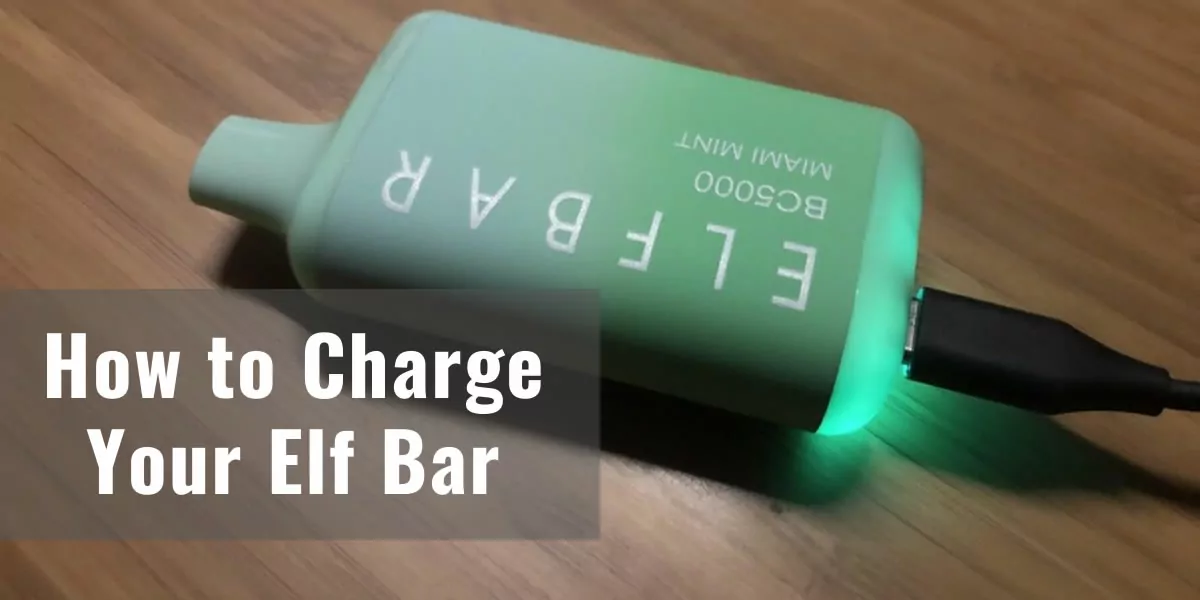 List of Rechargeable Elf Bar Vape Models and Variants
Not all Elf Bar vapes feature rechargeable batteries – some models are strictly designed for single use. Rechargeable Elf Bar products include:
BC1600, BC3000, BC3500, BC4000, BC5000, BC5000 Ultra
BB3000, BB3500
LB5000
CR5000
Elfbar 3600, Elfbar 5000
TE5000
Always check the specific disposable vape product descriptions and details to confirm it has rechargeable functionality before purchasing. Attempting to charge a non-rechargeable model could be unsafe.
 Questions and Convenient Tips
Elf Bar's specialized charging dock provides added convenience for charging certain models. Just drop the vape in and let it charge.
Fully charging most Elf Bar vapes from empty takes approximately 1 to 2 hours. Charging via lower power USB ports on computers or phones takes longer.
Avoid using unsupported ultra-fast quick chargers or car chargers that could lead the disposable vape to overheat during charging.
For slightly quicker charge times, look for a reputable USB-PD compatible wall charger with higher power delivery capabilities.
Always charge vaping devices in a safe area away from flammable materials as a precaution, though issues are very rare. Never overcharge.
Carefully inspect the external USB charging port for any dirt, dust or damage before inserting a cable for charging. Never attempt to charge damaged devices.
Key Takeaways on Charging Elf Bar Vape Products
Use a compatible third-party USB-C cable and 5V USB charger for safe Elf Bar charging.
Typical charge time from empty is approximately 1 to 2 hours before the LED turns off.
Only recharge Elf Bar models explicitly designated as rechargeable. Avoid charging one-time use models.
Steer clear of unauthorized fast chargers to eliminate potential overheating risks while charging.
Thoroughly check your vape for any external damage or issues before connecting it to charge. Charge safely.
In summary, knowing how to properly recharge your Elf Bar vaporizer gives you the convenience of repowering disposable devices when depleted to keep the flavorful puffs flowing!