Esco Bars Ripe Collection Review: A Fruit Flavor Journey

As vaping continues permeating mainstream culture, new contenders arise seeking to capture market share through quality and innovation. One such brand, Esco Bars, focuses singularly on disposable vapes. By concentrating their expertise on engineering and e-liquid artistry, Esco Bars carved a niche. Now through a collaboration with renowned mixer Ripe Vapes, Esco Bars is taking flavor authenticity in disposables to new heights.
An Introduction to the House of Esco Bars
Founded in 2021, Esco Bars emanated from Southern California with the sole mission to perfect the disposable vaping experience. With industry giants like JUUL pioneering the disposable realm, Esco Bars knew competing required next-level innovation.
By laser-focusing product development on disposables alone, Esco Bars could lavish attention on features like battery life, coil performance, and flavor options. This strategic specialization enabled optimizations across the board.
While new to the scene, Esco Bars' quality quickly captured market share. Their meteoric rise hints at the brand's budding position as a disposable force. But Esco Bars knew that to truly thrive, one element demanded peak flavor possibilities – the e-liquid.
A Fortuitous Union with Ripe Vapes
When seeking the ideal e-liquid partner, one name stood above the rest – Ripe Vapes. Since 2011, the California-based mixer has ascended to vaping royalty through sheer flavor artistry. Their sophisticated recipes dazzle palates worldwide.
Ripe Vapes' fanatical attention to nuance and balance manifests in exceptionally accurate flavor renditions of fruits, cocktails, and desserts. Their juices transcend cardboard one-note sensations, instead providing transportation to real-world taste experiences.
For Esco Bars' disposable range, securing Ripe Vapes' e-liquid mastery offered an alluring proposition. The brands believed that by combining strengths, a uniquely satisfying user experience untapped in disposables could emerge. And so the Esco Bars Ripe Collection was born.
Top Esco Bars Ripe Collection Flavors Reviewed
The Ripe Collection range impresses with sophistication no disposable dare claim before. By fusing Ripe Vapes' banner recipes with Esco Bars' hardware refinements, perfection now fits in your pocket. Let's taste test the breakout flavors that define this disposable revolution.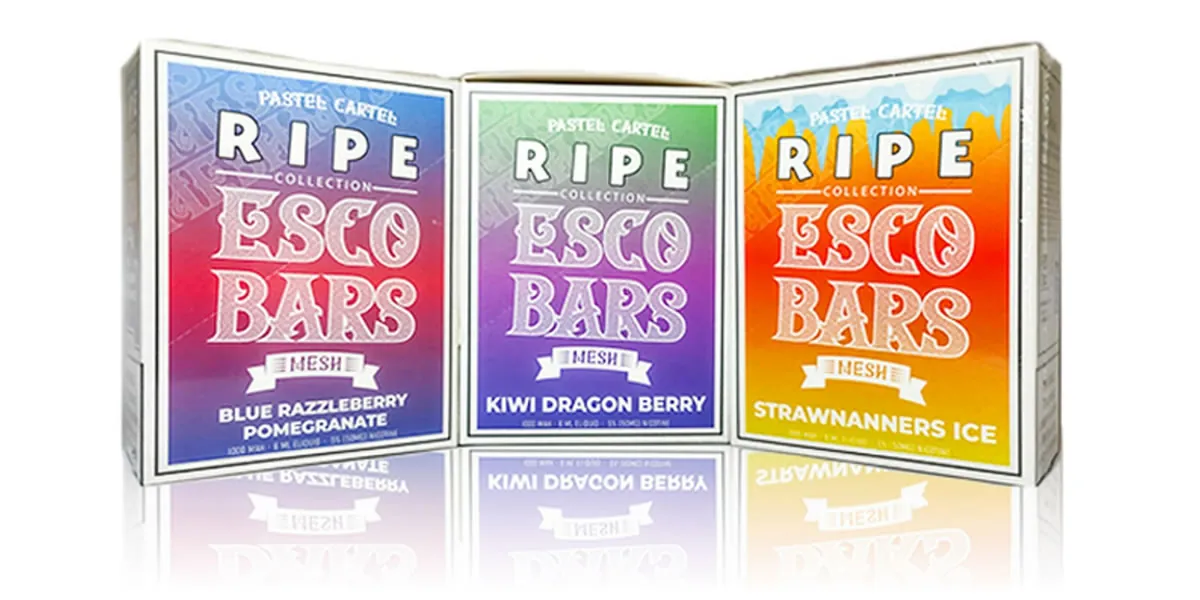 Blue Razzleberry Pomegranate:
I was pleasantly surprised by the Blue Razzleberry Pomegranate flavor. Unlike other brands where this combination often tastes artificial or off-putting, this juice skillfully balances sweet berries and tart pomegranate. Each smooth puff surrounds your senses with juicy raspberry and blueberry tones, lifted by the subtle tartness of pomegranate. There's a nice icy finish that cools without overwhelming the fruity essence. The flavors come together in refreshing harmony without any chemical aftertaste. Blue Razzleberry Pomegranate shows how well these components can complement each other when expertly crafted.
Fiji Melons Ice:
The Fiji Melons Ice flavor authentically captures the sweet essence of ripe honeydew melon. Every puff bursts with refreshing melon juice flavor, enhanced by a hint of cooling mint. It's sweet and delicious just like biting into a fresh honeydew, without any artificial or perfumey undertones. The touch of icy mint accentuates the melon's natural sweetness perfectly. I was amazed at how this juice replicates the true taste of honeydew melons. Fiji Melons Ice is sure to be a crowd-pleaser for melon lovers.
Kiwi Dragon Berry:
This juice surprised me with how accurately it recreates the flavors of kiwi and mixed berries. Each puff delivers the sweet tartness of fresh kiwis, blended harmoniously with a medley of ripe berries. I was impressed at how it avoids the unpleasant synthetic taste that often plagues kiwi vapes. Instead, the berry undertones complement the natural kiwi profile wonderfully. Closing my eyes, it's just like eating sweet kiwi slices topped with assorted berries. Kiwi Dragon Berry showcases how these difficult flavors can be crafted into a delightful, authentic vape.
Peachy Mango Pineapple Ice:
The Peachy Mango Pineapple Ice flavor wonderfully balances all three fruity components. The sweetness of ripe peaches combines with tropical pineapple and creamy mango for a satisfying medley. Unlike other attempts at this blend, the proportions are perfectly balanced here. Refreshing peach pops on the inhale, followed by mango's richness and pineapple's vibrant tropical essence. A touch of cooling mint ties it all together. With eyes closed, it feels like enjoying a peach-mango-pineapple cocktail on a beach. A very transportive fruit fusion.
Strawnanners Ice:
This flavor blew me away with how it nails the taste of strawberries and bananas without any chemical aftertaste. Each smooth puff combines fresh banana sweetness with juicy strawberry, lifted by icy cool mint on the finish. The mint remains subtle, allowing the banana and strawberries to shine. And the aftertaste is pleasantly fruity, making me crave more. With most banana vapes disappointing me, Strawnanners Ice gets the flavor and mix exactly right. An all-day vape that keeps me coming back.
Peachy Mango Pineapple:
The Peachy Mango Pineapple flavor offers a pleasant tropical medley, but less sweet and flavorful than the iced version. Without cooling mint, the peach, mango and pineapple blend lacks the flavor "pop" and feels somewhat one-dimensional. The pineapple still comes through nicely with a hint of peach, but the overall profile is flatter and missing that icy burst on the exhale. While enjoyable, I personally prefer the added dimension the mint brings to this fruity mix. But for those who don't like menthol, this mint-free interpretation may appeal.
Tropical Rainbow Blast:
Tropical Rainbow Blast impressed me with its complex medley of fruits. Rather than just pineapple and mango like most "tropical" vapes, this offers a symphony of berries, pineapple, and other fruits. Each smooth puff reveals layers of strawberry, blueberry and other authentic tasting tropical essences perfectly balanced in the background. The result is an intriguing and nuanced flavor adventure, avoiding the boring one-fruit dominance typical of tropical vapes. Tropical Rainbow Blast keeps me coming back to pick out all the fruit notes masterfully blended into this vibrant, flavorsome profile.
Optimized Hardware Takes Flavors to New Heights
Esco Bars tailors the Ripe Collection's disposable hardware to maximize enjoyment of Ripe's tours de flavor. Optimized features include:
2500 puff capacity – Integrated 1000mAh battery prevents mid-use cut-outs
6mL e-liquid reservoir – Lasts days without flavor repetition
Proprietary mesh coil – Ensures bold and consistent flavor recreation
Draw-activated firing – Removing need for buttons simplifies usage
50mg nicotine salts – Provides smooth and ample nicotine satisfaction
Slim metal chassis – With resin mouthpiece offers durability and comfort
By engineering components specifically for flavor longevity and intensity, the Ripe Collection allows Ripe's recipes to shine luminously. Even discerning vapers can appreciate the sophistication.
Who The Ripe Collection Disposables Delight
With maturity beyond typical disposables, the Ripe Collection suits particular vapers:
Those seeking true-to-life fruit flavor recreation
Vapers wanting a flavor journey rather than single note
Fans of balanced smoothie-style flavor fusion
Adult smokers wanting a convenient satisfying nicotine alternative
Anyone needing a simplified grab-and-go vaping option
For these users, the Ripe Collection strawberries the disposable vaping experience with flavor decadence previously unattainable.
Potential Drawbacks to Weigh
Disposable format inherently wastes plastic and batteries
Higher 50mg nicotine could overwhelm some users
Fruit profiles won't suit vapers wanting tobacco, mint or cream options
Lacks the customization and adjustability of advanced setups
Shorter battery runtime than some pod systems
Final Impressions – A DisposableFlavor Revelation
Through their symbiotic partnership, Esco Bars and Ripe Vapes achieve a disposable flavor revelation. Even as a consummate flavor chaser, the accuracy and complexity of the Ripe profiles in the Collection range astonished my palate.
Esco Bars' bespoke hardware fine-tuning liberates the richness and nuance of Ripe's recipes for maximum enjoyment. For those seeking fruit flavor sophistication in a delightfully simplified package, the Ripe Collection warrants strong consideration.
When convenience and refinement unite in such expert balance, satisfaction inexorably follows. Esco Bars and Ripe Vapes may have just perfected disposable vaping's true flavor potential.
https://ecigator.com/wp-content/uploads/2023/10/1697143406-Esco-Bars-Ripe-Collection-Review.jpg
650
1200
Ecigator
https://ecigator.com/wp-content/uploads/2023/04/ecigator-logo-white.png
Ecigator
2023-10-12 20:46:26
2023-10-12 20:46:26
Esco Bars Ripe Collection Review: A Fruit Flavor Journey