The Esco Bar Vape Overview: Flavors, Prices and More

In the vast world of vaping, disposable e-cigs like Esco Bar offer an easy and affordable entry point. With their sheer flavor variety and sleek design, it's no wonder Esco Bars have soared in popularity.
This comprehensive guide will explore everything about the Esco Bar phenomenon – from the brand's background to diving deep on models, battery life, flavors, authenticity, and ultimately help you discover your ideal disposable vaping experience. Let's get started!
What is Esco Bar? A Background on the Brand
Texas-based company Pastel Cartel first introduced Esco Bar in 2021 as part of the exploding disposable vape craze. Their goal was to make quality, pre-filled nicotine salt vapes easily accessible and approachable to all.
Esco Bars immediately stood out for offering robust battery life paired with a staggering range of flavors – over 40 and counting! The brand collaborates with top nicotine salt juice makers like Fruitia, Ripe Collection, H2O, and others to concoct their unique flavor formulations.
While the disposable vape market became saturated with copycats, Esco Bar's commitment to flavor diversity, performance, and quality control set them apart. Their popularity has grown through word-of-mouth praise alone.
Now let's explore why vapers rave about Esco Bars!
Esco Bar Models: Specs and Features
Esco Bar keeps expanding their selection of models to suit any vaping preference:
Esco Bar Mesh 2500 – The OG Esco Bar. 2500 puffs, 1000mAh battery, 6mL capacity, 5% nicotine strength. Straightforward and reliable.
Esco Bar Mega 5000 – 5000 puffs, 14mL capacity, 5% nicotine. Adds recharging via USB-C. My daily driver for its extended life.
Esco Bar 6000 – Push it to 6000 puffs. Bigger 15mL capacity, adjustable airflow, rechargeable. Great for cloud chasers.
No matter your needs, there's an Esco Bar designed just for you. Now let's delve into their incredible flavor catalog.
10 Best Esco Bar Flavors You Have to Try
Esco Bars offers a kaleidoscope of taste sensations catering to every palate. From nostalgic classics to innovative tropical fusions, Esco Bars will leave your tastebuds delighted and wanting more. In this flavor tour, we'll highlight the scrumptious tastes and aromas that make each Esco Bars formula unique. With so many flavor options, here are 10 of the most popular and highly-rated: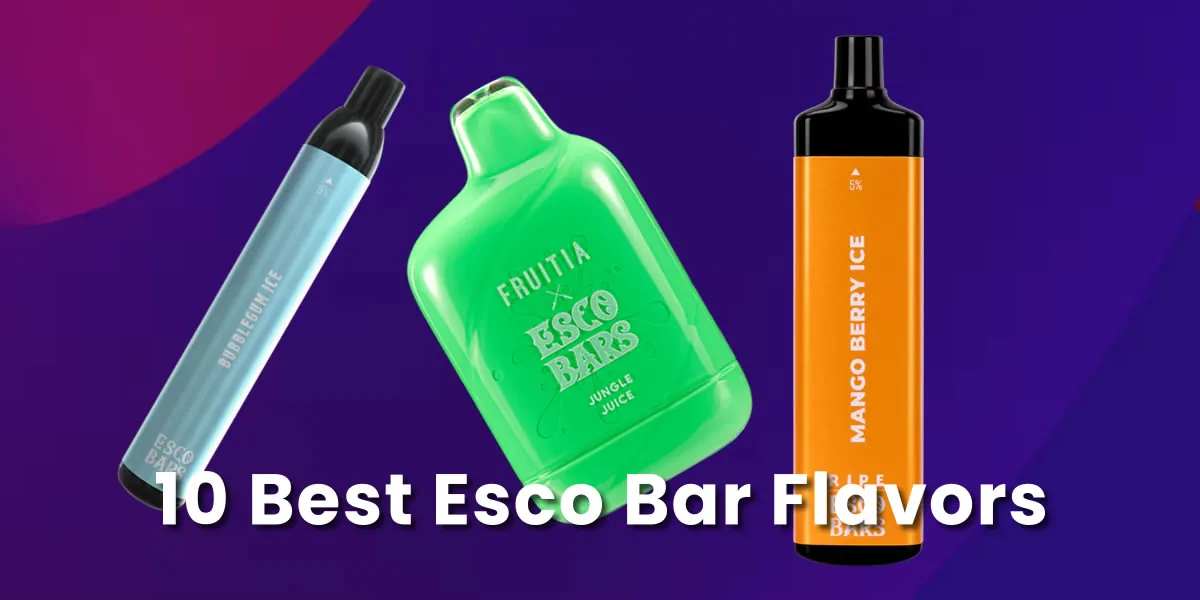 Blue Razz Ice:
This flavor envelops your senses with the sweet tang of blue raspberry candy, made even more refreshing by the addition of icy cool menthol. With each puff you'll feel transported back to your childhood, unwrapping a blue raspberry lollipop on a hot summer day. The menthol provides the perfect amount of chill to balance the sugary sweetness.
Banana Ice:
Your taste buds will rejoice with the creamy, ripe flavor of bananas coupled with a pleasant icy undertone. With eyes closed, it's easy to imagine eating a frozen banana popsicle on a sweltering afternoon. Each inhale surrounds you with mellow banana notes, made even more indulgent by the cooling sensation of menthol on the exhale.
Lush Ice:
Quench your thirst with the juicy, watermelon essence of Lush Ice. Refreshingly chilled menthol accentuates the sweetness of ripe watermelon for the ultimate thirst-quenching vape. You'll be transported poolside, savoring every last drop of watermelon on a sizzling summer day. Lush Ice even replicates that satisfying watermelon gumminess.
Peach Ice:
Escape to a peach orchard with sweet, juicy peaches ripe for the picking. Tart peach flavor mingles with traces of menthol to create a satisfying crisp finish. Peach Ice is summer in a vape, best enjoyed while watching the sunset with a cold drink in hand. Each puff feels like taking a bite of a perfectly ripe peach on a breezy summer evening.
Tropical Blast:
This flavor instantly whisks you away to a tropical oasis, thanks to its fusion of pineapple, mango, passionfruit, and guava. With eyes closed, your mind will drift to white sand beaches and crystal blue waters. There's no need for an expensive vacation when Tropical Blast transports your senses. Cool menthol provides pleasant contrast to the sweet and tangy fruits.
Mighty Mint:
Experience the rush of pure peppermint flavor with Mighty Mint. Crisp, cooling, and invigoratingly strong, this vape replicates the sensation of popping a breath mint. Mighty Mint will awaken your senses and provide a pleasant minty tingle. The boldness evokes wintertime fun like sipping hot cocoa with candy cane pieces.
Pina Colada:
Feel like you're on vacation in the Caribbean with Pina Colada. Sweet pineapple and coconut take you away to ocean breezes and tropical drinks by the pool. It's a vacation for your taste buds. The pineapple makes your mouth water, while the coconut adds a smooth, creamy element. You'll be reaching for this flavor whenever you need a quick getaway.
Strawberry Banana:
Your taste buds will rejoice at the velvety duo of strawberry and banana. Ripe strawberries offer just the right amount of sweet tartness, balanced beautifully by mellow creamy banana. With each hit your senses will be fooled into thinking you're eating a strawberry banana smoothie on a lazy Sunday morning. It's fruity flavor perfection.
Cotton Candy:
Cotton Candy magically replicates the light fluffiness of spun sugar cotton candy. Inhale and you're immediately transported to childhood – clutching a bag of cotton candy, face and fingers covered in pink sugar. It encapsulates that familiar county fair nostalgia we all crave from time to time. The sweetness is spot-on without going overboard.
Blueberry Lemonade:
Quench your thirst with a refreshing blend of tart lemonade and juicy blueberry flavor. Pucker up to the tangy lemonade blended with just the right pop of sweet and jammy blueberries. It's the ideal summer treat. Imagine sipping ice-cold blueberry lemonade sitting in the shade on a hot day. This vape flawlessly balances sweet and sour for a mouthwatering experience.
Whether you crave icy menthol or fruity indulgence, Esco Bars delivers options for cloud chasers and flavor chasers alike. So prepare your senses, and let's explore the most popular, mouthwatering Esco Bars flavors! With the impressive variety Esco Bars provides, your tastebuds will have plenty to discover.
Vapor Production – What to Expect
Thanks to thoughtful engineering, Esco Bars provide consistent and flavorful performance:
Sufficient battery capacity keeps vapor production smooth and consistent over thousands of puffs. No frustrating drop-offs.
Mesh coils ramp up quickly for full-bodied warmth and flavor right from the first draw.
E-liquids strike the perfect VG/PG balance for density without compromising wick absorption.
Draw-activation and airflow optimization allow smooth, satisfying pulls every single time.
Mouthpieces transfer dense, accurate flavor directly to your tastebuds.
Little to no gurgling or leaking means maximum vapor delivery with no waste.
You can expect around 2500-6000 puffs depending on the model – not too shabby! Combined with bold flavor choices, Esco Bars offer an ideal introductory vaping experience. Now let's make sure you get authentic devices.
Spotting Authentic vs Fake Esco Bars
Due to their immense popularity, counterfeit Esco Bars unfortunately exist. Here are tips for ensuring authenticity:
Only purchase from Esco Bar's list of authorized retailers found on their website
Carefully inspect packaging seals – reject any tampering
Verify holographic stickers and scratch-off codes
Research seller reputation – go with trusted stores and websites
Consider buying in bulk directly from Esco Bar to guarantee authentic devices
Stop using immediately if performance seems weak or flavors taste chemical/off
Check user reviews mentioning legitimacy before purchasing
By being vigilant and only buying from reputable sources, you can enjoy the real Esco Bar experience every time.
Esco Bar Price and Where to Buy
One reason Esco Bars appeal to many vapers is their reasonable pricing. Prices typically range from:
Esco Bar 300 – $9.99
Esco Bar 2500 – $14.99
Esco Bar 6000 – $18.99
Buying in 5-packs brings per unit costs down an extra 10-20%. And purchasing 10 or more units directly from Esco Bar provides maximum bulk savings off MSRP while ensuring authenticity.
So you can stock up on your ADV flavor without breaking the bank. An affordable way to elevate your vaping game.
How to Recharge Esco Bars
Most Esco Bars are designed for disposal once depleted. But models like the 6000 allow recharging via USB-C. Follow these tips to optimize battery life:
Recharge at the first sign of blinking lights signaling low battery. Don't wait until completely dead.
Use a high amperage charger for fastest charge times. Aim for 1A (1000mA) output or higher.
Alternate between two devices to allow proper recharging. Avoid continuous puffing when battery is low.
Store at room temperature when not in use. Heat and cold extremes tax disposable batteries.
Dispose of or recycle properly once performance noticeably declines. Don't try modifying disposables.
With care, you can extend rechargeable Esco Bars far beyond their rated puff count. Just be sure to retire them before attempting any ill-advised alterations.
Why is Your Esco Bar Blinking?
Esco Bars feature an indicator light near the base. When this light starts rapidly blinking, it signals the battery is depleted or nearly empty.
For rechargeable Esco Bars, plug into a USB-C charger as soon as blinking starts. If blinking persists after an hour of charging, the e-juice has run out and the device should be disposed of properly.
Non-rechargeable Esco Bars that start blinking should be thrown out and replaced with a new one. Never try to modify disposable vapes or fill them with e-liquid.
Closing Thoughts on Esco Bars Disposable Vapes
When combined with safety awareness and proper care, Esco Bar disposables offer an unparalleled flavor adventure accessible to any vaper.
With their broad lineup catering to every experience level and affordable pricing, Esco Bars remove all barriers standing between you and incredible vaping flavor.
So take the leap, and treat your tastebuds to an exciting Esco Bar experience today! Then come back and leave a review describing your new favorite fruity, creamy, minty, or tropical ADV. The vibrant world of Esco Bar awaits.
https://ecigator.com/wp-content/uploads/2023/10/1696606496-Esco-Bars-Vape-overview.jpg
650
1200
Ecigator
https://ecigator.com/wp-content/uploads/2023/04/ecigator-logo-white.png
Ecigator
2023-10-06 15:42:35
2023-10-12 16:59:29
The Esco Bar Vape Overview: Flavors, Prices and More