Flum UT Bar Disposable Vape Review – Icy Flavor Vapor Powerhouse
A new generation of disposable vape pens has arrived. These small but mighty models are easy to handle and economical. Flum's UTBar boasts a compact build and sensational icy vapor quality. Keep reading to learn all about this impressive device.
The Appeal of Disposable Vapes
Disposable vapes remove the hassle from vaping. Simply unwrap, insert mouthpiece, and start puffing. There's no need to fill, adjust settings, or maintain devices. Just toss when the battery or juice empties.
Convenience makes disposables ideal for beginners and veterans alike. Their ease of use also suits discreet public vaping.
Vaping newcomers generally prioritize flavor and ease over technical details. Draw-activated disposable vapes loaded with smooth nicotine salts are perfect. They provide robust vapor without the hassle of filling and maintenance.
Integrating rechargeable batteries into disposables allows for impressively vast e-liquid capacity in petite packages. Old disposable designs relied on bulky single-use cells, resulting in cylindrical devices nearing flashlight proportions. Today's options are palm-sized yet hold ample juice.
Unlike cigalike models of the past decade, modern disposables suit frequent vaping. Recharging and immense e-liquid reserves transform disposables into convenient daily drivers. The competitive marketplace reflects rising standards, but Flum's UT Bar tops the class.
Introducing the Flum UTBar
Flum is a popular name in disposable vaping. Prior hits like the Pebble and Float laid the groundwork for the UTBar. This new release improves upon previous iterations in nearly every respect.
Some key upgrades over earlier Flum disposables include:
Sleek, grippy matte exterior
Curved, comfortable mouthpiece
Larger e-liquid capacity
Superior battery life
Enhanced materials and airflow
Convenient LED capacity indicators
Fans of Flum's past disposables will appreciate these refinements cementing the UT Bar as Flum's new flagship. It retains compact dimensions for tremendous portable potential.
But how does the UT Bar stack up against rival disposables? Let's explore the specs and performance.
UTBar Specs and Details
Despite compact proportions, the UT Bar's specs reveal impressive capabilities:
Battery: 500mAh
Coil: Mesh
E-Liquid Volume: 10ml
Nicotine Concentration: 50mg/ml (5%)
Lifespan: ~6000 puffs
Charging: USB Type-C
Size: 4″ x 1.25″ x 0.875″
Safety Features: Short circuit, overcharge, and over-voltage protection
The 500mAh battery may seem small, but this is a low-wattage mouth-to-lung (MTL) device with minimal power demands. The robust 50mg nicotine juice requires little vapor too. These factors enable outstanding capacity from the petite build.
Dual LEDs indicate battery life and e-liquid level. White signifies 50-100%, orange is 25-50%, and red means 0-25%. The juice light prevents unwelcome dry puffs.
A Type-C USB cable charges the UT Bar quickly, but cords are sold separately. The kit contains one device and caution sheet.
Delightfully Simple Operation
Disposables embody plug-and-play functionality. Simply remove from packaging and start puffing. No buttons or settings complicate the process. Just inhale to activate the battery and produce vapor.
The draw is optimized for nicotine salts. Huge billowing clouds are unnecessary with strong 50mg juice. Modest vapor optimizes nic delivery while conserving e-liquid and battery reserves.
Expect up to a full day or more of average use per charge. Recharge via Type-C cable when vapor seems weak, signaling low battery life. The 6000+ puff rating reflects moderate draw length. Aggressive vaping decreases overall lifespan.
The fixed airflow aims to prevent overtaxing the battery and coil longevity. Disposables lack sophisticated circuitry of advanced mods. Unregulated voltage and current levels depend on conditions like battery charge. Still, vapor density roughly matches refillable pod vape kits.
Delectable Fruit and Menthol Flavors
Disposable vape flavors tend to fuse fruit profiles with icy menthol. These blends satisfy millions of vapers. The UT Bar's options represent this popular preference. Even less overtly icy options retain a cooling effect.
The crisp exhales tend to overtake primary flavors after a minute. Lingering icy sensations help distinguish options. Those seeking less menthol may prefer Guava Sunrise or Strawberry Banana.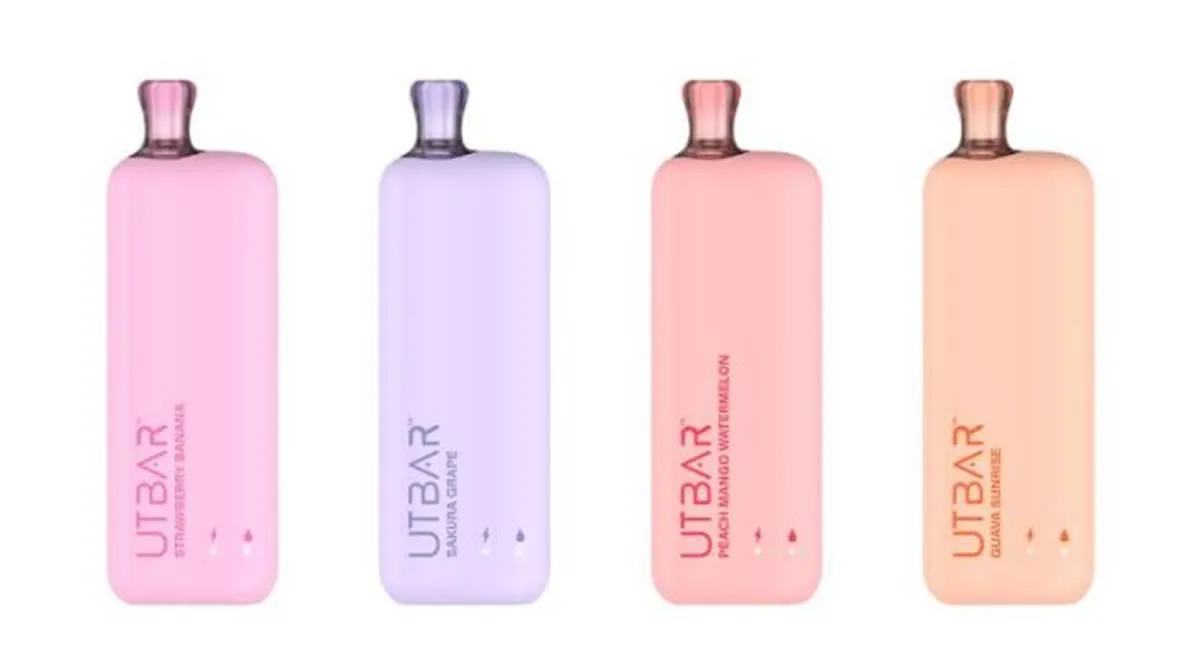 Here's a breakdown of the tasty UT Bar flavors:
Aloe Mango Icy
Sweet mango and refreshing aloe vera fuse for an unexpected icy treat. Aloe's inclusion adds herbal notes absent from most mango vapes. There's a pleasing tanginess too.
Blue Razz Icy
Classic sweet and cool blue raspberry satisfies frozen candy cravings. Icy blue razz fans will approve.
Guava Sunrise
Tropical guava and citrus evoke oceanfront sunrises in this medium-cool blend. Prominent sweet guava persists between puffs.
Peach Mango Watermelon
Juicy peach, mango, and watermelon intermingle for sweet and airy results. Watermelon lightens the robust syrupy tones.
Sakura Grape
Mildly tart grapes accompanied by cherry blossoms and menthol create intrigue. This isn't an overbearing candy grape. Sakura's florals add uniqueness.
Strawberry Banana
Ripe strawberries and bananas pair deliciously with a hint of icy freshness. One of the most authentic fruit profiles with modest iciness.
Super Mint
Creamy, sweet mint refreshed by icy menthol. Reminiscent of crème de menthe cocktails. A standout for mint fans.
Triple Berries Ice
Mixed berries, cherry, and citrus create a complex medley, capped with frosty menthol. Fruity first, finishing icy.
Perfecting Disposable Design
Flum leveraged user feedback to refine its Pebble and Float platforms into the UT Bar. Enhancements include:
Sleek, grippy matte exterior
Curved, comfortable mouthpiece
Larger e-liquid capacity
Superior 500mAh battery life
Improved materials and airflow
Convenient LED capacity indicators
These upgrades result in a sensational evolution of Flum's proven disposable formula. Fans of past models will appreciate the improvements cementing the UT Bar as Flum's finest.
Despite innovations, Flum retains core strengths like effortless draw-activated operation, mighty vapor, and portability. The UT Bar distills the disposable vape concept into an affordable, convenient package.
Flavorful, Affordable, Convenient Vaping
Disposable vapes remove complexity from the equation. Powerful pre-filled options like the UTBar supply bold flavor and ample vapor through fuss-free use.
For those seeking substantial capacity without maintenance, disposables like the UT Bar present an appetizing option. Flum's thoughtful upgrades yield an exemplary on-the-go device.
Connoisseurs of icy nicotine salt flavors will be duly impressed by the UT Bar's exceptional performance. It's an affordable all-in-one introduction to Flum's catalog for new users, while also satisfying longtime fans.