Funky Republic FI3000 Disposable Vape Review: Classic Convenience Revitalized
The FI3000 disposable vape from Funky Republic fuses convenience with classic flavors in a compact, pocketable package. This hands-on review will explore its straightforward design, nuanced flavors, and practical performance. Read on to see if this streamlined device can satisfy your on-the-go vaping needs.
An Introduction to Funky Republic
Based in sunny California, Funky Republic combines stylish aesthetics with solid engineering in their disposable vapes. By keeping manufacturing in the USA, they maintain strict quality control standards.
While competitors focus on extreme longevity and puff counts, Funky Republic takes a refined approach. Their goal is delivering an optimal vaping experience using balanced classic flavors and practical performance. Does the FI3000 disposable embody their vision? Let's dig in and find out.
Petite Yet Powerful FI3000 Design
True to its aim of convenience, the FI3000 features a compact portable design focused on simplicity. Its slim plastic shell easily slips into pockets or bags for vaping on the go.
The tapered mouthpiece provides smooth mouth-to-lung hits. And the flat base allows it to stand upright when not in use. A series of LEDs indicate battery level at a glance. All in all, the FI3000 prioritizes maximum portability and ergonomics.
Overview of the FI3000 Specs
Despite its small size, the FI3000 houses respectable vaping power:
5mL e-liquid capacity – Around 3000 puffs per device
800mAh battery – Perfectly matched to juice capacity
50mg nicotine – Satisfying throat hit and buzz
Draw-activated firing – Easy automatic operation
QC03 mesh coil – Optimized for bold flavor and vapor
While not designed for extreme longevity, the FI3000 provides ample power to vape through its 5mL of juice. The battery lasts precisely as long as the e-liquid. Now let's explore the flavors and vaping experience enabled by these capable specs.
Top FI3000 Flavors Tested
The FI3000 comes in 16 flavors that have dominated salt nic vaping from the beginning. Funky Republic leans into familiar profiles like icy fruits, tropical fruits, desserts, and menthols.
Apple Watermelon
The Apple Watermelon Funky Republic FI3000 Disposable combines juicy apple and sweet watermelon for a refreshing fruit fusion.
The apple comes through as tart and crisp, while the watermelon provides a nice melon-y sweetness. Together they create a harmonious fruit medley. A touch of cooling menthol finishes each puff.
Vapers who enjoy fruit combo flavors will appreciate the balance of apple and watermelon. This captures the essence of both fruits accurately. The medium icy chill prevents it from becoming overly sugary.
Berry Chill
For an exhilarating icy berry blast, Berry Chill is the top choice. A mixed berry medley of blueberry, raspberry and blackberry turns arctic cold courtesy of intense menthol.
The diverse berry mix has nice depth, with the raspberry adding tartness while the blackberry provides dark jammy sweetness. But the star is the frosty menthol – each puff ends in an icy chill that electrifies the fruit notes.
Berry Chill satisfies vapers craving an extra stimulating, chilled out berry vape. The menthol is cranked up to the max for an exhilarating experience.
Berry Storm
Berry Storm delivers another mixed berry nic salt flavor with slightly less emphasis on menthol ice compared to Berry Chill.
The berry profile has pronounced raspberry and blackberry elements, creating a jam-like flavor. There are also grape undertones that come through, adding complexity. While the menthol chill is present, it takes a backseat and allows the berry sweetness to shine.
For an ADV berry vape, Berry Storm strikes a compelling balance between rich fruitiness and icy freshness. The flavors blend beautifully.
Blue Mint Rose
Blue Mint Rose provides a floral twist on a classic menthol fruit pairing. The blueberry and mint form a familiar foundation then rose water steps in to elevate the experience.
The blueberry has authentic, tart berry notes while the mint is cooling with low iciness. The rose water finish is subtle, adding a delicate floral aroma. It comes through more as an accent rather than overwhelming the other flavors.
Vapers who enjoy florals and want to experience one done delicately should try Blue Mint Rose. The unique rose water touch enhances a blueberry mint classic.
Blue Razz Ice
No disposable vape lineup is complete without the iconic Blue Razz Ice. Funky Republic nails this beloved flavor.
The blue raspberry base is bold and candied, delivering sweet and tart blue razz flavor. To balance the sugary notes, icy menthol chimes in to provide exhilarating coolness.
From first inhale to last puff, the raspberry pops while the menthol smoothes and chills. For an authentic reimagining of a vaping staple flavor, the execution here is spot on.
Malayasian Mango
Malayasian Mango captures ripe, tropical mango flavor with care taken to avoid an overpowering candied taste.
Unlike some mango vapes that beat you over the head with sweetness, this has nuanced layers of flavor. The mango is juicy yet almost tart in spots, reminiscent of biting into the real fruit.
For an authentic, vapeable mango experience, Malayasian Mango hits the mark. The restrained sweetness makes it suitable for all day enjoyment.
Miami Mint
Spearmint is the star of Miami Mint, delivered as a mint option with very low icy impact.
The flavor strongly evokes chewing on a stick of spearmint gum, with herbal, grassy mint notes. There is only the slightest amount of cooling, allowing the natural mint to take center stage.
Vapers who want a mint nic salt without extreme chill should reach for Miami Mint. The crisp spearmint shines through.
Mountain Ice
Brace yourself for the full force arctic chill of Mountain Ice – one of the most refreshing menthol vapes around.
A blast of wintry mint and frosty menthol collide to create an icy cold vaping experience. The menthol effect is amplified, adding an exhilarating chill with each puff.
When you need to completely reset your tastebuds, Mountain Ice delivers. The intense icy boldness refreshes your senses.
Peach Ice
Peach Ice keeps the flavor straightforward – juicy peach combined with cooling menthol. Unlike some peach vapes, the peach here avoids heavy perfume-y overtones.
The peach comes across natural, with a nice balance of sweet and tart. The menthol chill adds contrast, allowing you to taste both components.
For peach fans who want easygoing, authentic flavor with icy freshness, Peach Ice satisfies. The flavors complement each other well.
Pineapple Passion Lemon
Pineapple Passion Lemon offers a zesty tropical medley by blending pineapple, passionfruit and lemon flavors. The pineapple forms the base while passionfruit and lemon cut through the sweetness.
Compared to some maxi-sweet pineapple vapes, this shows restraint, opting for natural pineapple character over candy-like taste. The passionfruit and lemon provide nice acidic balance.
If you enjoy citrusy tropical blends, don't pass on Pineapple Passion Lemon. The flavor combo really pops.
Strawberry Peach Sakura
For a fruit trinity turned exotic, Strawberry Peach Sakura combines strawberry, peach and Japanese sakura grape. The strawberry and peach form familiar fruity layers while sakura grape adds unique floral character.
The strawberry and peach are both noticeable, creating an equal fruit fusion rather than one dominating. The sakura grape finishes with a delicate grape blossom aroma.
Vapers seeking something beyond basic fruit pairings will appreciate the sakura grape twist on strawberry peach.
Triple Berry Ice
True to its name, Triple Berry Ice showcases a trio of mixed berries cooled by frosty menthol. The berry blend strikes more towards natural fruit compared to candy profiles.
The blueberry, raspberry, and blackberry notes each contribute to a balanced berry medley. No single fruit overpowers the others. The menthol chill provides nice contrast without overwhelming the berries.
For lightly sweet, fruity berry goodness, Triple Berry Ice is a crowd-pleaser. The diverse flavor profile offers wide appeal.
Tropical Delight
Tropical Delight lives up to its name by fusing all the quintessential tropical fruit flavors into one vibrant vape. Pineapple, mango, guava, passionfruit and more mingle and combine forces.
Despite the long roster of fruits, Tropical Delight avoids tasting artificial or perfume-y. The flavors are authentic at medium strength. No single fruit hogging the spotlight.
To enjoy a fusion of real-tasting tropical fruits in moderation, Tropical Delight satisfies with its balanced approach.
Watermelon Delight
Watermelon Delight spotlights sweet watermelon augmented by icy menthol. Unlike some candy-like watermelon vapes, this captures nuanced fruit character.
The watermelon flavor has nice complexity – ripe, floral, and melon-y. The menthol chill starts on the inhale then expands, allowing the juicy watermelon to still stand out.
Watermelon fans who want authentic, robust flavor will find satisfaction with Watermelon Delight. The menthol amplifies rather than overrides the melon.
Watermelon Ice
No lineup would be complete without the classic Watermelon Ice – sweet watermelon and frosty menthol in harmonic balance. Funky Republic's take on this staple flavor delivers.
The watermelon base captures that light, sweet juice flavor recognizable to any watermelon lover. The menthol accentuates the sweetness while adding exhilarating chill.
The carefully balanced flavors avoid synthetic tastes in favor of nuance. By minimizing sweetener and ice, the natural notes shine.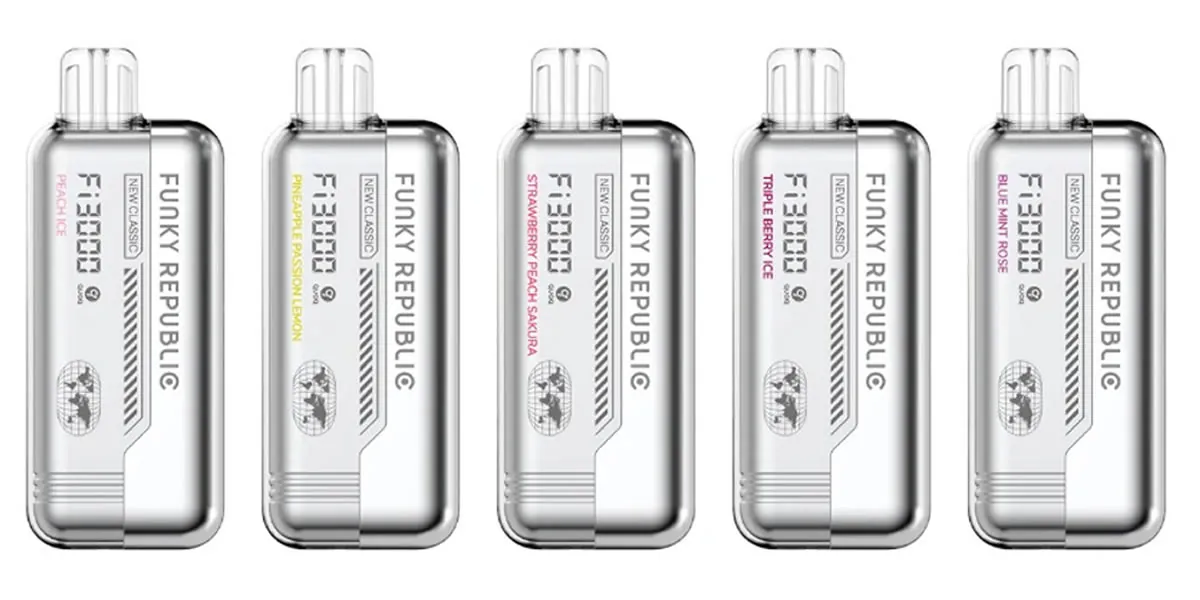 Reviewing the Vaping Experience
In use, the FI3000 provides a consistently satisfying vaping experience. The automatic draw activation generates smooth, instant puffs. And the mesh coil optimizes both bold flavor and ample vapor output.
The 50mg nicotine concentration delivers a satisfying throat hit and buzz. And the 5mL juice capacity lasts days for most users without diminishing in taste. Altogether, it's a fuss-free disposable that performs like a classic.
Pros and Cons
Pros
Slim, pocket-friendly design
800mAh battery outlasts the juice
Tight yet smooth MTL draw
16 balanced classic flavors
Easy draw-activated operation
Cons
Less longevity than high-capacity disposables
Non-refillable e-juice
Non-replaceable battery
Limited vapor customization
Who is the FI3000 Disposable Vape For?
With its grab-and-go design and satisfying nicotine delivery, the FI3000 suits vapers prioritizing convenience and simplicity. Its petite size and lack of charging makes it an exceptional portable companion.
The classic flavor options also appeal to longtime vapers with conventional preferences. However, those demanding expansive battery life or unusual flavors have better disposable choices. But for fuss-free satisfaction on the move, the FI3000 delivers.
Final Impressions on the Funky Republic FI3000
In summary, the FI3000 proves convenience and simplicity still matter in disposables. Its streamlined design and hassle-free usage recall the early days of salt nic vaping.
While its battery life falls short of newer high-capacity models, the FI3000 supplies ample power to vape through its 5mL of juice. And the carefully balanced flavors avoid artificial taste.
Sometimes, keeping it simple works best. For those times, the FI3000 provides easy, pocketable vaping enjoyment and nostalgic flavor in one device. It modernizes the core benefits that made disposables great originally.