Funky Republic Ti7000 Review: Futuristic Style Meets Bold Flavors
In the increasingly competitive world of disposable vaping, the Funky Republic Ti7000 stands out for its sleek, futuristic aesthetics and robust performance. But does this stylish device deliver equally satisfying flavors? In this in-depth review, we'll see if the Ti7000's visual appeal translates to superior vaping flair.
An Introduction to Funky Republic Vapes
Hailing from Southern California, Funky Republic aims to fuse cutting-edge technology with artistic designs in their disposable vapes. Unlike companies relying on overseas manufacturing, Funky Republic keeps production in the USA to maintain strict quality control.
Their focus is on consistency and curating an optimal vaping experience in a convenient disposable format. The Ti7000 represents the apex of their engineering and design efforts. Its polished aesthetic promises an elevated vaping experience. Let's see if the performance matches the vision.
Reviewing the Sleek, Futuristic Design
At first glance, the Ti7000 makes a sophisticated statement. Its gleaming metallic colors feel sleek and premium compared to cheap pastel plastic shells. The sheen resembles a mini vape mod more than a typical disposable.
In hand, the ergonomic oval shape provides a comfortable, contoured grip. At 4 inches tall, it rises slightly higher than an Elf Bar. However, the slim 1.5 inch width maintains exceptional portability. Additionally, a transparent window seamlessly integrates handy LEDs displaying e-juice and battery levels.
Altogether, the refined yet functional design elevates the Ti7000 above standard mass market offerings. From its sturdy metallic construction to the integrated LED screen, the futuristic aesthetics signal next-generation engineering inside.
Overview of the Impressive Ti7000 Performance Specs
Beneath the sleek veneer, the Ti7000 boasts substantial specs reflecting its premium design:
7,000 puff capacity – Gargantuan for a disposable, enabled by 17mL of e-juice
600mAh battery – Similar longevity to many popular pod mods
50mg nicotine – Higher concentration provides robust throat hit
QUAQ mesh coil – Optimized for maximum flavor and vapor
USB-C charging – More convenient than outdated micro USB
Rivaling reusable pod systems in power and longevity, these robust capabilities promise marathon performance. The expansive e-liquid supply and mighty battery enable weeks of use per device. And convenient USB-C charging significantly minimizes downtime.
Now let's explore whether the Ti7000's vaping experience achieves the promise indicated by the formidable aesthetics and specs.
Top 10 Funky Ti7000 Flavors Tested
Funky Republic aimed to develop a balanced flavor selection for the Ti7000, ranging from fruity to creamy and minty. Do these carefully formulated profiles live up to the styling and performance? Let's zoom in on some of the most intriguing flavor offerings: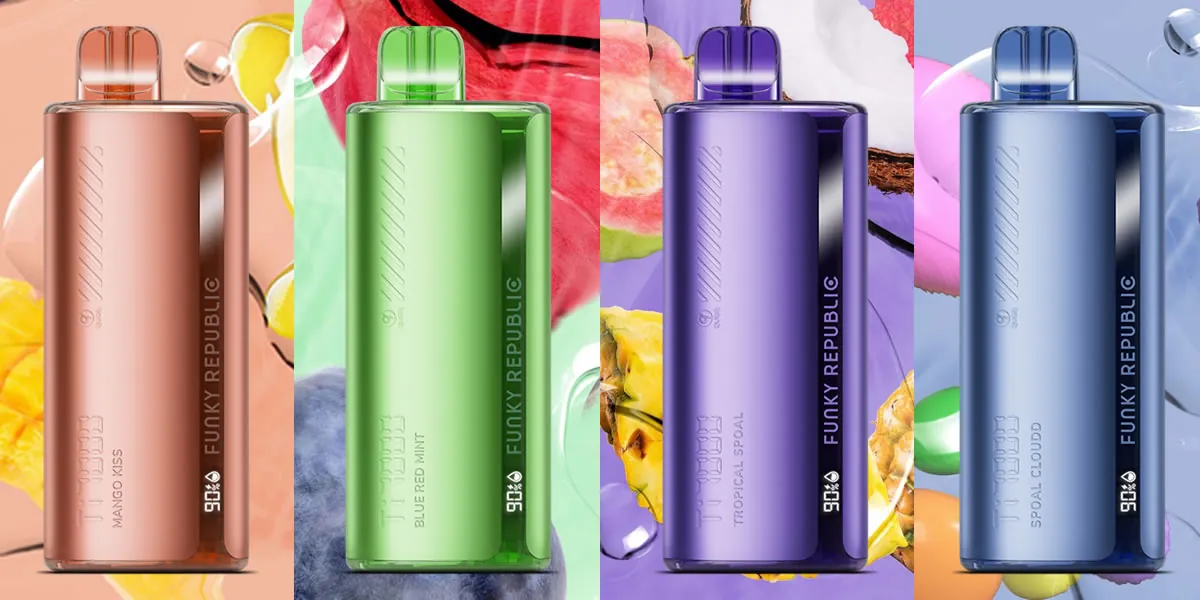 Blue Razz Ice
This flavor beautifully captures the sweet essence of blue raspberry candy, evoking childhood memories of enjoying chewy sweet and sour gummies. The icy freshness adds that satisfying chill, yet avoids becoming overwhelmingly cold to let the candy-like berry notes shine through. Each puff brings wave after wave of blue raspberry deliciousness. If you have fond memories of blue raspberry treats, you'll love how authentically this flavor replicates that distinctive sweet aroma and taste. It's like inhaling a bag of your favorite blue razz sweets, fruity and indulgent with a touch of icy freshness.
California Cherry
As soon as I tried this flavor, memories of picking sun-ripened cherries straight off the tree during summer harvest came flooding back. It captures that sweet yet gently tart cherry flavor at peak ripeness when the cherries are deepest red and juiciest. Unlike some cherry flavors overwhelmed with syrupy sweetness or heavy icy chill, this one keeps things simple to let the natural cherry essence shine. Every puff feels like biting into a just-picked cherry, evoking images of strolling through rows of cherry trees and plucking off the ripest specimens to enjoy immediately. The authenticity impressed me, making this an easy go-to flavor for when you crave the real taste of fresh cherry goodness.
Cantaloupe Apple
This imaginative blend surprised me by combining sweet cantaloupe and tart green apples, but the flavors complement each other delightfully. The inhale brings fresh apple vibrancy, before cantaloupe's sweetness washes over the palate to smooth out the acidic bite. It creates alternating waves of fruitiness, preventing either flavor from becoming overwhelming. I'd liken it to slicing up a refreshing plate of cantaloupe and green apples to munch on together – both flavors remain distinctly identifiable, yet their essences mingle beautifully with each bite. The melon richness takes the edge off the sour apple to create a melody for the taste buds. A highly refreshing all-day vape.
Passionfruit Kiwi Lime
This tropical mélange blends sweet, tart and tangy flavors for a vibrant flavor explosion. The passionfruit dominates with sweet and tart notes, while kiwi supplies a touch of additional sweetness to balance it out. Finally, the lime contributes a burst of tart citrus zing to keep things interesting. Together these tropical fruits create layers of flavor that interact beautifully. It's reminiscent of a vacation cocktail blended from exotic island fruits. A satisfying rush of fruit flavor excitement.
Peach Mango Watermelon
The juicy essence of watermelon gets infused with sweet ripe peaches and creamy tropical mango in this fruit fusion revitalizer. Mild cooling minty undertones provide that extra bit of freshness and chill. It captures the sensation of taking a big bite of refreshing watermelon and peach slices on a hot summer day, with mango's tropical creaminess tying everything together. A classic fruit flavor combination executed masterfully to be as authentic as fresh-cut produce.
Peach Pie
From the first puff I was transported back to childhood visits to grandma's house, eagerly awaiting a warm slice of just-baked peach pie. This flavor flawlessly balances the sweet peach filling against notes of rich vanilla cream and crunchy graham cracker crust. Inhaling brings huge peach flavor, as if biting into a perfect slice of pie with juice dripping down your chin. Exhaling carries graham crust essence and creamy vanilla. Masterful flavor design makes each puff feel like indulging in a nostalgic dessert.
Pineapple Coconut Ice
Sweet pineapple juice gets blended with creamy coconut and accented by icy menthol chill. It mimics the experience of a pina colada but avoids an artificial sunscreen-like coconut taste. The inhale brings zesty pineapple notes before the frosty coconut creaminess takes over upon exhaling. Altogether a unique and enjoyable tropical flavor fusion.
Pink Bomb
This vibrant flavor captures the essence of sweet raspberry lemonade candies. The candy-like raspberry is dominant with low chill allowing the berry notes to remain prominent. It reminds me of the classic hard candy that fizzes tartly against your tongue – now perfectly translated into vape form. The sweetness has depth without becoming one-dimensional.
Pomelo Pearl Grape
This intriguing flavor showcases bold concord grape juice drink taste along with added complexity from pomelo, pear, and grapefruit accents. The robust grape juice provides drinkable sweet-tart overtones, while the blend of fruits contribute further interest. It keeps your palate guessing trying to pin down the tangy citrus and fruit layers. Altogether fruity yet not overwhelmingly sweet.
Tropical Rainbow Blast
A vivid mix of tropical fruits including juicy pineapple, sweet mango, tangy guava and a medley of mixed berries. It captures the experience of tasting a rainbow without overbearing candy-like sweetness. The fruits retain their natural essences rather than heavy syrupy tones. A colorful flavor fusion that encapsulates the lush tastes of the tropics.
Across the board, the thoughtfully crafted mixes avoid synthetic candy-like tastes in favor of nuance. By minimizing sweetener and ice, the natural flavors take center stage.
Overall Vaping Experience
Beyond the flavors, how does the Ti7000's performance stack up to its sophisticated styling? In use, the tight draw generates remarkably smooth yet robust mouth-to-lung hits. And the specialized QUAQ mesh coil optimizes both rich flavor and satisfying vapor output.
The higher 50mg nicotine concentration provides a strong throat hit to satisfy former smokers. And the enormous 17mL e-liquid capacity sustains consistent flavor and vapor for weeks before running dry.
Despite the substantial 600mAh battery, charging is a breeze thanks to the convenient USB-C port. A speedy 45-minute charge completely repowers the Ti7000 for many more hours of vaping.
Weighing the Pros and Cons
Pros
Captivating futuristic aesthetics
Monstrous 13mL e-liquid capacity
600mAh battery lasts ages
Tight yet smooth MTL draw
Balanced, nuanced flavors
Swift USB-C charging
Cons
E-juice is not refillable
Battery not replaceable
Limited vapor customization
Who is the Funky Republic Ti7000 For?
With its sophisticated styling and marathon battery performance, the Ti7000 excels as an ultra-portable yet powerful disposable vape. It provides exceptional longevity and reliability for vaping on the move.
The massive e-juice capacity sustains consistent flavor and vapor for far longer than cheaper alternatives. And the rapid charging ensures you'll never be without your Ti7000 for long.
While the constrained draw delivers defined MTL hits, cloud chasers may find the limited airflow underwhelming. But for handy yet mighty vapor production anywhere, anytime, the Ti7000 is hard to surpass.
Final Impressions on the Funky Republic Ti7000
In summary, the Funky Republic Ti7000 proves disposable vaping can offer an elevated experience. Its refined metallic shell provides durability and style from every angle.
Even better, the vaping performance lives up to the visual promise. A cavernous 17mL e-liquid supply keeps you puffing for weeks. The customized QUAQ coil generates outstanding flavor and vapor intensity. And the quick USB-C charging reduces interruptions.
For those seeking robust vaping power without the bother of mods and tanks, the Ti7000 is a class leader. Its future-forward aesthetics house present-day power to rival top vape kits. If you crave maximum flavor and longevity in a sleek on-the-go package, the Ti7000 delivers in spades.