Geek Bar C600 Disposable Vape Review – Flavosr and Value

As a budget-friendly disposable vape pen, the Geek Bar C600 aims to deliver robust flavor and convenience. With 15 tantalizing flavor options and up to 600 puffs per device, it warrants consideration from vapers wanting portability without sacrificing enjoyment.
Our Geek Bar C600 review provides an in-depth examination of this affordable disposable vape. We analyze the flavor variety, battery life, performance, pricing, and overall user experience to see if it satisfies both taste and value.
Overview of the Geek Vape C600 Disposable Vape
The C600 disposable vape pen comes pre-filled with 2ml of nicotine salt e-liquid and a built-in 500mAh battery. With draw-activated firing, it requires no buttons or complex settings. Just open the package and start puffing.
Geek Vape crafted 15 unique flavor options like Lime Cactus, Polar Ice Mint, and Cheesy Blueberry Jelly. Priced under $10 USD, the C600 competes with higher-end disposables on performance without the premium price.
Its pen-shaped design slips discreetly into a pocket or bag for portable use. For an easy yet flavorful introduction to vaping, the C600 warrants a look. Let's dig into the details.
Top Geek Bar C600 Flavors
The Geek Vape C600 disposable vape pen offers extensive flavor choices so every vaper can find their perfect match. From tropical fruits to icy mints and rich desserts, the C600 caters to diverse tastes.

We review the most distinct and popular C600 flavors to help guide your purchasing decision. Read on to explore the expansive flavor possibilities.
Mixed Fruit Rose Jam Shisha – A harmonious blend of strawberries, blueberries, and blackberries infused with sweet rose jam undertones and a hint of shisha. The mixed fruits offer layered berry complexity while the floral rose jam and shisha provide exotic allure.
Pineapple Coconut Milk – Escape to tropical bliss with juicy pineapple essence swirled into smooth, creamy coconut milk. Sweet pineapple combines with rich coconut for a flavor reminiscent of Pina Coladas and island cocktails. An easy all-day vape.
Pineapple Peach Mango – A tropical fruit medley of sweet pineapple, juicy peaches, and creamy mango blended together. It delivers layered complexity with notes of tangy pineapple, ripe peaches, and tropical mango. A sunny fruit flavor explosion.
Cheesy Blueberry Jelly – Indulge your tastebuds with sweet blueberry jelly and creamy cheese flavors. The inhale brings blueberry jam while the buttery exhale delivers cheesy bliss. A unique blend of fruit and savory that satisfies cravings.
Tropical Skittles Blast – Remember the rainbow of flavors in Skittles candy? This flavor replicates that fruity explosion with a mix of tropical fruits like mango, pineapple, grapefruit, lemon, and lime blended together. Sweet, tangy, and candy-like.
Mango Peach Cream – Juicy mango and peach slices swirled into velvety vanilla cream. It combines the tropical essence of mangoes and peaches with luscious creamy richness. A smooth yet fruity vape.
Orange Cheesecake – Indulge in creamy New York-style cheesecake layered with fresh orange zest. The inhale brings rich cheesecake while the exhale delivers a burst of tangy orange flavor. A perfect dessert vape.
Watermelon Ice – Crisp watermelon flavor chilled with frosty menthol for refreshing iciness. Sweet juicy watermelon provides hydrating flavor while the menthol cools and refreshes on the exhale. An invigorating summer vape.
Lime Cactus – An intriguing blend of zesty lime and light prickly pear cactus flavors. The lime brings bold citrus crispness complemented by subtle succulent cactus essence. Unique and satisfying.
Sour Apple – Experience the mouthwatering tartness of sour green apples. It perfectly balances sweet and sour for an authentic sour apple candy flavor. A nostalgic blast from the past.
Orange Vanilla – A tasty mix of sweet oranges and creamy vanilla custard. Notes of fresh orange zest pair beautifully with luscious vanilla. A perfect balance of citrus and cream.
Polar Ice Mint – Feel an arctic chill with this brisk minty menthol flavor. Crisp peppermint and spearmint oils meet icy menthol for freezing flavor. An invigorating deep cold blast.
Ginger Soda – The essence of real ginger root paired with effervescent soda water for a refreshing flavor. Ginger spice tanginess balances out the sweet fizziness. An uplifting and tasty vape.
Red Mojito – A sparkling mojito cocktail with a burst of red berries. Notes of mint, lime, and soda water accented with sweet raspberries, strawberries, and cranberries. Fun and fruity.
Cola Ice – Classic cola flavor chilled with frosty menthol – just like your favorite soda on ice. Fizzy cola combined with an exhilarating icy finish. A chilling take on soda vapes.
With so many options, the C600 has a flavor for every vaper. Discover your new all-day vape!
Battery and Performance
A 500mAh battery fuels up to 600 satisfying puffs from the C600. And thanks to the instant ramp-up time, flavor and vapor production impress right off the first draw.
The draw-activated firing responds consistently with zero misfires. Vapor pours out smooth and moderately warm at 3.3-3.7V output. And the flavor maintains accuracy down to the final puff.
While the vapor production doesn't match sub-ohm devices, it satisfies for a disposable. And the minimal voltage keeps the vapor temperature comfortable and smooth.
Considering its compact size, the C600 delivers excellent efficiency. The battery life lasts reasonably through a night out or an afternoon at home. Quick, no-fuss enjoyment defines the experience.
Design and Build Quality
The C600 features a slim pen-shaped aluminum housing common among disposables in order to remain lightweight and pocketable. It measures just 88mm tall and 12mm wide.
All sections fit together tightly with no wiggle or rattle. The mouthpiece and body stay cool during use. And the draw hole placement prevents any leaking or condensation build-up.
While cheaper plastic disposables exist, the C600 feels a step above in build quality at this price point. The metallic finish also gives it a bit more aesthetic flair over typical disposable designs.
The mouthpiece fits comfortably between the lips. And at just 17 grams total weight, the C600 won't weigh down a pocket or bag during transport.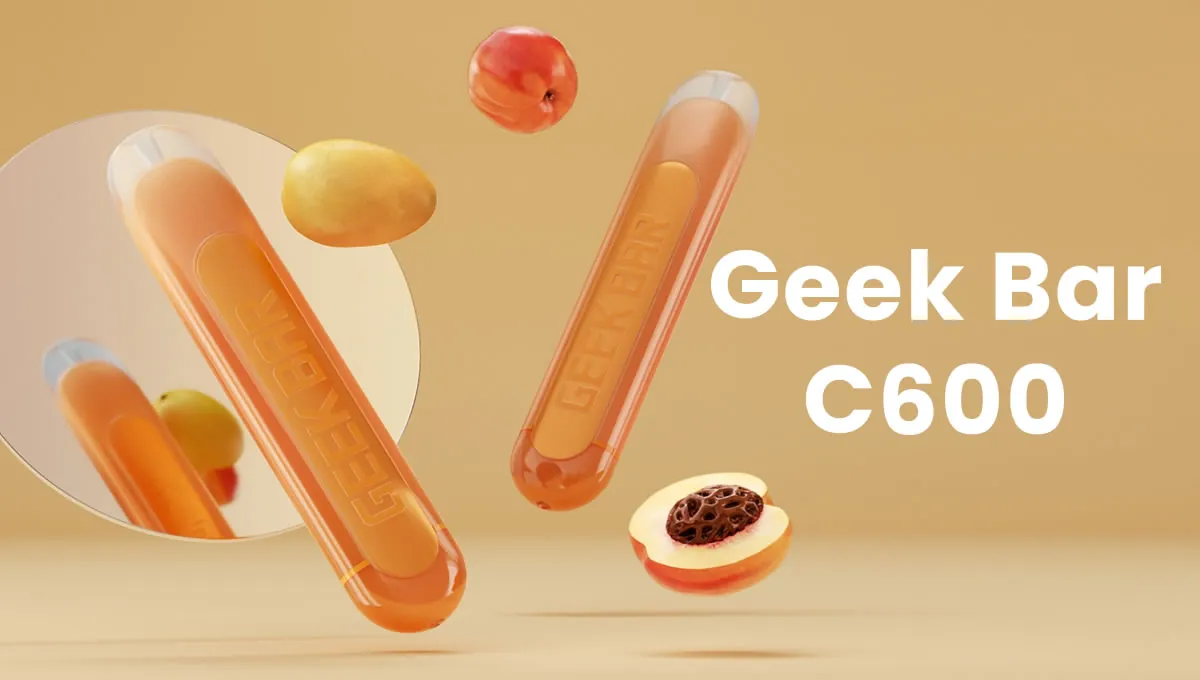 User Experience
Satisfied user reviews praise the C600's practical battery life and wide flavor selection considering its affordable pricing. Flavor accuracy and smooth yet satisfying vapor also rate highly among buyers.
Many appreciate the draw-activated mechanism and ease of use. With no buttons or adjustments needed, the C600 accommodates vaping novices. The flavor variety also helps retain enjoyment over multiple device purchases.
The majority of criticism centers on the disposable nature rather than rechargeability. But given the price, lifespan, and performance, most view the C600 as a value-focused option for flavorful portable use rather than extended device lifespan.
Pricing and Availability
The Geek Bar C600 retails between $6-$10 USD on average, depending on region and seller. Many online vape shops sell multi-unit bundles with additional discounts applied.
Due to the disposable format and import costs, availability remains limited to certain domestic and international online retailers. Yet competitive pricing and high demand should improve widespread supply over time.
For vapers seeking flavor variety on a tight budget, the C600 costs about the same as a single e-juice bottle. This makes it an affordable way to sample an assortment of profiles conveniently.
Common Geek Vape C600 Review Questions
How many puffs does the C600 battery last?
Around 300 puffs per full 500mAh charge based on average draw length. Results vary pending individual usage.
How many flavor options does the C600 offer?
Geek Vape formulated 15 unique C600 flavor varieties to suit diverse tastes.
Can you refill the C600 device?
No, the C600 cannot be refilled or recharged once depleted. It's designed for disposable use.
What nicotine strength does the C600 use?
The e-liquids contain 20mg nicotine salts for satisfying throat hit similar to smoking.
Does the C600 have adjustable power settings?
No, the voltage output is pre-set. Draw activation provides simple automated use.
Geek Bar C600 Review: Final Verdict
For a budget disposable vape pen, the Geek Bar C600 overdelivers on flavor variety and satisfaction. Performance remains consistent throughout the 600 puff rating as well.
Vapers wanting economical yet enjoyable flavors for portability will find value in the C600 lineup. Top-notch engineering and formulation make these affordable disposables a surprising delight.
With 15 crave-worthy flavors to choose from, the C600 offers something for all palates and preferences. Its straightforward draw-fire function also accommodates vaping newcomers.
If you seek flavorful convenience in a pocket- and budget-friendly format, give the Geek Bar C600 a puff today.
https://ecigator.com/wp-content/uploads/2023/10/1697999062-Geek-Bar-C600-Disposable-Vape-Review.jpg
680
1200
Ecigator
https://ecigator.com/wp-content/uploads/2023/04/ecigator-logo-white.png
Ecigator
2023-10-23 18:01:59
2023-10-22 18:28:23
Geek Bar C600 Disposable Vape Review – Flavosr and Value