Geek Bar DF8000 Disposable Vape Review: Flavors and Performance

The Geek Bar DF8000 disposable vape aims to deliver exceptional flavor and convenience in one portable device. With a large 14ml e-liquid capacity and long-lasting 600mAh battery, it provides up to 8000 satisfying puffs.
Our in-depth Geek Bar DF8000 review offers a complete examination of this innovative disposable vape pen. We analyze the flavor options, vapor production, battery life, design, and user experiences to see if the DF8000 satisfies both taste and portability needs.
Introducing the Geek Bar DF8000 Disposable Vape
As a rechargeable disposable vape, the DF8000 eliminates the need to refill pods or change coils. The built-in 14ml e-liquid supply and 600mAh battery offer outstanding longevity compared to typical disposables.
An adjustable airflow ring lets you customize draw tightness as desired. The direct draw mechanism enables quick autofiring. LED indicators clearly display remaining battery level and e-liquid volume.
The DF8000 uses 20mg/mL nicotine salt concentrations to deliver smooth yet satisfying throat hit. Geek Vape's proprietary fruity flavors like Punch Ice and Berry Trio burst with authentic taste using quality ingredients.
For vapers wanting worry-free extended usage with bold flavors, the DF8000 is an ideal option to consider. Let's examine what sets this innovative disposable vape apart.
Top DF8000 Flavor Options
The Geek Bar DF8000 disposable vape offers an extensive selection of flavors to appeal to any palate. From fruity fusions to icy mints, the proprietary e-liquid recipes deliver authentic taste you'll crave.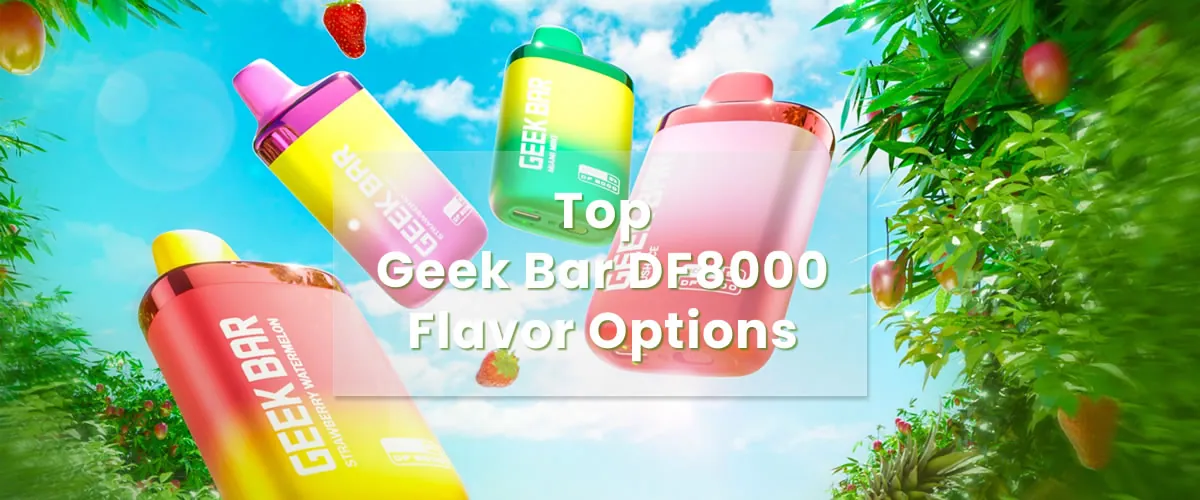 We review the most popular DF8000 flavors to help you discover the perfect match for your preferences. Read on to explore the flavor possibilities with this innovative disposable vape.
Punch Ice – A vibrant tropical medley of orange, pineapple, mango, peach and passionfruit infused with an exhilarating icy chill. The blend of succulent fruits provides a dynamic flavor profile with notes of tangy citrus, sweet pineapple, creamy mango and peach. Each inhale fills your mouth with sunshine ripe tropical fruits while the icy cool exhale cleanses your palate.
Berry Trio Ice – A mixed berry delight blending the sweet tartness of strawberries, the rich flavor of raspberries and the mild tang of blueberries, all topped with an invigorating chill. With each puff you can taste the ripe juicy strawberries, feel the slight bite of the raspberries and experience the subtle mellow berry notes from the blueberries. The medley provides layered complexity while the menthol finish leaves a crisp cooling sensation.
Blue Raspberry Ice – Enjoy the sweet candy-like flavor of blue raspberries chilled by icy menthol. The inhale brims with tangy blue raspberry candy essence, similar to your favorite childhood lollipop but better. As you exhale, the brisk menthol cools and refreshes your mouth. This flavor is reminiscent of frosty blue raspberry slushies.
Fuji Melon Ice – A refreshing blend of sweet honeydew melons and tart green apples with an exhilarating icy finish. Crisp Fuji apples provide a juicy tartness that complements the honey-like flavor of the melons. Each puff delivers a sweet fruit medley flavor complemented by the cooling menthol on the exhale.
Raspberry Watermelon Ice – A fruit cocktail of ripe juicy watermelon and tart red raspberries, all chilled with an icy blast. The inhale fills your mouth with sweet watermelon essence paired with the subtle tart berries. As you exhale, the brisk chill cools and refreshes your palate. This flavor combo satisfies your fruity cravings.
Strawberry Mango Ice – A sunny tropical blend of ripe mangoes, sweet strawberries and cool menthol. Enjoy notes of creamy mangoes layered with decadent strawberry jam, finished off with an icy exhale. Each puff brings you to a tropical oasis.
Tropical Blast Ice – An explosion of juicy tropical fruits including pineapple, mango, guava, papaya and passionfruit, perfectly balanced with refreshing icy menthol. The inhale provides a vibrant medley of sweet and tangy tropical fruits. As you exhale, the chill cools and balances the lush fruitiness.
Miami Mint – A classic crisp peppermint flavor accented by icy menthol provides a brisk cooling sensation. Breathe in the brisk peppermint oil essence and exhale chilly menthol air. This invigorating flavor combination energizes your senses.
Lush Ice – Sweet cantaloupe, honeydew, and watermelon blended with an exhilarating chilly finish. The medley of melons provides layered complexity with each puff. Honeydew delivers a pleasant floral hint, cantaloupe gives a rich smoothness, while watermelon brings juicy sweetness. The icy menthol adds refreshing crispness.
Sakura Grape – A truly unique flavor blending Japanese cherry blossoms and grapes chilled by frosty menthol. Experience notes of honeyed grapes mixed with fragrant cherry blossoms. Every puff offers complexity from the changing flavor profile. The icy exhale contrasts beautifully with the floral fruits.
With its extensive variety, the Geek Bar DF8000 has a little something for every vaper's tastes. Discover your new favorite fruity, icy, or minty all-day vape.
Battery Performance and Vapor Production
A 600mAh battery fuels the DF8000 for incredible runtimes compared to most disposables. Geek Vape's proprietary dual mesh coil design maintains rich flavor and dense vapor consistency as the battery depletes.
In testing, the battery easily lasted from morning to evening even with moderate use. When the LED indicator pulses red, the USB-C port fully recharges the device in just 45 minutes.
The draw-activation responds instantly without misfires or delays. Users praise the adjustable airflow ring that lets you customize tightness from a restricted MTL inhale to an airier DTL draw.
Vapor pours forth abundantly from the first puff to the last thanks to optimized temperature control. And unlike many disposables, the DF8000's flavor maintains accuracy throughout the e-liquid volume.
For a portable disposable device, the DF8000 provides exceptional battery stamina and consistency to match far more advanced mods. The LED indicators take the guesswork out of tracking remaining power and liquid.
Design and Build Quality
While disposables commonly use cheaper plastic bodies, the DF8000 features a slim metal and carbon fiber chassis for enhanced durability. Its pen-shaped design slides easily into a pocket or bag.
All sections fit together tightly with no rattles or wiggle. The adjustable airflow ring provides firm, distinct clicks when turned. Ingress protection prevents e-liquid seepage from the air inlet holes.
At just 96mm tall and 12mm wide, the DF8000 maintains ergonomic portability. The mouthpiece and body stay cool during intense vaping sessions.
For a disposable vape, the DF8000 feels remarkably solid and stable in-hand. The metallic and carbon embellishments distance its aesthetics from cheaper plastic competitors.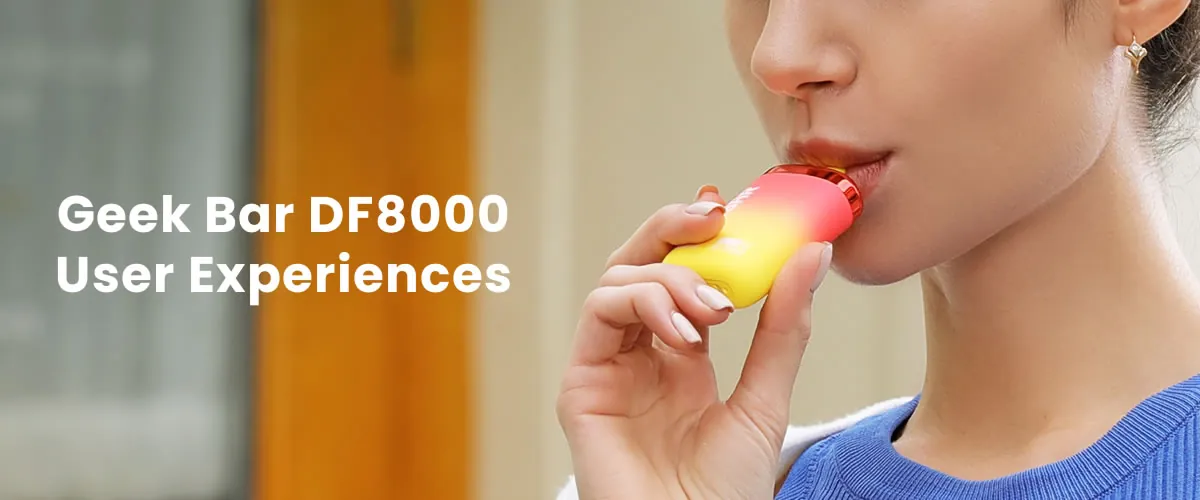 User Experiences
Numerous satisfied user reviews praise the DF8000's practical battery efficiency and reliability. Even after thousands of puffs, the battery still recharges fully and delivers consistent vapor and flavor.
The expansive flavor variety, smooth draw, dense vapor production, and longevity also impress buyers. Many appreciate the adjustable airflow ring providing customization options rare in disposables.
Most users report getting a full day or more of usage per battery charge. And the intuitive LED indicators eliminate guessing about remaining battery or e-liquid levels, a common frustration with disposables.
While the DF8000 costs a bit more than typical disposables, its 8000 puff rating and reusability via USB-C charging justify the investment. Overall, user experiences reflect the premium engineering and performance that Geek Vape is revered for.
Pricing and Availability
The Geek Bar DF8000 retails between $25-$35 USD depending on your region and local taxes/fees. Many online vape shops offer multi-unit discounted rates.
As a newer model, supply remains limited to authorized Geek Vape sellers for now. But the brand's reputation ensures steady future availability both online and in vape stores.
Given the remarkable 8000 puff count versus 500-600 on standard disposables, the DF8000 provides excellent value convenience-wise. The reusable functionality also enhances cost-efficiency.
FAQs About the Geek Bar DF8000
How long does the DF8000 battery last per charge?
Approximately 800 puffs based on testing. Battery life varies dependinging on individual draw length and frequency.
Does the flavor stay consistent with the DF8000 pods?
Yes, the proprietary mesh coil design maintains consistent flavor until the e-liquid is fully depleted.
How many total puffs can you expect from the DF8000?
Geek Vape rates each DF8000 disposable at approximately 8000 puffs in total.
How often should you recharge the DF8000?
With moderate use, expect to recharge the battery every 1-2 days on average. The LED light alerts you as power runs low.
What nicotine strength does the DF8000 use?
It contains 20mg/mL nicotine salts for smooth yet satisfying throat hit.
Geek Bar DF8000 Review: Our Final Take
With outstanding battery endurance, brilliant proprietary fruity flavors, and customizable airflow, the Geek Vape DF8000 succeeds as an innovative disposable vape. It delivers unrivaled consistency and longevity for ultimate convenience.
Vapers wanting elongated worry-free usage combined with bold, authentic taste will find satisfaction with the DF8000. Geek Vape again impresses by meeting – and exceeding – user expectations.
If you're tired of disposables with limited, fading flavor and short battery life, the DF8000 provides a breath of fresh air. Robust engineering and ingenious design make it the new standard for disposable vaping.
https://ecigator.com/wp-content/uploads/2023/10/1697981153-Geek-Bar-DF8000-Disposable-Vape-Review.jpg
680
1200
Ecigator
https://ecigator.com/wp-content/uploads/2023/04/ecigator-logo-white.png
Ecigator
2023-10-22 16:20:14
2023-10-22 16:20:14
Geek Bar DF8000 Disposable Vape Review: Flavors and Performance