Geek Bar Meloso Mini Disposable Vape Review

The newly launched Geek Bar Meloso Mini disposable vape proves big things come in small packages. This pint-sized vaporizer delivers maximum flavor and satisfaction in a perfectly portable form. While diminutive in stature, the Meloso Mini stands tall through its innovative technology, concentrated e-liquids, and deliciously long-lasting performance.
Introduction
Take one glance at the Meloso Mini's compact frame and stylish aesthetics and you know this is no run-of-the-mill disposable. Geek Bar packed this mini vape full of advanced features to optimize enjoyment. Dual mesh coils enhance every puff for exceptional consistency. Convenient auto-draw functionality makes vaping a breeze. And a range of bold fruity flavors tantalizes the tastebuds. Let's dive in to see what makes the Meloso Mini a marvel of engineering.
Design and Features
An Ultra-Portable Body
Weighing about as much as a pack of gum, the Meloso Mini's lightweight build easily fits into pockets or palms for vaping on the go. The smooth curved edges contour comfortably against fingers for a natural feel during extended vaping sessions. Elegant chrome accents on the base add flair to the minimalist aesthetic. Overall the intelligently designed body provides exceptional portability and comfort.
Breakthrough Heating Innovations
While travel-friendly in size, the Meloso Mini features innovative heating technology inside its petite frame. The dual mesh coils are an engineering marvel, vastly increasing the heating surface area within the compact space. This allows for evenly distributed and consistent heat delivery to the e-liquid.
The result is phenomenally smooth flavor output puff after puff. And because the coils disperse heat so evenly, the vapor produced is airy yet dense for a satisfying throat hit. It's gentle enough for beginners yet fulfilling for experienced vapers. Truly a heating innovation that defies the diminutive size.
Handy Safety Features
The Meloso Mini keeps vaping easy and controlled through straightforward auto-draw functionality. No buttons required – just pick up and puff. A bright LED indicator lights up with each draw so you can monitor usage at a glance.
Once the e-liquid runs low, the LED provides a handy visual indicator by flashing repeatedly. This alerts you when the battery is fully depleted so you know it's time to dispose of the vape responsibly. Safety features like these make the Meloso Mini ideal for new vapers just learning the ropes.
TPD Compliant
To meet TPD regulations in the UK and EU, the Meloso Mini contains 2ml of nicotine salt e-liquid at a 20mg concentration. This gives a satisfying nic hit in a compliant format. And the mini size means you get that instant nic satisfaction without exceeding legal vape levels.
Top Flavor Options
While small in scale, the Meloso Mini produces seriously bold flavor. The advanced heating coils optimize every drop of e-liquid to provide pure, consistent taste. Nic salts give an extra flavor punch in the compact reservoir. And the focused fruity flavor profiles cater to a wide range of preferences.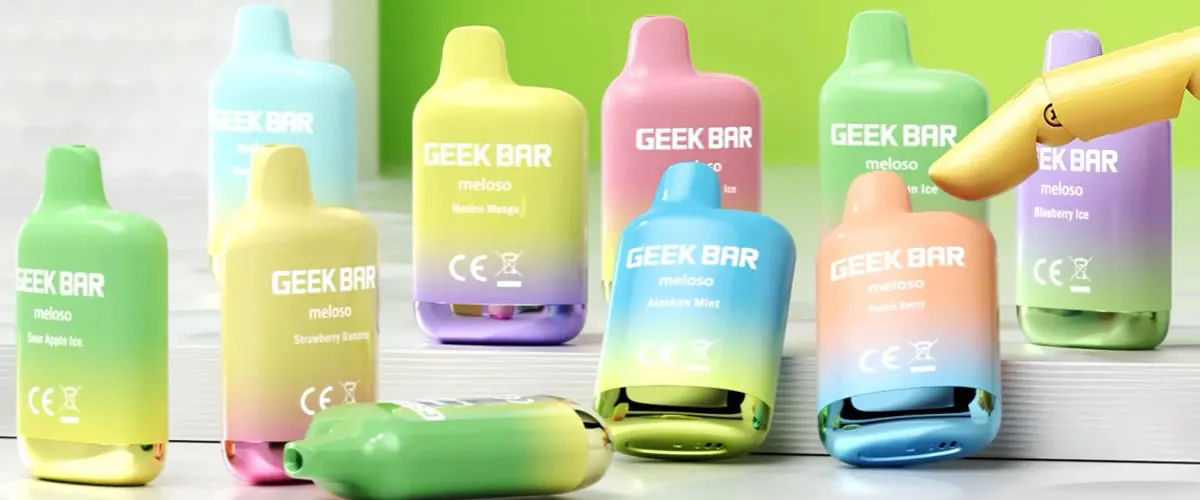 Blueberry Ice
According to Geek Bar, Blueberry Ice offers sweet blueberry with cooling menthol. However, our tasting experience aligned more with candy grape flavor topped off with a blast of menthol.
The inhale brings lightly tart, slightly metallic grape notes. Sweetness builds on the exhale, turning quite sugary by the finish. The cooling effect provides a nice counterbalance.
While missing the mark on accurate blueberry flavor, Blueberry Ice still delivers a solid sweet grape vape with icy exhales. Those who enjoy candy grape over natural grape will appreciate this edition.
Cherry Ice
Geek Bar describes Cherry Ice as delivering sweet cherry with cooling menthol. Upon tasting, the cherry flavoring comes across quite artificial and generic – inherent drawbacks of disposable e-liquid.
Interestingly, the sweetness mainly erupts at the tail end of the exhale, feeling disconnected from the cherry taste. The menthol effect also feels subdued.
Overall, Cherry Ice underwhelms in the flavor department. The cherry tastes candy-like but isn't juicy enough. And the tidal wave of sweetness on the finish disrupts the experience.
Mint Flavor
True to its name, Mint delivers an ultra-crisp, cooling burst of mint flavor. The initial inhale provides a minty chill that borders on brain freeze territory when chain vaped.
The likely blend of peppermint and spearmint tastes fresh, with a pleasant sweetness rounding it out. The dual mesh coils amplify the minty exhilaration effectively. An excellent representation of the classic flavor.
Peach Ice
Peach Ice lives up to its billing, providing juicy peach flavor complemented by cooling menthol. The peach taste skews natural and fresh, with pleasant floral sweetness.
You get tangy peach acidic notes to balance the sugary elements. Altogether, Peach Ice delivers an authentic ripe peach experience with solid menthol reinforcement. A spot-on flavor for peach candy fans.
Sour Apple
Sour Apple offers a crisp, tart apple profile without becoming face-puckeringly sour. The green apple flavor shines through, with Granny Smith apples coming to mind.
Sweetener complements the apple to draw out its natural sugars. A touch of chilling menthol finishes it off. Altogether an accurate and balanced sour apple flavor you can vape all day.
Tobacco
Tobacco avoids artificial cooling agents to allow its mellow tobacco flavor to develop. The taste experience centers more on hand-rolled tobacco than traditional cigarettes.
Pleasant nutty, earthy tobacco notes mingle with sweetener on the exhale for a smooth finish. While no cigarette replica, Tobacco provides an enjoyable mellow tobacco vaping experience.
Hopefully our personal flavor reviews help you narrow down the options to find appealing Meloso Mini editions you'll enjoy vaping. With diverse profiles from mints to fruits and tobaccos, the selection offers wide tasting variety.
Performance Overview
While travel-sized, the Meloso Mini performs like a vaping heavyweight. The advanced dual mesh coils optimize every draw, delivering fuller flavor from the compact 2ml reservoir. Concentrated 20mg nic salts also amplify the flavors for bolder taste intensity.
Smooth consistent performance lasts from first puff to final puff thanks to meticulous engineering. There's no drop off in flavor even when the e-liquid runs low. Sweet fruity flavors or icy mint stay perfectly balanced and defined down to the very last draw. For such a petite disposable, the Meloso Mini consistently delivers well above its weight class.
What's In the Box?
The Meloso Mini comes neatly packaged with:
1 x Meloso Mini disposable vape device
1 x User manual
1 x Side effects warning booklet
The detailed instructions provide guidance for getting started and using the auto-draw functionality. But the simple intuitive design means most new users will find it highly easy to use right off the bat. Just open, puff, and enjoy!
Battery and Puff Performance
The 550mAh battery keeps pumping out remarkably consistent flavor and vapor for the Meloso Mini's petite size. On average, users can expect up to 600 satisfying puffs before the battery fully depletes.
Impressively, the advanced heating system maintains the same smooth performance right until the very last puff. There's no drop off in taste when the e-liquid runs low like some disposables experience. This exceptional reliability makes the Meloso Mini ideal for tossing in a pocket or purse, knowing it will deliver whenever that vape craving hits.
Pros and Cons
Pros
Ultra portable and lightweight
Generates consistent bold flavor
570mAh battery lasts for up to 600 puffs
Auto-draw functionality for ease of use
Dual mesh coils evenly vaporize e-liquids
TPD compliant 2ml/20mg format
Cons
Disposable design creates more waste
Airflow slightly too airy for a tight MTL draw
Only 15 flavors available currently
Final Verdict
While diminutive in size, the Geek Bar Meloso Mini delivers max satisfaction. This perfectly portable vaporizer combines striking aesthetics with advanced heating technology for smooth powerful performance. From the intelligently engineered dual mesh coils to the concentrated nic salt e-liquids, every component aims to optimize the vaping experience. There's no shortage of flavor or battery life in this mighty mini vape.
New vapers will appreciate the easy auto-draw functionality and revitalizing fruity flavors. Seasoned vapers will be impressed by the petite yet powerful performance. It outshines many full-size disposables on flavor consistency and longevity. For those seeking a satisfying nic hit in a pocket-friendly format, the Meloso Mini is a vaping marvel not to be missed.
https://ecigator.com/wp-content/uploads/2023/10/1697610017-Geek-Bar-Meloso-Mini-Review.jpg
650
1200
Ecigator
https://ecigator.com/wp-content/uploads/2023/04/ecigator-logo-white.png
Ecigator
2023-10-18 06:34:59
2023-10-18 09:00:37
Geek Bar Meloso Mini Disposable Vape Review