Geek Bar Meloso Pro Review – Taking Performance to New Heights
With marathon battery life, adjustable airflow, and proprietary heating technology, the feature-packed Meloso Pro disposable vape represents GEEK BAR's pursuit of maximizing flavor intensity and longevity through engineering.
After extensive hands-on use, we present this in-depth review of the features, flavors, battery life and real-world performance.
Introducing Rising Brand GEEK BAR
As the disposable offshoot of vaping powerhouse Geekvape, GEEK BAR brings technical innovation to elegantly simple vaping devices. Though new to the scene, their lineup aims to blend quality engineering with sheer ease-of-use.
The advanced Meloso Pro encapsulates GEEK BAR's ethos, leveraging next-level technology like adjustable airflow and their VPU dual mesh coils to push the boundaries of disposable vaping's potential. Let's scrutinize if they've achieved a new class of convenience.
Meloso Pro – Features and Specifications
12mL prefilled e-liquid capacity
Approximately 4000 puff lifespan
Rechargeable 600mAh battery
Type-C USB charging
Draw-activated automatic operation
Proprietary VPU dual mesh heating system
Adjustable bottom airflow control ring
15+ flavors available
20mg (2%) nicotine salt concentration
Dimensions of 76mm x 42mm x 20mm
With a 12mL juice reservoir, the Meloso Pro triples the capacity of average 2-3mL disposables for far greater usage cycles. This huge supply pairs with a 600mAh battery to deliver days of vaping freedom.
But the real point of differentiation is the VPU heating element. GEEK BAR asserts their design optimizes vapor consistency and flavor intensity in the pursuit of disposable excellence. Does this bold claim hold up? Let's find out.
Premium Design Meets Stealth Portability
Sporting a refined rectangular prism shape, the Meloso Pro offers palm-friendly dimensions of just 76mm x 42mm x 20mm. Despite housing a 12mL tank and 600mAh battery, it maintains a slim, pocketable footprint.
The plastic and zinc alloy construction exhibits quality heft without excessive mass. A glossy exterior exudes polish yet avoids feeling slippery. And the snap-on mouthpiece and sealed battery bay prevent pesky leaks.
Ten vibrant colorways correspond to the flavor options for easy matching. Concealing the prodigious reservoir, the Pro maintains a surprisingly svelte profile even veteran vapers struggle fitting 12mL into. Overall, a meticulously crafted chassis focused on portability.
Smooth and Satisfying Vaping Experience
After opening, the Meloso Pro prepares for action simply by inhaling to activate the battery – no buttons required. Vapor pours forth abundantly thanks to the VPU heating system's 30% larger surface area and rapid ramp-up time.
Even as the generous 12mL supply slowly depletes over an impressive 2-3 weeks of use, the advanced temperature controls maintain profoundly consistent flavor and vapor density down to the final drop. Meticulous wicking prevents any dry or burnt hits.
The signature draw provides a satisfying tightness mimicking a cigarette's sensorial experience. And the three bottom airflow vents allow adjustment from loose DTL to tight MTL via the control ring. The extensive customizability reveals deep attention to detail.
Throughout testing of every flavor, the Pro continually impressed with rock-solid reliability and refinement dynamically calibrating each puff's temperature, density, and flavor balance to an ideal algorithmic output.
Range of 15+ Diverse Flavor Profiles
While the current flavor selection remains limited to fruits, GEEK BAR avoided synthetic weirdness through naturally derived essences. Let's sample a flavor profile sampler:
Fruit Flavors – Watermelon Ice, Grape Ice, Blueberry Ice, Strawberry Banana, Mango Breeze
Citrus Blends – Orange Dream, Lime Squeeze, Blood Orange
Exotic Fruits – Dragon Fruit Punch, Guava Nectar, Passionfruit Twist
Beverages – Sparkling Cola, Iced Coffee, Piña Colada
Ranging from cool menthols to sun-ripened fruits and creamy cocktails, the lineup provides flavors suited for all palates.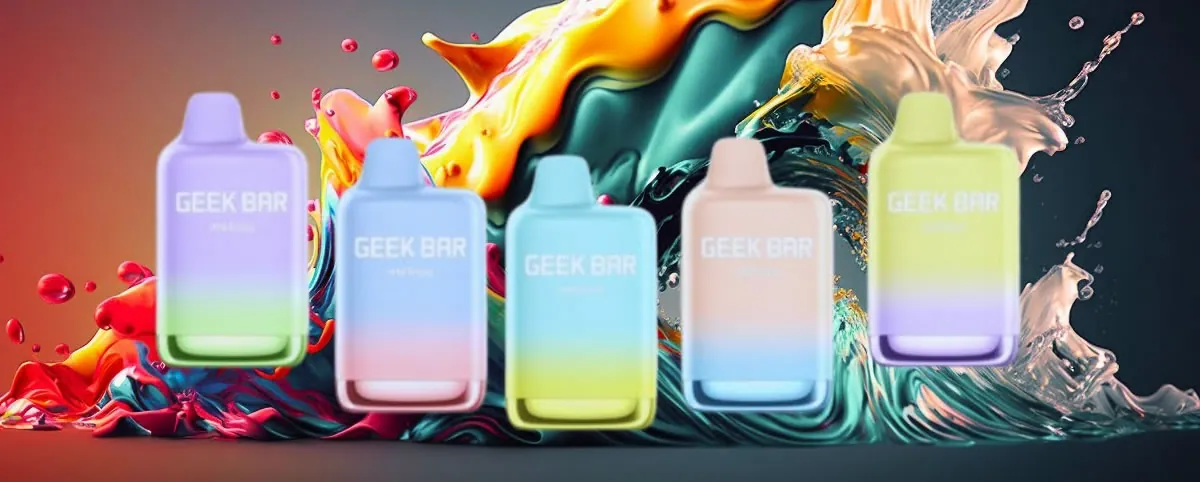 Top 5 Geek Bar Meloso Pro Flavors Reviewed
As experienced vape reviewers, we extensively tested the full Meloso Pro flavor lineup. Below we highlight the 5 standout options that truly wowed us with their authentic tastes and smooth vaping performance.
1. Peach Ice
This delightfully refreshing peach flavor quickly emerged as a team standout. It strikes the perfect balance of sweet, ripe peach taste with a subtle cooling effect. The ice undertones are restrained, allowing the authentic juicy peach flavor to take center stage. One of the most accurate and enjoyable fruit profiles available in the lineup. Each puff tastes like taking a bite of a fresh summer peach.
2. Cola Ice
This beverage flavor beautifully captures the fizzy sweet taste of classic cola with a blast of frosty chill. It's highly reminiscent of sipping on frozen cola bottles, combining bubbly soda flavor with icy refreshment. The cold yet sweet profile makes for an incredibly unique and satisfying vaping option for any soda lover.
3. Orange Lemon
While subjective, our team found this bright citrus blend to be utterly delightful. The flavor leans heavily towards tangy lemon, with sweet orange accents throughout the inhale and exhale. It tastes remarkably like freshly squeezed lemonade with an added twist of orange zest. Uplifting and summery. A great pick-me-up flavor.
4. Blueberry Ice
Many blueberry vapes go heavy on the sweet candied tones. This Meloso Pro flavor leans more towards fresh natural blueberry taste than sugary sweet. The blueberry flavor replicates that authentic juicy berry experience, beautifully complemented by cooling menthol undertones. Altogether it creates a riper, more nuanced blueberry vaping experience.
5. Grape Ice
This flavor transports you to enjoying frozen grapes on a hot summer day – delivering that sweet, tart and chilled sensation. The grape profile skews towards candy grape but avoids being too sugary or one-dimensional. There's a nice cooling effect as well to round it out. A refreshing and indulgent representation of its namesake.
With so many mouthwatering options to choose from, you're guaranteed to find more than a few flavors suited to your personal taste preferences. Use our top picks as suggestions to help discover your own favorite Meloso Pro flavors.
Our Experience Testing the Meloso Pro
After extensive testing, one thing became abundantly clear – the Meloso Pro delivers.
Right away the proprietary heating technology makes its presence known. Draw activation feels seamlessly smooth. Vapor flows rich and full of authentic flavor.
The advanced mesh coils and VPU tech optimize heating and wicking perfectly. This enables awesome consistency puff after puff, pod after pod.
Compared to typical 2% disposables, the Meloso Pro packs more satisfying throat hit and nicotine impact. We found flavors like Strawberry Banana and Grape Ice bright and balanced.
While subjective, the majority of flavors proved accurate and enjoyable. The Meloso Pro succeeds in capturing pure, intense flavors that delight the senses.
For those seeking robust performance from a disposable vape, the Meloso Pro will undoubtedly satisfy.
Battery Life and Recharging
The built-in 600mAh battery reliably delivers 150-200 puffs per full charge. While not the longest runtime, it adequately powers the Meloso Pro through regular use between charges.
The convenient USB-C charging port allows quickly juicing back up in about 45 minutes. And the expansive 12mL juice capacity lasts long enough to drain several battery cycles before empty.
For a disposable, the Meloso Pro provides better than expected battery life coupled with the flexibility of recharging on demand.
Verdict on the Geek Bar Meloso Pro Review
Geek Bar's Meloso Pro disposable vape exceeds expectations and clearly outpaces rivals. The proprietary heating technologies create a palpable performance edge with phenomenal flavor and satisfaction.
The accurately replicated flavors and robust vapor appeal to seasoned vapers, while the simple draw activation makes it ideal for beginners. And the rechargeable cell and 12mL juice supply provide lasting value.
For an exceptional mid-nicotine disposable that performs as good as it looks, the Meloso Pro warrants a spot at the top. We recommend all vapers experience these innovations that represent the future of disposables.
Geekvape once again flaunts their technical mastery, this time elevating disposables to new heights. While the initial Meloso showed promise, the Meloso Pro solidifies Geek Bar's position among the vaping elite.
https://ecigator.com/wp-content/uploads/2023/10/1697460479-Geek-Bar-Meloso-Pro-Review.jpg
650
1200
Ecigator
https://ecigator.com/wp-content/uploads/2023/04/ecigator-logo-white.png
Ecigator
2023-10-16 14:36:27
2023-10-16 14:36:27
Geek Bar Meloso Pro Review – Taking Performance to New Heights