Geek Bar Meloso Max Disposable Vape Review
The newly released Geek Bar Meloso Max has made quite a splash in the vaping world. This well-designed disposable vape boasts an array of innovative features that deliver an exceptionally gratifying vaping experience. From its extensive battery life to the adjustable airflow and tantalizing flavors, the Meloso Max sets a new standard for convenient vaping enjoyment.
Introduction
One look at the Meloso Max's stylish metallic exterior and you can tell this is no ordinary device. The smooth curves fit naturally in your hand for comfortable extended vaping sessions. But the real magic lies inside, where advanced technology like the dual mesh coils and LED indicators enhance performance. Let's delve deeper into what makes the Meloso Max a cut above the rest.
Key Specifications:
14mL Pre-Filled E-Liquid.
5% (50mg) Nicotine Strength.
600mAh Type-C Rechargeable Battery.
Approximately 9000 Puffs.
Dual Mesh Coil.
SMART Battery Indicator & E-Liquid Indicator Lights.
Adjustable Airflow.
Design
Geek Bar crafted the Meloso Max with the user experience firmly in mind. The ergonomic shape with gently curved sides ensures it rests smoothly in your hand. This makes holding it feel completely natural, whether you prefer a loose casual grip or a more controlled firm hold.
The sleek metallic exterior gives it an elegant futuristic look. Visually it makes a statement, yet the lightweight body won't weigh you down. Everything about the Meloso Max's design focuses on form meeting function in the most aesthetically pleasing way.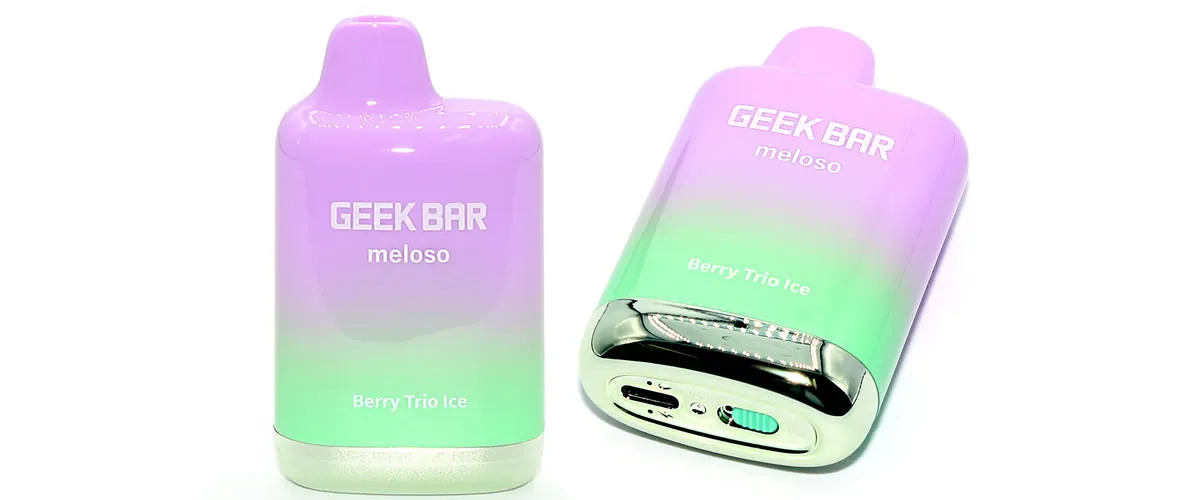 Features
While the Meloso Max wins points for stylish aesthetics, the features truly shine by delivering customizable vaping excellence:
Massive Battery Life
The Meloso Max is built for longevity, offering an astonishing 9000+ puffs per device. Even after extensive vaping, the battery keeps going strong. Now you can enjoy prolonged sessions without constantly replacing your vape.
For perspective, that's nearly five times more puffs than average disposables. So both casual and dedicated vapers will appreciate the extended usage they get from the Meloso Max before needing to swap it out.
Dual Mesh Coils
Inside the sleek exterior, advanced dual mesh coils optimize the vaping experience. By significantly expanding the heating surface area, the e-liquid gets evenly distributed heating. This means every draw provides a smooth consistent flavor, from the first puff to the last.
The innovative coils also produce an exceptionally light and airy vapor that's soothingly gentle. There's none of the harshness you find with some disposable vapes. The silky draw feels almost featherlight in your mouth.
Smart LED Battery/Liquid Indicators
Nothing disrupts a good vaping session faster than suddenly running out of battery or e-liquid. That's why the Meloso Max comes equipped with two handy LED indicators to avoid any unexpected interruptions.
The Smart Battery Indicator lets you monitor levels at a glance. The color display lets you know when your battery is full, halfway, or nearing empty so you can charge up in time.
Similarly, the E-Liquid Indicator shows when your e-liquid is getting low. This way you can have a fresh vape on standby before you run out completely.
The dual LED indicators provide helpful at-a-glance updates, ensuring your Meloso Max vaping enjoyment won't get cut short.
Adjustable Airflow
Having the option to tailor your draws to match your personal puffing style makes a big difference in vaping satisfaction. The Meloso Max allows exactly that with its easily adjustable airflow control.
Some vapers prefer a tight restrictive draw that concentrates flavor. Others opt for an airier pull. With the Meloso Max you can toggle between the two simply by adjusting the air valves. Catering the airflow to your individual taste provides a more customized, enjoyable experience.
Rapid Charging
Thanks to the convenient Type-C charging port, powering up your Meloso Max takes no time at all. The fast efficient charging means less waiting before you can resume vaping.
Plus Type-C cables are widely available these days, so chances are you already have a compatible charger on hand. Just plug in whenever the Smart Battery Indicator shows your Meloso Max needs juicing up.
Top 10 Meloso Max Flavors Reviewed
The Geek Bar Meloso Max disposable vape comes pre-filled with a diverse selection of 15 mouthwatering flavors. As experienced vape reviewers, we extensively tested the entire lineup. Below we highlight our picks for the 10 best Geek Bar Meloso Max flavors that stood out for their accuracy and vaping enjoyment.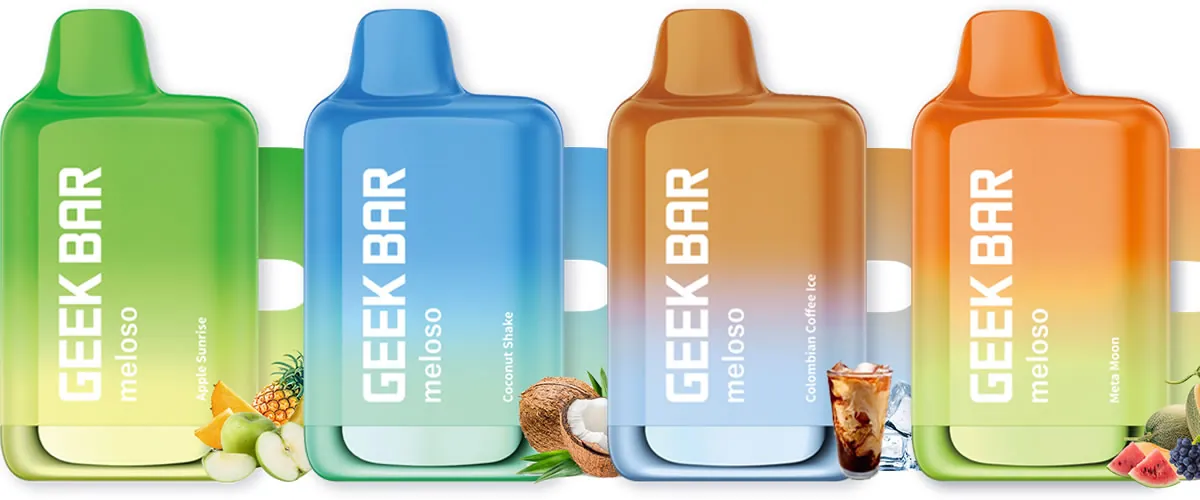 1. Fuji Melon Ice
This refreshing flavor combines the sweet taste of Fuji melon with icy cool menthol undertones. It's light, crisp, and deeply satisfying. The melon flavoring is spot on, making every puff feel like a juicy bite of ripe melon. A perfect hot weather vape.
2. Strawberry Watermelon
This flavor masterfully blends sweet strawberry and watermelon for a delicious medley. You get the juicy essence of watermelon complemented by sugary strawberry on the exhale. It allows both flavors to shine in a nuanced mix.
3. Ginger Ale
Ginger Ale captures the fizzy, gingery flavor of the classic soda. Hints of citrus and spice come through on the inhale, followed by a crisp, carbonated sensation. It's a unique beverage-inspired option.
4. Peach Ice
It doesn't get much better than ripe, juicy peachflavor with cooling menthol undertones. This refreshing take on a vape classic delivers the authentic sweet peach taste that never gets old.
5. Coconut Shake
Indulge your sweet tooth with luscious coconut flavor reminiscent of a Piña Colada. Creamy coconut flavors pair beautifully with the Meloso Max's rich vapor. An ideal tropical dessert flavor.
6. Nectarine
This flavor blends the sweetness of peaches with zesty citrus orange notes. You get a burst of juicy stone fruit followed by tangy citrus on the finish. A dynamic, summery flavor fusion.
7. Meta Moon
Meta Moon showcases a medley of sweet mixed berries and melons. With blueberry, strawberry, cantaloupe and honeydew melon, it's a fruity flavor explosion. Vibrant, candy-like, and unique.
8. Columbian Coffee Ice
Experience your morning cup of joe in vape form. This flavor captures the dark roast coffee taste with enhancing cooling menthol. It delivers a caffeine rush with icy vapor.
9. Apple Sunrise
The sweet tastes of apple, pear, and pineapple perfectly capture a tropical sunrise. It's fresh, bright, and well-balanced between sweet apples and tangy pineapple.
10. Purple Haze
Despite the heady name, this flavor delivers sweet grape and orange with each hit. The grape profile skews candy but has some tartness from the orange citrus blend. Unique and delicious.
With so many options available, you're bound to discover more than a few all day vape candidates. Use our top 10 list as suggestions to help find your favorite Meloso Max flavors.
Performance
All these features contribute to making the Meloso Max a dream to vape. Each puff provides a light and airy draw that fills your mouth with lusciously smooth vapor.
The advanced heating coils ensure excellent heat dispersion so the flavors come through clean and balanced. Sweet fruity top notes dance on your tongue while creamy undertones slide down your throat.
That delightful fruity taste stays wonderfully consistent throughout your vaping experience. Even down to the final puffs, the flavor still pops with all its fruit flavor nuances intact.
Thick plumes of vapor carry that tangy tropical taste right to your taste buds with every inhalation. The Meloso Max truly delivers an exceptional vaping experience from beginning to end.
What's Included
The Meloso Max kit contains everything needed to start enjoying this innovative disposable vape right out of the box:
1 x Meloso Max Disposable Vape Device
1 x Type-C Charging Cable
1 x User Manual
The included instructions provide guidance for getting started and using the various features. But the intuitive design is so straightforward most new users can figure it out on their own almost instantly.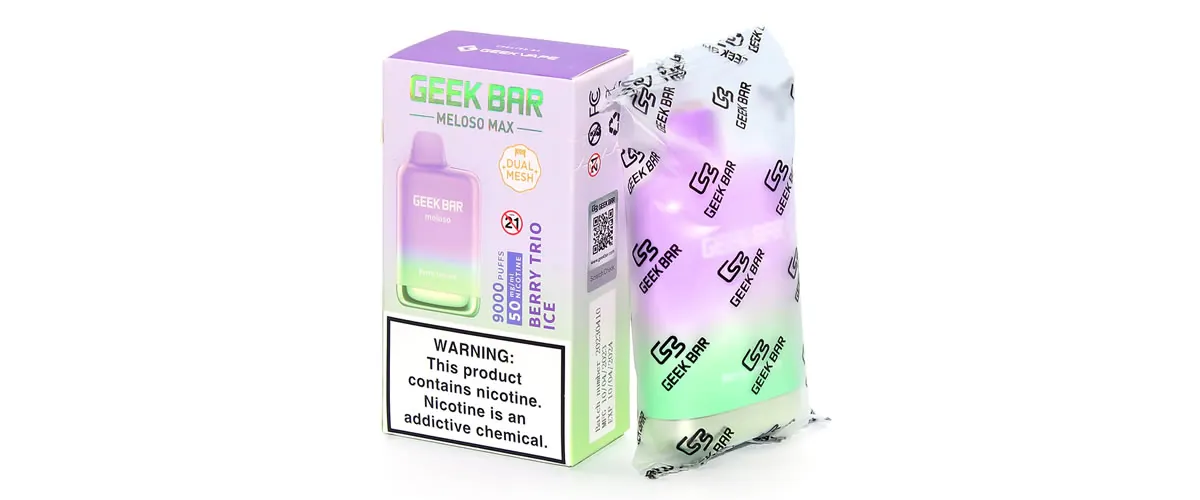 Comparing the Meloso Series
The Meloso Max sits alongside the original Meloso and Meloso Mini in the Geek Bar series. While the entire line emphasizes quality and convenience, the Max version outshines its predecessors in several respects.
With triple the battery capacity, vapers can keep the Max going for days of use instead of just a day or two like the others. The Max's adjustable airflow and bigger e-liquid capacity also set it apart from the rest.
Plus it offers a more satisfying nicotine hit at 5% versus the lower 3% concentration in earlier Melosos. Every component gets upgraded in the Meloso Max to deliver the most customizable, long-lasting vaping experience currently available.
Pros and Cons
Of course no device is perfect, so here's a balanced look at some of the Meloso Max's advantages and disadvantages:
Pros
Exceptionally long battery life
Adjustable airflow control
Dual heating coils evenly distribute flavor
Helpful LED indicators
Rapid charging capability
Sleek and stylish metallic design
Comfortable ergonomic shape
Delicious fruity flavor options
Cons
Disposable format creates more waste
Limited to only 15 flavors currently
Verdict
When considering the remarkable features and performance of the Meloso Max, the pros clearly outweigh any negatives. Small drawbacks like the disposable design and restricted flavor selection barely detract from the overall outstanding vaping experience.
From the intelligently designed body shape to the customizable LED indicators and airflow, every element of the Meloso Max aims to optimize enjoyment. That commitment to maximizing satisfaction through thoughtful innovation makes this new arrival an instant standout.
Conclusion
For both new and experienced vapers alike, the Geek Bar Meloso Max Disposable Vape provides an exceptional user experience. Each draw floods your mouth with luscious fruity flavor while the advanced heating system generates deliciously smooth vapor production.
Sturdy long-lasting battery life keeps you vaping for days on end. Convenient customizable controls let you tailor puffs to your personal preferences. Every feature enhances what a quality disposable vape can offer.
In the world of vaping devices, the Meloso Max represents a new high point. Its blend of style, performance and customization sets a benchmark that other disposable models can only aspire to achieve. One taste of those sweet fruity notes and you'll see why this ingeniously designed vape is becoming the hottest device around.
https://ecigator.com/wp-content/uploads/2023/10/1697517894-Geek-Bar-Meloso-Max-Review.jpg
650
1200
Ecigator
https://ecigator.com/wp-content/uploads/2023/04/ecigator-logo-white.png
Ecigator
2023-10-17 05:14:42
2023-10-17 05:21:21
Geek Bar Meloso Max Disposable Vape Review