Hyde Color Vape Review – A Journey of Fruit Flavor Discovery

With their focus on flavor variety and hassle-free vaping, Hyde's Vape Color disposable series aims to deliver indulgent fruit flavors in a satisfying grab-and-go package. This in-depth review explores if they succeed in blending convenience and bold fruit essences into an exceptional vaping experience.
An Introduction to Hyde Vape
As a rising player in the vaping industry, Hyde holds simplicity as a core value. Their streamlined lineup focuses on affordable and straightforward options tailored for both beginners and veterans.
While Hyde covers more advanced pod systems, their beginner-friendly Vape Color disposable series truly encapsulates the brand's commitment to fuss-free vaping. By packing satisfying nicotine salt e-liquids into an easy-carry disposable chassis, Hyde removes the hassle of maintenance.
The Vape Color series offers something for all palates, from fruity blasts to creamy desserts. Next, let's examine Hyde's flaghsip disposable offerings and see if they deliver flavor as promised.
Hyde Color Edition – Fruity Flavors Take Flight
Living up to its name, the Color Edition comes dressed in a spectrum of vibrant hues signaling the fruit-filled flavors housed within. Its 280mAh battery provides a few hundred puffs from the 1.6mL juice reservoir, aligning with average disposable capacity.

The slim pen-shaped chassis fits comfortably in hand or pocket for portable puffing. To use, just inhale without pressing any buttons. Once the short-lived battery depletes after a day or so of use, the Color Edition gets discarded and replaced.
During testing, the integrated 1.4ohm coil delivered a pleasant throat hit and surprisingly dense vapor clouds. Nicotine satisfaction remained consistently smooth thanks to the potent 50mg nicotine salt formula. Zesty profiles like Lemon Crumble and Blue Razz created an journey of authentic fruity flavors.
While the battery life falls on the shorter side, the well-executed Hyde Color Edition delivers the quintessential disposable experience – convenience coupled with nuanced fruit essence options sure to satisfy flavor cravings.
Hyde Color Plus – Maximum Disposable Boldness
Building upon the Color Edition's solid foundation, Hyde supersized the Vape Color Plus into a high-capacity disposable powerhouse. This hefty device packs a mammoth 5mL of nic salt e-liquid and an upgraded airflow design.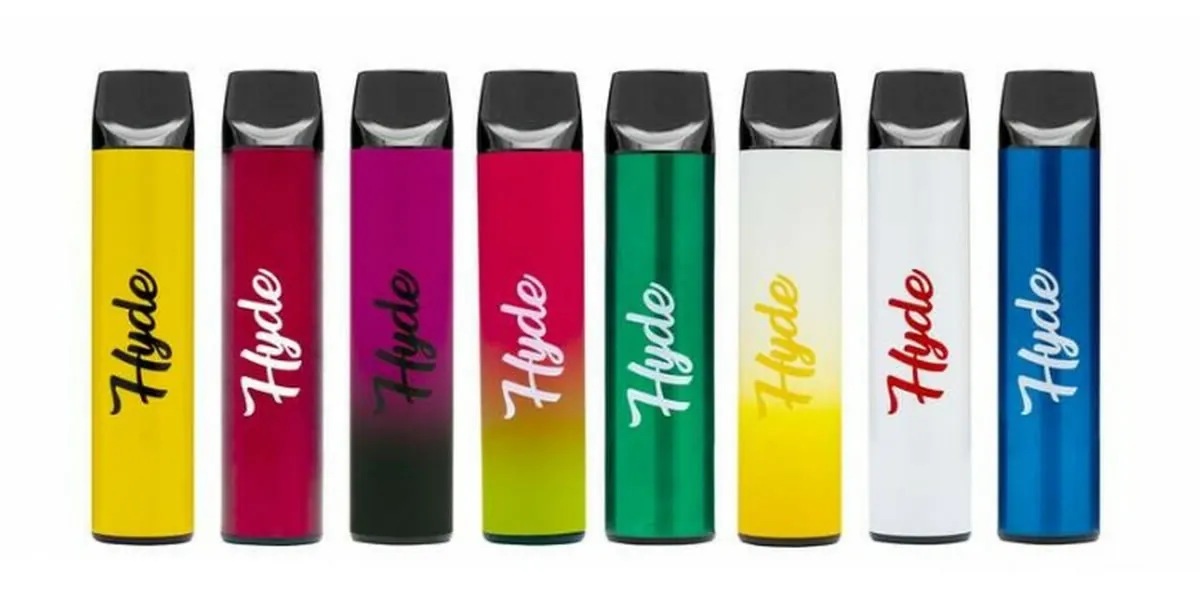 The extended 1,500 puff capacity dwarfs typical disposable vapes, providing days of usage versus hours. And the user-adjustable airflow toggle enabled customization from loose direct lung pulls to tight MTL draws during testing. Even flavor intensity can adapt on-the-fly to match preferences.
Impressively, the Color Plus generated bold vapor production more comparable to advanced mods than disposable competitors. And profiles like Krazy Kustard transported my taste buds to a dessert paradise with its swirl of fluffy marshmallow and velvety banana cream.
For those seeking to maximize disposable battery runtime without sacrificing flavor impact, Hyde's supersized Vape Color Plus is a top contender. By injecting adjustable airflow and gigantic capacity into a convenient palm-sized device, Hyde empowered vapers to customize their disposable experience.
Signature Flavors – An Indulgent Rainbow Awaits
One of Hyde's greatest strengths lies in their expansive e-liquid flavor range catering to all palates. The Vape Color Edition and Plus offer a diverse menu filled with fruit and dessert temptations.
Fruit Flavor Variety Tailored to Every Preference
Hyde Vape Color's expansive fruit flavor range reveals their focus on variety for all vapers:
Tropical – Escape to exotic island fruit flavor with mango, pineapple, peach and more.
Berry – Indulge sweet and tart berry flavors like blue razz, strawberry, and cherry.
Citrus – Zesty lemon, lime, and orange selections provide tangy freshness.
Dessert – Creamy banana combines with lemony dessert crumble in a new twist.
Rather than a few standard fruit options, Hyde Vape Color delivers diversity. Vapers find fresh all day profiles and new favorites to rotate.
Transportive Tropical Fruit Flavors
For a taste of island life with every puff, Hyde's tropical fruit flavors excel:
Mango – Ripe, juicy mango flavor evokes tropical richness. Both authentic and satisfying.
Pineapple Ice – Sweet pineapple perfectly balances the chilling menthol undertones. A refreshing cooled fruit experience.
Peach Mango – Layers luscious peach and mango for a dynamic tropical medley. Captures the essence of exotic fruit in harmony.
These transportive fruit fusions provide an escape with each pull, whisking you away to an island oasis brimming with sunny ripe fruit. The cooling accents accentuate the illusory effect.
Sweet and Tart Berry Selections
Berries offer versatile blending opportunities from candy-like sweetness to tart pops. Hyde Vape Color provides the full spectrum:
Blue Razz – A harmonious blend of sweet raspberries and blueberries in berry bliss. Lip-smackingly sweet with just enough tartness.
Cherry Lemon – Bright cherry flavor complemented by zesty lemon. An interplay of sweet and tart in one device.
Strawberry Ice – Juicy strawberry essence perfectly chilled by icy menthol. A satisfying combo striking the ideal flavor balance.
No matter your berry preference, Hyde Vape Color serves up sweet, tart, and cool profiles to please every palate. The complexity within simple fruit fusions keeps vapers returning.
Zesty Citrus Options
For those craving sunny citrus flavors, Hyde Vape Color delivers:
Lemon Crumble – Sweet lemon curd meets crumbly dessert crust. A delicious lemon-lover's dream.
Cherry Lemon – Adds tart lemon pop to the sweet cherry. Creating candy-like harmony in one disposable.
Orange Cream – Sweet and creamy orange flavor combines with rich vanilla. Delivering citrus satisfaction without acidity.
From crumble to cream, Hyde's citrus variety excels in using complementary fruits and accents to build layered flavor.
With dozens of profiles spanning fruity, creamy, spicy, minty, and tobacco dimensions, Hyde built an inclusive menu where all palates get satisfied. For even picky vapers, options exist to delight.
The Juicy Pros of Hyde's Vape Color Series
Ample nicotine satisfaction from 50mg nicotine salts
Hundreds of puffs from each affordable disposable
Draw activated firing eliminates buttons
Discreet pen shape perfect for portability
Authentic fruit and dessert profiles
Adjustable airflow settings on the Color Plus
Surprisingly bold vapor production
Considerations to Weigh Before Buying
Disposable format generates plastic waste
Shorter battery runtime than advanced devices
Higher 50mg nicotine strength too intense for some
Not ideal for chasing huge vapor clouds
Lacks lower nicotine strengths for lighter use
Final Impressions – Simple Flavor Freedom
Across their Vape Color disposable range, Hyde delivers solid performance coupled with nuanced flavors in an easily portable package. Their flavor mastery grants freedom to discover indulgent new favorites.
While disposables eventually run dry and get discarded, Hyde maximizes each device's potential lifespan through smart engineering. For those prioritizing grab-and-go fruit flavor indulgence, Hyde Vape Color warrants consideration.
Sometimes the simplest options get the fundamentals right. By honing in on flavor authenticity, battery optimization, and reliability, Hyde's Vape Color series delivers hassle-free enjoyment in a pocketable form.
https://ecigator.com/wp-content/uploads/2023/10/1697055433-Hyde-Color-Vape-Review.jpg
650
1200
Ecigator
https://ecigator.com/wp-content/uploads/2023/04/ecigator-logo-white.png
Ecigator
2023-10-11 20:22:24
2023-10-11 20:37:28
Hyde Color Vape Review – A Journey of Fruit Flavor Discovery