Hyde Edge Vapes Review: Flavorful, Affordable and Easy to Use

As avid vapers ourselves, we're always on the hunt for disposable options that balance quality and affordability. In a crowded market, few measure up. But Hyde Edge stands out for its smooth performance, diverse flavor options, and focus on the user experience.
In this hands-on guide, we'll share our real-world testing of Hyde Edge based on over a decade of combined vaping experience. You'll get the full scoop on what these disposables offer across multiple models, their pros and cons, best flavors, pricing, and more. Let's dive in!
Getting to Know Hyde Vapes and the Edge Series
First, some background. Hyde Vapes is a rapidly growing vape brand based in the UK. Founded in 2021 by entrepreneur Matt Lord, Hyde burst onto the scene with stylish, long-lasting disposable vapes perfect for beginners.
We've watched Hyde continually push boundaries and innovate in the disposable space to make vaping more convenient and enjoyable. The Hyde Edge series exemplifies this approach.
The Hyde Edge offers extended battery life and nicotine salt juices for satisfying performance in a slim pen-style form factor. Models include:
Hyde Edge 1500 Puffs
Hyde Edge 3300 Puffs
Hyde Edge Rave 4000 Puffs
Let's explore what sets each Hyde Edge disposable apart.
Hyde Edge 1500 Puffs Review
As avid vapers, we're always seeking quality disposable options for discrete, portable use. The Hyde Edge 1500 fits that need well with its slim design and lower price point.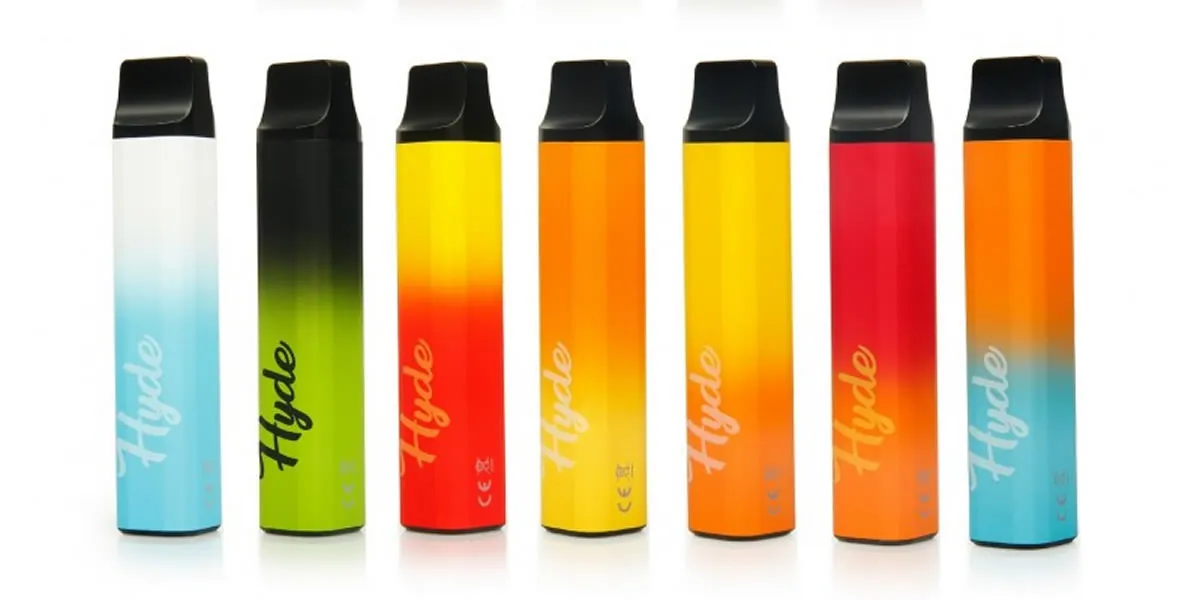 Right away we appreciated the sleek, lightweight feel. The pen-style form slips easily into a pocket or bag for true grab-and-go convenience.
Despite its petite size, performance remains solid. The 1100mAh battery and 6mL of 5% nicotine salt juice provide up to 1500 satisfying puffs. For casual use, this lasted us around a week before needing to re-up.
While the puff count is lower than pricier models, it's ideal for lighter vaping. The draw activation made on-the-go hitting simple. Vapor production remained consistent from the first puff thanks to optimized power output.
Flavors like Strawberry Banana and Tropical Gummy delivered the sweet fruity profiles we love. And at just $8 a pod, the value is hard to beat.
For new vapers or periodic use, the Hyde Edge 1500 is a fantastic starter disposable. The quality and price both hit the mark.
Hyde Edge 3300 Puffs Review
When we need a disposable that can withstand heavier use, the Hyde Edge 3300 fits the bill. The larger 10mL nic salt juice reservoir and 600mAh battery provide almost triple the puffs.

We put this Hyde to the test during a music festival weekend. The extended battery life and juice capacity kept pace even with frequent puffing outdoors. We easily got over 200 puffs per charge, or 3 total recharges from Friday afternoon through Sunday night.
The adjustable airflow was also a nice bonus, allowing tweaking the draw tightness and vapor thickness. We bumped it up at night for thicker clouds, then tightened it during the day for a more discreet profile.
Standout flavors for us included Watermelon Cucumber for a refreshing fruit burst and Blue Razz Ice for the icy menthol kick. Vaping stayed satisfying with the 5% nicotine juice.
For a mid-priced disposable, the Hyde Edge 3300 gave us over a week of resilient performance. The rechargeability also makes it highly economical over the long run.
Hyde Edge Rave 4000 Review
When longevity and power are the priorities, the Hyde Edge Rave 4000 is a top choice. This premium Hyde disposable has a massive 1200mAh battery and huge 12mL nic salt e-liquid capacity for up to 4000 puffs.

During our testing, this pod truly lived up to its long-life promise. Even as daily vapers, a single Rave 4000 Hyde lasted us over 2 weeks! The battery recharges via USB-C also allowed us to squeeze every last drop out of the pod.
The adjustable airflow let us tailor draw tightness from loose DTL hits to tighter MTL puffs. And the lights, sounds, and glowing tip created a immersive vaping experience.
Our favorite flavors in the Rave 4000 were Strawberry Apricot for the succulent fruit blend and Icy Blue Razz for the perfect balance of sweet candy flavor and frosty menthol.
If peak longevity and performance are your top priorities, the Hyde Edge Rave 4000 delivers in spades. The huge puff count and reusability justify the premium price tag.
Hyde Edge Series Comparison
To directly compare the different Hyde Edge models, we've created the table below outlining the key specs and features.
The main differences between the 3 options are battery capacity, estimated puff count, and rechargeability.
Specifically, the Hyde Edge 1500 Puffs has a 1100mAh battery for up to 1500 puffs and is non-rechargeable; the Hyde Edge 3300 Puffs has a 600mAh battery for up to 3300 puffs and recharges via micro USB; and the Hyde Edge Rave 4000 has a larger 1200mAh battery for up to 4000 puffs and recharges via USB-C.
This allows users to select the right model based on their usage – the 1500 for occasional light use, the 3300 for moderate use, and the 4000 for heavy extended use. The Hyde Edge line covers every need.
Model
Battery
Puffs
Recharge
Other Specs
Hyde Edge 1500
1100mAh
1500
No
– 6mL juice capacity
– 5% nicotine strength
– Draw activation
– Slim pen design
Hyde Edge 3300
600mAh
3300
Yes, micro USB
– 10mL juice capacity
– 5% nicotine strength
– Adjustable airflow
– LED light
Hyde Edge Rave 4000
1200mAh
4000
Yes, USB-C
– 12mL juice capacity
– 5% nicotine strength
– Adjustable airflow
– LED light modes
Top Hyde Edge Flavors We Recommend
One advantage Hyde Vapes has over most disposable brands is the incredible variety of flavors. They expertly curate unique blends to suit every palate.
Here are a few Hyde Edge flavor profiles we think are can't-miss:
Strawberry Kiwi
This zesty flavor fusion delivers a mouthwatering mix of ripe, sugary strawberry and tart kiwi. Each puff surrounds your senses with sweet strawberry essence, contrasted by kiwi's zingy tropical bite. The interplay between the two fruits strikes a refreshing balance. Strawberry Kiwi offers the ultimate fruity flavor experience.
Sour Apple Ice
Pucker up for Hyde's Sour Apple Ice! This exhilarating flavor replicates the mouth-puckering taste of sour green apples, elevated by icy menthol highlights. It's an irresistible combo of crispy tart apple and cooling mint. Sour Apple Ice satisfies with its sweet yet sour green apple flavor coupled with frosty freshness.
Neon Rain
Neon Rain flawlessly captures the nostalgic sweetness of classic cotton candy flavor. Each puff dissolves in your mouth with the same delicate sugary taste and fluffy essence as spun sugar floss. Hints of strawberry and blue raspberry add fruity complexity while remaining light as air. Neon Rain is cotton candy bliss!
Honeydew Punch
Quench your thirst with the juicy sweetness of Hyde's Honeydew Punch. Each puff bursts with vibrant honeydew melon flavor, conjuring images of biting into a ripe melon on a hot summer day. The natural sugars give this vape a smooth yet refreshing aftertaste. For a rejuvenating fruity experience, make Honeydew Punch your next ADV.
Peach Mango Watermelon
This tropical trio combines the aromas of ripe peaches, creamy mango, and sweet watermelon for a fruit fusion jackpot. It's a skillful blend, allowing the mango and peach to pop on the inhale before the watermelon's juicy essence comes through. With layered fruit flavors in every puff, Peach Mango Watermelon is a perfect all-day summer vape.
Cherry Peach Lemonade
Quench your thirst with this unique lemonade flavor showcasing tart lemonade contrasted by the sweet essences of ripe cherry and peach nectar. Each puff surrounds you in refreshing citrus coupled with just the right amount of sugary stone fruit sweetness. It's a mouthwatering iced fruit beverage experience!
Blue Razz Ice
Hyde's Blue Razz Ice envelops your senses with sweet and tangy blue raspberry candy flavor, accented by creamy undertones and a hint of cooling menthol. Each puff takes you back to your childhood unwrapping a blue raspberry lollipop on a hot summer day. The mild menthol finish perfectly balances the sugary candy profile.
Rainbow Hyde
This whimsical flavor combines a medley of fruits like a handful of candy. Different berry and citrus notes create layers of sweetness intermingled with faint cooling mint. While certainly sugary, Rainbow Hyde strikes a pleasant balance to avoid becoming cloying. It's sure to bring out your inner child!
Pros and Cons of Hyde Edge Disposable Vapes
Based on our hands-on testing, here are the key pros and cons we found using the Hyde Edge series:
Pros
Smooth, consistent nic salt vapor production
Huge e-liquid capacity in every pod
High nicotine concentrations up to 5%
Draw-activated use perfect for on-the-go
Sleek, lightweight and pocket-friendly design
Rechargeable models for extended lifespan
Massive flavor variety with niche options
Very affordable pricing
Cons
Non-rechargeable 1500 puff model runs out quicker
Limited draw customization compared to mods
Pen-style form lacks creativity of other Hyde models
No variability in nicotine levels offered
Short battery life of base model for heavy use
While not as feature-packed as reusable vapes, Hyde Edge provides a superb disposable experience. The pros far outweigh the cons for us.
Where to Buy Hyde Edge Disposable Vapes
As a UK brand, Hyde Edge is widely available at vape stores across Britain. Hyde also ships internationally directly through their website at HydeVapes.com.
We recommend purchasing directly from Hyde to ensure authenticity and the best pricing. But you can also find Hyde Edge at third party retailers like Electric Tobacconist, VapeSourcing, PricePointNY and more.
In the United States, state and local disposable vaping regulations vary, so check your local laws before ordering online. But Hyde ships discreetly to most U.S. addresses.
The Last Word on Hyde Edge Disposable Vapes
For vapers who prioritize convenience and quality on a budget, Hyde Edge hits the sweet spot. Smooth nic salt vapor, excellent flavor variety, and simple draw-activated design make for an ideal disposable experience.
While the entry 1500 puff model best suits lighter use, the 3300 and 4000 options provide battery life and e-liquid capacity rivaling many reusable setups. And the economical pricing blows most of the competition away.
If you want an effortless, flavorful vaping option to toss in your pocket, Hyde Edge deserves your consideration. The series builds upon Hyde's commitment to pushing boundaries in disposable vaping – and we can't wait to see what they innovate next!
https://ecigator.com/wp-content/uploads/2023/10/1696744835-Hyde-Edge-Vapes-Review.jpg
650
1200
Ecigator
https://ecigator.com/wp-content/uploads/2023/04/ecigator-logo-white.png
Ecigator
2023-10-08 06:09:28
2023-10-09 18:33:34
Hyde Edge Vapes Review: Flavorful, Affordable and Easy to Use