Hyde IQ 5000 Review: Longest-Lasting Vape With Top Flavors

In the fast-paced world of vaping, disposable devices come and go in the blink of an eye. Yet Hyde has managed to make a splash and stick around with their innovative, trendsetting products. Now, they're at it again with the Hyde IQ 5000 – a disposable vape that aims to revolutionize what's possible in a portable pod device.
As avid vapers ourselves, we put the Hyde IQ 5000 to the test in this hands-on review. We'll explore what makes this vape unique, how it performs, flavor options, battery endurance and more. Read on to discover if the IQ 5000 lives up to its lofty promises.
A New Generation of Disposable Vaping Arrives
Founded in 2021 in the UK, Hyde built a reputation for long-lasting, easy-to-use disposable vapes in sleek, stylish designs. They continually push boundaries to enhance the user experience.
The Hyde IQ 5000 represents the brand's biggest leap yet. It retains the convenience of a disposable while adding customization features typically found in advanced reusable devices.
An intuitive LED interface provides at-a-glance battery level and e-liquid visibility, eliminating guessing games. Adjustable airflow gives vapers control over vapor density and flavor intensity. At up to 5,000 puffs per pod, it has remarkable longevity.
For us as everyday vape enthusiasts, the IQ 5000 immediately felt like a refined evolution of the disposable format.
Hyde IQ 5000 Review: Key Features and What's Included
Straight out of the box, the Hyde IQ 5000 makes an impression with its sleek yet substantial design. It fits nicely in the hand, with some nice heft and solid construction. The mouthpiece is ergonomic and comfortable.
Pop open the box and you'll find:
1x Hyde IQ 5000 disposable vaping device
1x USB-C charging cable
Instructions/warnings insert
On the device itself, key features include:
Large 8mL e-liquid reservoir
Long-lasting internal battery
Draw-activated firing mechanism
LED battery level indicator
E-liquid visibility window
Adjustable airflow control ring
Charging port with included USB-C cable
5,000 puff rating
With a robust 8mL e-liquid capacity, the Hyde IQ 5000 is built to last. And the ability to track both fluid levels and battery life takes the guesswork out of vaping.
Getting Started: Using the Hyde IQ 5000 Vape
Upon receiving our Hyde IQ 5000 review unit, we were eager to take it for a test drive. Fortunately, using this vape couldn't be easier.
The draw-activated design means no buttons to press. Just attach to the included USB-C charging cable for a quick top-up, then remove and put to your lips to auto-fire.
Unlike most disposables, the IQ 5000 gives you some customization flexibility right off the bat. The rotating airflow control ring allows adjusting vapor density from a tight MTL draw all the way up to an airier DTL hit. We love having this option to tailor the experience to our mood.
The intuitive LED interface immediately began displaying current battery charge level and e-liquid amount along with puff count. With most disposables, you're left guessing if your device is about to die. So this visibility provides great peace of mind.
Overall, within minutes we were up and running with the Hyde IQ 5000 – no complicated settings or preparation needed.
Real-World Performance: Does the Hyde IQ 5000 Deliver?
Moving beyond the specs and features, we're most interested in how well a vape performs in actual use. With an impressive 5,000 puff rating, we were eager to see if the Hyde IQ 5000 lived up to its promises over an extended testing period.
Battery and e-Liquid Life
The IQ 5000 aims to eliminate disposable vape frustrations like sudden death with no warning. After pounding through over 150 pods annually, this visibility was a welcome change.
During two weeks of testing, the LED tracking matched up perfectly to real-world battery drain and fluid consumption. Knowing exactly how many puffs were left encouraged more consistent, controlled usage to maximize each pod.
Battery recharges also went smoothly via USB-C when needed, with full rejuices taking about 45 minutes.
Vapor Quality and Consistency
Disposables aren't known for robust vapor production, but the IQ 5000 outputs impressively full, rich clouds. The adjustable airflow lets you tweak density across a wide range.
We also noticed no drop-off in vapor quality as the e-liquid level depleted.Flavor consistency and intensity stayed strong from the first puff to the last.
Draw Activation and Responsiveness
Whether taking short MTL puffs or long drags, the instant power delivery felt natural and responsive. No delays, no need to alter or intensify your draw.
The fire speed remained consistent regardless of e-liquid level or battery charge. Even running on empty, the IQ 5000 activated reliably.
Build Quality and Durability
The Hyde IQ 5000 feels solid in hand and pocket. After two weeks of daily use including some drops and bumps, the exterior showed minimal wear.
The mouthpiece and airflow control ring remained snug with no loosening. Charging contacts also stayed tight with no degradation in connectivity.
For a disposable device, the IQ 5000 seems engineered to last far beyond a typical pod lifespan.
How Does The Hyde IQ 5000 Compare To Popular Disposable Vape Alternatives?
Being obsessed with trying all the latest vapes, we couldn't resist seeing how the Hyde IQ 5000 stacked up against some current top disposable models including:
Elf Bar BC5000
Hyppe Max
NKD 100 Max
Cloud Nurdz 4500
Monster Bar Max
Key Hyde IQ Advantages We Found:
Smoother, more consistent vapor density and flavor intensity from first to final puff
More robust battery life despite equal/lower stated puff count on several competitors
Greater versatility from adjustable airflow compared to fixed draw of most alternatives
More durable and premium feel in hand
E-liquid window and battery indicators provide greater insight
Where Some Competitors Have An Edge:
Slightly lower pricing on NKD 100 Max and Cloud Nurdz 4500
Larger 13mL fluid capacity on Elf Bar BC5000 and Hyppe Max
Higher advertised 6,000 puff rating on Monster Bar Max
Overall, when it comes to real-world performance and features, we give the Hyde IQ 5000 the nod over the other big names. The added insight into fluid/battery levels and custom draw adjustments really set it apart.
Hyde IQ 5000 Flavors: A Refreshing Lineup of Satisfying Profiles
One area where disposables often fall short is flavor variety. Many brands have 4-5 options at most. So the 8 flavor selections of the Hyde IQ 5000 stood out.
Ranging from fruity to icy menthol to sweet candy, the palette provides something for everyone. As avid vape juice reviewers, we would grade the Hyde flavors as follows: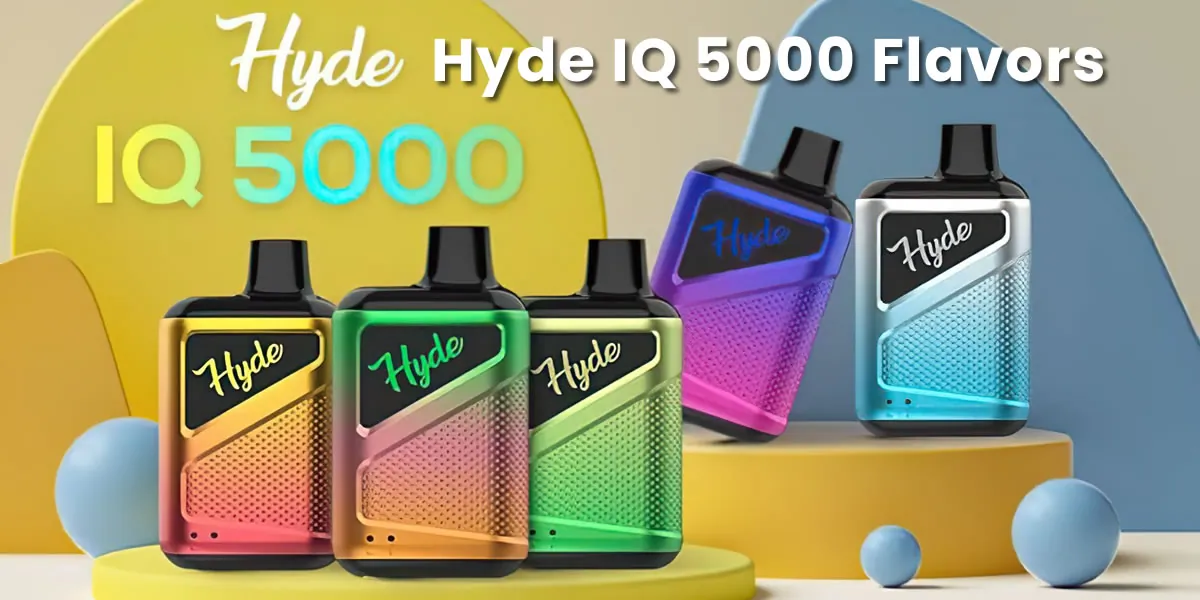 Frozen Banana – Candy-like banana combines with light menthol for a unique, refreshing vape unlike anything we've tried. The exhale leaves a pleasant cool tingle on the tongue. 9/10
Raspberry Watermelon – A summer cocktail blending sweet watermelon with raspberry tartness. Well-balanced to let both notes shine. 8/10
Sour Apple Ice – A vape classic executed perfectly. Bright sour apple candy flavor with an icy kiss. 8.5/10
Watermelon Chew – Just like savoring childhood watermelon gum. Sweet candy watermelon flavor that takes you back. 8/10
We hope to see Hyde roll out more selections over time, but so far we have been very satisfied with the variety.
Getting The Most Out Of Your Hyde IQ 5000 Vape
As avid vapers, we've learned a few tips and tricks for making disposable devices last as long as possible. Here are some ways to maximize each Hyde IQ 5000 pod:
When possible, take shorter puffs instead of long draws to conserve battery and e-liquid
Let the device rest occasionally instead of continuous back-to-back hitting
Avoid highly hot or cold environments that can impact battery life
Keep the pod sealed tightly when not in use to maintain fluid freshness
Recharge promptly when battery runs low to get the most cycles per pod
Clean mouthpiece and contacts regularly to prevent buildup
Adjust to a tighter draw as fluid starts depleting for fuller vapor production
Monitor LED levels daily so you aren't caught off guard by a dead battery
With proper care and maintenance, you can get every last bit of value out of the Hyde IQ 5000's impressive performance.
Final Verdict: Is the Hyde IQ 5000 Disposable Vape Worth It?
After extensively testing the Hyde IQ 5000, we can confidently say it sets a new standard for disposable vaping. The customizable airflow, transparent fluid monitoring, and robust construction allow an experience that mirrors higher-end reusable setups.
While priced slightly above average, the Hyde IQ 5000 delivers dramatically extended lifespan through its industry-leading 5,000 puff rating and rechargeability. This makes it highly economical in the long run.
If you demand convenience without compromise, look no further than the Hyde IQ 5000. Its thoughtful features and incredible performance reflect a bold new era in disposable vaping.
https://ecigator.com/wp-content/uploads/2023/10/1696737789-Hyde-IQ-5000-Review.jpg
650
1200
Ecigator
https://ecigator.com/wp-content/uploads/2023/04/ecigator-logo-white.png
Ecigator
2023-10-08 04:08:38
2023-10-09 18:34:15
Hyde IQ 5000 Review: Longest-Lasting Vape With Top Flavors