Hyde Rebel Vape Review: A Vaper's Guide to the Top Models
As avid vapers and vape enthusiasts, we're always on the lookout for disposable options that balance quality, convenience and affordability. The market is flooded with choices, but few deliver on all fronts. In our experience, the Hyde Rebel series stands out.
In this in-depth guide, we'll share our hands-on impressions of the Rebel vapes after extensively testing both models. You'll get the full scoop on the features, real-world performance, flavor variety, and what makes these disposables a top choice for an effortless vaping experience. Let's get started!
About Hyde Vape and the Rebel Disposable Series
First, some quick background. Hyde Vape is a fast-rising vape brand from the UK that burst onto the scene in 2021. Started by entrepreneur Matt Lord, Hyde aimed to evolve disposable vaping for new users with stylish, convenient designs focused on flavor and battery life.
As vapers ourselves, we've been impressed by Hyde's continual innovation and focus on the user experience. The Rebel disposable line exemplifies Hyde's strengths, offering extended battery performance and a huge e-liquid flavor selection.
The Rebel series includes:
Hyde Rebel Recharge (4500 puffs)
Hyde Rebel Pro Recharge (5000 puffs)
Let's look at how these two models compare based on our first-hand testing.
Hyde Rebel Recharge 4500 Review
As frequent travelers, we're always seeking disposable options that are portable and discrete while still delivering a quality vape experience. The standard Hyde Rebel Recharge checks all those boxes.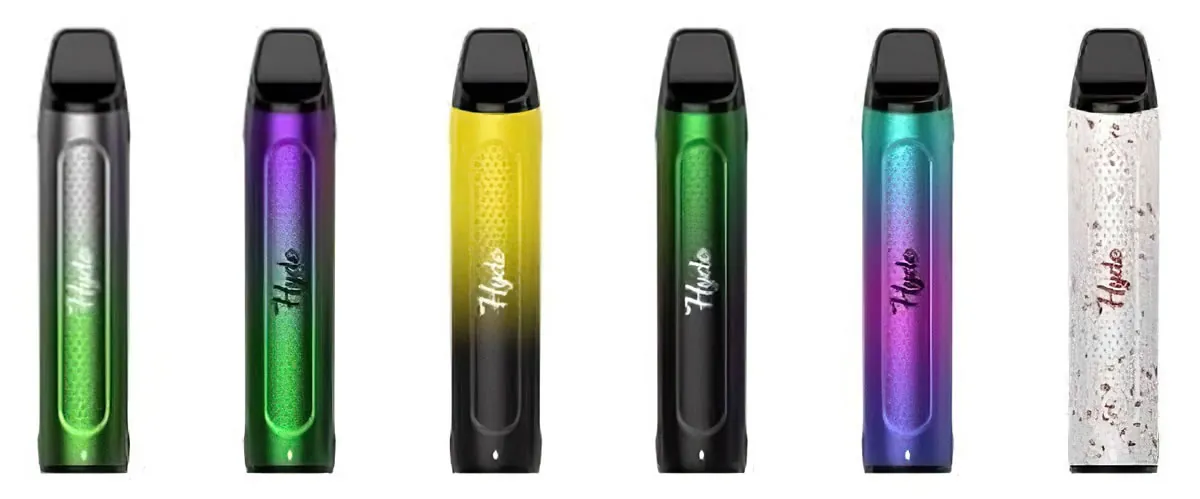 Right away we appreciated the slim, lightweight design – easily pocketable while still feeling sturdy. Despite its petite size, performance remains impressive:
The 600mAh battery and 10mL of nic salt juice provide around 4500 satisfying puffs – almost triple a basic disposable. For moderate use, we got over 2 weeks of battery life before needing a recharge.
The draw-activated firing made on-the-go vaping simple. No buttons or settings to fumble with.
Flavor strength and vapor consistency stayed excellent from the first puff thanks to optimized power output.
Of the 19 flavor varieties, we especially enjoyed the sweet Strawberries & Cream and tart Sour Apple Ice for flavor authenticity.
For an affordable, compact yet long-lasting disposable, the Hyde Rebel Recharge hits the mark.
Hyde Rebel Pro Recharge 5000 Review
When battery life and e-liquid capacity are top priorities, the Rebel Pro really shines. This upgraded Rebel boosts the specs to 6000mAh battery and 11mL of nic salt e-juice for a staggering 5000 puff rating.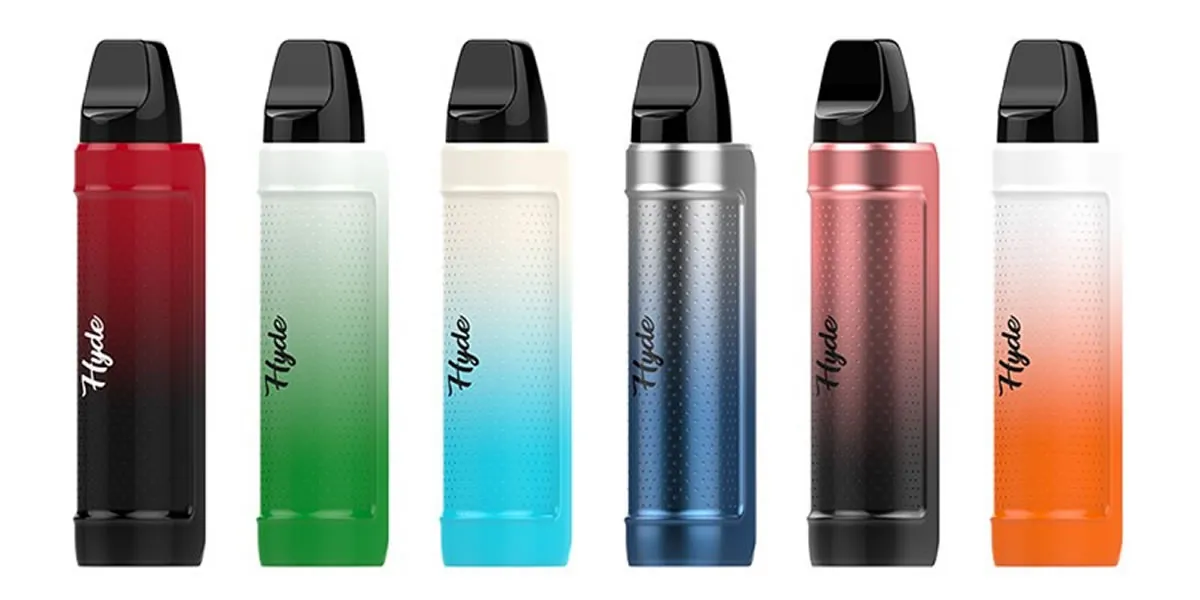 During a recent 2-week road trip, the Rebel Pro kept pace with our frequent highway vaping. The huge fluid reservoir meant no worries about running dry. And moving between rural gas stations, recharging on-the-go via USB was a breeze.
The expanded 22 flavor options enabled even more customization potential – we loved the creamy decadence of Fresh Vanilla and exhilarating chill of Sour Apple Ice.
By the end of our trip, we'd easily surpassed the advertised 5000 puff rating. For max duration in a discretely sized shell, the Rebel Pro is hard to beat.
Comparing the Rebel and Rebel Pro Models
To recap the key differences:
The Rebel Recharge provides 4500 puffs and 10mL of e-liquid
The Rebel Pro Recharge boosts to 5000 puffs and 11mL of e-liquid
So the Pro upgrades the power and capacity while keeping the core design consistent. For heavy users, those extra 500 puffs and 1mL of fluid can make a difference in vaping satisfaction.
But both deliver the smooth Hyde nic salt experience and wide flavor selections that make the Rebel series special.
Our Favorite Hyde Rebel Flavors
One major advantage Hyde Vape has over most disposable brands is the incredible variety of flavors – 19 in the standard Rebel and 22 in the Rebel Pro. We put this extensive palette to the test.
Here are some of our top Rebel flavor recommendations: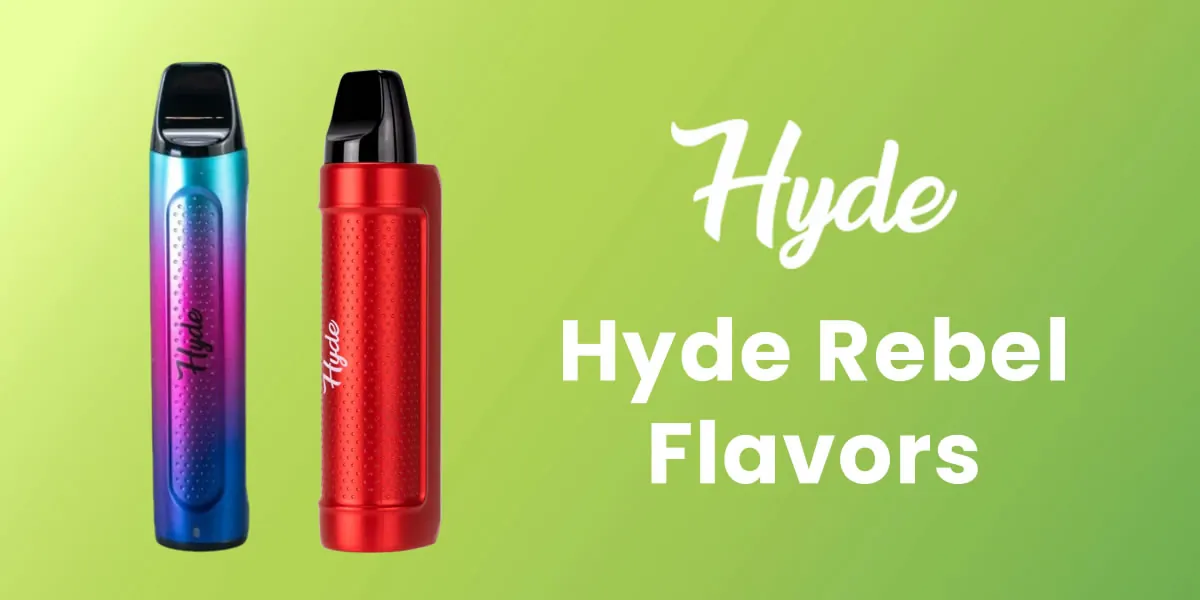 Sweet Fruit Hyde Rebel Flavors
Fruit flavors dominate the lineup, spanning tropical fruits, berries, melons, apple, and more. Options include:
Peach Mango Watermelon – Juicy sliced peaches, mangoes, and watermelon make a deliciously sweet and refreshing medley. One of the most popular.
Strawberry Kiwi – The sweet strawberry pairs beautifully with tangy kiwi for fruity fusion.
Raspberry Watermelon – Sweet watermelon flavor with just a hint of tart raspberry to balance it out.
Strawberry Banana – A classic combo blending ripe bananas and fresh strawberries.
Pineapple Banana Cantaloupe – An exotic blend of pineapple, banana, and juicy cantaloupe.
Philippine Mango – Intense, creamy, ripe mango flavor. True-to-life and decadent.
Whether you crave the tropics or classic fruits, the Rebel has you covered.
Icy Cool Hyde Rebel Flavors
Menthol lovers can enjoy exhilarating flavors like:
Blue Razz Ice – Sweet blue raspberry candy flavor with an icy cool menthol blast.
Sour Apple Ice – Crisp sour green apple pops with chilling menthol. A tangy twist.
Banana Ice – Creamy smooth banana swirled with frosty menthol.
Lush Ice – Watermelon candy flavor edged with crisp minty menthol.
The icy flavors deliver a satisfying chill ideal for warm weather vaping.
Minty and Drink Hyde Rebel Flavors
More options include:
Cola Ice – Fizzy cola flavor edged with light icy menthol. Nostalgic and refreshing.
Energize – Tastes just like a classic energy drink. Sweet and stimulating.
Pina Colada – Escape with creamy coconut and sweet pineapple, like a beachside cocktail.
Spearmint – Crisp, fresh, minty spearmint flavor perfect for after meals.
Minty O's – Sweet and delicious mint reminiscent of a famous breakfast cereal.
Sweet Treat Hyde Rebel Flavors
Indulge your sweet tooth with dessert flavors:
Tropical Gummy – Juicy candy gummy flavor with a fruity twist. Childhood classic.
Lemon Crumble – Delicious sweet and tart lemon crumble dessert flavor.
Strawberry Ice Cream – Just like your favorite strawberry ice cream dessert. Velvety smooth.
Peach Ice Cream – Sweet peaches swirled into creamy ice cream. Luscious.
Unique Hyde Rebel Flavors
Some uniquely tantalizing flavors include:
Aloe Grape – The fresh floral notes of aloe vera pair surprisingly well with sweet grape.
Rainbow – A burst of candy flavor fusing fruits and citrus. Surprise in every puff.
Summer LUV – Embodies summer with sweet citrus fruits. Sunny and bright.
With so many options, flavor preferences are subjective. But Hyde Rebel makes it easy to find your perfect match.
Real Customer Impressions From Hyde Rebel Reviews
Beyond our team's testing, it's helpful to look at real customer feedback on the Rebel experience:
"The tropical gummy flavor is amazing – so delicious I vaped it to the last drop! And the battery lasted forever."
"For the price, you can't beat the performance. Over 3 weeks of vaping on a single pod!"
Affordability coupled with the massive flavor selection seems to resonate strongly here. For the price, the Rebel delivers outrageous value.
Answering Common Hyde Rebel FAQs
How long does the Rebel battery last on average?
Expect 2-3 weeks of moderate use from a full Rebel Recharge, and over 3 weeks from a Rebel Pro. Heavy vapers may get less.
How do you recharge the Rebel?
It charges via micro USB port. Fully recharging from empty takes about 30-45 minutes.
What are the most popular Rebel flavors?
Based on reviews, top choices are Tropical Gummy, Fresh Vanilla, Sour Apple Ice, and Strawberries & Cream. But taste is subjective!
How much does a Hyde Rebel cost?
Around $20 per disposable. Very affordable given the quality and lifespan.
Our Final Take on the Hyde Rebel Disposable Vapes
After extensively testing both models, the Hyde Rebel series clearly delivers an ideal blend of convenience, flavor, and performance. For on-the-go nic salt vaping without fuss, the Rebel lineup excels.
The expansive e-liquid options keep the vaping experience interesting long-term. And battery durations of up to 5000 puffs provide weeks of use per pod.
While the standard Rebel covers most needs, the Pro upgrades power users to the next level. But both provide incredible value in sleek, pocketable shells.
If you prioritize a fuss-free, flavorful disposable vaping experience, the Rebel surely satisfies. We can't wait to see what long-lasting innovations Hyde has in store next!
https://ecigator.com/wp-content/uploads/2023/10/1696829967-Hyde-Rebel-Vape-Review.jpg
650
1200
Ecigator
https://ecigator.com/wp-content/uploads/2023/04/ecigator-logo-white.png
Ecigator
2023-10-09 05:41:30
2023-10-09 18:32:16
Hyde Rebel Vape Review: A Vaper's Guide to the Top Models