Hyde Vape N-Bar Review: Flavor, Performace and Value

With their commitment to quality engineering and bold flavor options, Hyde's N Bar disposable vape range aims to deliver exceptional user experiences tailored for adult vapers seeking portability and reliability. This in-depth review navigates if they succeed in blending convenience, satisfaction, and value in a compelling package.
Hyde – The Brand Behind N Bar
As a relative newcomer to the vaping scene, emerging brand Hyde holds simplicity as a core value. Their streamlined product lineup focuses on providing straightforward and dependable vaping products without needless complexity.
While Hyde covers pod systems and box mods, their disposable N Bar series truly encapsulates the brand's design ethos. With intuitive operation, robust construction, and indulgent flavors, N Bar disposables remove hassle so users can simply savor the vaping experience wherever their day takes them.
Hyde seeks to hit that golden balance between affordability and quality to make superior vaping attainable. The N Bar disposable lineup exemplifies this mission. Next, let's dive into Hyde's flagship disposable offerings and see how they perform.
Hyde Vape N Bar 4500  Review
Serving as the battery life king of the N Bar lineup, the Hyde N Bar 4500 Puffs maximizes longevity in a strikingly compact form factor. Its integrated 600mAh battery provides substantially more usage cycles between charges compared to standard disposable vapes. This gives you freedom to vape for days between topping up.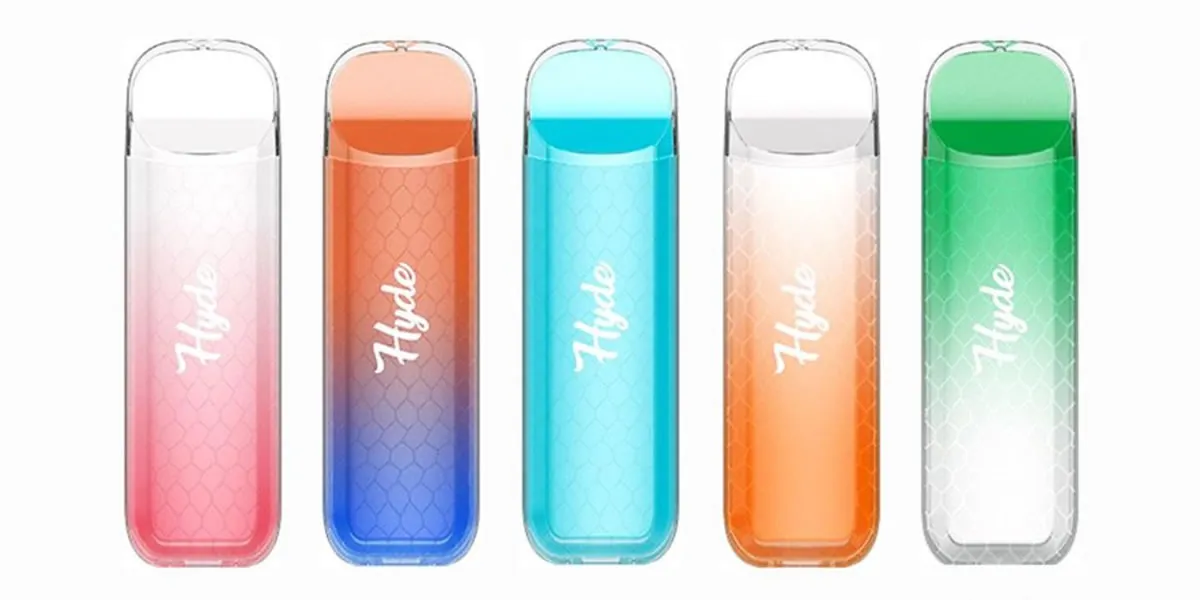 Specification:
Battery Capacity: 600mAh.
Puff Count: Approx. 4500 Puffs.
Charging: Micro USB (Cable NOT Included)
Pairing nicely with the enduring battery, an ample 10mL reservoir of 50mg nicotine salt e-liquid delivers around 4500 satisfying puffs per full charge. Even as a frequent vaper, I found the 4500 nearly kept pace with my demand thanks to the thoughtful extended capacity design.
Throughout testing, the N Bar 4500 maintained rich, authentic flavor from first draw to last. Credit Hyde's optimized coil and wicking system that continues wicking smoothly until the final drop. And vibrant colorways like "Unicorn Tears" bring extra personality to the petite chassis.
In hand, the 4500 feels sturdy, with a golf ball body texture providing a pleasing ergonomic grip. The cylindrical shaping fits into a pocket as easily as a pen. Hyde maximizes every millimeter without compromising performance or longevity.
During my time with the 4500, options like Strawberry Guava Ice and Strawberry Kiwi impressed me with their sheer flavor authenticity and satisfying icy menthol undertones. Hyde delivers both an extended road trip and consistent flavor intensity in one palm-sized package.
Strawberry Guava Ice – Sweet strawberry and tropical guava with a cooling menthol undertone.
Strawberry Kiwi – Tart kiwi perfectly balances the strawberry's sweetness.
Hyde Vape N Bar Mini 2500 Review
Despite its diminutive size, the Hyde N Bar Mini 2500 packs substantial capabilities under the hood. Its 800mAh battery nearly equals many full-size pod vapes, which is remarkable for a disposable device.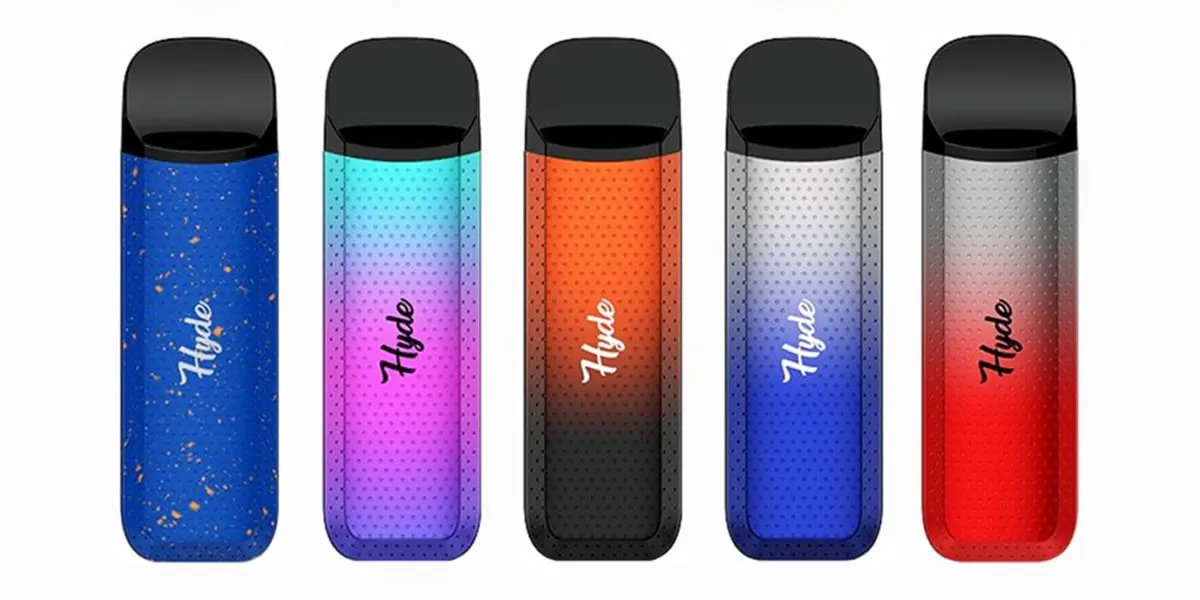 Specificatioon:
Battery Capacity: 800mAh (not rechargeable)
Puff Count: Approximately 2500 Puffs
Nicotine: TFN (Tobacco-Free Nicotine) 5% | 50mg
The simplified one-time use design smartly gets offset by the gargantuan 2500 puff capacity. Even while standing just 10cm tall, this disposable challenger demonstrates shocking stamina for its petite frame.
During testing, the N Bar Mini generated intensely flavored vapor clouds rivaling the larger 4500 model. Hyde optimized the airflow and coil performance to milk massive production from the compact chassis. Zesty mint and indulgent dessert profiles provided pure satisfaction puff after puff.
Like the 4500, the Mini 2500 offers a plethora of tasty flavors including:
Strawberry Ice Cream – A delectable sweet and creamy strawberry taste.
Fresh Vanilla – Smooth, aromatic vanilla makes a perfect all-day vape.
Even with the smaller juice capacity, the Mini 2500 produces extremely satisfying flavor.
For those seeking a nimble pocket-sized disposable without compromising on longevity or intensity, the Mini 2500 fits the bill. It's an impressive feat of engineering that Hyde successfully extracted such formidable functionality from a tiny form factor.
More Hyde N-Bar Flavor Options
With 10 varieties spanning fruity, minty, dessert, and other profiles, the N-Bar lineup has a flavor for everyone。 As a seasoned reviewer, these are some of my top flavor choices among the Hyde N-Bar collection:
Energize
Get your senses buzzing with Hyde's Energize flavor. It delivers an exhilarating rush of tart citrus coupled with sweet tropical essences. Energize is like sunshine in a vape – a vibrant, pick-me-up blend without heavy aftertaste. Uplift your mood and power through your day with its stimulating medley.
Banana Ice
Indulge your sweet tooth with creamy, ripe banana flavor coupled with icy kissed menthol. Banana Ice surrounds you in mellow banana tones, heightened by menthol's cooling contrast. Each puff mimics the taste of a frozen banana popsicle melting on a hot summer day. Banana Ice is sweet fruit gratification with a chill.
Strawberry Guava Ice
Escape to the tropics with sun-ripened strawberries and tangy guava elevated by frosty menthol. Strawberry Guava Ice contrasts the berry's mellow sweetness against guava's tartness, grounded by an exhilarating chill. Feel instantly whisked away to a beachside cabana with this fruity, refreshing flavor fusion.
Cherry Peach Lemonade
Quench your thirst and satisfy your sweet tooth all at once with Cherry Peach Lemonade. It fuses tart, thirst-quenching lemonade with sweet bursts of cherry and peach nectar, mimicking your favorite summer drink. This zesty flavor combination evokes memories of hot days spent sipping chilled fruit lemonade.
Blue Razz Lemonade
Experience sweet, nostalgic blue raspberry candy flavor coupled with zesty lemonade for a unique flavor fusion. It bounces between sweet berries and puckering citrus for a rollercoaster of sensations. Close your eyes, and you're a kid again enjoying your favorite frozen, fizzy lemonade topped with the perfect amount of sugary syrup.
Minty O's
Feel the frosted crunch of classic minty cereal with Hyde's Minty O's. It flawlessly captures that crisply sweet mint essence and cooling sensation of an iconic breakfast staple. Minty O's provides a nostalgic vape experience reminiscent of waking up to a bowl of your favorite cereal.
Sour Apple Ice
Refresh yourself with the mouth-watering tartness of sour green apples accented by icy menthol. Sour Apple Ice blends the sweet-and-sour apple flavor with cooling mint for irresistible crispness. It's an exhilarating fruit chill.
Bananas & Cream
Savor the indulgent taste of ripe bananas swirled into luscious cream. Bananas & Cream envelops your senses in velvety banana cream decadence. It's a vapeable version of classic bananas foster minus the prep work.
OJ
Start your morning right with Hyde's flavor replicating freshly squeezed orange juice. It captures the sweet, natural essence of oranges at their sun-ripened peak. Feel instantly transported to sunny breakfasts full of vitamin C and citrusy goodness.
Strawberry Banana
Experience fruit flavor harmony with luscious strawberry and mellow banana. Strawberry Banana coats your taste buds in layers of berry sweetness and creamy banana. It's a velvety smooth, fruity vape full of flavor.
With 10 mouthwatering flavor formulations in one device, the N-Bar makes expanding your vaping horizons simple. I suggest sampling different options until that perfect ADV clicks.
Hyde Vape N Bar Vape Video
Core Strengths of Hyde's N Bar Disposables
In engineering the N Bar series, Hyde got many fundamentals right:
Potent Nicotine Salts – 50mg strength provides substantial throat hit and satisfaction for transitioning smokers.
Remarkable Battery Life – Lasting days per charge thanks to large capacities.
Diverse Flavors – Over a dozen options span icy, fruity, minty, and creamy flavor dimensions.
Optimized Performance – Proprietary coils deliver pristine flavor consistency over long runtimes.
Ergonomic Shaping – Tactile textures and contoured bodies fit perfectly in hand.
Recharging – The 4500 supports Micro USB charging for extended usefulness compared to one-and-done disposables.
By focusing on the basics – great battery life, flavor authenticity, and ergonomic designs optimized around portability – Hyde built well-rounded disposables that enhance any vaping journey.
Is Hyde's N Bar Right For You?
Hyde's N Bar disposables shine for certain consumers:
Adult vapers prioritizing substantial disposable battery life above all else. The 4500's 600mAh capacity trounces most.
Those craving bold, indulgent flavors like creamy desserts and tart frozen fruits. Hyde nails flavor recreation.
Fans of icy menthol profiles and satisfying nicotine salt formulations. Options abound.
Vapers needing ultimate portability and discretion for life on the go. The petite frames pocket easily.
Beginner vapers wanting a simplified experience without sacrificing performance and longevity.
Of course, some downsides exist to weigh:
The disposable format inherently generates plastic waste – reusable pods have less impact.
More conservative stealthy colorways would be welcome for discretion.
Lower nicotine strengths cater to lighter smokers. Currently only 50mg is offered.
The 4500 lacks modern USB-C charging.
Final Verdict on Hyde Vape N-Bar Review
In my experience, Hyde delivers admirable quality and reliable satisfaction with the well-executed N Bar 4500 and Mini 2500 disposables. Their thoughtful extended capacity design enables days of uninterrupted vaping freedom.
Performance also impresses, with Hyde's optimized coils and components delivering profoundly consistent flavor intensity for the long haul. Nicotine satisfaction remains ample courtesy of the included 50mg nicotine salt e-liquids.
While the disposable format implies eventual waste, Hyde clearly maximizes each device's potential for marathon usage upfront through intelligent engineering. For those seeking flavor excellence and convenience without unnecessary frills, Hyde N Bar warrants a spot on the shortlist. Sometimes simple is better after all.
https://ecigator.com/wp-content/uploads/2023/10/1696956927-Hyde-Vape-N-Bar-Review.jpg
650
1200
Ecigator
https://ecigator.com/wp-content/uploads/2023/04/ecigator-logo-white.png
Ecigator
2023-10-10 17:03:13
2023-10-10 17:03:13
Hyde Vape N-Bar Review: Flavor, Performace and Value