Icewave T600 Disposable Vape Review

The Icewave T600 is a compact 2ml disposable vape pen offering icy flavors galore. With a huge 600 puff capacity and metallic, frosted exterior, it delivers an eye-catching and satisfying vape experience.
Our Icewave T600 review provides a complete analysis of this chilly disposable. We assess the exterior design, flavor offerings, vapor production, battery life, and overall performance to see if it's a worthy icy companion.
Overview of the Icewave T600 Disposable Vape
As a subsidiary of vape manufacturer Zovoo, Icewave brings its icy aesthetic to the T600 disposable vape pen. Each 2ml device packs a 20mg nic salt formula and 1.4Ω mesh coil.
The 600 puff rating gives it exceptional longevity in such a tiny format. And the metallic, frosted chassis resembles an ice cube, fittingly. Top flavors like Blue Razz Ice add exhilarating chill.
For vapers seeking a pocketable yet long-lasting fruity vape, the T600 warrants consideration. Let's see if it fulfills its icy promise.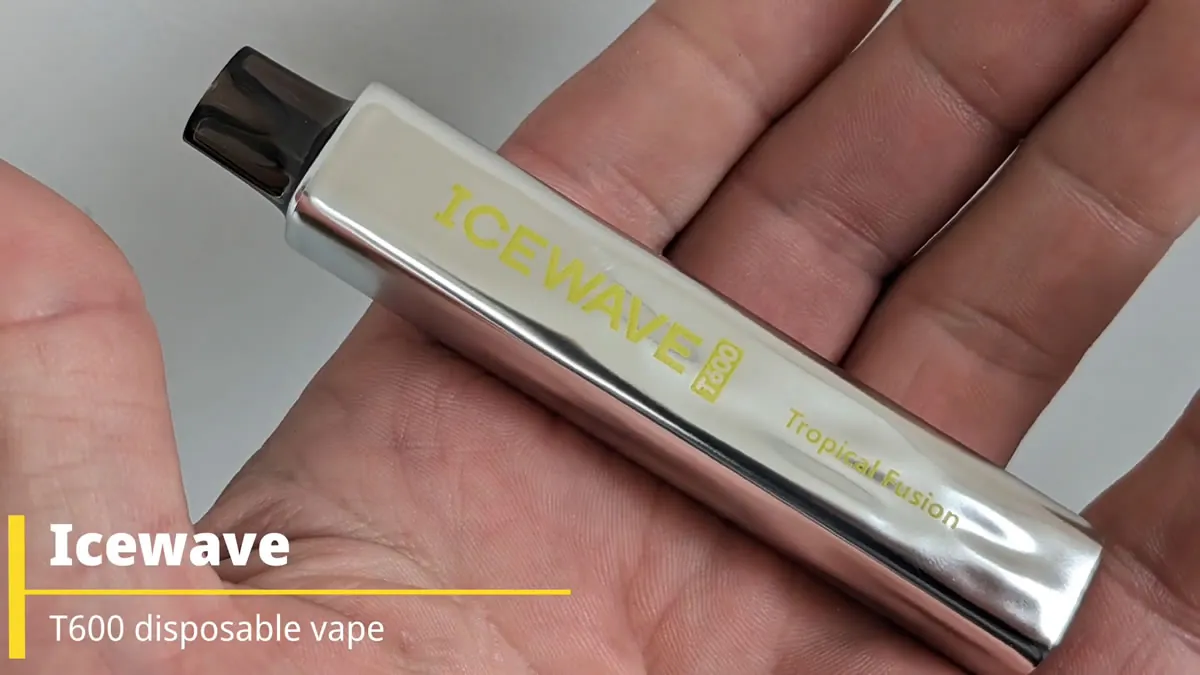 Specifications:
Dimensions: Pocket-friendly and feather-light
Battery: 600 puff rating
E-liquid: 2mL capacity
Nicotine: 20mg nicotine salts
Coil: 1.4Ω mesh coil
Airflow: Fixed for tight MTL draw
Activation: Reliable auto-draw
Exterior and Design
At first glance, the T600's metallic, icy-effect exterior makes a statement. The frosted texture catches the light for a dazzling effect recreating the look of frozen ice.
It provides welcome visual flair compared to the colorful Youth Prevention-targeted looks we see on some disposables. And the rounded edges create an ergonomic in-hand feel.
The plastic does feel a bit lightweight. But the mouthpiece fits comfortably between the lips, and the whole 70g device easily slips into a pocket. Branding remains tastefully minimal.
While adjustable airflow would be ideal, the draw itself provides a nice medium tightness suitable for the size. Overall, the T600 achieves distinct styling suitable for its icy namesake.
Top 10 Icewave T600 Flavors Reviewed
The Icewave T600 disposable vape comes loaded with 10 delightful fruit-inspired flavors specifically for UK vapers. Having personally tested the entire range, I'll overview the top 10 T600 flavors that stood out.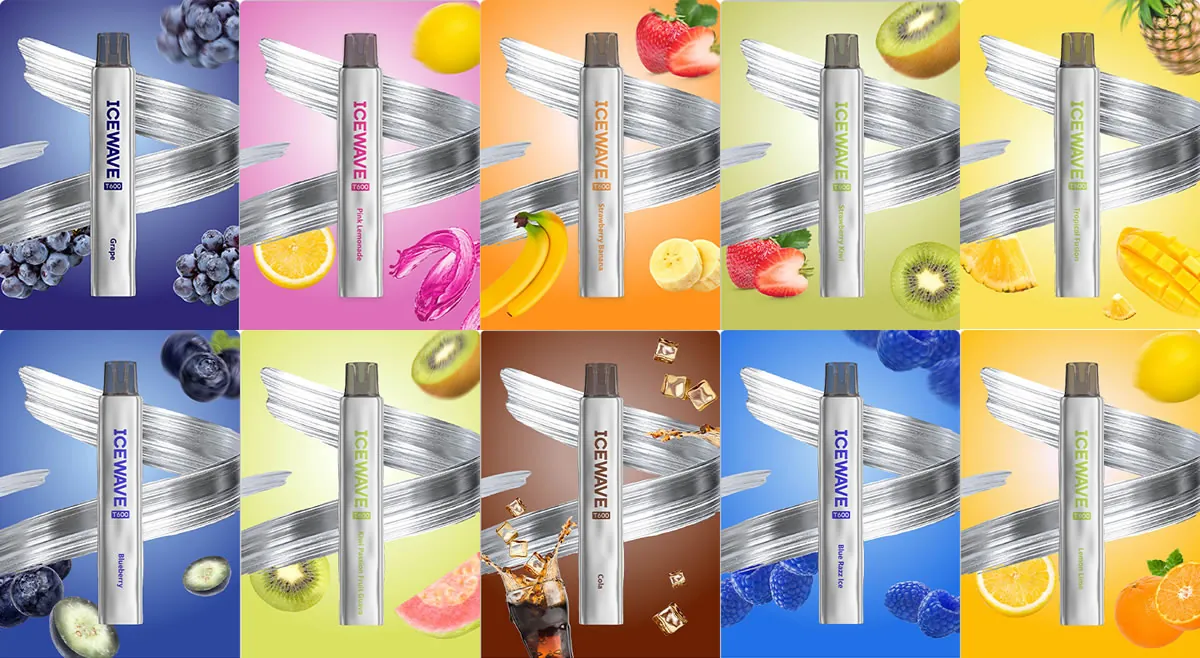 1. Tropical Fusion
Tropical Fusion lives up to its name, blending sweet pineapple, juicy mango, and zesty citrus. It's an uplifting tropical medley with nicely balanced fruity notes.
The pineapple and mango are most prominent, with the citrus adding pleasant acidity. It's a smooth, easy-going all-day vape for tropical fruit fans.
2. Blue Razz Ice
Blue Razz Ice perfectly captures that classic sweet and icy vape shop flavor. It explodes with sugary blue raspberry candy flavor, contrasted by frosty menthol exhale.
The sweet candy raspberry flavor really pops, while the cooling menthol provides a satisfying icy finish. If you enjoy candy fruit with cooling menthol, this flavor nails it.
3. Strawberry Kiwi
Strawberry Kiwi combines sweet strawberry with tart kiwi for a delicious blend. The candy-esque strawberry pairs nicely with fuzzy kiwi tartness.
I'd prefer the fruits were more balanced than strawberry-dominant. But it remains an accurate and enjoyable fruity vape ideal for all-day.
4. Grape
The Grape flavor delivers juicy, candied grape goodness resembling sweet concord grapes. It avoids any harsh or artificial notes, just rich syrupy grape.
I'd like a touch more authentic grape tartness. But it's still a nice candied grape vape for grape soda lovers.
5. Lemon Lime
Lemon Lime perfectly balances zesty lemon and lime for a mouthwatering citrus vape. Sharp lemon and lime shine through evenly on the inhale and exhale.
It's an impressively authentic taste, like biting into fresh lemon and lime wedges. The natural flavors make it an ideal zesty all-day vape.
6. Pink Lemonade
Pink Lemonade offers a sweet and tart lemonade flavor. Zesty sour lemon is complemented by sweet strawberry and a hint of fizzy lemon-lime soda.
The authentic lemon shines brightest here. I'd prefer slightly more sweet strawberry presence to balance the tart lemon. But it's still a deliciously refreshing lemonade vape.
7. Cola
If you enjoy fizzy soda, the Cola flavor is a treat. It perfectly captures that bubbly, syrupy cola taste many of us love. There's no harsh or artificial flavors, just sweet nostalgic soda goodness.
8. Blueberry
Unlike many candied blueberry vapes, this leans more natural with authentic ripe berry flavor. It's sweet and tart, with no artificial or perfumey notes.
For blueberry fans, it's an easy all-day vape that nicely avoids fake blueberry flavoring.
9. Strawberry Banana
Strawberry Banana offers sweet strawberry and mellow banana. The ripe banana is most prominent, with strawberry complementing in the background.
It's an enjoyable tropical rendition. I'd prefer the strawberry flavor to be a bit bolder to better balance the mellow banana.
10. Kiwi Passionfruit Guava
Kiwi Passionfruit Guava infuses guava, kiwi, and passionfruit for a sunny tropical medley. Juicy guava leads, complemented by tart kiwi and passionfruit.
It's an extremely accurate blend, making it one of my favorites of the bunch. The authentic fruits blend beautifully.
After testing the entire lineup, the T600 flavors really impressed me with their accuracy and enjoyment factor. There's an icy fruity flavor for every palate here.
For me, the zesty Lemon Lime and mixed tropical flavors like Tropical Fusion and Kiwi Passionfruit Guava were standouts. But candy fruit fans will enjoy Strawberry Kiwi and Blue Razz Ice. And classics like Grape, Cola, and Blueberry are done well.
Whichever you choose, the T600 flavors deliver serious fruity refreshment in a satisfying discreet device.
Performance and Battery Life
The T600's 1.4Ω mesh coil and 20mg nic salts deliver instant yet smooth satisfaction. Flavor and vapor production satisfy cravings with each pull.
The draw offers a consistent medium tightness for an enjoyable MTL vape. And auto-draw activation responds quickly without misfires.
While the LED battery indicator could be brighter, the battery itself lasts impressively. Of the 10 flavors, most surpassed the 600 puff rating, nearing a 700 count until fading.
Flavors like Blue Razz Ice maintained strength throughout battery life. Only the cooling effect became slightly less pronounced over time. But the fruity accuracy persisted on all profiles.
For a compact 2ml disposable, the T600 provides exceptional longevity and consistency. The 20mg nic salts hit the spot for throat hit as well.
User Impressions
Satisfied user reviews praise the T600's frosty aesthetic and practical 600 puff lifespan. But flavors draw the most acclaim for their accuracy and vibrancy.
The authentic fruit profiles and icy additions make the T600 a favorite for cooling flavor chasers. The smooth consistent draw and build quality also rate highly among buyers.
Most criticism centers solely on the lack of airflow adjustability. But for the size and intended vaping style, the fixed draw satisfies most users with its tightness.
Pricing and Availability
The Icewave T600 retails between £5-8 GBP on average. Many UK vape shops offer discounts when purchasing multiple units.
As a newer model, availability remains limited to select online UK retailers for now. But competitive pricing could boost widespread supply quickly.
For disposable vapers wanting robust icy fruit flavors in a pocket-friendly format, the T600 comes at an affordable price. Bulk buys drive the value up even more.
Icewave T600 Disposable Review Video:
Final Verdict
For a compact disposable vape, the Icewave T600 provides exceptional value through accurate flavors and generous battery life. It outperforms most disposables of this size.
The satisfying nicotine throat hit combines with robust fruity and icy flavors for enjoyment. And the frosty exterior provides unique aesthetic flair over a typical disposable.
If you seek a discreet yet mighty disposable vape for menthol and fruit flavors, the T600 delivers over 600 satisfying chilled puffs.
Should You Get The Icewave T600 Disposable?
For vapers wanting a discreet yet long-lasting fruit-flavored disposable vape, the T600 is easily recommendable.
It distills the disposable vaping experience down to what matters most – accurate flavors and reliable battery life.
While simple in features, the T600 executes each element well, from the flavor range to the functional draw. All encased in a unique icy-effect exterior.
For the price, you'd struggle to find a disposable vape that delivers as consistently as the Icewave T600. It's a frost-filled Fruitopia in your pocket.
Pros
Striking metallic, icy aesthetic
Compact and ergonomic
Accurate fruit flavors
600+ satisfying puffs
Smooth tight draw
Reliable auto-draw
Cons
No airflow control
Dim battery indicator
Cooling effect fades
So if you're seeking a stealthy yet long-lasting fruit-filled vape, grab the Icewave T600. It's icy satisfaction that fits frosty in your pocket.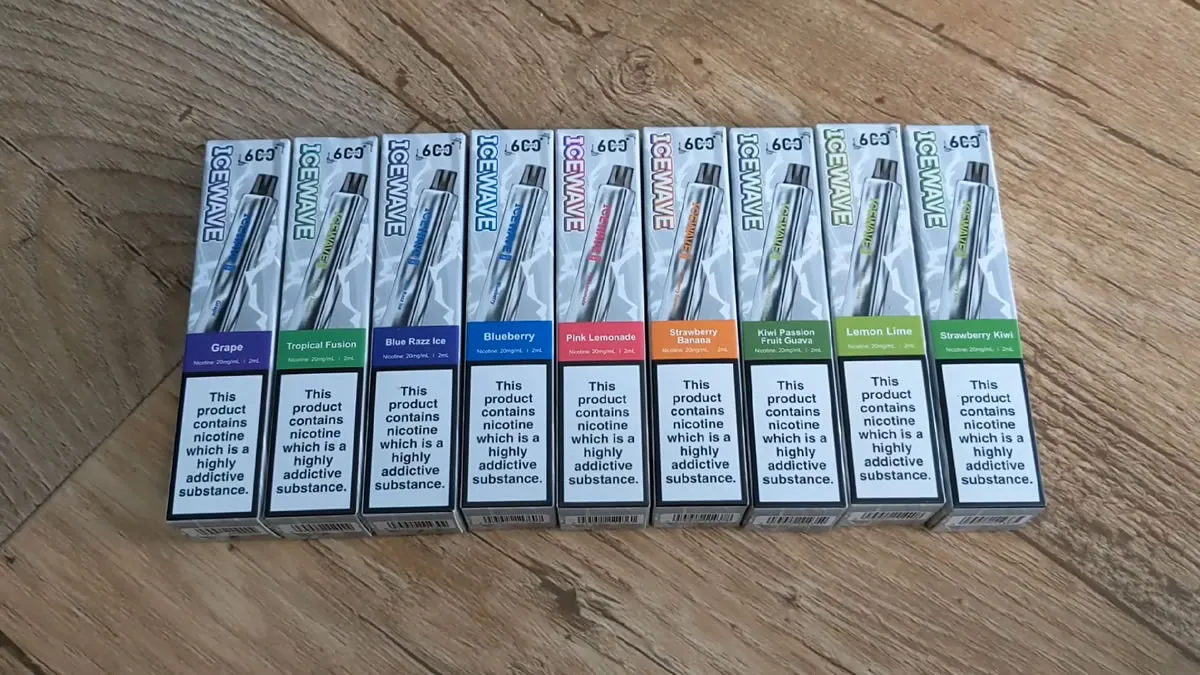 https://ecigator.com/wp-content/uploads/2023/11/1699209356-Icewave-T600-Disposable-Vape-Review.jpg
675
1200
Ecigator
https://ecigator.com/wp-content/uploads/2023/04/ecigator-logo-white.png
Ecigator
2023-11-05 18:55:34
2023-11-05 18:55:34
Icewave T600 Disposable Vape Review