Top 10 Tasty Lost Mary BM600 Disposable Vape Flavors Reviewed
The Lost Mary BM600 disposable vape provides effortless vaping on-the-go thanks to its pocket-friendly size and extensive flavor options. After thoroughly testing the lineup, I countdown my top 10 favorite Lost Mary BM600 flavors that all vapers need to experience.
Introduction to Lost Mary BM600 Vape
The slim and lightweight Lost Mary BM600 disposable vape delivers around 600 satisfying puffs per charge courtesy of the built-in 550mAh battery and 2ml of 20mg nicotine salt e-liquid. It couldn't be easier to use with automatic draw activation – simply inhale to vape. With over 40 flavors available, it really indulges your ability to switch between flavors anytime.
My Top 10 Tastiest BM600 Flavor Picks
After sampling the entire expansive flavor selection, these 10 stood out as my personal favorites:
1. Blueberry Sour Raspberry – A Balanced Berry Blend
This mixed berry duo blends sweet, ripe blueberry on the smooth inhale with mouth-puckering sour raspberry on the exhale. The contrast between the two fruity flavors keeps things interesting. I really enjoyed how the tart raspberry played off the mellow blueberry. There is a pleasant sweetness present but not overdone.
In my opinion, this balanced pairing creates a delicious candy-like berry vape. The blueberry and raspberry complement each other perfectly to avoid an artificial taste. This will appeal to berry candy fans who appreciate balance rather than extreme sweetness. The flavors felt smooth and genuine.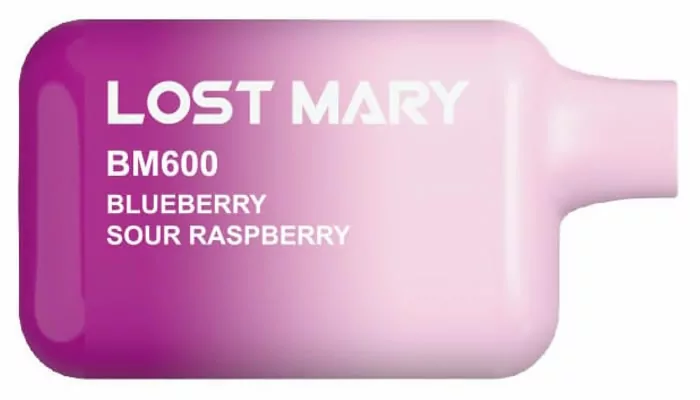 2. Cotton Candy Ice – Childhood Nostalgia
As soon as I tried Cotton Candy Ice, it brought me right back to childhood carnival days. It captures that iconic cotton candy flavor chilled by icy menthol. The inhale is a wave of sweet, delicate vanilla creaminess reminiscent of strawberry cotton candy. Exhaling cools things down with a frosty menthol rush.
This flavor really encapsulates the classic cotton candy experience from the tempting aroma when opening the packaging to the sugary mouthfeel between puffs. If you love cotton candy, this flavor magically recreates the experience. The spot-on accuracy blew me away.
3. Strawberry Ice – A Reliable Fruity Menthol
This familiar sweet strawberry flavor with icy menthol exhale reminds me why it remains a longtime favorite. While it could be more complex, the sugary strawberry taste still satisfies my fruit cravings. I get light creamy notes on the inhale almost like strawberries and cream. The cooling menthol exhale provides pleasant contrast without numbness.
While it leans artificial versus fresh natural fruit, I still reach for this nostalgic flavor when I'm in the mood for a sweet fruity menthol vape. Sometimes simple flavors just perfectly hit the spot. This remains one of my go-to fruit vapes.
4. Triple Melon – A Refreshing Fruit Fusion
This invigorating tropical trio of melons including honeydew, muskmelon and watermelon provides an exciting fruit experience. The honeydew dominates initially before shifting to musky watermelon on the exhale. The contrast gives it delightful complexity compared to one-note fruit vapes.
Inhaling brings tropical scents of melon nectar. Together this aromatic blend makes a bright, juicy summer vape. Of all the fruit flavors, Triple Melon stood out as the most multidimensional. The flavor progression kept me coming back.
5. Triple Mango – A Luscious Tropical Treat
Be prepared for an overload of mango bliss! This flavor features three varieties of rich, creamy mango for wave after wave of tropical flavor. It captures that true ripe mango profile without any hint of chemicals. The flavor remains smooth and satisfying even at higher nicotine levels which can mute nuances.
For mango lovers like myself, this delivers the ultimate sweet tropical getaway with every puff. Of all the flavors tested, Triple Mango gave me the most authentic and moreish mango experience by far. It's now my all day mango indulgence.
6. Watermelon Ice – A Quintessential Summer Thirst Quencher
This mouthwatering mix of seedy watermelon and frosty menthol perfectly encapsulates the taste of summer. It balances the sweet distinctive watermelon flavor with a refreshing menthol exhale. Neither overpowers the other, creating the quintessential watermelon menthol vape.
The authentic juicy watermelon taste avoids any candy flavoring, making it super enjoyable on a hot day. When I crave a fruited ice blast, Watermelon Ice always satisfies without overwhelming sweetness. A new summer favorite!
7. Blue Razz Cherry – An Intense Candy Flavor Bomb
This shocked my tastebuds with an intense infusion of sugary blue razz on the inhale and sour cherry candy on the exhale. The cooling effect accentuates the sweet then tart flavor blast. This is a dream for extreme candy fans desiring an aggressively flavorful experience.
The abundance of flavor makes this a very polarizing vape. With an adventurous palate, it's worth trying this intense candy explosion. The combination was almost too intense yet I kept coming back.
8. Cherry Peach Lemonade – Peach Steals the Show
Despite the blended name, I found juicy, ripe peach dominated this flavor. Both the cherry and lemonade accents faded into the background for a largely one-note peach vape. An overload of sweetener also muddled the flavor nuances I hoped for.
Still, the authentic juicy peach with icy cool inhale satisfied my fruit sweet tooth cravings. I wished for more complexity but the natural peach flavor alone will please peach candy lovers. Next time I'll look for bolder lemonade and cherry notes.
9. Grape – An Extremely Sugary Grape
This overwhelmingly sweet grape flavor drowns your senses in intense candy grape sugariness – almost syrup-like. The abundance of sweetener amplifies the grape into cloying territory for me. I craved more natural grape complexity to balance the saccharine intensity.
However, if you love extreme sugary grape candy, this offers next-level sweetness unlike any other grape vape I've tried. The cooling exhale extends the mouthfeel. Be prepared for an ultra-sweet flavor explosion! My tastebuds prefer more subtlety and nuance though.
10. Mad Blue – Mainly Raspberry Candy
Mad Blue aims to offer a mixed berry medley but I predominantly tasted sweet raspberry candy with faint blueberry in the background. The raspberry dominates from inhale through exhale with only the occasional fleeting blueberry note.
I wanted more cohesion between the berry flavors. However, the lower sweetness allowed the raspberry candy to shine through compared to other flavors. While the depth wasn't there, it remained a smoothly enjoyable candy berry vape.
Final Verdict on the Lost Mary BM600
With its huge flavor selection, the Lost Mary BM600 guarantees an option for every vape enthusiast. The portable and discreet size makes it my go-to for fuss-free vaping anytime. Some flavors become overly sweet but choosing carefully ensures you'll find a new favorite. After extensive testing, Lost Mary BM600 earns my recommendation for its flavor authenticity in a wonderfully convenient disposable device.