Lost Vape OB5500 Review: A Petite Yet Powerful Disposable Vape
As a more portable-optimized iteration of the renowned Lost Vape Orion Bar series, the new OB5500 disposable vape aims to deliver satisfying performance and flavors in one of the smallest form factors in the disposable space. But how does this mini vape stack up when put to the test? This comprehensive hands-on review will scrutinize every facet of the OB5500 user experience – from battery longevity to flavor variety to airflow customization and beyond.
Introduction of Lost Vape OB5500
The Lost Vape OB5500 retains the core offering that made the larger Orion Bar series a runaway success – strong battery efficiency, nic salt e-juice flavors, and wonderfully simple draw-activated usage. But it condenses the entire package into one of the most compact and pocketable disposable vape designs available today.
Despite its diminutive size, this tiny disposable remains generously equipped:
A ample 14mL e-juice capacity
A 500mAh rechargeable battery with speedy USB-C charging
50mg (5%) nicotine salt nicotine strength
Easy draw-activated firing mechanism
Adjustable airflow control
A ample 5500 puff rating for a single-use device
A diverse array of nic salt e-juice flavors
By retaining the key aspects of the Orion Bar vapes while dramatically reducing the physical footprint, the OB5500 attempts to maintain the satisfying user experience in a more stealthy design tailored for portability and public discretion. But how does it actually fare when put to the test? Let's find out.
OB5500's Battery Life and Longevity
Providing power to the pocket-sized OB5500 is an integrated 500mAh lithium-ion battery rated by Lost Vape to deliver up to 5500 puffs on a single charge. During extensive real-world hands-on testing, the 500mAh power cell consistently provided multiple days of intermittent moderate vaping between charges.
While around a 20% reduction on paper compared to the larger Orion Bar 7500's 650mAh battery rating, the OB5500 battery still impresses mightily for such a tiny disposable device. And the notably smaller 14mL e-juice capacity compared to the Bar's 18mL reservoir balances the marginally reduced battery size very nicely.
Overall, the OB5500 battery life reliably aligns with Lost Vape's lofty puff rating claims, especially for a device in its petite class. It delivers excellent longevity from a single charge that should satisfy most users' daily disposable usage needs.
As with essentially all disposables, vapor intensity and thickness can begin tapering off as the integrated battery nears fully depleted. But a quick top up via the convenient OB5500 USB-C charging port effortlessly restores peak performance in under an hour. This modern charging standard makes keeping the mini vape performing optimally a breeze.
Adjustable Airflow Function
One standout feature that gives the OB5500 an edge over much of the competition is its adjustable airflow mechanism. This allows users to easily tailor the inhale feel and cloud density through a simple sliding switch on the bottom of the device.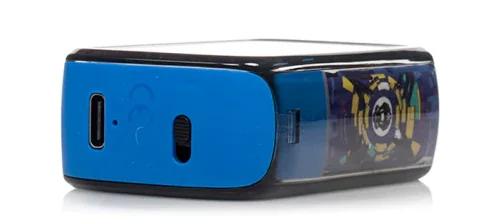 With the switch positioned at one end, the draw feels relatively tight and restricted like a traditional cigarette. This delivers dense, concentrated flavor ideal for nicotine satisfaction. Sliding it open creates a much airier and loose draw, reducing thickness but increasing vapor production.
Having the ability to customize the vaping experience through variable airflow makes the OB5500 far more flexible than fixed draw disposable models. Users can find the ideal setting for their personal puffing style, or toggle between a loose session vape and a tight discreet puff throughout the day.
Lost Vape OB5500's Flavor Variety
A new entry in Lost Vape's disposable lineup wouldn't be complete without an array of tempting proprietary nic salt e-juice flavors spanning the flavor wheel. The OB5500 doesn't disappoint, arriving pre-filled with a satisfying selection including: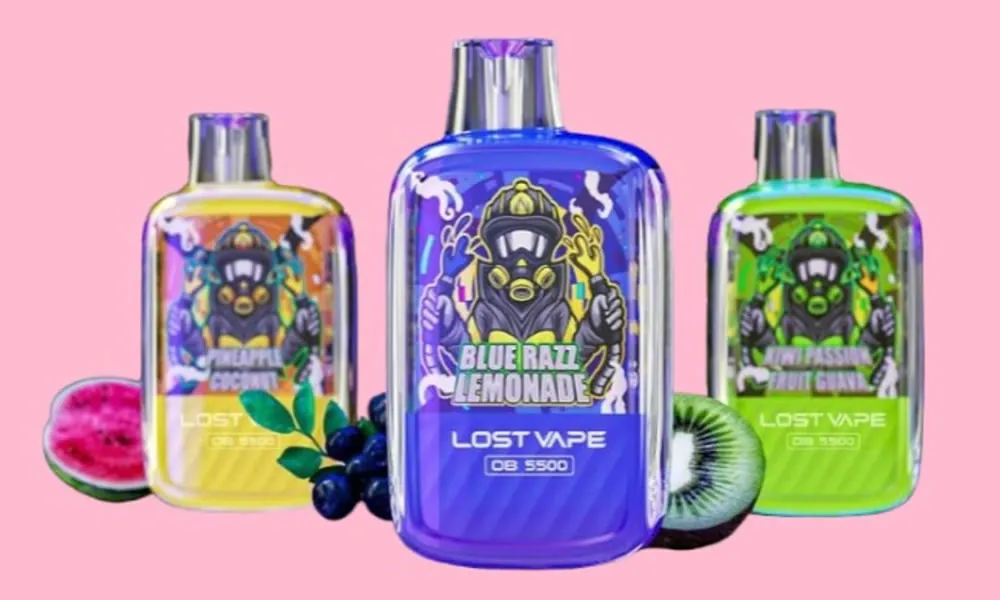 Fresh Mint
This highly refreshing flavor perfectly balances cooling mint essence with sweet undertones. Each puff delivers a crisp burst of minty exhilaration reminiscent of inhaling near a flowerbed of freshly bloomed mint.
The mint strikes the perfect balance – not overly sweet like a dessert mint, yet avoids any harsh medicinal tones. It feels like inhaling a minty breath of fresh air. The pleasantly icy vapor provides a palate cleanser between rich fruit flavors.
Kiwi Berry
The sweet tropical essence of kiwi swirls together with mixed red berries for a unique flavor fusion. The inhale brings the sweetness of ripe kiwi followed by a mix of raspberry, strawberry and cherry undertones on the exhale.
It avoids being overly candied, as the berry flavors provide just enough tartness to balance out the sweeter kiwi. Moderate icy menthol throughout cools the palate. Each puff feels like a fruit salad with a side of refreshing chill.
Kiwi Passionfruit Guava
This tropical trifecta blends sweet kiwi, tangy passionfruit and mellow guava essence for a fruit rollercoaster. The passionfruit adds delightful zingy tartness that complements the sweeter kiwi and guava notes beautifully.
It feels like a fruity vacation escape, evoking images of relaxing beachside with a freshly blended tropical cocktail in hand. A touch of cooling menthol enhances the vacation vibe.
Pineapple Coconut
Sweet pineapple juice blends with creamy coconut for a unique and indulgent flavor fusion. The inhale brings pineapple's zesty tropical essence before giving way to rich coconut on the exhale.
Rather than candy-like sweetness, it focuses more on the natural fruit and coconut flavors. The coconut has an almost frosty undertone that perfectly cools the pineapple sweetness. Each puff feels like a mini island getaway.
Strawberry Watermelon
Juicy strawberry and watermelon meld together like biting into fresh summer fruits. The strawberry leans jammy while the watermelon focuses on ripe melon essence. Mild cooling minty undertones provide light freshness.
It captures that sensation of enjoying a fruit cup on a hot summer day – the sweet strawberry juice dripping down your chin as you bite into refreshing watermelon slices. A classic flavor pairing executed masterfully.
Triple Berry
Sweet strawberry and blueberry dance together with tangy raspberry in this berry bonanza, delivering a rollercoaster ride over the taste buds. Each inhale unloads a fruit flavor explosion with well-defined notes.
The blueberry brings deep jammy essence, while the strawberry leans into candy sweetness. Raspberry provides just the right amount of tartness to cut through and balance the sweet duo. These real fruit profiles blend in harmony like gathering ingredients for a mixed berry pie.
There's enough distinction between the three that you can pick out each one before they swirl back together again. Masterfully executed for fruit lovers.
No matter your specific flavor preferences, the OB5500 provides appealing options spanning mints, fruits, sweets, and other profiles to satisfy a range of palates and cravings.
Compact Yet Comfortable Design
The biggest distinction in aesthetics and ergonomics between the Orion Bar and OB5500 stems from the latter's ultra-compressed size. Measuring just 2.2" x 0.9" x 0.35", the OB5500 is astoundingly pocket-friendly and discretely sized for hassle-free public portability and on-the-go vaping.
However, the miniaturized proportions do result in marginally less comfortable extended vaping sessions compared to the Orion Bar or other larger disposables with greater surface areas to grip. But for most users, this won't outweigh the huge portable usability advantage.
Overall, the OB5500's highly compressed format does an excellent job condensing the entire Orion Bar experience into one of the smallest, stealthiest, and easy-to-carry disposable designs in the category. For pocket portability, it handily bests the Bar.
Final Verdict on the Lost Vape OB5500
In closing, Lost Vape's OB500 admirably delivers on crafting a powerfully satisfying simplified vaping experience inside an astoundingly tiny and pocketable disposable package. The mini dimensions understandably result in some ergonomic tradeoffs for protracted usage. However, performance remains impressively robust.
For adult vapers who prioritize maximum portability and discretion for on-the-go usage, the OB5500 is an exceedingly compelling option to consider – perhaps even superior to the legendary Orion Bar series that inspired it. However, for extended home-based vaping, the Bar's larger chassis still can't be beaten for user comfort.
Ultimately, Lost Vape's ascendant disposable lineup offers choice between the renowned Orion Bar optimized for at-home longevity versus the impressively pocketable OB5500 engineered specifically for life on the move. Both are exceptional performers packing large flavor variety into hassle-free, draw-activated devices. But the OB5500's ultra-compressed format for stupendous portability gives it the edge for vapor-centric lifestyles.
All in all, Lost Vape admirably proved that big powerhouse vapor performance can indeed come in remarkably petite packages with the brilliantly designed OB5500.