Lost Vape Orion Bar 7500 Review: A Bold and Artistic Approach to Disposable Vaping

For vapers who prioritize incredible battery life, the new Orion Bar 7500 from Lost Vape is a disposable vape dream come true. With up to 7500 puffs per charge, this unstoppable marvel keeps you vaping for days on end.
In this in-depth review, we'll see how the Orion Bar 7500 could free heavy vapers from constant battery anxiety.
Story of Lost Vape
Lost Vape is the esteemed brand behind vape legends like the original Orion pod system. For over 8 years they've built trust among vapers worldwide through quality manufacturing and constant innovation.
Driven to create unmatched vaping experiences, Lost Vape identifies unmet user needs, then engineers smart solutions. Their Orion Bar disposable line exemplifies this tireless pursuit of progress.
Each new model in the Orion Bar series pushed the boundaries on battery life and ejuice volume. The Orion Bar 7500 represents the pinnacle of this mission for maximum, uncompromising vaping freedom. But does such a large single-use device still deliver satisfying performance? Let's dive in and find out.
Impressive Looks and Feel of Orion Bar 7500
Given its massive 18mL juice supply and 650mAh battery, the Orion Bar 7500 resembles a mini box mod at first glance. The transparent chassis provides an unobstructed view of the substantial inner capacity, making it clear this is no ordinary disposable.
Yet for its imposing silhouette, the 7500 remains featherlight and ergonomic in hand. The thick but smooth plastic construction feels reassuringly durable without unnecessary heft that would weigh you down. I appreciated the comfortable in-hand feel while vaping.
The mouthpiece provides a properly snug draw for deeply satisfying MTL hits. But the user-friendly adjustable airflow lets me fine tune the restriction to suit both tight MTL puffs or airier DTL ones. Just take care when maxing out airflow in combination with higher nicotine levels to avoid harshness.
Conveniently, charging takes place via a modern USB-C port. This faster charging standard enables surprisingly quick top offs. But remember to recharge lying horizontally given the side port placement.
Specifications
Dimensions: 84 x 48 x 25mm
E-liquid capacity: 18ml
Nicotine strength: 50mg / 20mg salt nicotine / 0mg
Battery capacity: 650mAh rechargeable
Number of puffs: 7500
Airflow: Adjustable at base
Activation: Auto Draw
Charging: Type C USB
How Do the Flavors Perform?
With nicotine options ranging from 0 to 50mg/mL, the Orion Bar 7500 can accommodate vapers across the spectrum. The flavors available run the gamut from fruity and icy to rich desserts, tobacco, mints and more. Here's my take on some of the most intriguing options after thoroughly taste testing: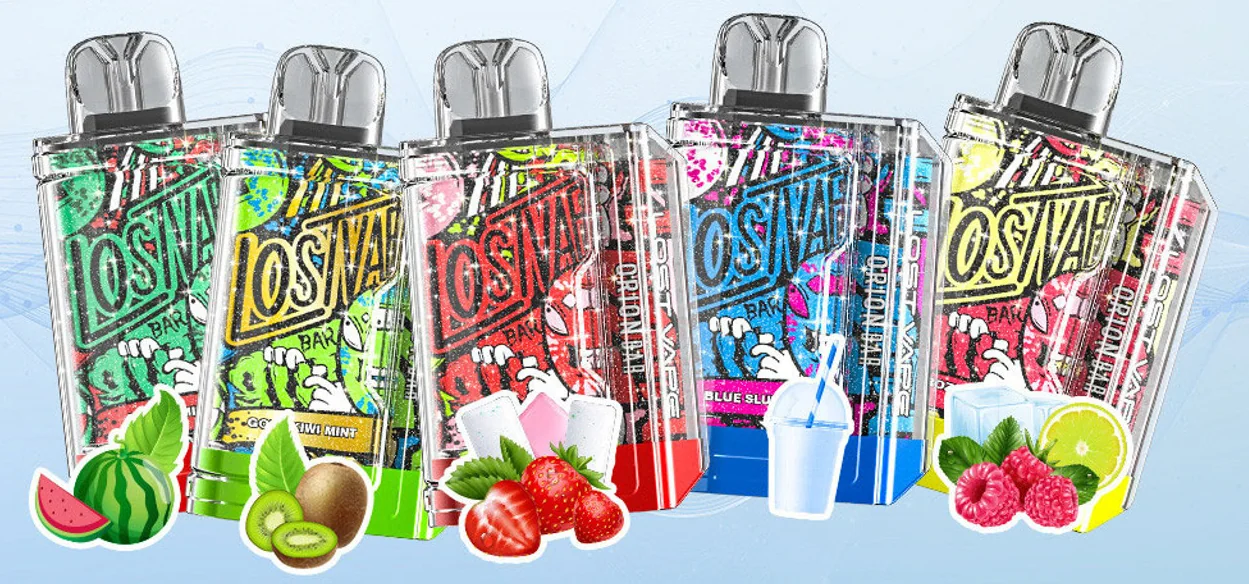 Pineapple Lemonade
A remarkably harmonious blend of sweet pineapple essence and tart lemon juice. It tastes pleasantly fruity rather than trying to precisely mimic a fizzy lemonade. The balance ensures an easy-to-vape all-day refresher.
Cool Mint
Crisply refreshing, this frosty mint delivers a sustained chill without excessive sweetness or harshness marring the experience. The clean menthol blast leaves my palate feeling renewed. A smoothly satisfying operator I find myself returning to often.
Strawberry Kiwi
The strawberry profile mixes luscious richness with a hint of candy-like taste, while subtle banana undertones lend further depth. A very smooth and enjoyable fruit vape overall, though the kiwi accents fade into the background somewhat.
Lush Ice
Right away I'm embraced by an authentic watermelon candy flavor that then gives way to copious amounts of sweetener. But the brisk menthol beautifully complements the honeydew essence for irresistibly juicy refreshment. Familiar yet craveable.
Aloe Grape
Initially an artificial, chemical grape flavor takes center stage. Faint wisps of florals attempt to temper the saccharine sweetness on the back end to little avail. The candy grape dominates this one-note profile. Likely only palatable for true grape vape devotees.
Sour Apple Ice
Apple essence with a slight bitter edge that drinks both sour and tart. A blast of strong menthol provides a momentary cooling effect. But sadly the apple identity gets buried under cloying sweetener that lingers.
Banana Cake
Distinct banana nuances show promise but are overpowered by intense icy menthol more reminiscent of a sour frozen slushy. The jarring cold exhale diverges far from the advertised bakery experience. A letdown for this dessert vape lover.
Rainbow Drop
An aggressively sweet mishmash of indistinguishable citrus fruits tangled with dense icy menthol. Any subtle flavor nuances become hopelessly muddled under the tempest. Likely too potent and cluttered for widespread appeal.
In general, Lost Vape does justice to simpler fruit and mint profiles in the Orion Bar 7500. But avoid the more crowded options if you prefer balance over intensity.
Epic All-Day Battery Life
The real star of the show is the Orion Bar 7500's incredible endurance, thanks to its very substantial 650mAh battery capacity. Based on my extensive testing and usage, here's what vapers can expect in terms of longevity:
It reliably delivers 600-900 full, satisfying puffs per complete charge
I consistently get a stellar 5-7 days of usage from each device before the massive 18mL prefilled ejuice supply is fully depleted
All tallied, that amounts to a staggering 75+ hours of total vaping time per Orion Bar 7500
So while 7500 puffs printed on the packaging may be slightly ambitious marketing speak, around 6000 puffs seems readily achievable depending on your habits and settings. Either way, it dramatically outlasts average disposables by very impressive multiples.
The integrated battery level LED makes it exceedingly easy to monitor remaining runtime at a glance. I clocked surprisingly fast 1.5 hour full recharges via the convenient USB-C port. But do remember to have a compatible C cable on hand since one isn't included in the package.
Who Is The Orion Bar 7500 For?
Given its extreme battery endurance coupled with an ultra-generous ejuice volume, the Orion Bar 7500 is purpose-built for:
Heavy vapers tired of running out of power constantly in the middle of busy days
Travelers and commuters craving reliable all-day battery life while out and about
Anyone wanting maximum vaping time with minimal fuss and charging hassles
Discerning vapers who trust and expect quality from Lost Vape based on their reputation
For more moderate or casual use, this much capacity is likely overkill. But for unrestrained, nonstop marathon vaping freedom without worrying about battery life, the 7500 delivers in spades.
Final Verdict of Orion Bar 7500 Review
The Orion Bar 7500 consummately fulfills Lost Vape's mission of taking the disposable vape experience to the next level. While flavors are hit or miss depending on personal preferences, the battery lifespan and juice capacity set a new high benchmark for the category.
If you're weary of vape battery anxiety constantly disrupting your busy days and are seeking a grab-and-go sidekick you can rely on, this unstoppable marvel sets you free. Just stock up on some extra nic salt ejuice pods, and enjoy endless uncompromised vaping thanks to its heroic stamina.
In a sea of underperforming disposables, the Orion Bar 7500 emerges as a premium standout by optimizing for what matters most – unfaltering reliability.
https://ecigator.com/wp-content/uploads/2023/09/1693659148-Lost-Vape-Orion-Bar-7500-review.jpg
650
1200
Ecigator
https://ecigator.com/wp-content/uploads/2023/04/ecigator-logo-white.png
Ecigator
2023-09-02 13:05:56
2023-11-13 18:44:16
Lost Vape Orion Bar 7500 Review: A Bold and Artistic Approach to Disposable Vaping