OXBAR G8000 Review: A Massive 16ml
&

8000 Puffs
The OXBAR G8000 disposable vape is the latest release from leading vape brand OXBAR, offering vapers a powerful device packed with features. With a huge 16ml e-juice capacity and 8000 puff rating, the OXBAR G8000 may be one of the longest lasting disposables available.
Beyond the exceptional battery life, this compact yet hard-hitting vape also boasts a 650mAh battery, 17 mouthwatering flavors and an authentic tobacco option. For former smokers or nicotine users looking for an affordable workhorse vape, the OXBAR G8000 warrants a closer look.
OXBAR G8000 Disposable Vape Features and Specs
Dimensions: 85.6mm x 49.7mm x 25.4mm
Weight: 72g
E-Juice Capacity: 16ml
PG/VG Ratio: Not specified
Nicotine Strength: 50mg nicotine salts
Draw Activation
8000 Puff Capacity
17 Flavors
Battery: 650mAh rechargeable
Charging: Micro USB Type-C 0.5A
Coil Resistance: 1.2ohm
Coil: Mesh
Material: Polycarbonate
LED Puff Indicator
With impressive capacities across the board, from e-juice to battery life, the OXBAR G8000 aims to keep vapers satisfied for days on end. The specs provide an alluring combination of value and performance.
OXBAR G8000 Review: Design and Appearance
Upon unboxing the OXBAR G8000, its sleek yet compact size immediately stands out. Measuring less than 3 inches tall and 1 inch wide, the device fits comfortably in hand for extended vaping sessions without any hand fatigue.
Despite the petite footprint, the construction feels reassuringly robust. The polycarbonate shell and smooth finish give the vape a high-end look and durable protection. After accidentally dropping the device multiple times, it held up surprisingly well with only minor scuffing.
Aesthetically, the wavy lines etched into the shell offer visual flair while allowing the e-juice color to peek through. This small touch of personalization helps each flavor's personality shine. Along the bottom, a solid white base houses the USB charging port.
The mouthpiece extends about 0.7 inches over the body in a duckbill shape that feels natural on the lips. Airflow enters through two holes on each side. Together, the ergonomics enable an effortless and satisfying vaping experience.
While the OXBAR G8000 lacks passthrough capabilities, its 45-minute charge time means vape breaks remain brief. The only other missing feature is an airflow control, though the draw-activation provides a pleasing medium tightness.
How Does the OXBAR G8000 Perform?
After extensive testing of the OXBAR G8000 across multiple flavors, the sheer intensity and authenticity of the flavor profiles stand out above all else. With no chemical aftertaste, the e-juices burst with crisp, bold flavors that linger pleasantly.
The three tested flavors included Mad Blue (blueberry and raspberry), Sakura Grape (grape with cherry blossom), and Watermelon Slushie (juicy watermelon with cooling effect). Each disposable produced dense, flavorsome vapor from first to final puff.
In addition to delectable taste, the 8000 puff rating also proves legitimate. With heavy vaping habits, each OXBAR G8000 lasted over 12 days and 8,000 puffs. More moderate users could easily stretch a single device to 20 days or more.
The 650mAh battery also impressed, keeping the vapor production consistent for 1-2 days per charge. And charging itself takes under an hour via micro USB.
For smokers accustomed to frequent lighting up, the OXBAR G8000 provides exceptional value and convenience. The steady vapor density matched that of many mod/tank setups, yet the draw activation kept operation simple.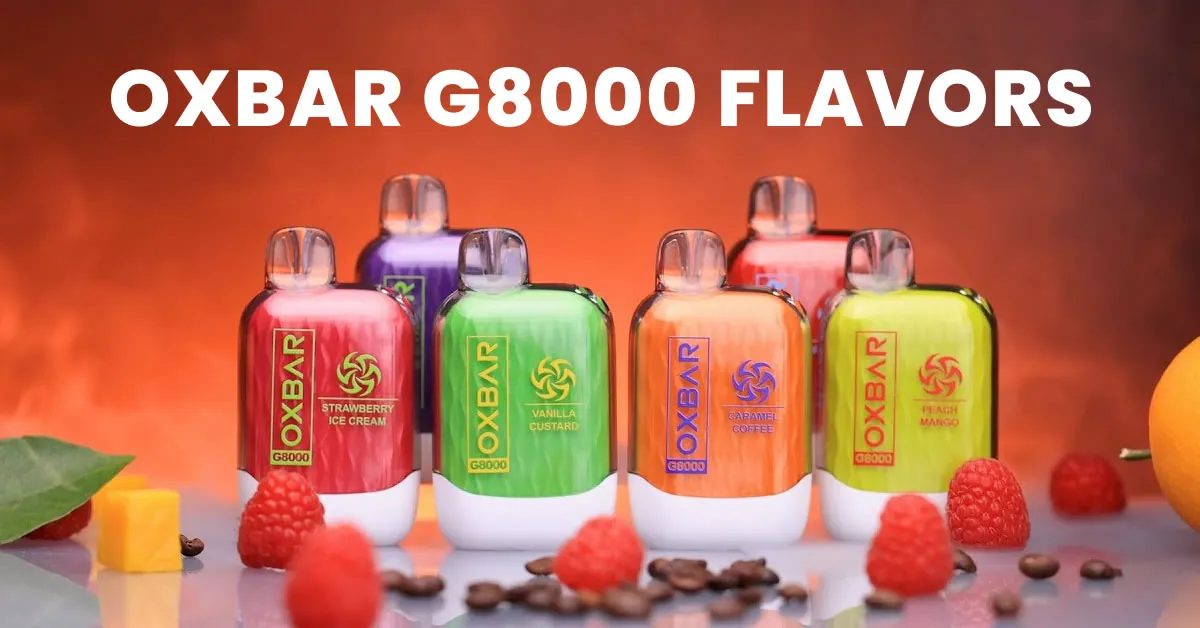 The 3 Tested OXBAR G8000 Flavors
OXBAR generously provided three of their OXBAR G8000 disposables for testing and review. This allowed for an in-depth exploration of the flavor quality and performance.
Mad Blue
The Mad Blue blend combines juicy blueberry and ripe raspberry flavors for a mouthwatering tropical medley.
Upon first inhale, the tart blueberry flavor dominates, providing that sharp, tangy sensation that spreads across the tongue. As the vapor lingers, sweeter raspberry notes emerge to perfectly balance the profile.
The mix of sharp and sweet creates an authentic warmer weather vibe. It's an ideal all day vape for fruit flavor fans, particularly those with a sweet tooth craving something refreshing. The natural flavor replication avoids any hint of chemicals.
Sakura Grape
For the Sakura Grape, OXBAR wisely avoids a straightforward, one-dimensional grape flavor. Instead, they thoughtfully infuse the grape with subtle notes of cherry blossom.
The grape maintains a pleasant, juicy profile without becoming candy-like or too sweet. And the delicate cherry blossom accents add depth and complexity that keeps the vape interesting.
While grape flavors can sometimes come across artificial, the Sakura Grape tastes pleasantly natural. It offers a crisp and vibrant grape experience unlike typical grape vapes. The blossom finish makes for an enjoyably unique profile.
Watermelon Slushie
Finally, the Watermelon Slushie instantly transports vapers back to summer. A rush of sweet, mouthwatering watermelon flavor fills the mouth, with a light cooling effect on the finish.
The melon flavor replication is simply remarkable, tasting just like taking a huge bite of fresh, ripe watermelon on a hot day. It's sweet but not overpowering, with layers of juiciness.
The ever-so-slight cooling effect on the exhale provides wonderful contrast, like a refreshing splash of ice water. This adds complexity while allowing the core watermelon flavor to shine.
The 17 Flavor Options of the OXBAR G8000
In addition to the 3 tested, OXBAR offers 14 other flavor options to suit any taste:
Avocado Nana
Double Apple
Fanta Strawberry
Kiwi Passion Kick
Sea Salt Lemon
Mango Peach
Rainbow Skittles
Peach Ice
Virginia Tobacco
Triple Melon Blast
Cranberry Grape
Clear
Strawnana
Cool Mint
The range has something for everyone, from tropical fruit blends to ice flavors and even a tobacco profile. Vapers can explore and find their perfect match.
OXBAR G8000 Disposable Vape Pricing and Availability
As a newly released product, the OXBAR G8000 remains limited in availability for the time being. But based on early pricing around $12.99 per unit, it offers tremendous value given the 8000+ puff lifespan per device.
Many disposables in this class retail closer to $20 with less longevity, making the OXBAR G8000 pricing highly competitive. And given the impressive quality and performance, its value should only increase as supply expands.
Where to Buy the OXBAR G8000
Once widely available, vapers can expect to find the OXBAR G8000 at leading online vape retailers. Early buyers may need to source from speciality shops while supplies remain limited. But this impressive disposable is worth seeking out!
OXBAR G8000 Review Verdict: A New Disposable Vape Contender
After extensive hands-on testing, the OXBAR G8000 disposable vape has emerged as a top-tier option with remarkable quality and performance.
Pros
Phenomenal flavor intensity
Massive e-juice capacity
8000+ puff rating
Perfect throat hit
Smooth draw activation
17 mouthwatering flavors
Cons
Limited availability currently
Non-adjustable airflow
With bold flavor, robust construction, and batteries that seem to last forever, OXBAR hits a home run with the G8000. The expansive flavor selection offers something for all vapers.
Former smokers can also appreciate the authentic tobacco profile and satisfying nicotine delivery. For an always ready, grab-and-go workhorse vape, the OXBAR G8000 warrants strong consideration.