Vozol Star 600 Review: Top 10 Flavours Ranked
Founded in 2018, China-based startup Vozoltech focuses on scientific rigor to develop quality vaping products at reasonable prices. Their state-of-the-art R&D labs aim to enhance vape technology through continuous improvement.
Vozol wants to empower smokers to take control of their nicotine consumption habits. By providing satisfying flavor and vapor from their vape devices, Vozol hopes to help adult smokers voluntarily switch from high-risk combustibles.
The company offers a wide selection of disposable vape varieties tailored to different global markets based on regional regulations and preferences. While some options contain over 2% nicotine for certain countries, Vozol creates TPD-compliant disposable ranges that adhere to UK laws.
One such tailored model is the Vozol Star 600 disposable vape pen. Designed for UK vapers, it packs premium features into an economical device. Vozol intends to compete with top disposable brands by focusing on performance, quality, and unique product attributes.
Star 600 Features and Specifications
The Vozol Star 600 contains all the fundamentals vapers expect from a quality disposable vape:
Pre-filled pod with e-liquid eliminates setup
Ships fully charged and ready to use out of box
Draw-activated firing mimics smoking motions
2ml TPD-compliant nic salt e-liquid capacity
20mg/2% nicotine concentration provides satisfaction
Sleek pen-style shape facilitates discretion
The 20mg nicotine salt formula gives the Star 600 noticeable yet smooth throat hit and rapid nicotine delivery. And the 550mAh battery keeps the vapor flavorful and consistent for the entire 600 puff lifespan.
Vozol uses a 1.4ohm kanthal coil optimized for nicotine salts rather than extreme sub-ohm cloud chasing. The tight draw replicates the mouth-to-lung inhalation style of combustible cigarettes. This balances vapor production and nic satisfaction in a slim pocketable form.
Design and Ergonomics
Like many popular disposables, the Vozol Star 600 utilizes a cylindrical pen-style shape for maximum portability and discretion. The tapered mouthpiece molds comfortably to lips during use. And compact dimensions of just 106mm tall by 18.9mm diameter means it fits neatly into pockets or bags.
While the overall form factor proves tried and true, Vozol adds unique aesthetic touches to make their device stand out. Visually striking speckled patterning across the matte finish exterior enhances grip while resisting fingerprints.
But the most distinct design feature is the recycled external material. The Star 600 comprises 65% post-consumer recycled plastic rather than virgin plastic. This demonstrates Vozol's commitment to eco-conscious manufacturing as sustainability becomes increasingly important to consumers.
Top 10 Vozol Star 600 Flavors Tested
The Vozol Star 600 comes prefilled with nicotine salt e-liquid in a diverse flavor selection. Here we dive deeper into the tasting notes and user experience for each variety.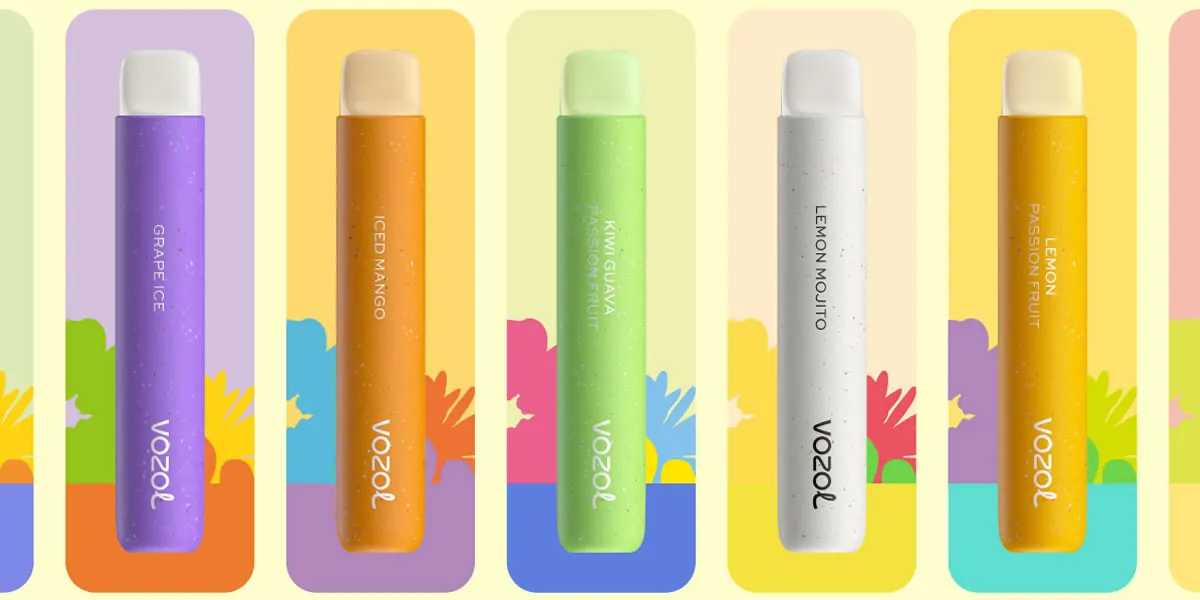 Strawberry Raspberry Cherry
Inhales flood the taste buds with juicy cherry and sweet strawberry, blending beautifully like a fruit salad. As you exhale, the raspberry emerges, adding a wonderful tartness that balances the other fruits. The cherry is prominent on the inhale while raspberry dominates the exhale.
Vapers report this flavor profile remains consistent from first puff to last. The fruit medley provides a nice sweetness without becoming overpowering. Each fruit can be individually detected in the mix. This flavor will appeal to fans of berry and cherry vapes.
Forest Berry Storm
On the inhale, tart blackberry and raspberry notes lead, lending the vape a refreshing zinginess. As you exhale, the sweeter strawberry flavor comes forward and cools the tart berries.
The contrast between sweet strawberry and tangy berries creates an enjoyable flavor dynamic that keeps your taste buds intrigued. This profile avoiding being overly sweet or sour. Fans say this flavor remains consistent and makes a nice change from single note fruit vapes.
Lemon Passionfruit
Inhales supply zesty lemon flavor that starts tart then becomes sweeter. Hints of tangy and tropical passionfruit emerge on the exhale, adding complexity to the citrus.
The lemon and passionfruit play off each other nicely. The passionfruit cuts the tartness, preventing a sour vaping experience. Together they create a refreshing fruity beverage flavor. This option is ideal for lemonade and passionfruit fans seeking a flavorful citrus vape.
Strawberry Apple
Sweet strawberry and tart apple come through equally on both inhales and exhales. The fruits balance each other out to create a light, refreshing profile.
There is enough sweetness present to satisfy cravings but not overpower. Users say this flavor remains consistent and enjoyable all day long. An ideal choice for those who enjoy sweeter fruit blends.
Lychee Guava Watermelon
On the inhale, subtly sweet and floral lychee leads, accompanied by tropical guava in the background. As you exhale, juicy watermelon emerges, creating a hydrating sensation.
The watermelon lightens the density of the lychee and guava fruits beautifully. All three fruits mingle nicely, creating a unique medley. Vapers suggest this flavor for those seeking something different from the usual fruit selections.
Banana Ice
Sweet mellow banana leads the inhale, tasting creamy and ripe. A blast of brisk menthol comes through on the exhale, cooling the banana nicely.
The two components balance each other well, creating a pleasant icy banana profile. This flavor is recommended for those seeking a fruit and menthol mixture beyond the typical options.
Grape Ice
Inhales supply sweet grape flavor with berry and cherry hints. Exhales bring a wave of cooling menthol that elevates the grape beautifully. Just the right amount of chill is present.
This flavor delivers a nice change from overly candy or syrupy grape profiles. Users suggest trying this if you enjoy frosty fruit vapes beyond the typical berry and citrus varieties.
Iced Mango
Authentic juicy mango flavor greets each inhale with tropical fruit sweetness. Exhales release smooth icy menthol, preventing the mango from becoming overpowering.
The chill provides nice contrast to the mango's richness. Fans suggest this flavor if you like mango and want an atypical menthol fruit pairing that avoids overwhelming sweetness.
Lemon Mojito
Inhales deliver a fizzy lemon-lime soda flavor, with traces of mint and lime in the background. Exhales carry the mint forward, creating a Cafe Mojito effect.
The carbonated sensation makes each puff refreshing. Users say this flavor tastes just like the real cocktail, capturing the nuances beautifully. Ideal for mojito fans or those seeking unique beverage-inspired options.
Blue Razz Lemonade
Sweet and tart blue raspberry candy flavor fuses with zesty lemonade for a nostalgic taste of childhood summer. The raspberry remains prominent on inhales and exhales.
Vapers suggest this flavor if you enjoy sweet and sour blends reminiscent of blue frozen slushy treats. It delivers pronounced candy-like flavoring that stays consistent.
Strawberry Ice Cream
A clear standout for dessert lovers. Inhales bring creamy ice cream with ripe strawberry swirls. Exhales carry the velvety vanilla ice cream flavor forward.
This profile conveys the authentic taste and soothing texture of strawberry ice cream. An excellent flavor for the end of a meal or anytime your sweet tooth needs satisfying.
This expansive selection covers all bases. Vapers can enjoy fruity favorites, frosty menthols, sweet tooth satisfying options, or nostalgic flavors. Vozol even threw in unique additions like Lychee Guava Watermelon and Lemon Mojito to mix things up.
Additional Vozol Disposable Vape Ranges
While the Star 600 marks Vozol's debut into UK markets, they offer a wide variety of disposable vape options abroad. Some highlights include:
Star 550 – Identical slim pen-style shape but with 550mAh battery capacity
Gear 10000 – attention-grabbing knurled grip design with impressive 10,000 puff rating
Alien 5000 – Unique etched alien abduction scene exterior wrapping a 5000 puff device
Vozol Bar – TPD-compliant 2ml e-liquid and 20mg nicotine just like the Star 600
Vozol continuously innovates to push boundaries on performance, longevity, and aesthetic design. They tailor models to comply with regulations across global markets while offering consumers improved experiences. Expect exciting new Vozol disposables to arrive soon that adhere to UK and EU vaping laws.
Performance of Vozol Star 600
After extensively testing the Vozol Star 600, it earns high marks as an initial offering for this emerging brand. The 550mAh battery delivers unwavering flavor and vapor production for the entire 600 puff rating. And arriving pre-filled eliminates any preparation before enjoyment.
The tight draw paired with 20mg nicotine salts replicates smoking's instant nicotine delivery and satisfaction. And shifting between the 15 diverse flavor options keeps the taste buds engaged. The fruit and icy menthol profiles prove particularly authentic and enjoyable.
While the pen-style silhouette offers discretion and portability, the recycled plastic exterior represents Vozol's most laudable design decision. With sustainability becoming a priority for consumers, this eco-conscious material choice helps attract those concerned about environmental impact.
For smokers looking for an accessible and satisfying introduction to vaping, the Vozol Star 600 warrants consideration. The quality and diversity should also impress experienced vapers wanting a convenient disposable option. Vozol enters the market strong and poised for growth with this thoughtfully executed device.
Key Takeaways
Pre-filled 2ml TPD-compliant nic salt pod
550mAh battery for 600+ puff lifespan
Draw-activated auto firing mimics smoking
15 flavors range from fruity menthols to tobacco
65% recycled plastic exterior demonstrates eco-conscious design
Pen shape with tapered mouthpiece
Tight draw amplifies 20mg nicotine satisfaction
Our Verdict: A Quality Newcomer in the Disposable Vape Segment
Vozol clearly invested time studying successful disposable vape brands during the Star 600's development. They wisely included key features like pre-filled pods, ample battery life, and draw-firing in a pocketable format. This instantly makes the device accessible for beginners looking to switch from traditional cigarettes.
But Vozol goes beyond imitating competitors through unique touches like the speckled grippy exterior. And establishing eco-conscious construction sets a positive example other brands would be wise to follow.
While the Star 600 delivers on convenience and performance, Vozol's expansive flavor selection truly sets it apart. Every palate finds satisfaction with the diverse fruit, menthol, candy, soda, tobacco, and botanical options.
For a newcomer in the increasingly competitive disposable vape space, the Vozol Star 600 makes a compelling case to earn consumer consideration. Those dissatisfied with major brands will appreciate this viable alternative balancing quality and affordability.
With smart design choices and relentless innovation, expect great things still to come from Vozol. Their scientific rigor and customer-centric approach aim to keep enhancing the vaping experience through technology.