ZOVOO DRAGBAR B3500 Review – Innovation Meets Portability

The vaping landscape continues to rapidly evolve. Disposable vapes in particular have seen huge growth and innovation to meet rising demand. With so many options flooding the market, standing out from the crowd is no easy feat. ZOVOO aims to do just that with their new DRAGBAR B3500 disposable vape system. It packs a robust feature set into a compact, user-friendly form factor designed for portability and ease of use.
After extensive in-depth testing of the B3500 across multiple areas, I'm ready to deliver my full review on ZOVOO's Dragbar B3500. Does this mighty mini earn a podium finish among the crowded disposable vape field? Let's dig in to find out!
Unboxing and First Impressions
My initial unboxing experience of the B3500 disposable proved straightforward yet effective. The device arrives neatly packaged inside a compact cardboard box bearing the colorful ZOVOO branding.
An outer sleeve showcases the specific flavor name in large text, allowing easy identification of the option inside at first glance. It's a small detail but much appreciated when juggling multiple flavors.
Sliding off the sleeve, the B3500 itself rests securely within a sealed plastic bag. This keeps the vapor path pure and prevents any e-liquid leakage in transit. A simple informational leaflet rounds out the minimalist yet functional included accessories.
The eye-catching bright exterior effectively communicates all the key specifications and warnings at a glance. I did notice the lack of any listed PG/VG ratio, which may disappoint vapers with sensitivities requiring that knowledge. But overall, the packaging quality matched expectations for a premium disposable.
Removing the B3500 from the bag for the first time, I was met with an immediately solid and reassuring in-hand feel. Weighing just 55g, the device proves deceptively featherlight, belying its luxe metal and plastic construction.
At just 76 x 42 x 26mm in size, the petite B3500 form factor looked surprisingly compact for a rechargeable disposable with over 3000 puff capacity. The perfectly pocketable proportions already gave it an advantage for portability and discretion.
But it was the intriguing shape that really caught my eye. Gone was the oval pebble-like design of previous DRAGBARs. In its place, an altogether more ergonomic "keyhole" structure had emerged.
The tapered shape included a wider section hugging the mouthpiece, smoothly angling downward into a slimmer center. This novel silhouette appeared tailored to nestle perfectly into hand. The B3500's noteworthy aesthetics made a striking first impression I couldn't wait to explore further!
Innovative Design of the DRAGBAR B3500
Moving past initial reactions, I conducted a deeper dive into the B3500's standout styling and construction. The device proves solidly built from durable polycarbonate plastic across much of its chassis. This provides rigidity while keeping weight low.
A small stainless steel section at the base allows airflow and houses the charging port. The materials exude quality feel in hand, seemingly able to withstand general daily life knocks and drops. After multiple accidental falls to the floor during testing, the B3500 suffered no discernible external damage.
The device's exterior utilizes a clear outer shell rather than solid color. This transparent window provides a glimpse into the inner artwork and components. The background graphics under the surface subtly match the e-liquid flavor encased within.
It's a small touch, but one that shows careful attention to detail. And the hidden artwork avoids the often garish looks of cheap disposables through muted and classy aesthetics.
Inspecting closer, the graphics themselves depict a funky, vibrantly retro 80s design unlike previous brands from ZOVOO. It's an intriguing artistic choice that imbues the B3500 with uniqueness and soul. This disposable stands apart from cookie-cutter competitors.
Moving upward, an integrated oval mouthpiece on top contours elegantly to comfortably meet lips. The raised ergonomic shape seems crafted specifically to avoid fatigue, allowing extended vaping sessions without discomfort.
And a tapered tip concentrates vapor for a satisfying mouth-to-lung inhalereplicating the tight draw of combustible smoking. The angled mouthpiece simply checks all the boxes for an exemplary vaping experience.
Down below, the USB-C charging port provides convenient power transfer to the integrated battery. While lacking the pass-through charging capability to vape while plugged in, the port recharges the 500mAh battery from empty in a rapid 45 minutes.
But the real showstopper feature that makes the B3500 shine is the smart LED display innovatively located on its side. When taking a draw, the display instantly illuminates to provide a dynamic readout of remaining battery life and e-liquid levels.
This visibility takes the guesswork out of tracking where your puff count or charge status stands. No more sudden power loss or accidentally vaping a dry coil. It's an ingenious addition that solves major disposable pain points.
After thoroughly touring the DRAGBAR B3500, I found only minor room for improvement in an otherwise sleekly designed device. The ingenious display and ergonomic shaping demonstrated ZOVOO's attention to user experience. This disposable clearly aimed higher than budget competition.
Performance and Vaping Experience
With its striking aesthetics thoroughly inspected, it came time to rigorously test if the B3500's performance matched its visual promise. I extensively evaluated key areas including vapor quality, flavor accuracy, battery efficiency, juice capacity, and overall construction.
Vapor Production
The DRAGBAR B3500's 1.0-ohm mesh coil generates impressively dense, ample clouds of vapor. Each smooth draw provides satisfying density and volume. Yet the vapor production avoids crossing over into excessive territory. ZOVOO found an ideal middle ground balance for disposable purposes.
Flavor Accuracy
Across every B3500 flavor tested, I found the taste replication right on target. Complex blends came through multi-dimensional instead of muddied or flattened. And simple fruit profiles popped with realism instead of candy-like exaggeration. From menthol to tobacco, the flavor mastery impressed my palate.
Draw and Inhale
The angled mouthpiece and inner air channel deliver an expertly honed draw. Firm yet smooth, it falls ideally within MTL range but accommodates restricted direct lung (RDL) preferences as well. And the tightness accurately mimics the feel of combustible smoking, crucial for transitioning smokers.
Battery Life
In heavy testing I achieved just under 1.5 days of vaping from a single B3500 charge. For more moderate users, multi-day runtime should be easily achievable. The LED provides clear visibility into remaining battery percentage when used. And charging from empty only takes around 45 minutes via USB-C – conveniently rapid.
E-liquid Capacity
Each B3500 houses 8mL of nicotine salt juice containing a potent 50mg concentration – the highest available. Even as a heavy vaper, the massive capacity lasted me 5-6 days on average – an eternity by disposable standards. The LED perfectly tracks remaining juice levels so I never ran dry unprepared.
Build Quality and Reliability
Over weeks of continuous use I never experienced a single instance of leakage, gurgling, or performance decline. The B3500 performed flawlessly from first puff to last. Both the battery and flavors held up admirably until every drop was depleted. For fuss-free reliability, ZOVOO aced the test.
After extensive hands-on scrutiny, I felt satisfied the B3500 exceeded expectations across critical areas. On vapor, flavor, battery stamina, longevity, and construction quality, ZOVOO had clearly upped their game. This disposable hit the mark where it truly counted.
Testing the Top ZOVOO DRAGBAR B3500's Flavors
One of the B3500's biggest assets that shouldn't be overlooked lies in its wide range of flavor offerings. Currently available in 16 total varieties, the selection runs the gamut – from fruity menthols to rich tobaccos, there's a profile option for every palate.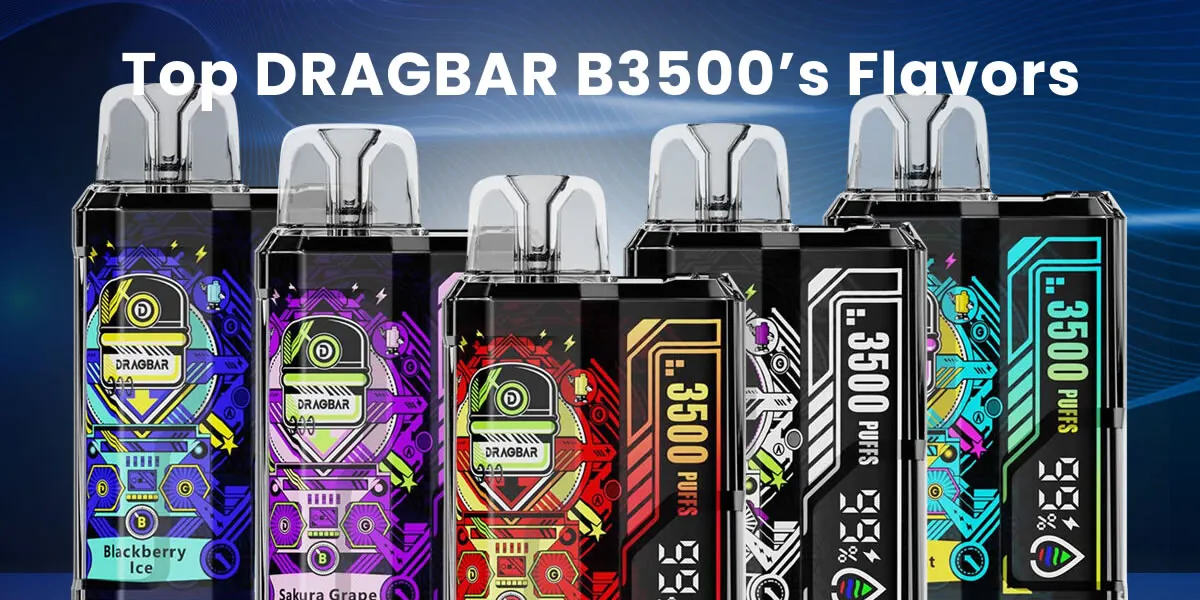 During my testing tenure, I had the pleasure of sampling 5 standout flavors that I felt best represented the quality and immense diversity ZOVOO achieved:
Blue Razz Ice
Blue Razz Ice absolutely explodes with mouthwatering flavor, making it my favorite of the five. It's a tantalizing blend of sharp, tangy blueberries and sweet, candy-like raspberries, rounded out by subtle icy menthol. On the inhale, the sugary raspberry flavor takes center stage, while the blueberry tartness and cooling menthol emerge more prominently on the exhale. The blueberry not only provides fruity depth but balances the sweetness. Each puff is a flavor blast that makes it an easy all-day vape. The mix of fruits and chill is exquisitely balanced.
Clear
Despite the plain name, Clear delighted my palate, defying expectations. The inhale provides a sweet, delicious burst of spearmint flavor. This is followed by a strong icy blast on the exhale for crisp freshness. While likely not for all vapers, I found Clear incredibly refreshing and great for resetting the palate between flavors. The cooling mint and chill provide unexpected enjoyment even from this simple blend. It avoids overbearing mintiness.
Lush Ice
Lush Ice is my second favorite for its tantalizing and complex blend of juicy watermelon, mixed berries, and subtle mint. With eyes closed, it's easy to imagine lounging on a sunny beach, with fruit cocktail flavors ideal for hot summer days. The watermelon flavor shines through as freshly picked, avoiding candy-like exaggeration. Hints of various berries provide depth without overpowering the melon. And the mint ties it all together. The accuracy made this an addictively enjoyable all-day vape I found hard to put down.
Sour Apple
Sour Apple surprised me, blending just the right balance of tart and sweet. Each puff delivers a sharp tangy green apple flavor, coupled with sweet undertones that delight the tastebuds. The sour apple flavor authentically lingers long after the last puff. For apple lovers, it is likely one of the best apple vapes tried. The sweetness perfectly balances the sour tang without excessive candy flavoring.
Strawberry Ice Cream
While my least favorite, Strawberry Ice Cream remains pleasant with creamy strawberry up front and rich vanilla ice cream accents. The light strawberry lacks intensity and authenticity for my preferences. But the blend avoids becoming unpleasant or artificial. The flavor makes for an easy, mildly sweet vape for those who enjoy strawberry. It simply lacks complexity or true strawberry flavor nuance. But the gentle profile has wide appeal.
The wide variety ensured I could always find a flavor tailored precisely to my current mood or scenario. And when ZOVOO nailed a particular profile, the accuracy and authenticity proved impressively convincing.
Value Proposition of the ZOVOO B3500
Given its smart display and extended 3000+ puff life, I expected the DRAGBAR B3500 might fall on the pricier side of disposables. However, during my testing period, it retailed at most vendors for around the $10 price point.
Factor in the multi-day battery endurance, quality construction, and diversity of flavors, and I feel the B3500 offers stellar value at this mid-range pricing tier. While not the absolute cheapest disposable, its performance merits the reasonable investment.
For those specifically seeking a compact yet capable "set and forget" portable disposable, the B3500 provides that in spades without breaking the bank. The overall experience surpasses many devices commanding a higher premium.
Final Verdict on ZOVOO DRAGBAR B3500
Wrapping up this marathon disposable review, I believe ZOVOO's latest creation decisively earns its spot among the vaping elite. The integrated smart display stands as an absolute game-changer that remedies previous disposable pain points. No more battery or juice uncertainty!
Beyond the display innovation, the B3500 impresses with its flavor variety, enduring battery life, construction quality, and essentially flawless performance. ZOVOO packed this tiny device with seriously big features.
Are a few flavor options a bit dull or uninspired? Perhaps. But the overall vaping experience remains satisfyingly consistent. For groundbreaking innovation in a pocket-friendly format, the DRAGBAR B3500 earns my highest recommendation.
In the world of disposables, this device claims the gold medal for ingenuity and execution. As ZOVOO builds upon these foundations, I'm excited to see where they take vaping next. For now, the B3500 satisfies my craving for innovation and convenience.
https://ecigator.com/wp-content/uploads/2023/09/1695830340-ZOVOO-DRAGBAR-B3500-Review.jpg
650
1200
Ecigator
https://ecigator.com/wp-content/uploads/2023/04/ecigator-logo-white.png
Ecigator
2023-09-27 16:28:03
2023-10-05 14:55:22
ZOVOO DRAGBAR B3500 Review – Innovation Meets Portability