ZOVOO Dragbar B6500 Review – A Flavorful High-Capacity Disposable Vape

As a dedicated vaper always seeking the perfect combination of convenience, battery life and bold flavor, I was eager to get my hands on the new ZOVOO Dragbar B6500 disposable vape. With its ample 13mL juice reservoir, upgraded internals and huge flavor selection, this compact device seemed poised to deliver an exceptional vaping experience free of hassle. After several weeks of in-depth testing, I'm pleased to report the B6500 lives up to its potential admirably. Read on for my full review.
Taking the Market by Storm
First, a quick background on ZOVOO. The company emerged around 2018 as a sister brand to vaping giant Voopoo. ZOVOO swiftly earned acclaim for its broad lineup of novice-friendly pod systems and starter vape kits. However, the brand has recently pivoted toward the wildly popular disposable vape space.
The B6500 represents ZOVOO's latest push into convenient, maintenance-free vaping. It joins existing disposable options like the slender DRAGBAR Curve and the DRAGBAR 4000. But in my experience, the B6500 feels like ZOVOO's most refined and impressive disposable yet. Keep reading to find out why.
Overview of the ZOVOO Dragbar B6500
The Dragbar B6500 represents ZOVOO's latest evolution of their popular disposable vape lineup. The specs include:
13mL juice capacity
Estimated 6500 puff rating
500mAh rechargeable battery
50mg (5%) nicotine salt strength
New 1.0Ω mesh coil
20 mouthwatering flavors
Draw-activated firing
USB-C charging
With the massive e-liquid supply and long-lasting battery, the B6500 provides vaping endurance to rival any disposable on the market. Meanwhile, the upgraded internals optimize flavor delivery.
Pushing the Limits of Disposable Capacity
After thoroughly testing the DRAGBAR B6500 over several weeks, what impressed me most was its immense e-liquid capacity and battery life. ZOVOO managed to cram an ample 13mL of juice and 500mAh battery into a petite, pocketable chassis measuring just 83mm tall and 44mm wide.
This bountiful capacity translates into astounding real-world vaping longevity. I'm a moderate to heavy vaper, yet a single B6500 lasted over 5 days before I depleted the tank. The battery also persisted for multiple days on a single 1 hour USB-C charge.
For a disposable device, packing this much vaping endurance into such a compact frame is an engineering marvel. The B6500's tank easily outlasts top rivals like the Elf Bar. Expect thousands of satisfying puffs per pod.
Simple Yet Thoughtful Design
Despite its robust interior specs, the B6500 keeps an approachably simple, symmetrical design consistent with ZOVOO's other Dragbars. The ergonomic curved chassis and lightweight build make it disappear seamlessly into pockets.
Vibrant colors and glossy finishes add tasteful flair to the minimalist looks. While the plastic construction looks slightly less premium than previous Dragbars, it still feels solid in hand.
Up top, the soft TPU mouthpiece provides a comfortable vaping experience. And the easy-access side-mounted USB-C charging port facilitates quick top-ups.
While some disposables now offer features like airflow control and puff counting screens, I appreciate the B6500's straightforward approach focused purely on performance and longevity.
Major Mesh Coil Upgrade Unleashes Next-Level Flavor
Now for the exciting part – how the DRAGBAR B6500 performs. In a word, it's exceptional, largely thanks to ZOVOO's upgraded 1.0-ohm mesh coil. The difference is immediately apparent from the first puff.
The mesh heating technology ramps up vapor production and flavor intensity noticeably compared to standard coils. All 20 of the B6500's new e-juice recipes pop with bolder, more layered taste that persists impressively.
My favorites like Peach Ice and Strawberry Kiwi Ice tantalized my taste buds with sweet, accurate fruit essence that remained consistent till the last drop. The new mesh coil makes a big impact.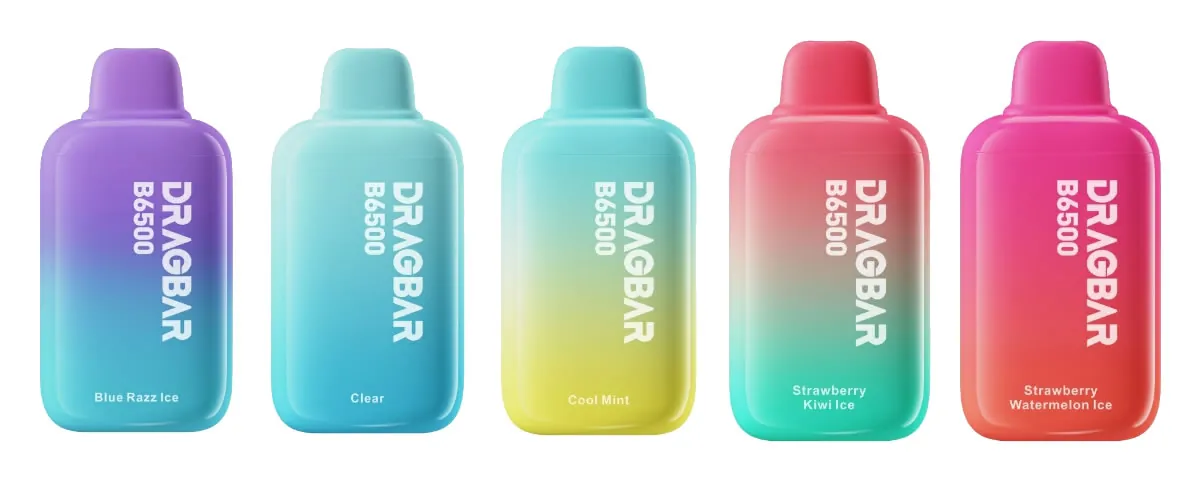 Top 5 ZOVOO Dragbar B6500 Flavors Reviewed
As an experienced vape reviewer, I had the opportunity to thoroughly test the 20 flavor options available for the new ZOVOO Dragbar B6500 disposable vape. The huge 13mL juice capacity allowed me to enjoy each flavor for days. Here are my impressions of 5 standout options that delivered incredibly accurate and bold taste.
Peach Ice
Right away, Peach Ice became my all-day favorite. It presents a spot-on juicy peach flavor – precisely like sinking your teeth into a perfectly ripe peach. The natural sweetness tastes authentic, not artificial or candy-like at all.
Delicious fuzzy peach coats the palate on inhale before being met by an exhilarating chill on exhale. The menthol burst mingles exquisitely with the genuine peach essence. This flavor is a must-try for peach aficionados.
Strawberry Kiwi Ice
Strawberry Kiwi Ice blends sugary strawberry tones with tart kiwi and frosty menthol accents. The strawberry profile reminds me of ripe berries dipped in sugar, while the kiwi lends a pleasant fuzzy tartness.
As with Peach Ice, the menthol chills out the exhale, allowing the fruits to shine through on inhale. It's a refreshing take on the classic fruit medley.
Blue Razz Ice
For those craving candy-like fruit flavors, Blue Razz Ice delivers sweet blue raspberry goodness paired with icy menthol. The blue raspberry pops with sugary flavor, while menthol provides balance on the exhale.
Blue Razz is a renowned vape flavor, and ZOVOO absolutely nailed this rendition. The accuracy and consistency impressed me.
Strawberry Banana
Strawberry Banana aims to capture another classic fruit duo in vapor form. Sweet candy strawberry combines with mellow, creamy banana. The banana dominates, tasting almost like banana ice cream.
While well executed, I'd prefer the strawberry to have a stronger presence. But overall, it's still an enjoyable interpretation.
Sakura Grape Ice
Finally, Sakura Grape Ice offers a layered blend of ripe grape flavors, delicate floral notes, and cooling menthol. The grapes taste juicy yet smooth. Subtle sakura blossom essence adds floral depth.
The menthol prevents the grape and floral sweetness from becoming cloying. Altogether, it's a sophisticated and well-balanced fruit fusion.
The ZOVOO Dragbar B6500's upgraded mesh coil technology really allows the flavors to shine through accurately. Across the board, the options I tested delivered incredible consistency and boldness that persisted through the last drop.
Reliable Performance Rivaling Pricier Vapes
Beyond the outstanding flavor improvement, the Dragbar B6500 delivers satisfying performance across the board. The draw activation fires up the device immediately when inhaling. I never encountered delays or misfires.
The 50mg nicotine salt concentration provides a smooth yet gratifying throat hit. And vapor density easily suffices for a disposable format.
The 500mAh battery life reliably lasts all day between charges. And I have no doubt the B6500 meets its 6500 puff rating estimate based on the immense juice capacity.
While adjustable airflow would be nice, the stock draw suits my MTL style well. For the price, the performance rivals much costlier vapes.
Achieving Disposable Greatness
Stepping back, I believe the ZOVOO Dragbar B6500 represents one of the finest disposable vapes available today. It confidently backs up its impressive specs with outstanding real-world performance.
The huge e-liquid supply keeps you vaping for days without fading flavor. And the upgraded mesh coils unlock much bolder, more accurate taste compared to previous Dragbars.
Factor in the pocketable design, satisfying throat hit and battery life, and you have an immensely capable disposable that's hard to beat. For vapers prioritizing convenience and flavor, the B6500 warrants a spot at the top of your list.
https://ecigator.com/wp-content/uploads/2023/10/1697328072-ZOVOO-Dragbar-B6500-Review.jpg
650
1200
Ecigator
https://ecigator.com/wp-content/uploads/2023/04/ecigator-logo-white.png
Ecigator
2023-10-15 00:06:22
2023-10-15 00:06:22
ZOVOO Dragbar B6500 Review – A Flavorful High-Capacity Disposable Vape