Zovoo Dragbar BF600 Review – Mighty Mini Disposable Vape

The competitive disposable vape market continues expanding rapidly, with new models frequently emerging. One recent release catching my attention is the ultra-compact Zovoo Dragbar BF600.
This diminutive disposable aims to pack robust flavor and performance into a stealthy yet aesthetically pleasing frame. In this comprehensive Dragbar BF600 review, I'll break down the strengths and shortcomings of the BF600 based on extensive first-hand testing.
Does this mighty mini live up to the pedigree of its multiple award-winning Dragbar stablemates? Let's kick the tires and light the fires on this pocket-sized powerhouse to see if it can strike disposable vaping gold.
An Introduction to Zovoo Vape Tech
First, some background on the Zovoo brand itself. While not yet a household name, this vape manufacturer has quickly gained traction.
Zovoo falls under the umbrella of vaping giant Voopoo. The company draws its name from "zoo" to represent the wide variety of products it offers.
Staying true to its motto of "user focus," Zovoo adopts pioneering vape technologies to create an extensive product catalog for every preference. Their interests span across the US, Europe, Southeast Asia, and the UK.
The Dragbar disposable vape line serves as Zovoo's breakout offering. In 2022 alone, the Dragbar snagged 12 prestigious industry awards as one of the top disposables available. Clearly, Zovoo hopes to continue riding this wave of momentum with the launch of the BF600.
But can the new kid on the block live up to the glowing recognition earned by its siblings? I was eager to find out.
Dragbar BF600 Disposable Vape – What to Expect
My first impression upon unboxing the BF600 was just how incredibly compact it felt in my hand. At just 38 x 16 x 55mm, this device ranks among the most petite disposables I've encountered.
The slim proportions make it a stealth vaper's dream come true. I could easily see this disappearing into a pocket or purse for imperceptible public vaping.
Yet despite the small size, the build quality reassured me of its durability. A tactile textured finish ensures a secure grip – no fumbling drops with this one.
Inside the BF600's diminutive chassis lies a 500mAh battery aiming to deliver around 600 puffs before exhaustion. The 2mL pre-filled e-juice capacity contains 20mg of nicotine salt juice for satisfaction.
Rather than a standard heating coil, the BF600 uses an upgraded 1.3ohm mesh coil. This aims to enhance flavor consistency and extend longevity compared to typical disposables.
Zovoo boasts up to 500% better flavor retention versus competitors thanks to intelligent coil engineering. I was eager to put those claims to the test.
The BF600 offers 15 different flavor varieties ranging from fruity to tobacco profiles. And it uses convenient auto-draw activation – no buttons needed. Just inhale and enjoy.
It ships ready to vape directly out of the box. So how would this promising package perform in the real world? I wasted no time finding out.
Unboxing the Zovoo Dragbar BF600 Experience
The BF600 arrived neatly packed inside a compact box bearing the Zovoo logo. An outer sleeve displays the specific flavor name, allowing easy identification.
Inside, the device itself awaits within a sealed plastic bag. This keeps the vapor path pure and the e-liquid preserved. An information card covering usage and warnings finishes the minimalist but functional packaging.
Holding the BF600 for the first time, I again marveled at its petite proportions. But the quality machining of its anodized aluminum chassis also impressed. This was no cheaply made device.
The finishing touched off its premium feel. While physically indistinguishable from most compact disposables, the BF600's textures and refinements felt a cut above.
Bold identifiers displaying the flavor name and nicotine concentration also got my vaping juices flowing. Make sure to peel off the plug and base sticker before getting started, then prepare for pocketable power.
Top Zovoo BF600 Flavors Tested
With Zovoo's hype about flavor enhancements, I put the BF600 range through extensive testing across multiple devices. Here's my experiences with the flavor replication and overall vaping performance: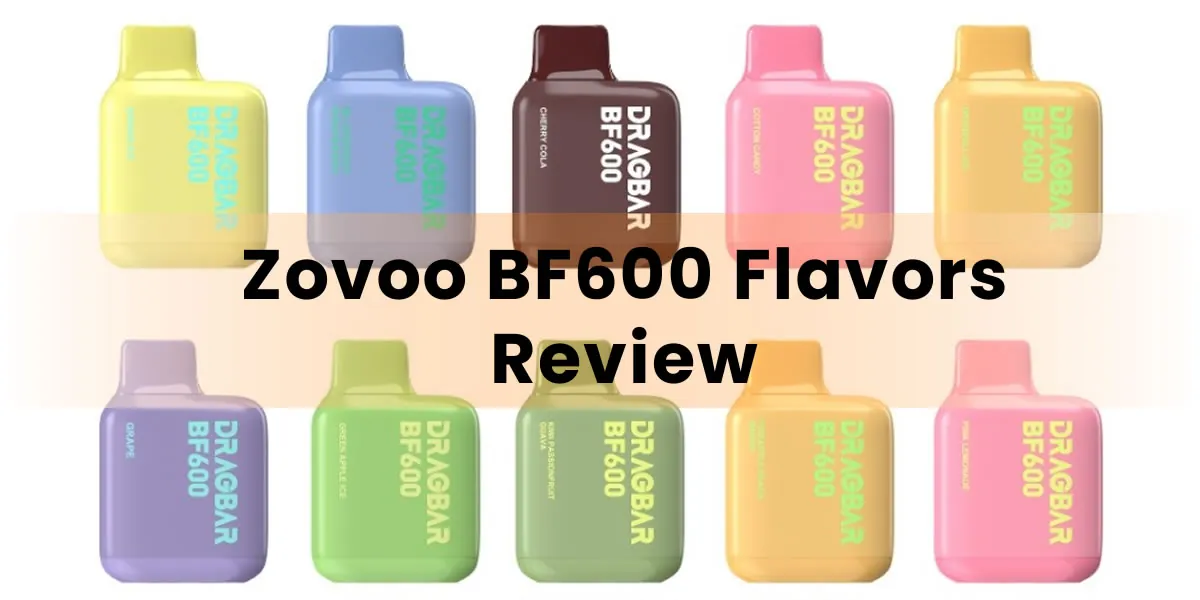 Rainbow Blast
Cracking open the Rainbow Blast, my nostrils were greeted by an intriguing fruity bouquet. The first puff unveiled a fusion of sweet orange and lemon with a hint of bubblegum – an unorthodox yet pleasant blend.
The fruits and gum flavors mingled agreeably with only moderate sweetness. Each inhale delivered consistency, and the smooth draw made vaping effortless. While not the most natural profile, Rainbow Blast proved an enjoyably unique flavor discovery.
Cherry Cola
The Cherry Cola scent screamed soda fountain as soon as I removed the mouthpiece. Unfortunately, the vaping experience proved less balanced. Intense sweetener dominated, sadly burying the cherry aspect almost completely.
However, the fizzy cola base flavor still proved pleasantly refreshing. And icy cooling on both the smooth inhale and exhale enhanced its soda-like personality. But those seeking a cherry cola flavor medley may be disappointed by the disproportionate sweetness.
Blueberry Raspberry
Given the flavor description, I envisioned a basket of ripe, juicy berries when first trying Blueberry Raspberry. Sadly, the reality fell flat in comparison. Both the blueberry and raspberry came across one-dimensional and muted rather than vibrant.
The cooling also felt unbalanced, dulling rather than accentuating the fruits. And the overall profile lacked the sparkling flavor nuance expected from such a classic pairing. A letdown from what seemed a surefire combo.
Vanilla Cream Tobacco
My first puff of Vanilla Cream Tobacco surprised my palate – rather than full-bodied tobacco, it tasted lightweight and vaguely chemical. The vanilla influence remained faint, failing to enrich the experience.
And the cooling came across as disjointed from the tobacco, detracting from the flavor rather than harmonizing. While not unpleasant, this fell short of an authentic tobacco representation. The flavors struck me as disjointed and lacking synergy.
Pink Lemonade
However, Pink Lemonade quickly cleansed my palate with a beautifully balanced taste of sweet and tart. The first inhale treated my tongue to zesty lemon citrus flavors. Exhaling then allowed the strawberry accents to gracefully emerge.
The smooth, consistent draw enabled the flavors to mingle perfectly. And the authentic tangy lemon aftertaste left my mouth watering. For an all-day vape with flavor fidelity, Pink Lemonade proved exemplary.
Triple Melon
Taking a puff of Triple Melon, I braced for overwhelming sweetness but was pleasantly surprised. The flavors convincingly captured melons' natural earthiness and musk. Each inhale brought a nuanced honeydew-like quality.
The bitterness on the exhale adequately conveyed ripe melon flavor despite the inherent dryness. I was impressed how the lack of added sweetness allowed the melons' natural qualities to shine. A commendably authentic and mouthwatering fruit recreation.
Dragbull Ice
Next up, Dragbull Ice. Geared towards diehard Red Bull fans, this aggressively replicated the beverage with extreme candied bitterness. The sweet-and-sour assault overwhelmed my poor palate, making me grateful vape tastes are subjective!
The extreme cooling only amplified the nearly harsh edge of the flavor. While I found it overbearing, Red Bull addicts may appreciate the amplified intensity. The flavor accuracy was impressive, even if my personal tastes veered elsewhere.
Green Apple Ice
After the abrasive Dragbull I was ready to soothe my battered tastebuds. Luckily Green Apple Ice proved just the ticket. The crisp Granny Smith apple flavors mixed perfectly with moderate sweetness for a natural taste.
Rather than dominating, the icy cooling uplifted the tart apple. And I could nearly feel juices bursting in my mouth with each puff. For an authentic flavor embodiment, this cleansed my palate wonderfully.
The BF600 flavors ranged from disappointments to new discoveries to all-day vapes. When Zovoo nails a profile, the accuracy proves impressive. But quality control could improve on certain options. Still, with 15 to choose from, juggling flavors stayed entertaining.
Battery Life and Overall Performance
Beyond flavors, evaluating battery life and general performance proved critical. So I rigorously put the BF600 through its paces.
Impressively, the 500mAh battery delivered around 6 hours of near-continuous vaping during my testing. I averaged approximately 450 puffs over this period with a fairly heavy vaping schedule.
Based on the results, Zovoo's 600 puff rating seems a reasonable estimate for predominantly MTL usage. Performance remained admirably consistent during use, with no drop-off as the charge depleted.
I experienced zero leaking, gurgling or variation in flavor quality from first puff to last gasp. The upgraded mesh coil technology clearly lives up to its longevity and consistency claims.
For an inconspicuous yet robust disposable experience, the BF600 checked nearly every box in my performance evaluation. No glaring flaws jumped out besides the occasional dud flavor.
By optimizing hardware and e-liquid synergies, Zovoo largely delivers on providing worry-free vaping in a pocketable form factor.
Final Verdict on Zovoo Dragbar BF600 Review
In closing, I believe Zovoo's Dragbar BF600 earns its place among top contending disposables. It convincingly packs satisfying vapor and flavor into an ultra-portable format.
While flavor personal preferences will dictate favorite options, several BF600 choices like Pink Lemonade stand out from the pack. And the battery admirably powers through a day's vaping needs.
Factor in the upgraded coil's excellent consistency, and the BF600 offers compelling value. Beyond flavor, the hardware delivers reliably smooth and leak-free performance.
For those seeking a quality compact disposable, the BF600 deserves a hard look. Its stealthy stature doesn't sacrifice experience. When craving flavor in a low-profile package, this mighty mini hits the mark.
So is the BF600 a gold medal disposable? In my book, it earns a silver showing plenty of promise. As Zovoo continues refining flavors and technology, I predict bright things ahead. But for now, the miniature BF600 has me looking forward to the brand's future.
https://ecigator.com/wp-content/uploads/2023/09/1695799745-Zovoo-Dragbar-BF600-Review.jpg
650
1200
Ecigator
https://ecigator.com/wp-content/uploads/2023/04/ecigator-logo-white.png
Ecigator
2023-09-27 07:36:23
2023-10-05 14:55:49
Zovoo Dragbar BF600 Review – Mighty Mini Disposable Vape