Zovoo Dragbar R6000 Review: The Top Direct-to-Lung Disposable Vape

The disposable vape market caters mainly to mouth-to-lung (MTL) intake styles, leaving direct-lung (DTL) vapers underserved. With the Dragbar R6000, Zovoo set out to fill this gap by engineering a disposable tailored specifically for chasing clouds.
By optimizing airflow, power output, battery life, and flavor options, they created an impressive on-the-go DTL experience. Let's examine how the R6000 stacks up for diehard cloud chasers in need of portability.
Introducing Zovoo: The Company Behind Dragbar Innovation
As a subsidiary of vaping giant VooPoo, Zovoo leverages industry-leading engineering and manufacturing capabilities. They first targeted the disposable vape segment with the Dragbar series in 2021.
While initial Dragbar models focused on beginner-friendly MTL draw performance, Zovoo envisioned something bolder. They saw an opportunity to appeal to intermediate and advanced DTL vapers by introducing the R6000 in 2022.
By starting from the ground up to cater to direct lung inhales, the R6000 filled a clear gap. The development process exemplified Zovoo's ethos of pushing vaping technology forward through purposeful innovation.
Tweaked Design Boosts Handling and Visibility
Right out of the box, the R6000's enlarged proportions signal its optimized DTL internals. Standing 124.7mm tall, it towers over standard disposables but remains surprisingly lightweight thanks to the plastic construction.
Textured side paneling grants a sure grip – an important addition given the increased size. Angled facets on the mouthpiece also provide orientation, allowing you to easily locate the opening without looking.
The battery life indicator LED gets shifted to the front, improving visibility over the standard base placement. And transparent window panels give an enticing glimpse of the inner workings.
Overall, Zovoo successfully adapted the disposable format to enhance handling and visibility despite the pumped-up proportions. Intelligent design choices aid everyday usage.
DTL-Focused Customizations Set the R6000 Apart
Within the expansive chassis, a suite of purpose-built components cater directly to direct lung performance:
Adjustable Airflow – Easily dial in your desired restriction level through dual side sliders. Open airflow maximizes vapor production.
Wide Bore Drip Tip – The enlarged 5.5mm opening accommodates unencumbered DTL inhales.
High Power Output – A fixed 18W power level drives substantial vapor density.
Rechargeable 1000mAh Cell – Improved battery capacity sustains extended cloud chasing sessions.
18mL E-Liquid – Holds enough juice for over 6000 puffs based on average DTL habits.
These enhancements make the R6000 an aspirational disposable option for intermediate and advanced DTL vapers. Zovoo went above and beyond to optimize for this underserved audience.
Flavor Variety to Satiate Direct Lung Palates
Zovoo packs the R6000 with over 15 freebase nicotine e-liquid flavors specifically tuned for direct lung vapor production. Options range from cool minty blends to indulgent desserts:
Fruity – Pineapple Grapefruit, Green Apple Ice, Watermelon Ice, Grape Blackberry
Sweet – Rainbow Bear, Little Green Man
Tropical – Pineapple Coconut Rum, Passionfruit Guava
Minty – Blue Raspberry Lemon
Tobacco – Vanilla Cream Tobacco
For instance, Rainbow Bear offers gummy candy sweetness without becoming saccharine at high power. And Pineapple Grapefruit melds just enough bitter fruit essence to avoid muting from dense vapor. The recipes strike a perfect balance for all-day DTL satisfaction.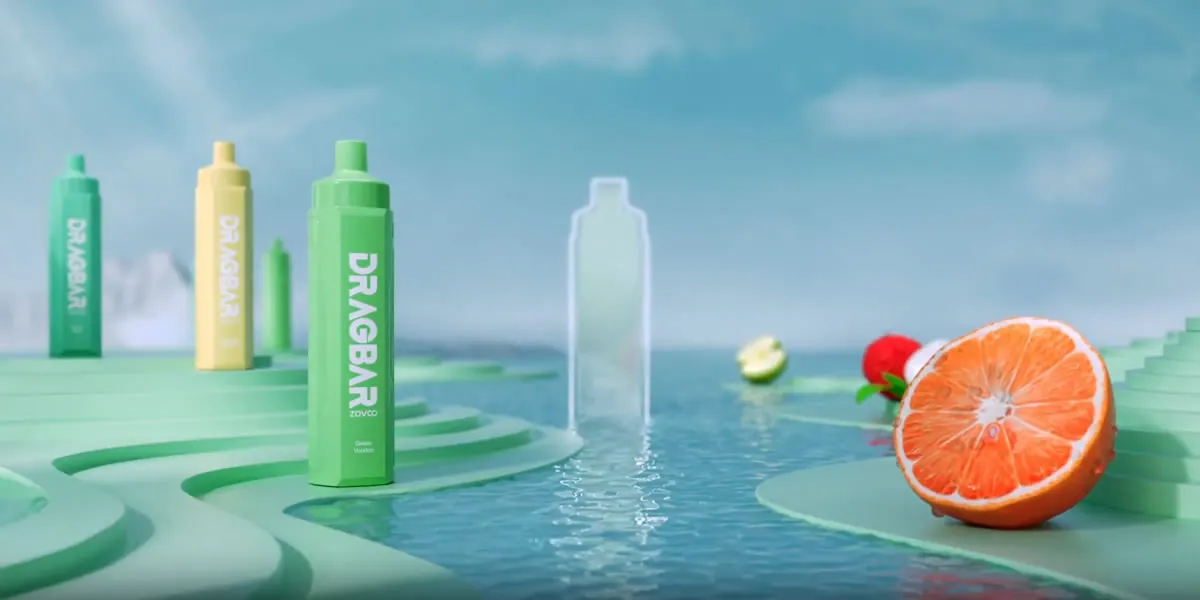 Top 5 Zovoo Dragbar R6000 Flavors Reviewed
Little Green ManThis unusual flavor combination is an absolute delight for the senses. The most prominent fruity note is the sweet yet tangy exotic lychee, which gives each puff a tropical essence. It's balanced by subtle hints of banana that provide a mellow backdrop without being overly sweet. An additional touch of green pear adds a crisp, fresh complement, though it remains faint in the mix. The interplay between the lychee, banana, and pear creates a complex profile unlike any other. While the name remains a mystery, Little Green Man offers a journey through tropical fruit flavors in every satisfying puff.

Pineapple Coconut RumEscape to the Caribbean with the Pineapple Coconut Rum flavor. Every inhalation immerses you in vacation vibes, blending the quintessential tropical tastes of pineapple and coconut. The juice perfectly balances the sweet, subtle nuttiness of fresh coconut against the tangy bites of ripe pineapple. An undertone of warm, laidback rum adds depth without overwhelming the fruity overtones with sharp booziness. It's a beautifully crafted tropical cocktail in vapor form that will instantly transport your senses and have you dreaming of crystal blue waters. You'll be reaching for this sunny flavor again and again.

Rainbow BearAptly named Rainbow Bear bottles up happiness through its blend of gummy candy flavors. While the exact fruit ingredients remain a mystery, this ejuice oozes fruity sweetness. Notes of zesty citrus fruits like grapefruit and orange provide tropical vibrancy, giving way to juicy apple on the exhale. Each element combines into perfect harmony, with just the right amount of sugary candy goodness without becoming cloying. A hint of cooling agent adds crisp freshness to round out the flavor. Rainbow Bear captures sheer joy in every puff – a bright, balanced all-day vape as playful as its moniker.

Pineapple GrapefruitThis Caribbean-inspired flavor pairs two tropical fruits in refreshing fashion. Sweet, juicy pineapple dominates the profile, allowing its natural sugars to pop on the inhale. Tart grapefruit waits in the wings, emerging on the exhale with characteristic bitterness to balance the sweet. While the two fruits play well off each other, the simplicity of the blend causes it to fall a bit flat over time. The addition of a third fruity element like orange would provide much needed contrast. Still, for fans of straightforward fruit mixes, Pineapple Grapefruit offers a sunny vaping experience.

Green Apple IceCrisp, juicy green apples are the undisputed star in Green Apple Ice. Each puff delivers fresh apple flavor with the perfect touch of natural sweetness, avoiding any candy-like overtones. Menthol provides a frosty kiss of cooling on the exhale, adding revitalizing contrast against the green apple's mellow tones. While not the most complex profile, this clean and refreshing juice allows the green apple to shine through. It's an easygoing, palate-cleansing vape ideal for apple lovers seeking a chill fruit treat.
Crafting an Ideal User Experience for Cloud Fanatics
By focusing squarely on enhancing direct lung performance, Zovoo achieves something rare with the R6000 – a disposable vape intentionally designed for cloud chasers.
For DTL vapers accustomed to bulkier mods and atomizers, typical disposables fall woefully short. The R6000 finally offers this underserved audience an optimized solution balancing portability and vapor production.
Everything from the airflow range to battery capacity to flavor profiles works in harmony to create a disposable that can keep up with serious cloud chasing habits. Yet the plastic construction retains reasonable pocketability for an on-the-go experience.
For DTL fans wanting a disposable option without sacrificing satisfaction, the R6000 delivers. Zovoo succeeded where competitors missed the mark by crafting a vape experience just for lung hit aficionados.
A Week with the R6000: A DTL Devotee's Impressions
As someone accustomed to chasing dense, voluminous clouds from my go-to RDA at 100+ watts, disposable vapes always left me wholly underwhelmed. The R6000 finally offered hope of a viable portable option.
I took the R6000 along on dog walks, errands, and nights out to assess its real-world performance. Could this disposable satisfy my DTL vapor cravings? Here's what I discovered:
Day 1 – Right away the adjustable airflow impresses me. I can replicate my preferred level of restriction. The battery also lasts impressively long even with heavy use.
Day 2 – The Rainbow Bear flavor is delightfully sweet without crossing into sickly territory. I'm amazed how well it holds up with intensive DTL hits. No muting or off tastes.
Day 3 – Having the battery meter is invaluable. I can see when I need to recharge instead of being caught off guard with a dead disposable.
Day 4 – Green Apple Ice provides a perfect crisp fruit option. I could vape this flavor exclusively and never tire of it.
Day 5 – The puff count has exceeded my typical disposable duration and it's still going strong. E-liquid volume seems very generous.
Day 7 – After a full week as my exclusive vape, the R6000 has me fully convinced. This disposable can keep up with serious DTL habits and deliver ample satisfaction.
For demanding direct lung vapers, the R6000 shatters expectations of what a disposable can achieve. By optimizing the experience around airflow, power, and longevity, Zovoo attained something once considered impossible – a disposable built for the cloud chase.
Who is the Dragbar R6000 Disposable Vape For?
The R6000 suits vapers who:
Prefer direct-to-lung inhales and chasing big clouds
Want disposable simplicity but better battery life than normal
Love intense fruit, menthol, dessert, or tobacco flavors
Appreciate the cool Voopoo Drag aesthetic
MTL vapers or beginners may prefer a smaller, less powerful disposable. But for DTL hits on-the-go, the R6000 is unmatched.
Final Verdict: Should You Buy the Dragbar R6000 Disposable?
Zovoo managed to deliver a satisfying direct lung vaping experience in ultra-convenient disposable form with the R6000.
It provides customizable airflow, impressive battery life, and powerful performance rivaling many mods.
The R6000 succeeds where other disposables fail – giving vapers huge vapor production and bold flavor in a device they can just toss when finished. There's simply no better disposable option available for DTL vapers who seek clouds.
So if you crave that direct lung satisfaction from a fuss-free device, I highly recommend giving the Zovoo Dragbar R6000 a try!
https://ecigator.com/wp-content/uploads/2023/10/1696508609-dragbar-r6000-review.jpg
650
1200
Ecigator
https://ecigator.com/wp-content/uploads/2023/04/ecigator-logo-white.png
Ecigator
2023-10-05 12:28:42
2023-10-05 12:43:51
Zovoo Dragbar R6000 Review: The Top Direct-to-Lung Disposable Vape