Top 10 Vape Manufacturers and Suppliers in China 2023
Introduction
As vaping continues to rise in popularity as a safer alternative to smoking, China has emerged as a major player in the vaping industry. In this article, we will provide an overview of the top 10 vape manufacturers and suppliers in China in 2023, highlighting their products and contributions to the industry. These 10 vape manufacturers and suppliers are some of the best in China, offering high-quality products and excellent customer service. Whether you're looking for a new mod, tank, coil, or accessory, these companies have something to offer for vapers of all levels.
Vaping Industry in China
China has become the global hub for vape manufacturing, with many companies based in the country. This is due to the low labor costs and the high levels of technical expertise found in China. The country is also home to some of the world's largest e-cigarette markets, with sales expected to reach $17.7 billion by 2025.
Benefits of Buying Vape Products from Chinese Manufacturers
There are several advantages to buying vape products from Chinese manufacturers. Firstly, Chinese manufacturers offer a wide range of products at competitive prices. They also have stringent quality control measures in place, ensuring that their products are of high quality. Additionally, Chinese manufacturers have streamlined shipping processes, making it easier for customers to receive their orders quickly and efficiently.
Top 10 Vape Manufacturers and Suppliers in China 2023
In this section, we will take a look at the top 10 vape manufacturers and suppliers in China in 2023, providing an overview of each company and their products.
1. Ecigator – Best Price and Service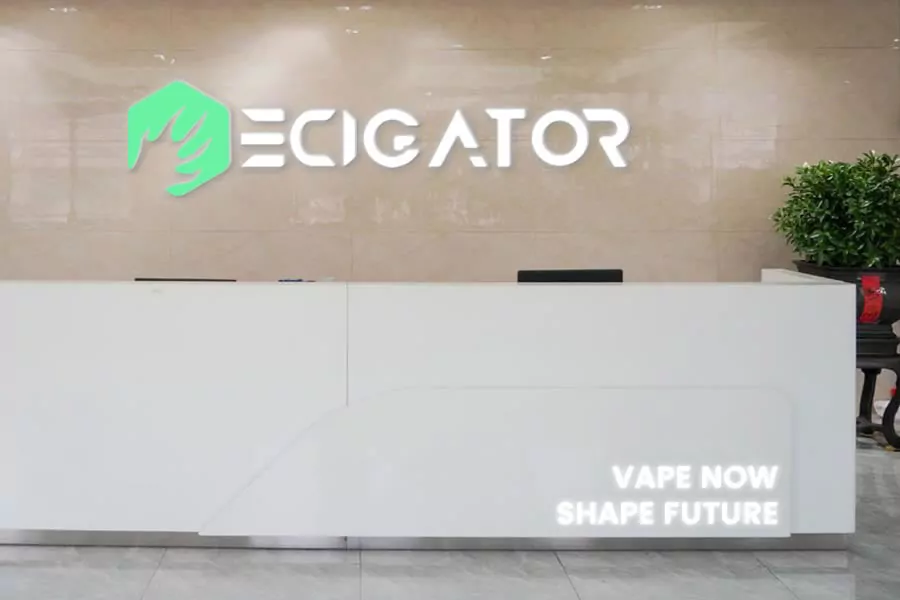 Ecigator is one of the well-known vape brands spun off from Giftsoar Technology Co., Ltd, it's an ISO-certified disposable vape manufacturer for OEMs, ODMs, and OBM since 2010. The founder team comes from top firms with more than 10 years of experience in the vaping industry and has devoted thousands of hours to providing users with a better and better experience.
Ecigator designs, develop and sell electronic cigarette devices and related accessories. We're initially focused on manufacturing vaping devices and have expanded our business to export cbd vape oil, nic salt ejuice, cbd vape, dry herb vaporizer, and glass bongs outside China. Our vaping products are CE, ROHS, UKCA, TPD, MHRA approved. We have over 500 employees as of April 2022.
2. Smoore – Listed company
SMOORE, established in 2009, has become a global leader in vaping technology today. It's the parent company of popular brands such as Vaporesso and the award-winning Feelm.
SMOORE has a strong focus on research and development, with three research centers. Its innovative work won the "21st China Patent Excellence Award" in 2021.
Vaporesso's product range includes the Veco, Luxe, Zero, and Gen series, covering the entire spectrum of open-system vapes. Their vapes are available in over 50 countries globally.
Feelm specializes in atomizers, including coils and wicks that enhance the vaping experience by intensifying flavor. They collaborate with other vaping companies to provide these coils.
Feelm introduced the first ceramic coil in 2015, followed by a metallic film version a year later. In 2018, they crossed the milestone of selling 100 million inside pods.
3. GeekVape – Best Vape Mods
Geekvape was established in 2015, and the name reflects the company's focus. In this case, the term "geek" stands for genuine innovation, enthusiasm, expertise, and knowledge, which are the driving force behind their successful range of vapes.
The company's global headquarters are located in China, with additional offices in Europe, the USA, and Asia. It has a workforce of over 5,000 employees and exports its products to over 70 countries worldwide.
Geekvape intelligently uses customer feedback to inform future product development. Dedicated vapers can apply online to join the "GeekLAB," which offers freebies and discounts in exchange for detailed information on their vaping habits.
Every month, Geekvape produces over 60 million individual products, including disposable vapes under the Geek Bar label. The company's turnover was $11 million in 2021.
Geekvape's product lineup is continuously evolving and currently consists of four series of vapes: Wenax, Obelisk, U, V, and the extremely popular Aegis, with over 20 million units sold to date. The range includes box mods, pod systems, pre-filled vapes, coils, tanks, chargers, and batteries. All devices are reusable, durable, and visually appealing.
Most of Geekvape's products can be directly purchased from their website, including a warehouse clearance section with discontinued products at discounted prices. Items are usually shipped within two working days as long as they are in stock.
4. Vaporesso – Best new tech
Vaporesso was founded in 2015 and has quickly become a leading manufacturer of vaping products in China. The company offers a wide range of products, including mods, tanks, coils, and accessories, with a focus on innovation and design. They are known for their high-quality products, with stringent quality control measures in place to ensure that their products are safe for use.
The company is renowned for its Revenger and Cascade devices, which feature a perfect battery. They also offer more complex mods such as the NRG tank or RCR atomizer. Their first DRAG box mod boasts sophisticated features, and the company's sleek products even surpassed Smok, winning the Vapouround Awards in 2022.
Based in Shenzhen, China, Vaporesso is located in a city known as an electronics manufacturing hub due to its proximity to Hong Kong and Guangdong province. The founder stated that he launched the company because his vaping products were selling overseas, and he recognized that many people wanted affordable vaping kits without compromising quality.
5. Voopoo – Best Vape Culture
Voopoo is a brand that specializes in creating high-tech vapes that use smart technology to provide the ultimate vaping experience. They collaborate with GENE, a US-based chip manufacturer, to produce vapes that can be precisely adjusted in terms of power, temperature, and mode switching.
Their product range includes award-winning devices such as the DRAG S and DRAG X, while 2021 saw the launch of pod products like the DRAG NANO 2, VINCI Q Pod, and VINCI Pod Royal Edition.
In 2022, Voopoo released vapes with the new GENE TT 2.0 chip, giving vapers unmatched control over two separate batteries and providing a longer-lasting vaping experience.
Voopoo is renowned for producing high-quality, reliable products with a complaint rate of virtually 0%, according to their website.
6. Joyetech – Classic Vape Brand
Joyetech was established in 2008, with its headquarters in Shenzhen, China, and multiple factories located in Southeastern China. As one of the largest vapor device manufacturers globally, Joyetech's executives recognized the importance of building highly skilled teams of engineers, designers, and production management to create the highest quality vapor products possible. Joyetech invests significant resources into research and development, material science, and consumer product design. This dedication to evolution has made Joyetech a leader in the industry for the last 10 years, contributing many standardized technologies and innovations.
In early 2016, Joyetech continued its path of innovation and standardization by collaborating with renowned research and certification laboratories throughout the European Union and the United States. Joyetech's production facilities have since received the highest certifications possible for a vaporizer manufacturer. Additionally, Joyetech created a dedicated team to oversee regulatory compliance in the EU, the USA, and new markets developing globally. Joyetech cooperates with key players such as the VTA, GVSA, SEVIA, IBVTA, BFTG, and even obtained the world's first UL certificate for e-cigarettes. Through these collaborations, Joyetech is securing its position as a global leader in compliance.
7. Smok – Colorful vape life
IVPS Technology Co Ltd is a Chinese company based in Shenzhen that deals with everything from research to sales. One of its popular brands is SMOK, which has been producing e-cigarettes and related products since 2010. SMOK is the star of IVPS's portfolio and offers products at various price points, catering to both entry-level and committed vapers. The company is committed to supporting its customers in making healthier choices and some of its products, such as the SMOK RPM 4, also offer nicotine-free options.
SMOK has an extensive range of vapes, including both disposable and reusable options. As of writing, their website listed nine different disposable vapes, 21 pods, 30 pod mods, 18 advanced mods, and nine vape pens. They also offer five complete kits, 17 tanks, and six different coils. Additionally, they make accessories such as chargers, battery covers, drip tips, and glass tubes.
With such an enormous variety of products, it is not surprising that SMOK claims to be the most popular vaping brand globally. Whether you are a novice or an experienced vaper, SMOK has something to offer.
8. Uwell – Same with Freemax
Uwell is a Shenzhen-based company that was founded in 2015. It specializes in the development and manufacturing of e-cigarettes, with a focus on research and innovation to meet changing customer demands.
The company's name, "Uwell," is derived from the phrase "I wish you well," reflecting its mission to provide a superior vaping experience as a healthier alternative to smoking.
Uwell employs teams for research and development, sales, supply chain, production, brand marketing, and corporate services.
Their product range includes pod systems, pod mods, kits, and tanks. The stylish Caliburn X, winner of the 2022 Best Pod Vapes Award from Vaping 360, is among their popular choices. Other popular products include the Caliburn G, Caliburn Koko, Valyrian Pod, and Crown IV.
Uwell provides a 180-day limited warranty for all their non-perishable products, except for coils, pod cartridges, o-rings, and glass, giving customers peace of mind.
9. Innokin – Leonardo endorsement
Innokin is a Chinese company that was established in 2011 and currently sells its products in more than 80 countries worldwide. While their mission is centered around promoting e-cigarettes as a less harmful alternative to tobacco smoking, their vapes are also used by non-smokers.
What sets Innokin apart from other manufacturers is their focus on environmental sustainability, which extends to their manufacturing processes and packaging. This commitment has led to the development of innovative products such as the world's first almost entirely recyclable disposable vape, the Enviro, and the Aquios system, which enables vaping using water-based e-liquids.
Innokin's product range includes pod systems, vape tanks, and complete vape kits. All their products are certified as Child Resistant and come with a 90-day limited warranty.
Innokin was recognized at the 2022 Ecigclick vaping awards, where they won eight different awards, including gold awards for the best pod vape, best vape pen, best MTL tank, and best RBA.
10. Aspire – Nautilus never die
Aspire, a global leading vaporizer brand established in 2013, has ten years of experience in manufacturing and R&D. The company has produced several products that remain popular today, even in this fast-moving market.
Aspire was the first vape manufacturer to introduce a sub-Ohm vape device and offer adjustable airflow, continually leading the way with vape kits such as the Zelos, Nautilus, and more recently, the PockeX series.
Aspire is also at the forefront of supplying vapes with coils that keep customers coming back for more. Earlier this year, they launched the Aspire Nautilus coil series, which is now compatible with most Aspire tanks. These coils are available in different resistances from 0.4 ohms to 1.8 ohms, making them perfect for all types of vaping.
The Aspire PockeX, a classic vape pen, is proof that sometimes classics are better than the newest and greatest inventions. It earned second place for Best Vape Pen at the 2021 Ecigclick Awards.
Conclusion
Chinese vape manufacturers offer a wide range of high-quality products at competitive prices, making them a popular choice for vapers worldwide. The top 10 vape manufacturers and suppliers in China in 2023, as outlined in this article, offer excellent products, strict quality control measures, and efficient shipping and payment policies. Whether you're a seasoned vaper or new to the world of vaping, these companies offer products that are sure to meet your needs.
FAQs
1. Are Chinese vape manufacturers trustworthy?
Yes, Chinese vape manufacturers are trustworthy, with many companies adhering to strict quality control measures and obtaining certifications such as ISO 9001 and CE.
2. Is it legal to import vape products from China?
Yes, it is legal to import vape products from China, although it is important to check the regulations in your country before placing an order.
3. How long does it take to ship vape products from China?
Shipping times can vary depending on the company and shipping method chosen, but most companies offer fast shipping options that take between 3-7 days.
4. What are the payment options when ordering from Chinese vape manufacturers?
Most Chinese vape manufacturers accept a variety of payment options, including credit cards, PayPal, and bank transfers.
5. Are there any import taxes or fees when buying from Chinese vape manufacturers?
Import taxes and fees may apply depending on the regulations in your country. It is important to check the regulations before placing an order to avoid any unexpected fees.