Vape Packaging Warning Label Requirements in the UK and EU
Hey there, fellow vape enthusiasts! If you're in the vape industry, it's crucial to be on the ball with the nitty-gritty of regulations – especially when it comes to vape packaging warning label requirements in the UK and EU. After all, rules are rules, and we wouldn't want to be caught with our pants down, now would we?
In this comprehensive guide, we'll delve into the maze of UK and EU regulations, giving you the lowdown on everything you need to know to stay on the right side of the law. So, buckle up, grab a cuppa, and let's unravel this together!
Know Your Regulations: TPD and CLP
Before we dive into the specifics, let's first get our ducks in a row and understand the main regulations that govern the vape packaging warning label requirements in the UK and EU.
Tobacco Products Directive (TPD)
Introduced in 2014, the TPD is an EU directive that covers a wide range of tobacco-related products, including e-cigarettes and e-liquids. It aims to standardize and regulate these products for consumer safety and protection.
Read more:  What is TPD
Classification, Labelling and Packaging (CLP) Regulation
The CLP Regulation is all about ensuring the safety of consumers and the environment. It requires manufacturers, importers, and suppliers to classify, label, and package hazardous chemicals in a way that aligns with the United Nations' Globally Harmonized System (GHS).
Pictograms and Warning Labels
When it comes to vape packaging warning label, it's essential to know which pictograms and warning labels must be present on your product packaging.
Pictograms
Health Hazard (exclamation mark)
Environment (dead tree and fish)
Skull and Crossbones
These pictograms are required for products containing nicotine, with specific criteria for each based on the concentration of nicotine in the product.
Warning Labels
Your packaging should also include clear and legible warning labels in the local language. Here's a quick rundown of the key labels you need to include:
Health warnings:
"This product contains nicotine which is a highly addictive substance."
"Keep out of reach of children."
Age restrictions:
"Not for sale to persons under the age of 18."
Additional warnings (where applicable):
"Toxic if swallowed."
"Harmful in contact with skin."
"May cause long-lasting harmful effects to aquatic life."
Font, Size, and Legibility
Now that we've got a handle on the content, let's talk about the presentation. The TPD and CLP regulations have specific requirements for font, size, and legibility to ensure that the warning labels are easily understood by consumers.
Minimum font size: 2mm (for packaging with a surface area of 10-200 cm²) or 1.6mm (for packaging with a surface area below 10 cm²)
Clear and legible font
Printing the warning in black Helvetica bold type on a white background
Appearing on the two largest surfaces of the unit packet and any outside packaging
Covering 30% of the relevant surface of the unit packet and any outside packaging
Demo of an Vape Packaging Warning Label
Here is a demo illustrating how the warning label should be presented, along with other packaging requirements: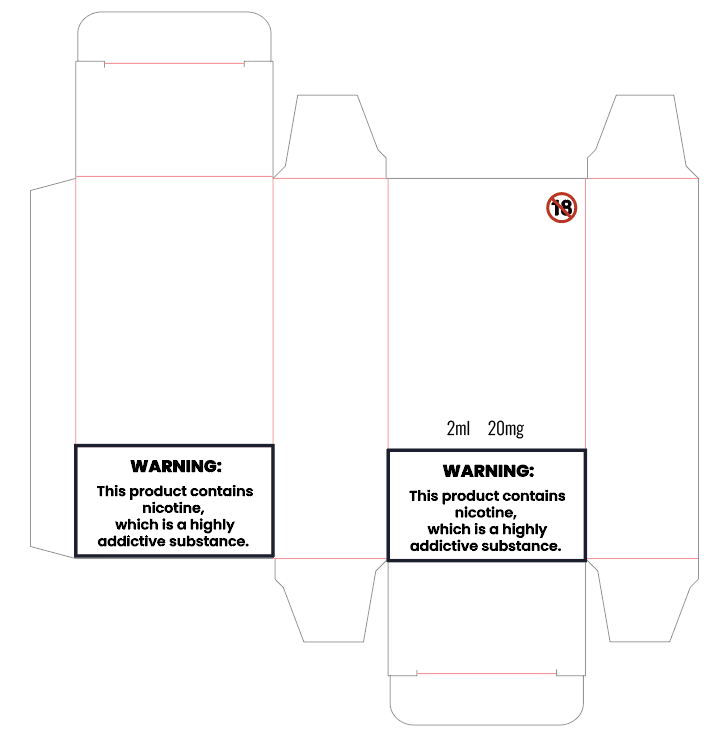 The UK health warning is used in the example
The text cannot be directly translated into other languages for other markets due to variation in requirements
Black border around health warning is optional
Quick Answers to Common Questions
Are there different regulations for e-liquids without nicotine?
Yes, e-liquids without nicotine are exempt from many TPD regulations but must still comply with the CLP Regulation for proper labelling and packaging.
Do I need to include a leaflet with my e-cigarette or e-liquid product?
If your packaging cannot accommodate all the required information, you may need to include a leaflet with additional information such as instructions for use, disposal, and safety precautions.
Are there any specific requirements for multi-pack e-liquids?
Yes, multi-pack e-liquids should follow the same vape packaging warning label requirements in the UK and EU for individual e-liquids. Additionally, each container within the pack must meet the individual labelling requirements.
How often are regulations updated?
Regulations may be updated periodically to adapt to new scientific research or industry changes. It's essential to stay informed about any amendments or updates to ensure continued compliance.
Can I use my own design for warning labels?
While you're free to create your own design, it must meet all the requirements of the TPD and CLP regulations in terms of content, size, and legibility.
Additional Resources: Knowledge is Power
To further your understanding and stay updated on the vape packaging warning label requirements in the UK and EU, it's a good idea to bookmark some essential resources.
UK Government website (gov.uk):
For the latest updates and guidelines from the UK government regarding vaping products, keep an eye on the official website.
European Commission website (ec.europa.eu):
The European Commission's website offers comprehensive information on EU regulations, including the TPD and CLP, as well as updates on any new legislation or amendments.
Industry associations and forums:
Joining industry associations and participating in forums can be an invaluable way to stay informed, share experiences, and ask questions about the ever-evolving vape market.
Compliance consultants:
If you're unsure about certain aspects of the vape packaging warning label requirements in the UK and EU or need tailored advice, consulting with a compliance expert can be a worthwhile investment to ensure you're on the right track.
Staying Compliant and Keeping Consumers Safe
Navigating the ins and outs of vape packaging warning label requirements in the UK and EU might seem like a daunting task, but with a little bit of elbow grease and attention to detail, you'll be well on your way to ensuring your products are compliant and safe for consumers. Remember, it's not just about following the rules – it's also about promoting responsible vaping and protecting public health.
The Bottom Line: A Proactive Approach to Compliance
As the vaping industry continues to evolve, it's crucial to adopt a proactive approach to staying informed and compliant with the regulations. By keeping up with changes, engaging with industry peers, and seeking professional advice when needed, you can ensure that your products adhere to the highest standards and foster consumer trust.
At the end of the day, a commitment to compliance is not just about ticking boxes – it's about cultivating a responsible and sustainable vaping industry that prioritizes the well-being of its consumers and the environment. So, let's roll up our sleeves and work together to make a positive impact on the world of vaping. Happy vaping, folks!