Australia Considers Crackdown on E-cigarette Industry
The Australian government is planning to impose stricter regulations on the electronic cigarette industry to combat the rampant smuggling, illegal sales, and underage addiction of e-cigarettes. The industry has been operating with minimal government oversight, and the government is now considering measures such as new taxes, plain packaging, border checks, strict police scrutiny, and even a ban. The illegal sale of nicotine-containing e-cigarettes to minors has become a major concern, leading to calls for police crackdowns on those pushing e-cigarettes into communities. The article also highlights the involvement of organized crime in the industry and the environmental impact of plastic e-cigarettes. Various officials and industry representatives are calling for stricter regulations and enforcement to address these issues.
The days of unregulated e-cigarette industry in Australia are numbered as the government prepares to dismantle this failed model. This model allows for 90 million e-cigarettes to be imported into Australia each year, most of which are shamelessly sold to children and contain nicotine.
Read More:  Vape Laws in Australia
Federal and state governments are considering how to prevent the younger generation's addiction to nicotine, including strict regulation such as new taxes, plain packaging, border checks, strict police review, and even direct bans.
The use of illegal nicotine e-cigarettes is reported to be the biggest behavioral problem in schools. This has raised concerns about a new nationwide health crisis and calls for police raids on those pushing e-cigarettes into communities. Some fear that organized crime is expanding its illegal tobacco smuggling operation to include e-cigarettes.
Small convenience store owners report being targeted and intimidated by e-cigarette wholesalers, many of whom import these products from third countries such as Malaysia and Indonesia to conceal their country of production, either not declaring nicotine content or falsely claiming no nicotine.
E-cigarettes also create an environmental nightmare as they are made of plastic and cannot be recycled due to the presence of batteries.
Health Minister Mark Butler said, "The use of e-cigarettes has exploded over the past few years, and the vast majority of it is on the illegal market." "It is illegally imported and sold, mostly targeting children and adolescents," he said. "This situation is completely unacceptable."
According to laws enacted by the previous coalition government, the sale of nicotine e-cigarettes is restricted to those over 18 years of age and requires a doctor's prescription to purchase from a pharmacy.
However, millions of so-called nicotine-free e-cigarettes are sold in small convenience stores, most of which do contain nicotine.
Their flavors include bubble gum, strawberry, mango, and kiwi, targeting directly at adolescents, some of which have pink unicorn-shaped designs that glow after inhalation, or are designed as beautiful neon-colored fluorescent pens.
A young journalist from the Australian newspaper went to six stores in Wollongone this month and asked to buy nicotine e-cigarettes.
All six stores offered her illegal nicotine e-cigarettes. No one asked for her age. The University of Wollongong tested the four e-cigarettes she purchased and confirmed they contained highly addictive nicotine.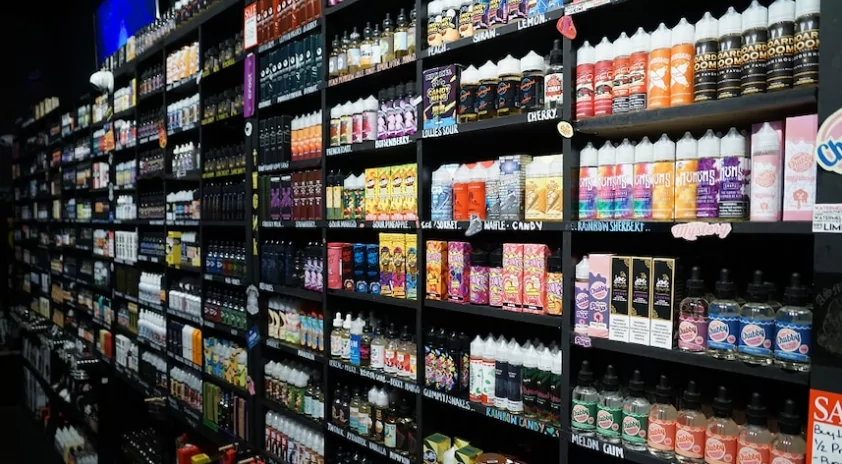 Doctors, police, retailers, teachers, and parents are shocked by the explosive growth of e-cigarette use, and the Therapeutic Goods Administration's (TGA) recent consultation has received thousands of opinions—almost all of which call for significant intervention immediately.
Sources from law enforcement told The Australian that many e-cigarettes from third countries come from China and besides nicotine, the e-cigarette bags contain several unknown chemicals, including some found in nail polish remover.
The Australian Convenience Store Association (AACS), the Grocers Association (MGA), and the Australian Lottery and Newsagents Association (ALNA) all criticized the current e-cigarette policy in a joint statement, describing it as "misleading, poorly designed, and a letdown for society."
AACS members sell cigarettes in their stores, with three major tobacco companies—British American Tobacco, Philip Morris International, and Imperial Brands—among their manufacturing members. The association representing petrol station retailers supports the legalization of nicotine e-cigarettes.
The association's CEO, Theo Foukkare, said the model showed that an estimated 90 million e-cigarettes were imported into Australia last year.
Mr. Foukkare said the government had "lost control" of the e-cigarette industry and that it had been infiltrated by organized crime. "None of our members have been infiltrated directly," he said, "but I know that some tobacco retailers have been targeted by organized crime figures. They make offers to buy their stores at greatly reduced prices, or threaten to open a store next door and bankrupt them," he said.
He also said that retailers selling illegal e-cigarettes were warned by criminal figures that "if you don't sell my product, I'll burn down your store."
Mr. Foukkare said that selling illegal e-cigarettes had become very profitable, but state governments or the Australian Border Force were not enforcing regulations because their focus was on illegal drugs, tobacco, and firearms.
"Last year, 90 million items were imported into Australia. I guarantee you that the vast majority of them contained high levels of nicotine."
AACS has close ties to the tobacco industry. Mr. Foukkare was a former executive at British American Tobacco, and the association's strategic and policy advisor, Ben Meredith, worked at Philip Morris International for 20 years.
Sources in law enforcement told The Australian that organized crime groups from overseas are involved in the sale of e-cigarettes. They said that when these items are openly allowed to cross borders, state police are unwilling to spend time and resources enforcing e-cigarette laws.
"When you see someone vaping, what do you do; go up and demand to see their prescription?" one officer said.
Scott Weber, CEO of the Police Federation of Australia (PFA), said it could take several days to test whether an e-cigarette illegally contains nicotine. He said cost and delay were hindering enforcement. "There is ample evidence that those supplying illegal tobacco – we know they are linked to organized crime – are also supplying illegal e-cigarettes," he said.
"There have been reports that both items have been seized in the same batch, and many retailers selling illegal tobacco are also selling e-cigarettes."
Weber said it should be up to the government to decide whether to regulate or ban e-cigarettes, but he said the best way to deal with "blatantly selling illegal e-cigarettes" was to establish a strike team on the east coast. "Incorporating state police into the major state illegal tobacco task forces will mean we can target those retail points that are selling both illegal tobacco and illegal e-cigarettes," he said.
Currently, thousands of seized e-cigarettes are stored in a warehouse near Sydney Airport.
Assistant Commissioner Tony Smith of the ABF said its resources were "prioritized to deal with the highest border risks."
"ABF works closely with the Therapeutic Goods Administration, which is the Australian regulator of therapeutic goods, to ensure that the considerations for reform are practical, effective and involve efforts across multiple jurisdictions of states, territories and the Commonwealth," he said.
The TGA said it had conducted over 2,000 investigations into nicotine e-cigarette products between October 2021 and March 2023, of which 1,683 investigations had been completed. A total of 111 violation notices were issued to 27 entities, totaling $769,896 – 101 notices were advertising offenses and 10 were importation offenses.
The Federal Court of Australia has launched two civil lawsuits for advertising offenses. In addition, 544,041 nicotine e-cigarettes have been identified as non-compliant imported products.