FDA Denies Marketing for 6 Flavored Vuse Alto E-Cigarettes

The FDA recently denied marketing for 6 popular Vuse Alto flavored e-cigarettes, citing risks to youth health. This landmark decision opens a new chapter in the agency's efforts to regulate vaping with the public's wellbeing in mind.
The High Bar for Premarket Authorization
Before any new tobacco product, like e-cigs, can be sold in America, the FDA must first authorize it. Companies have to submit premarket tobacco applications explaining why their product should be approved.
The agency then scrutinizes every detail extensively. Things like the ingredients, toxicology findings, clinical studies, youth access prevention plans and more. Basically, does this product help more than harm?
For e-cigs, the biggest concern is enticing youth. So the FDA wants proof that any potential benefits for adult smokers outweigh the known risks to adolescents. Satisfying this standard is tough, as RJ Reynolds recently learned.
FDA Finds Flavors Lack Adequate Evidence
When reviewing Vuse Alto's application for 3 menthol and 3 mixed berry flavors, the FDA reached a troubling verdict – the evidence just wasn't there.
Specifically, data failed to show these flavors would help adult smokers fully switch from cigarettes or substantially reduce smoking compared to tobacco flavors. That's a problem when the flavors clearly appeal to youth.
Per Brian King of FDA's Center for Tobacco Products:
"We're committed to completing review of these applications as soon as possible while ensuring that they undergo a rigorous scientific review in accordance with the law."
Without proof of public health benefits, the risks couldn't be justified.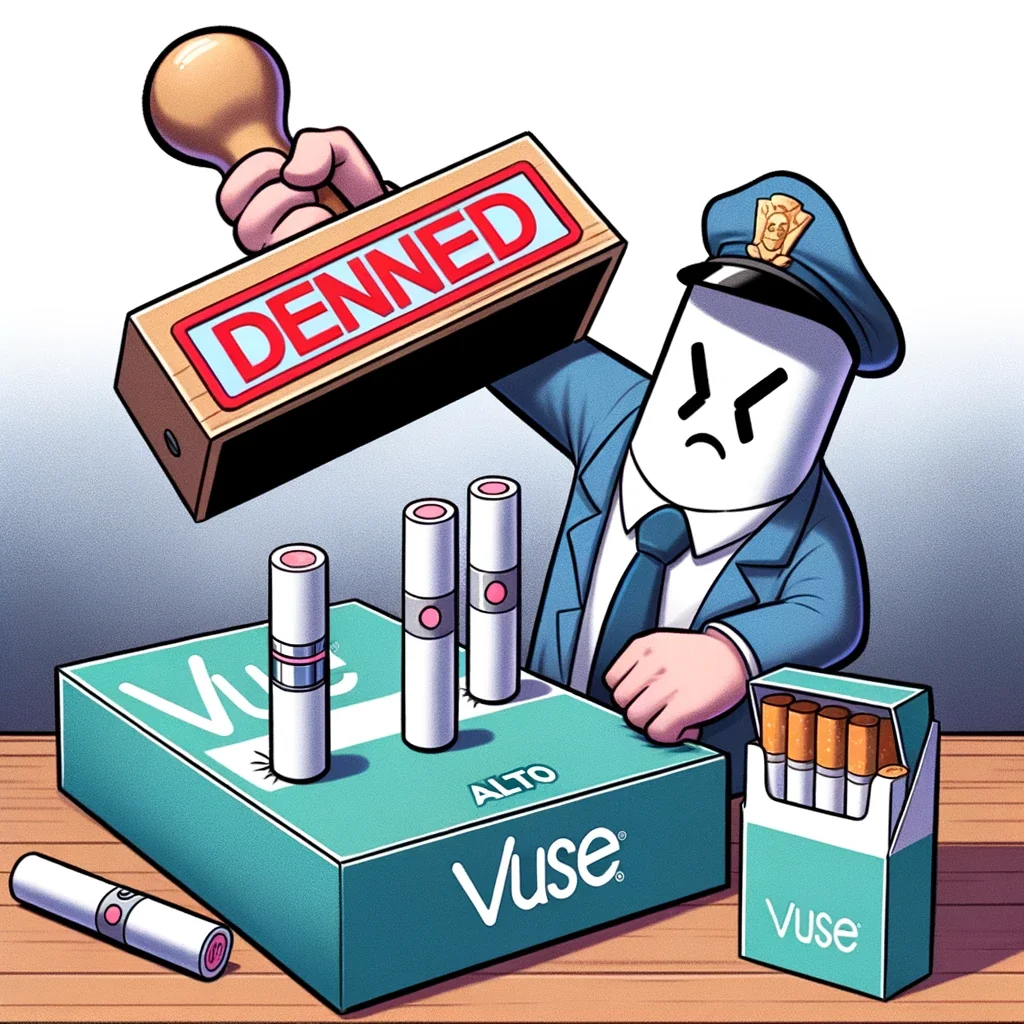 Youth Popularity Fuels Concerns
Surveys show Vuse has been the second most reported brand among underage youth since 2021. When teens already love your product, brightly colored flavors like apple, mango and mint pour fuel on the fire.
Matthew Farrelly of the FDA explained their cautious stance:
"If an application contained sufficient scientific evidence to meet the necessary public health standard, including a non-tobacco-flavored product, we'd authorize the product. But such evidence was lacking in this case."
With kid-friendly flavors contributing to the youth vaping epidemic, the FDA is drawing a line in the sand.
Ongoing Efforts to Curb Teen Vaping
This latest flavor denial builds on other actions the FDA is taking to protect adolescents:
Fining retailers who illegally sold Puff Bar e-cigs attracting teens
Rejecting millions of applications from Ulatek, maker of top-selling disposables
Approving only 23 tobacco-flavored e-cig products so far
While RJ Reynolds can reapply, the FDA is signaling clearer data and responsibility is required. Shielding youth comes first.
What This Means for Vapers and Parents
For adults using flavors to quit cigarettes, this may limit choices. But remember, the FDA aims to authorize products truly benefiting public health.
For parents, this ruling helps safeguard kids from tempting flavors fueling the youth vaping crisis. It shows escalating oversight on brands hooking teens.
Ongoing reviews will shape vaping's future. But expect youth protection to stay front and center in the FDA's decisions. This Vuse Alto denial is a powerful reminder of that priority.
The FDA's flavor crackdown marks a defining moment in vaping regulation. Companies must now meet strict standards protecting youth, or risk removal from shelves. Expect repercussions – but also potentially safer, healthier outcomes. This new chapter has just begun.
https://ecigator.com/wp-content/uploads/2023/10/1697747478-DA-Denies-Marketing-for-6-Flavored-Vuse-Alto.jpg
680
1200
Ecigator
https://ecigator.com/wp-content/uploads/2023/04/ecigator-logo-white.png
Ecigator
2023-10-18 20:24:13
2023-10-20 08:12:18
FDA Denies Marketing for 6 Flavored Vuse Alto E-Cigarettes