Illegal Vapes in the UK: Unveiling the Data Behind the Crisis
Millions of illegal vapes seized in UK in three years, data shows
The illegal vape market in the United Kingdom has witnessed a staggering rise in the past three years, with trading standards authorities seizing millions of illicit and potentially harmful vaping products. This concerning data, however, is believed to represent only the "tip of the iceberg," as experts warn of a massive influx of non-compliant vapes flooding into the country. In this article, we delve into the issue, highlighting the risks associated with illegal vapes, the surge in youth vaping, and the measures being taken to address this growing problem.
Alarming Figures and Uncovered Dangers
Freedom of information requests sent to 125 local authorities have revealed the shocking scale of the problem. Since the beginning of 2020, over two and a half million illicit e-cigarettes have been collected by trading standards. Notably, Hillingdon borough council in west London alone accounted for 1,352,063 of the seized vapes, reflecting the significant influx of unlawful products into the area, including through Heathrow airport.
These illegal vapes fail to comply with UK regulations, posing potential risks to users. They may have higher concentrations of nicotine, contain banned substances, or feature oversized tanks for nicotine liquid. Previous analysis has even uncovered illicit vapes contaminated with high levels of lead, nickel, and chromium. Kate Pike, the lead officer at the Chartered Trading Standards Institute, cautions that these figures likely represent only a fraction of the non-compliant vapes being sold in UK shops. She highlights the alarming frequency of calls from colleagues at ports, revealing the extent of the issue, mainly originating from China.
Youth Vaping: A Cause for Concern
Doctors are increasingly urging for a complete ban on disposable vapes, which are available in vibrant colors and an array of flavors. The long-term effects of vaping remain uncertain, and the rising popularity of these products among young people is deeply troubling. Recent surveys conducted by Action on Smoking and Health (Ash) indicate a notable increase in youth vaping. In 2022, 7% of 11- to 17-year-olds surveyed admitted to using vapes, compared to 3.3% in the previous year.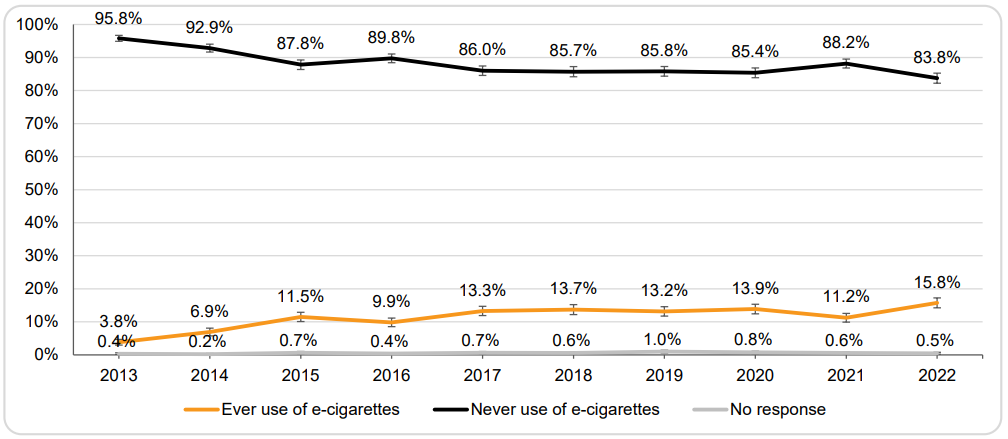 Non-compliant vapes hold particular appeal for underage consumers due to their affordability and accessibility in places with less stringent age verification processes. Research suggests that approximately one-third of vape products sold in UK shops are likely to be illegal. Alarmed by the situation, Kate Pike emphasizes that illegal vapes are prominently displayed on high-street shelves, posing a significant challenge to public health efforts aimed at providing safer alternatives to tobacco for smokers seeking to quit. The primary concern is the ease with which young people can access these products, creating the risk of addiction and harmful health consequences.
Hazards and Enforcement
Illegal vapes often lack proper warnings or essential information on their packaging, making it difficult to ascertain their potential risks. In contrast, legal and compliant vapes pose only a fraction of the health hazards associated with smoking. The vaping industry itself advocates for stronger enforcement of regulations, calling for illegal vaping products to be treated as seriously as counterfeit cigarettes.
According to Dan Marchant, the director of the retailer Vape Club, illicit vape products have the potential to be dangerous. A notable indicator is the number of puffs advertised, as anything exceeding 500-700 puffs has likely not undergone appropriate testing and safety measures. Phil Jenkins, a senior London Trading Standards officer, supervised the seizure of 1 million illegal vapes at Heathrow last year. These products arrive as standard cargo on commercial flights, declared as atomisers on paperwork but labeled as vapes in the packaging. Businesses anticipate that some vapes will be intercepted, resulting in over-ordering. In a recent week, officials confiscated approximately 6 tonnes of illegal vapes, rendering the figures obtained through Freedom of Information requests for Hillingdon outdated.
Taking Action and Seeking Solutions
Kent county council, for instance, seized 329,276 illicit vapes in 2022 and has already confiscated 49,528 in 2023. Oliver Jewell, the council's principal trading standards officer, acknowledges the legitimate role e-cigarette devices play in reducing smoking prevalence figures. However, he also highlights the rapid growth in popularity of disposable e-cigarettes, making them highly profitable commodities for retailers. This profitability sometimes drives retailers to stock illegal products, seeking a competitive edge in the market.
To tackle the problem, trading standards officers in Kent visit retailers, providing guidance and removing illegal products from the market while ensuring measures are in place to prevent sales to young people. Additionally, data reveals that 28 councils have spent £9,000 over the past three years on testing vape products. Earlier this year, the government announced the formation of an "illicit vapes enforcement squad," led by trading standards. With £3 million in funding, the squad conducts test purchases and removes banned products from shops and borders.
The government has also launched a call for evidence to explore opportunities to reduce children's access to and use of vapes. It is illegal to sell nicotine vapes to children, and the recent rise in youth vaping, compounded by the unknown long-term harms, has raised concerns. The illicit vapes enforcement squad aims to tackle the importation and illicit trade of vaping products, remove non-compliant items from the market, and combat underage sales.
In conclusion, the rising tide of illegal vapes in the UK poses a significant threat to public health, particularly among young people. The data on seized vapes represents only a fraction of the non-compliant products flooding the market. Urgent action is required to combat this issue, including stronger enforcement of regulations, increased vigilance at ports of entry, and comprehensive efforts to educate the public about the potential dangers. By safeguarding the well-being of the population, authorities can ensure that vaping products serve as a safer alternative for smokers, rather than a gateway to addiction and harm.