Lost Mary Vape Products Exceed 80% Nicotine Limit
Elf Bar's Lost Marry vape products was found to exceed the maximum permissible nicotine limit by 80%
Chinese electronic cigarette brand Elf Bar, owned by Iqiyi, faces further controversy after its Lost Mary disposable e-cigarette was found to exceed the maximum permissible nicotine limit by 80%. Tests were conducted after the Daily Mail previously found that Elf Bar's 600 series products exceeded the legal nicotine limit by over 50%, leading to them being withdrawn from supermarkets. Last year, more than half of 11-17-year-olds attempting to use e-cigarettes reportedly used Elf Bar, despite their illegal sale to under-18s. ASH called for compliance checks for e-cigarette manufacturers and tests for the devices after finding particular concern that users were unaware of their ingredients.
Elf Bar faces nicotine exceeding standard controversy again: Lost Mary electronic cigarette is found to exceed 80%
On March 5th, the British media Daily Mail and the Mirror reports once again challenged the popular disposable electronic cigarette brand Elf Bar, which is owned by Chinese electronic cigarette company Heavengift, this time for its Lost Mary product.
Previously, the Daily Mail found that Elf Bar 600 series products exceeded the legal nicotine limit by more than 50% after testing, which caused many supermarket chains in the UK to remove them from the shelves, sparking discussions about the compliance of the overseas electronic cigarette market.
The controversy over the 600 series products hasn't ended yet, and now Elf Bar's Lost Mary product has been found to exceed the maximum nicotine limit by 80%.
For safety reasons, two supermarkets have removed the product from their stores after testing and finding that the nicotine content in the electronic cigarette device was at least 50% above the legal limit.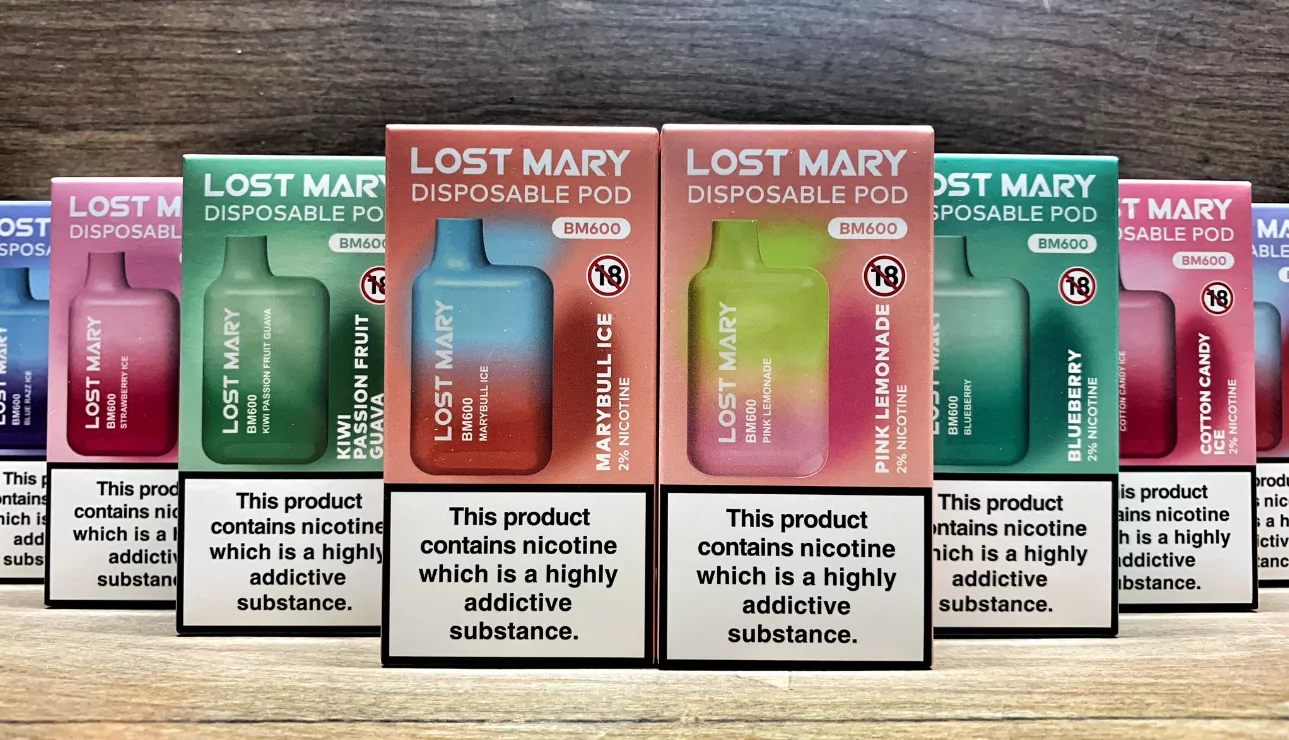 Tests on Double Apple-flavoured Lost Mary e-cigarette samples found an average nicotine content of 3.6 millilitres. Sainsbury's and Asda supermarkets have now confirmed that they will ban the product based on the investigation results.
According to UK law, the nicotine content in electronic cigarettes is limited to 2 millilitres, and the maximum nicotine strength is 2%. This restriction is to create an environment that protects children from starting to use these products among the four electronic cigarettes sold in the UK.
There has been no immediate response to supermarkets withdrawing Elf's Lost Mary e-cigarettes.
The Mirror has contacted Elf Bar for comments on the Lost Mary test.
Last year, anti-smoking organization ASH found that more than half of the 11-17-year-olds who admitted to trying to use e-cigarettes said they used Elf Bar, even though selling e-cigarettes to those under 18 is illegal.
Elf Bar's 600 series was removed from supermarket shelves last month after the Daily Mail investigation found that the device contained up to 3.2 millilitres of nicotine.
Although e-cigarette manufacturers must register their products with the Medicines and Healthcare Products Regulatory Agency (MHRA) before selling them in the UK, including the nicotine content, the MHRA does not test electronic cigarettes during the product registration period.
The MHRA only takes action when it receives product violation alerts, such as containing nicotine content that exceeds regulatory limits.
Bush Professor told the Daily Mail that this is absolutely shocking. What impact does such major illegal activity have on our regulatory system when the newspaper exposes it like this?
"We urgently need compliance checks to be carried out when e-cigarette manufacturers register their products, and further spot checks once the e-cigarettes are on the market to ensure companies comply with the law."
"It is deeply worrying that people do not know what ingredients are in these e-cigarettes when they buy them. These laws are to protect users, especially children."
Chris Allen, CEO of the Blaunton Laboratory, which conducted the test, said that regulatory authorities need to resolve this issue quickly. He hopes to see strong action taken by regulatory authorities, such as removing over-the-limit products, completing product testing, and disposing of non-compliant products.
The Daily Mail contacted Elf Bar for comments on the Lost Mary test, but there was no response.
The company previously stated that its products are safe and that it will investigate all e-cigarette products exported to the UK.
Background:
What is the relationship between Elf Bar and HeavenGift?
Public information shows that Elf Bar is a product of Vivoli Technology, a company that HeavenGift owns 100%.
HeavenGift has a total of 14 companies under its umbrella, covering the entire electronic cigarette industry chain. It is an overseas giant in the hidden e-cigarette industry, with business covering e-cigarette foreign trade wholesale, e-cigarette production, e-liquid research and development and production, electronic switching brands, high smoke brands, and disposable e-cigarette products.
Currently, four affiliated companies have obtained electronic cigarette production licenses, namely Shenzhen Jikena Technology Co., Ltd. (brand, product design), Shenzhen Niwo Network Technology Co., Ltd. (brand), Dongguan Hongfu Biotechnology Co., Ltd. (e-liquid, food flavor, manufacturing, sales), and Heavengift (Shenzhen) Technology Co., Ltd. (electronic cigarette production and sales, brand).
How popular is Elf Bar?
Elf Bar was launched in 2021 and sells about 2.5 million disposable units per week in the UK. These devices are sold for £5.99 each, and have attractive flavors such as pomegranate and kiwi, watermelon and blueberry ice.
Last January, online e-cigarette platform IndeJuice reported that sales of disposable e-cigarettes grew by 279% in the final quarter of 2021 compared to the previous quarter. Fruit and ice-flavored e-cigarettes account for 60% of sales.
Will they be banned in the UK?
Officials have been told that disposable e-cigarettes should be banned in the UK.
Dr. Caroline Johnson, a former Conservative health minister, urged members of parliament to support her Disposable Electronic Cigarettes (Ban) Bill.
Elf Bar's UK nicotine breach timeline:
Elf Bar faces lawsuit in the United States: