Study Finds the Most Useful Flavors to Quit Smoking

Quitting smoking is extremely challenging. But research reveals certain vape flavors can make success more likely. A recent survey of 70,000 U.S. vapers identified the most popular flavors used to stop smoking.
Survey Examines Vape Flavors for Cessation
The large-scale survey was conducted by European researchers affiliated with the Center of Excellence for the Acceleration of Harm Reduction (CoEHAR). It compared flavor preferences between:
Dual users – vapers who still smoke cigarettes
Former smokers who now exclusively vape
Those who never smoked but only vape
The study aimed to uncover patterns in vape flavor use among ex-smokers when they initially quit cigarettes.
As study author Dr. Konstantinos Farsalinos explains:
"This is the largest survey ever conducted on the use of electronic cigarettes in terms of sample size. The most interesting data is that when a smoker decides to quit smoking using modified-risk electronic tools, they gravitate toward flavors different from tobacco, with a clear preference for fruit, dessert and chocolate flavors."
Most Useful Flavors to Quit Smoking
The survey revealed the flavors used most successfully by ex-smokers to stop smoking were:
Fruit (83.3%) – especially berries, melon, apple, pineapple
Dessert/pastry (68%) – bakery, candy, chocolate
Candy/sweets (44.5%)
These flavors were also considered the most helpful for quitting.
Tobacco flavor was used by only 15% trying to switch from smoking. Just 9.3% found it useful for cessation.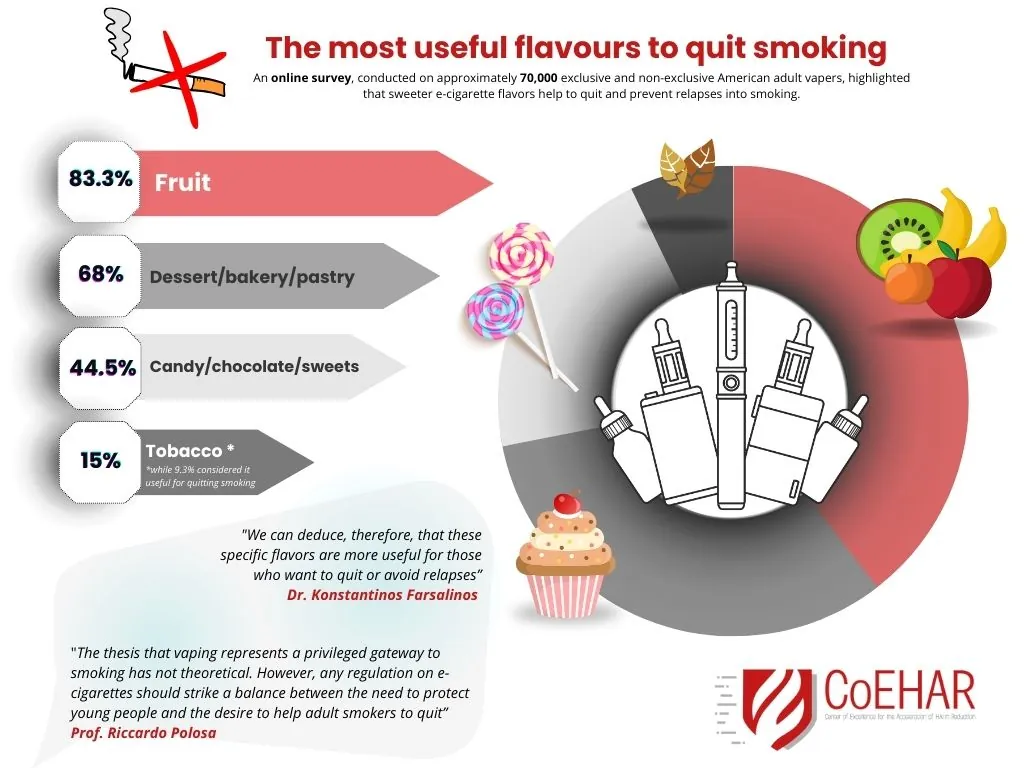 Balancing Cessation Aid with Youth Considerations
However, some lawmakers propose banning all non-tobacco vape flavors due to appeal to youth.
Riccardo Polosa, founder of the harm reduction research center, argues regulations must strike a balance:
"When it comes to regulating vape flavors, policymakers need to strike a balance between protecting young people while still helping adult smokers quit."
Bans could have unintended consequences, limiting tools that effectively help smokers switch to the less harmful alternative of vaping.
More research is still needed. But this study sheds light on the vital role certain flavors may play in smoking cessation for adults. Blanket flavor prohibitions could do more harm than good.
https://ecigator.com/wp-content/uploads/2023/10/1697795238-Most-Useful-Flavors-to-Quit-Smoking.jpg
680
1200
Ecigator
https://ecigator.com/wp-content/uploads/2023/04/ecigator-logo-white.png
Ecigator
2023-10-20 09:48:22
2023-10-20 09:48:22
Study Finds the Most Useful Flavors to Quit Smoking