49 Vaping Statistics Examined – Usage Rates and Facts Analyzed
Vaping has grown exponentially in popularity over the past decade, but how widespread is e-cigarette usage exactly? What trends are occurring among different age groups? The following article compiles 49 insightful vaping statistics to understand this market's growth and demographics.
Key Vaping Statistics
1 in 20 Americans now vape routinely, with 1 in 3 smokers vaping daily.
Around 8% of Americans report vaping at least every other week.
In 2021, over 5 million high school and middle school students vaped within the past month.
27.5% of high school e-cigarette users and 8.3% of middle school users report daily vaping.
Oklahoma has the highest state vaping rate, followed by Louisiana, Nevada, Tennessee, Kentucky, and Ohio.
Washington D.C. has the lowest vaping rate in the United States. Other low-use states are California, South Dakota, Vermont, and Maryland.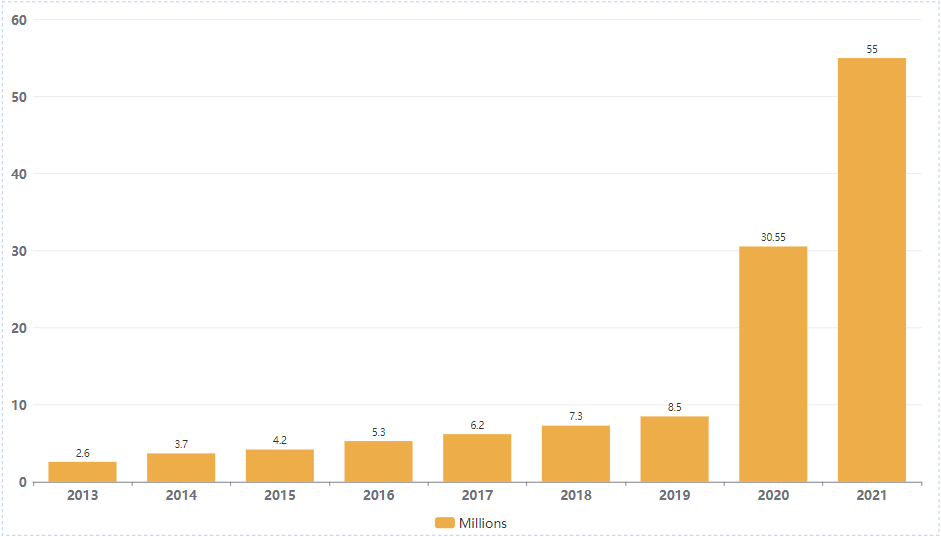 Youth and Teen Vaping Statistics
From 2011 to 2019, teenage vaping surged over 1,800% before declining recently.
10.5% of middle school students reported past-month vaping in 2019, down to 4.7% in 2020.
High school vaping rose from 11.7% in 2017 to 27.5% in 2019, then dropped to 19.6% in 2020.
18% of 8th, 10th, and 12th graders reported vaping in the past month in 2021.
Vaping doubled from 7.5% to 16.5% among 8th graders from 2017 to 2019 before declining.
Among young adults 18-24 years old, 9.3% vape and 56% were not prior smokers.
14.1% (2.14 million) of high school students and 3.3% (380,000) of middle school students reported current e-cigarette use.
11.3% (3.08 million) of middle and high-school students reported current use (in the last 30 days) of any tobacco product.
Around 3.7% (1.0 million) of all students reported currently smoking any combustible tobacco product.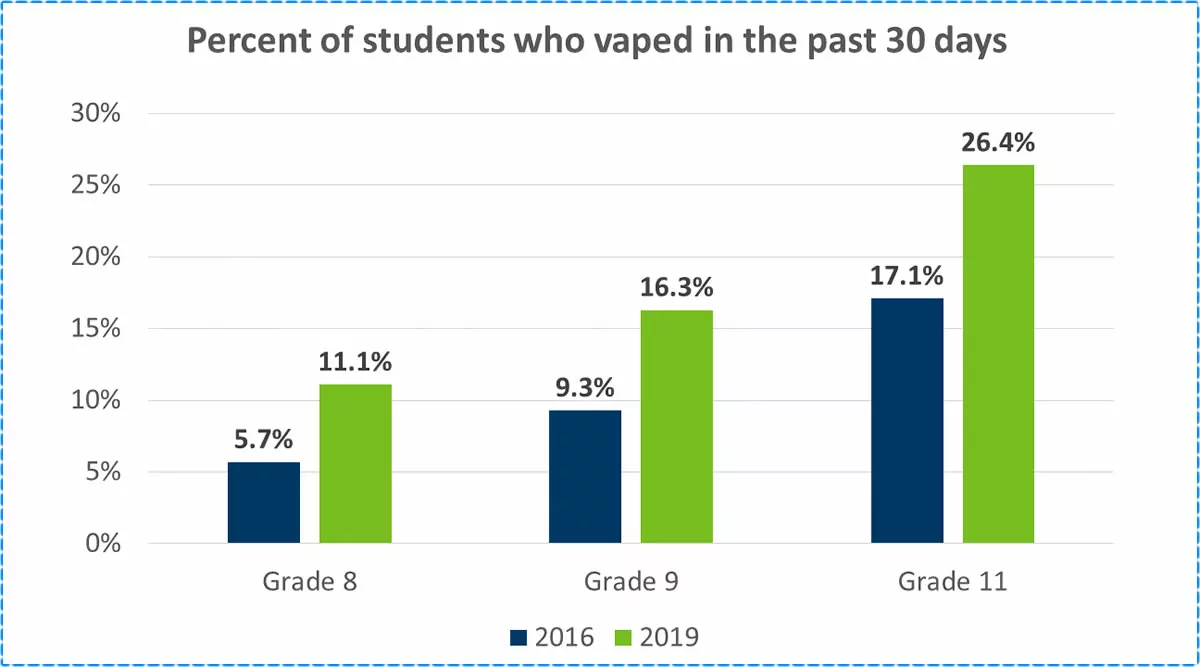 Reasons for Teen Vaping
60.9% try it out of curiosity.
41.7% continue for flavors like fruit, candy, desserts.
42% cite socializing and fitting in.
37.4% vape for relaxation.
29% seek intoxication.
28.7% vape out of boredom.
8.1% admit being addicted to nicotine.
Marketing Influences on Teen Vaping
76% of students encountered vaping ads in 2021.
74% saw vaping content on social media.
75% started vaping out of curiosity and due to marketing.
Global Vaping Industry Statistics
55 million estimated e-cigarette users worldwide in 2021.
Vaping sales reached $15.7 billion in 2018.
Global sales projected to hit $40 billion by 2023.
The US, UK, and Japan are the largest vaping markets currently.
Vaping Health Effects Statistics
2,807 vaping-related hospitalizations and 68 deaths occurred in the US in 2020.
Around 5,000 young children went to ERs after nicotine exposure from 2013 to 2017.
Mice studies found 22% developed lung adenocarcinoma after inhaling vape aerosol.
Other Vaping Statistics and Facts
Teens who vape are 2x more likely to become cigarette smokers.
66% of youth vapers ages 15-21 are unaware products may contain nicotine.
Just 15% of adult e-cigarette users are non-smokers.
2 in 3 Americans believe vaping is healthier than smoking.
In 2020, federal law restricted flavors for cartridge vapes except tobacco and menthol, pending FDA review.
Multiple states and cities have banned or restricted flavored e-liquids to discourage underage appeal.
2021 saw the federal tobacco age raised to 21 years old from 18.
The FDA has accelerated application reviews for e-cigarette products to more closely oversee the market.
Teenagers that use e-cigarettes are twice as likely to smoke tobacco cigarettes sometime in the future.
1 in 5 Americans ages 18 to 29 use vape products, compared with 16% of those ages 30 to 64, and fewer than 0.5% among those 65 and older.
Just 15% of U.S. e-cigarette users are non-smokers.
Recent reports list 2,807 cases that involved hospital visits from using vaping and e-cigarettes. This led to a total of 68 people dying from vaping in 2020.
There are almost 5,000 kids less than five years of age that went to a hospital emergency room after being in contact with nicotine from e-cigarettes or vaping.
Two-thirds of people in the US believe that vaping is healthier than smoking.
To Quit Smoking: Many people use vaping to help them quit or reduce their smoking habits.
For Enjoyment: Vaping is fun, and many people enjoy it as a hobby.
To Be Discreet: Vaping does not produce as much smoke or odor as traditional cigarettes, making it more discreet.
Closing Summary
This expansive compilation of 49 statistics provides crucial insights into the growth of vaping and patterns occurring among youth, adults, and geographies. The trends highlight emerging concerns around adolescent usage and risks that warrant ongoing research and prudent regulation.
References