SKE Amare Crystal One Review – A Petite Yet Powerful Disposable Vape
The new SKE Amare Crystal One disposable vape packs impressive performance into an incredibly compact size. While flavors are hit or miss, the striking design and robust ease of use make this an ideal portable vape option to just grab and go.
Getting to Know SKE Vape
Founded in 2013, SKE (which stands for Smokers Know Everything) has rapidly grown into one of the world's leading vape brands. With disposable devices sold in over 50 countries, they've become a global force.
Despite their success overseas, SKE remains lesser known in the UK. But that is now changing as they expand their presence in the region through exciting new launches like the Amare Crystal One.
SKE is driven by innovation to deliver outstanding yet affordable vaping experiences. They avoid costly gimmicks, instead focusing engineering efforts on perfecting performance.
The Amare Crystal One demonstrates this commitment while showcasing SKE's design prowess. It improves upon disposables through thoughtful enhancements rather than flashy additions.
A Tiny Yet Surprisingly Capable Design
My first impression upon unboxing the Amare Crystal One was disbelief at just how small and slim this disposable vape is. It's shorter than a standard credit card and half the thickness, with a rounded rectangular pen-like shape that feels ergonomic in hand.
The petite size didn't stop SKE from packing serious performance into this pocketable powerhouse. A 500mAh battery delivers up to 600 satisfying puffs of bold flavor and dense vapor production.
Despite the tiny footprint, an optimized airflow design provides the ideal medium-tight draw for mouth-to-lung hits that closely mimic traditional cigarettes. This makes the transition seamless for new vapers.
The automatic operation ensures ease of use – just inhale to activate the battery and enjoy. With a 2mL ejuice capacity and no buttons to fiddle with, the One keeps convenience king.
Crystal One Flavors Analysis
The Amare Crystal One comes pre-loaded with 20mg nicotine salts for a smooth high-nic vaping experience. It offers 25 different flavors spanning fruits, sweets, berries, drinks, mints, and more. Here's my detailed take on a few of the options after thorough testing: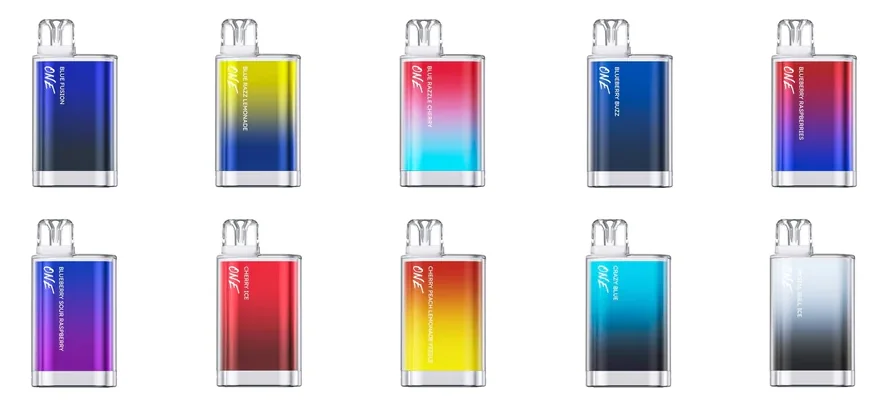 Blue Razzle Cherry:
Official Description: Tart blueberry and sweet cherry flavors paired with tangy raspberry highlights for a fruity blend.
Review: The initial blueberry taste is mild, quickly giving way to dominant sweet cherry and raspberry flavors. There's an icy cooling on the exhale. While the cherry evokes baked good flavors, the overall fruit taste is heavily artificial like most disposables. The sweetness also heavily coats the tongue.
Cherry Ice:
Official Description: Sweet, bold cherry flavor mildly cooled with icy hints for a fresh finish.
Review: The cherry taste is oddly weak and flat, failing to deliver the labeled flavor. There's excessive sweetener and the fruit doesn't taste natural. The menthol blast overwhelms rather than accentuates the fruit. The sweetness heavily lingers on the palate. Overall, this simple flavor disappointingly falls short.
Cherry Peach Lemonade Fizzle:
Official Description: Bold cherry and juicy peach combined with fizzy lemonade aftertaste.
Review: The fizziness dominates, muting the fruit flavors, especially the barely detectable lemonade. The cherry lacks the vibrancy of the Blue Razzle Cherry flavor. To appeal to more users, the sweetness and flavor intensities seem intentionally muted compared to more flavorful varieties. The cooling agent also overpowers the fruits.
Double Apple Explosion:
Official Description: Crisp green apple flavors with sour highlights create a fresh finish.
Review: The appley aroma is potent. There's enjoyable apple taste, but excessive sweetener diminishes the natural crispness. While touted as "double," only one apple variety seems present. The massive sweetness unfortunately lingers and distracts from an otherwise solid apple flavor. Dialing back the sweetness could refine this.
Lemon & Lime:
Official Description: Sweet lemon notes topped with zingy lime create a balanced citrus taste.
Review: The lemon lacks the sharp bite expected from the real fruit. While the lemon-lime balance is fine, the flavors come across flat and lack zest and citric punch. More sweetener than necessary weighs the taste down. Overall, this tried-and-true blend disappointingly fails to surprise or impress.
Pineapple Ice:
Official Description: Exotic pineapple flavors balanced with icy hints for a fresh finish.
Review: The mild cooling on inhale nicely sets up the sweet pineapple candy flavor. The fruit tastes artificial yet pleasing, like pineapple hard candy without the sugar overload. The pineapple sweetness blends masterfully with the menthol. For a simple one-note fruit flavor, this offers an enjoyable chilling vape.
While flavors tended to lack complexity and depth, SKE nailed simple profiles like Pineapple Ice and Lemon Lime. Performance remained consistent throughout extensive testing.
Final Verdict
The Amare Crystal One delivers outstanding performance and convenience in a remarkably tiny package. While flavors tend towards the one-note sweet side, the smooth draw activation and long-lasting 500mAh battery deliver very satisfying results.
For vapers seeking maximum portability and discretion without sacrificing vapor quality, the One is a definitive win. SKE managed to cram serious capabilities into one of the smallest, most pocketable vapes around.