SKE Crystal Plus Pod Kit Review – A Rechargeable Hybrid With Replaceable Flavor Options
The SKE Crystal Plus Pod Kit offers a unique take on disposables as a rechargeable device paired with refillable flavor pods. This hybrid format provides extended use while allowing easy flavor swaps. For vapers wanting variety and longevity in a pocket-friendly form, the Crystal Plus is an affordable option worth considering.
In this detailed review, we'll explore the flavors, performance, and real-world benefits of SKE's innovative offering.
An Introduction to SKE Vape
SKE (which stands for Smokers Know Everything) is the creation of founder Smith, an avid skier who believed vaping could provide a better alternative to traditional cigarettes.
After investing his college savings into vape research and development, Smith launched SKE in 2021. The company name reflects his passion for speed skiing and the crystalline ice slopes.
This commitment to innovation shines through in products like the Crystal Plus. SKE avoids gimmicks and costly extras, instead focusing engineering efforts on enhancing performance and value.
The Crystal Plus demonstrates this no-frills, high-function approach. It improves upon disposables not through flashy features but by perfecting the fundamentals.
The Crystal Plus Design and Features
At first glance, the Crystal Plus resembles SKE's fully disposable Crystal Bar. Its transparent chassis and signature beveled edges create eye-catching light refractions. The slim pen-shaped silhouette ensures portability and pocketability.
But inside the similar exterior lies a very different format. The Plus uses replaceable ejuice pods paired with a reusable 400mAh battery.
This hybrid single battery/disposable pod system provides the convenience of disposables with the versatility of swappable flavors. Once the pod empties, pops in a new one to keep vaping.
The 2mL capacity pods come in SKE's signature fruity flavors at 20mg (2%) nicotine strength to satisfy EU TPD regulations. Expect around 600 puffs per pod.
An automatic draw system means no buttons to fiddle with. Just inhale to activate the battery and enjoy those satisfyingly smooth hits.
Testing the 10 Flavors of Crystal Plus
One major benefit of the Plus is the variety of flavors available right out of the box. Let's explore some of the fruit-inspired options: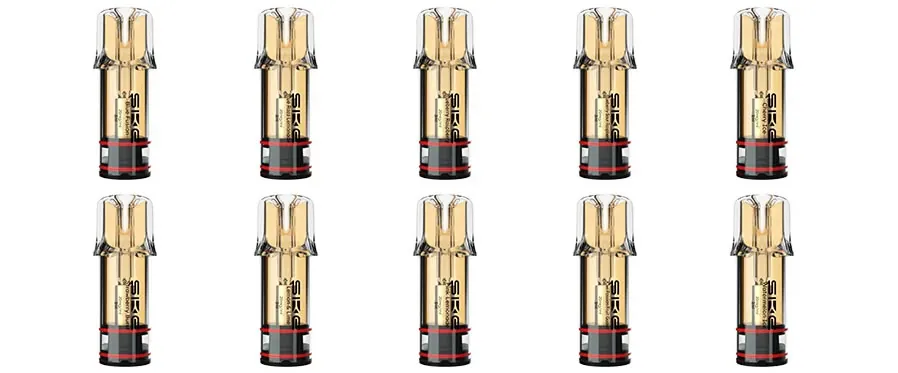 Blue Razz Lemonade
An ideal mix of sweet blueberry, tart lemon, and cooling menthol. The blueberry notes pair nicely with the lemon sourness, creating a harmonious fruity balance. Crisp, refreshing, and deeply satisfying. As a menthol fan, I loved the icy breeze on each inhale. Easily an all day vape I'd keep coming back to.
Lemon Lime
A perfectly harmonious blend of zesty citrus flavors. The tangy lemon and lime mix wonderfully together, creating a mouthwatering sunshine-filled experience. Uplifting and delicious. With each puff I feel whisked away to a tropical oasis. This flavor profile never gets old or tiring.
Strawberry Burst
Sweet candy-like strawberry flavor with gummy undertones that transport you back to childhood. Lightly cooling on the inhale. Simple yet effective. The strawberry taste resembles a sweet taffy candy, both nostalgic and moreish. While simple, it delivers solid flavor enjoyment.
Cotton Candy Bubblegum
Intense fruity sweetness with nuances of orange. Misses the mark on delivering the named flavor profiles but still enjoyable. The promised cotton candy is subtle, but abundant sweetness satisfies those with a major sweet tooth. Hints of orange add depth.
Fire Brew
A dead ringer for fizzy orange soda. Zesty citrus flavor pops against the backdrop of frosty menthol. Fun, flavorful, and reminds of summer. This instantly brings me back to fun childhood summer days with its spot-on orange soda flavor. The menthol provides a nice cooling balance.
Blue Razzberry
Tart blue raspberry candy flavor tempered by a smooth finish. Lacks authentic fruit nuance but recreates the candy profile well. Cooling menthol provides a nice contrast. While not the most complex, it delivers sweet blue raspberry candy flavor nicely aided by the icy menthol.
Watermelon Ice
Sweet candy watermelon flavor drowned in icy menthol. Lacking in fresh fruit authenticity but delivers bold flavor and chill. This is an intense blend – more menthol than juicy watermelon. But I enjoy the cooling contrast.
Cherry Ice
Subtle cherry undertones struggle behind intense menthol. A one-note profile focused solely on chilling refreshment. The cherry accents are fleeting. This is a pure icy mint lover's vape.
Rainbow
An aggressively sweet mishmash of indistinguishable fruits tangled with dense icy menthol. Any subtle flavors get lost. The abundant sweetness overpowers the fruit medley. Ice dominates the palate.
Blueberry Blackberry
Stale, artificial berry mix with an unpleasant aftertaste. Weak attempts at fruit authenticity muddled by sweetener. The blueberry tastes slightly off, failing to deliver fresh berry goodness. Needs refinement.
I was pleased to find mostly accurate fruit renditions that avoid artificial or chemical-like tastes. Those seeking variety can explore flavors until finding those few all day options.
Real Experiences From Satisfied Vapers
Beyond my own testing, here are some common experiences shared by happy Crystal Plus owners:
The large ejuice volume provides weeks of use before needing to replace pods. Far more economical than fully disposable options.
Recharging rather than disposing of batteries reduces waste. Some vapers get over a month before needing new pods.
Flavors like Pineapple Smoothie and Peach Ice earn rave reviews for their authentic fruity accuracy.
The automatic draw provides consistent hits. No fuss or leaking means carefree, mess-free vaping.
For an affordable price, the Plus delivers outstanding value via longevity and performance.
Many love the ability to switch flavors by simply swapping pods whenever they want something new.
Vapers say the battery life lasts through multiple pod refills thanks to the 400mAh capacity.
Satisfied vapers praise the Plus for worry-free, flavorful vaping that keeps going and going before any maintenance is needed.
Who Can Benefit from the Crystal Plus?
The Crystal Plus caters to:
Vapers wanting extended disposable use before replacing
Those who enjoy switching between a wide variety of flavors
Both new vapers and veterans seeking value and simplicity
Any vaper needing a discreet, durable pocket vape
Environmentally conscious vapers seeking less disposable waste
While more casual users may prefer fully disposable devices, the Plus perfectly fits vapers wanting maximized usage and versatility from their vaping companion.
Final Thoughts on the Crystal Plus
SKE delivers excellent engineering and innovation with the versatile Crystal Plus while keeping costs low. This rechargeable hybrid provides the convenience of disposables with the flexibility to swap flavors.
By focusing on the essentials like ample ejuice supply and battery endurance rather than gimmicks, the Plus grants worry-free vaping freedom. For an affordable price, it's built to satisfy.