ELF BAR Lowit 5500 Review: A Top Prefilled Disposable Vape

The new ELF BAR Lowit 5500 stands out from the crowded disposable vape market with its extended battery life and massive ejuice capacity. Our in-depth review covers the specs, performance, flavors and more to see if it lives up to the hype.
Convenience Meets Performance
Disposable vapes eliminate the need to buy separate batteries and ejuice. Just open and start puffing. But convenience often comes at the cost of flavor and vapor quality. The Lowit 5500 breaks that mold.
It retains the instant satisfaction of disposables thanks to the prefilled pod. But the swappable pod design and rechargeable battery create less waste than single-use options.
The sleek aesthetics also set it apart. Most disposables look and feel cheap. But the Lowit's rounded corners and muted colors exude refinement. This is no gas station vape.
Prominent texture pads ensure a secure grip – no more slippery drops. And the magnetic pod connection enables smooth swaps in seconds.
ELF BAR Lowit Prefilled Pod Details
E-liquid Capacity: 14ml
Nicotine Strength: 50mg/ml (5%)
Puffs: Up to 5500 Puffs
ELF BAR Lowit Device Details
Battery: 500 mAh
Charging Port: Type-C
Massive Ejuice Capacity for Extended Vaping
Each Lowit pod holds a staggering 14mL of nicotine salt ejuice. That's nearly 5 times more than average disposable pods.
This huge capacity yields a couple key benefits. First, less frequent pod disposal means substantially reduced plastic waste.
Second, vapers can enjoy hours of continuous vaping between pod changes rather than being disrupted every 30 minutes.
Nicotine strengths up to smooth 5% satisfy both cloud chasers and new vapers. And flavors like Blueberry Ice and Mixed Berry avoid artificial notes. ELF BAR's mesh coils optimize every last drop.
Impressive Battery Life for Nonstop Vaping
One common disposable vape pain point is batteries dying after just a few hundred puffs. Not so with the Lowit 5500.
It outlasts nearly any other disposable thanks to its muscular 500mAh battery. While most last around 300 puffs, the Lowit keeps going for a mammoth 5500 puffs.
For perspective, vaping around 200 puffs per day, the Lowit would provide over 3 weeks of use before needing a recharge. That's almost unheard of in disposables.
The LED indicator makes it easy to monitor remaining battery life at a glance. Green means full power, blue is mid-range, and red tells you it's time to recharge via USB-C.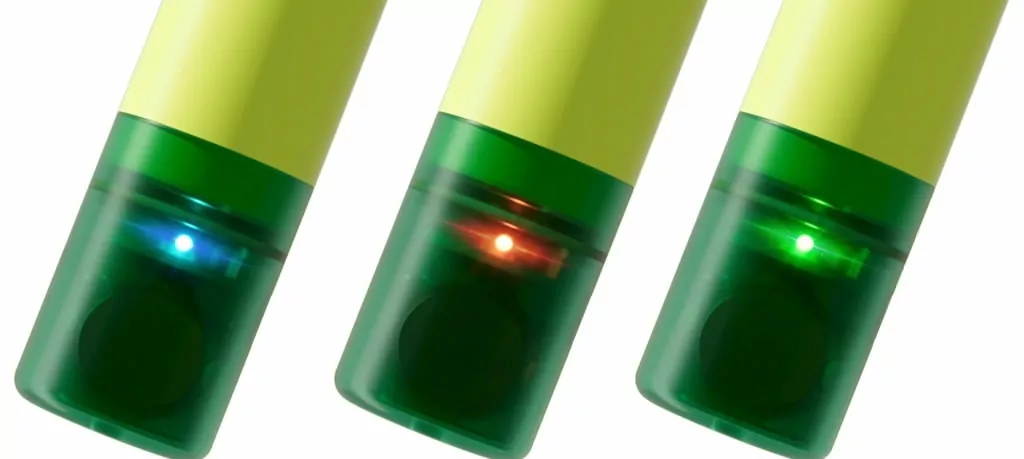 LED Indicator
Greenlight: 70%-100%
Blue light: 29%-69%
Red light: Less than 29%
Sophisticated Design Defies Disposable Norms
Despite its reasonable price tag, the Lowit looks and feels surprisingly refined. Most disposables have cheap, plasticky builds. The Lowit is firmly built.
It features an ergonomic curved shape that fits comfortably in hand during long vaping sessions. Textured grip pads ensure a secure hold, even with sweaty hands.
The rounded edges and sleek surfaces feel smooth and substantial. This is a disposable that looks good on the outside and inside.
Quick pod swaps are enabled by the secure magnetic connection. Just press and pull to switch flavors in seconds, with no leaks or mess.
5 Best ELF BAR Lowit Flavors
Blueberry Ice
Sweet plump blueberries meet icy cool menthol in this crisp, mouthwatering blend. Perfectly balances fruit and chill.
Kiwi Passion Fruit Guava
A sunny tropical medley of sweet kiwi, tangy passionfruit, and zesty guava. Uplifting and complex flavor fusion.
Cherry Grape Lemonade
Puckeringly sour cherry and grape cut by the tart fizz of old-fashioned lemonade. Lip-smacking and nostalgic.
Mixed Berry
A rotating mix of just-picked raspberry, strawberry, blueberry and more. Fruity candy without the sugar crash.
Juicy Peaches
Fuzzy peach flavor so authentic you can almost feel the juice dripping down your chin. Sweet summer nostalgia in a vape.
A Cut Above Other Disposables
While most disposables fizzle out fast, the ELF BAR Lowit 5500 delivers robust flavor and vapor with impressive longevity. Massive capacity, extreme battery life, and mouthwatering flavors make this a new gold standard.
For vapers seeking maximum convenience without compromises, the Lowit exceeds expectations on all fronts. Tasty, portable, and easy to use, it's the last disposable you'll need for worry-free vaping.
https://ecigator.com/wp-content/uploads/2023/08/Elf-Bar-lowit-5500-review.jpg
650
1200
Ecigator
https://ecigator.com/wp-content/uploads/2023/04/ecigator-logo-white.png
Ecigator
2023-08-31 13:20:35
2023-11-12 15:20:19
ELF BAR Lowit 5500 Review: A Top Prefilled Disposable Vape