Does Gas Station Sell Disposable Vapes?
Best Disposables To Buy in Gas Station 2023
Vaping has become increasingly popular in recent years as an alternative to smoking traditional cigarettes. Disposable vapes offer a convenient and affordable way to vape without the hassle of recharging and refilling. This has led many to wonder – can you pick up disposable vapes at your local gas station? In this comprehensive guide, we'll explore if and where gas stations sell disposable vapes.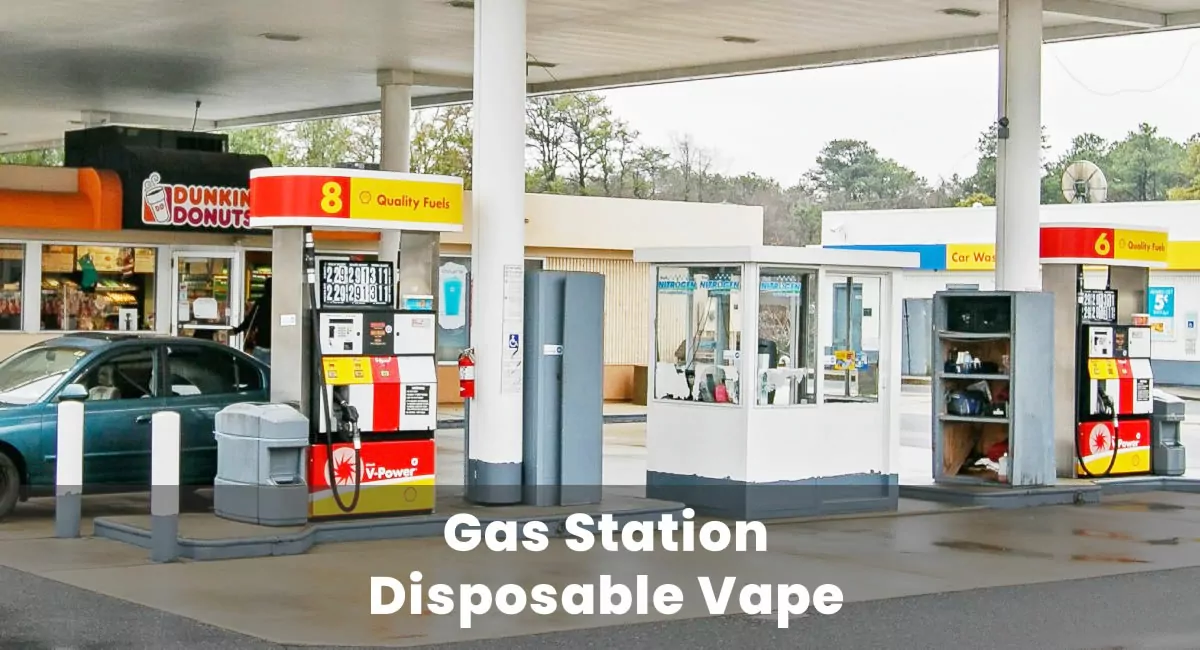 Are Disposable Vapes Sold at Gas Stations?
The short answer is – sometimes. Certain gas station chains and independently owned stations may offer disposable vape products. However, there are no hard and fast rules, as policies can vary greatly by location.
Sale of tobacco and vaping products is regulated differently across states, counties, and cities. Some jurisdictions restrict sales of vaping products including disposables to tobacco specialty stores or vape shops only. However, in places with fewer restrictions, gas stations may decide to stock vapes.
Ultimately, the only way to find out if a specific gas station sells disposable vape pens is to check with the location directly. Don't assume all chains or independently owned gas stations will offer them. Policies can differ even between franchise locations based on local regulations and management discretion.
Factors That Determine If Gas Stations Sell Disposable Vapes
There are a few key factors that shape whether or not disposable vapes will be available for purchase at gas stations. Understanding these factors will shed light on why some gas stations offer them while others do not.
Local Laws and Regulations
One of the biggest determinants is the legal landscape in the state, county, and city where the gas station is located. Jurisdictions have widely varying rules regarding the sale of vaping products. Some prohibit sales outside of age-restricted specialty vape shops. Others allow convenience stores and gas stations to carry them. Stations must comply with all applicable laws first and foremost.
Corporate Policies
Major gas station chains may set their own policies restricting vape sales that franchise locations must adhere to. For example, some brands do not allow any vape product sales even if legally permitted in the region. Corporate policies provide consistency across locations.
Insurance Requirements
Most insurance companies require tobacco and vape sales to be disclosed, with related risk management protocols. Stations looking to reduce insurance expenses may decide to forego selling disposable vapes if there are extra costs or liability concerns.
Target Customer Demographics
Gas station owners consider the demographic profile of their customer base and typical purchases when choosing inventory. If the primary clientele are unlikely purchasers of disposable vapes, the station may opt not to stock them.
Staffing and Age Verification
Properly checking IDs and preventing sales to minors takes diligent staffing. Gas stations without rigorous age verification practices in place may decide not to sell age-restricted vaping products.
Physical Store Size
Adding new product categories takes up precious shelf space in compact gas station stores. Larger convenience marts connected to gas stations have more room to stock wider product selections.
Do National Gas Station Chains Sell Disposable Vapes?
Gas station chains take different approaches when it comes to stocking disposable vaping products:
Shell
Allows franchisees to decide based on preferences and local laws. Vape availability varies by location.
Exxon
Does not permit any vape sales at corporate owned or franchise Exxon gas stations.
Chevron
Leaves the decision to carry disposable vapes up to individual station owners and operators. No uniform policy.
Sunoco
Sunoco corporate states "tobacco products" can be sold where legally permitted. Interpretation of whether this includes vapes is left to franchisees.
Cumberland Farms
Has sold nicotine vaping products since 2019. Disposable vape availability depends on the specific store.
Wawa
As of 2021, Wawa has approved the sale of disposable vaping products including Puff Bar and Posh at their convenience stores in states where permitted by law.
7-Eleven
Over 50% of corporate and franchised 7-Eleven locations sell disposable vapes and vaping supplies where state and local laws allow. Availability continues to expand.
The takeaway is that aside from Exxon's outright ban, most chains let individual locations decide whether to offer disposable vapes to customers. Store policies are heavily influenced by jurisdiction regulations.
Popular Disposable Vape Brands Sold at Gas Stations
While availability differs by store, these disposable vape brands are most commonly spotted at gas stations and convenience chains that opt to sell vaping products:
Puff Bar – Puff Bar disposables have quickly become the market leader with a variety of flavors and sleek appeal.
VUSE – Reynolds American actively distributes VUSE disposable vapes to convenience store chains.
Eonsmoke – A once ubiquitous gas station vape brand that faces regulatory pressure to reduce youth appeal.
Hyppe Max Flow – Parent company RMG promotes wide gas station and convenience store availability for this brand.
Kado Stealth – Large vape clouds and trendy flavors make this brand likely to show up at gas stations selling disposables.
airX Vapor – Markets itself as a gas station-focused disposable vape supplier with in-store displays.
Morinaga – Affordable Japanese disposable brand carried at select US gas stations and smoke shops.
Regional and local vape brands may also appear on shelves. But the most widely distributed names have strong gas station and convenience channel strategies.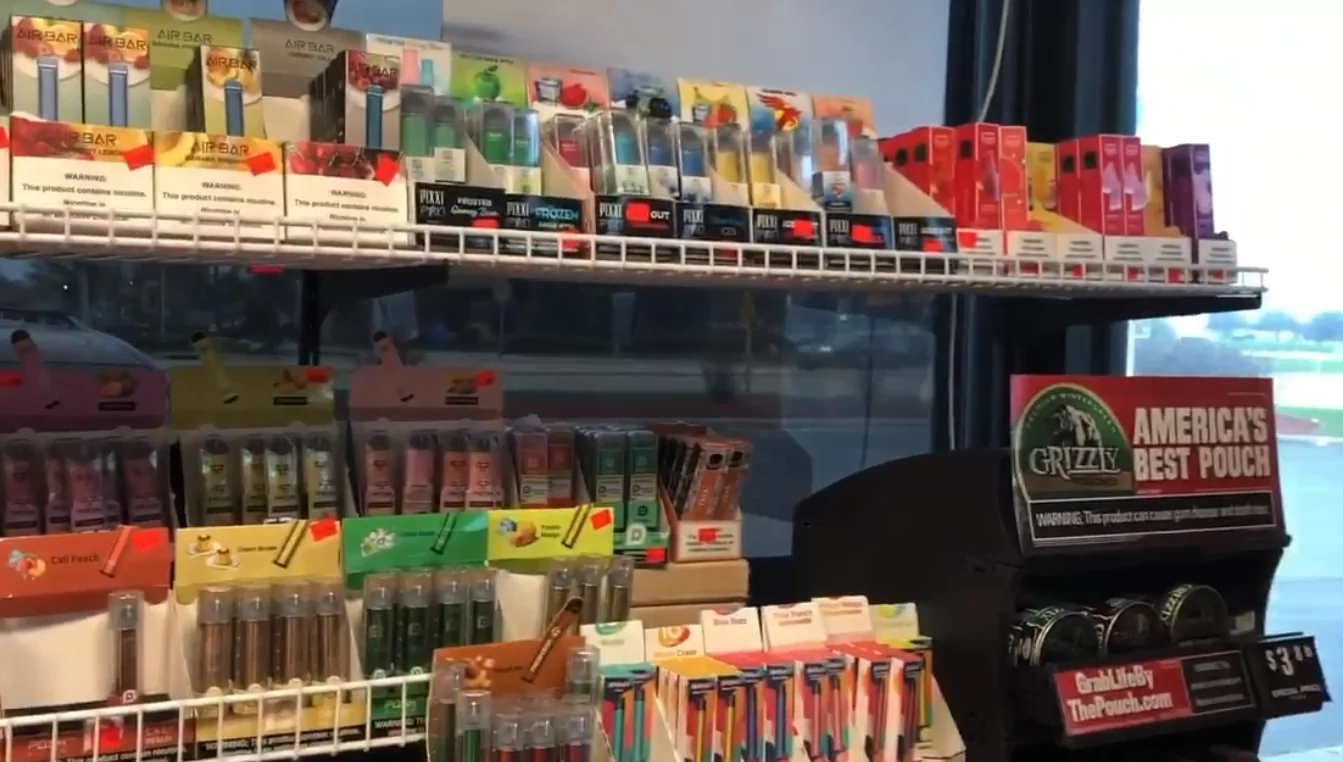 Do Gas Stations Sell JUUL?
JUUL became synonymous with the meteoric rise of e-cigarette use among youth during the 2010s. In October 2019, JUUL announced it would stop selling flavored pods in gas stations and convenience stores. Now JUUL is only available at specialty vape and smoke shops.
Despite being pulled from gas station shelves, here are some key facts about JUUL's policies:
JUUL Labs has not permitted sales of any JUUL products in convenience stores or gas stations since late 2019.
No JUUL flavor pods, including tobacco and menthol, can be sold by gas stations or convenience chains.
Only JUUL's tobacco and menthol flavored nicotine pods can now be sold by authorized JUUL retailers, which excludes gas stations.
Gas stations are restricted to only selling tobacco and menthol JUUL pods in permitted jurisdictions. However, JUUL does not actually allow them to sell any pods.
Individual JUUL devices or starter kits may still be sold at some gas stations, as JUUL's retail policy focuses on restricting flavored pod availability.
Make no mistake – flavored JUUL pods can no longer be purchased at any gas station after the brand's policy changes limiting sales to specialty retailers only. This was an effort to curb underage use by removing fruity and sweet flavors from gas station shelves.
Do Gas Stations Sell Puff Bars?
Puff Bar has become the most popular disposable vape brand with its wide variety of flavors and sleek design. But does this trendy disposable vape brand pop up at gas stations for convenience?
The availability of Puff Bar disposable vapes at gas stations comes down to:
Local Laws – Jurisdictions with more restrictive vape sales regulations are less likely to allow gas station Puff Bar sales.
Corporate Policies – Gas chains like Exxon ban Puff Bar sales, while brands like 7-Eleven allow it when legally permitted.
Store Decisions – Franchise locations weigh factors like customer base, profitability, and staffing when deciding whether to stock Puff Bar disposables.
Youth Access Concerns – Some gas stations avoid selling Puff Bar to reduce youth appeal risks associated with fruity flavors.
Demand – Carrying faster moving everyday items like gas and snacks may take priority over niche disposable vape products.
With Puff Bar's popularity and recent efforts to prevent underage sales, availability at gas stations is increasing where allowed by state and city law. But it's smart to call ahead if Puff Bars are a must-have.
Do Gas Stations Sell VUSE?
VUSE is a popular vape brand acquired by tobacco giant R.J. Reynolds. Originally sold in reusable e-cig formats, VUSE now offers disposable vape options as well. But can you find VUSE disposables at your corner gas station?
Here's a quick rundown of VUSE disposable availability:
Convenience Availability – R.J. Reynolds actively distributes VUSE disposable vapes to convenience chains like Circle K, Kangaroo Express, and Murphy USA where legally allowed.
Expanded Gas Station Access – More gas stations have begun carrying VUSE disposables following R.J. Reynolds' distribution deals with major convenience chains.
Retailer Discretion – Franchised stations and chains ultimately make the decision whether to sell VUSE pens based on preferences, demographics, and compliance.
Limited Flavors – Disposable VUSE sticks only come in Tobacco and Menthol to limit youth appeal unlike Puff Bar's fruitier flavors.
Thanks to R.J. Reynolds' distribution strategy, it's easier to find VUSE disposable vapes at gas stations compared to other brands. But availability still varies store to store.
Can You Find Disposable Vapes at Gas Stations Near You?
We've covered the main factors that determine whether gas stations are likely to carry disposable vapes. The only way to know for sure if a specific location sells them is to check directly or visit the store. Here are some tips:
Search by Location – Look up "gas stations that sell vapes near me" to find crowd-sourced results showing potential stores.
Call Ahead – Save a stop and call gas stations in your area to ask if they carry any disposable vape products.
Check Tobacco Stores – Even when gas stations don't sell them, attached tobacco stores typically offer disposables.
Search Product Locators – Brands like Puff Bar let you search for online sellers and stores that carry Puff Bar disposables.
Visit Tobacco Specialists – Stand-alone smoke/vape shops have the highest likelihood of stocking trendy disposable vape options.
Using this free Vape locator tool to help you to find Gas Stations selling vape pens near me(my location).
With the right gas station, disposable vapes can be an impulse add-on during a routine fill up. But a little research to confirm availability in your area is advised before making the trip.
Why Don't More Gas Stations Sell Disposable Vapes?
There are some valid reasons why many gas station owners opt not to carry disposable vape products, even when legally allowed to:
Preventing Underage Sales – Gas stations must have rigorous proofing policies and well-trained staff to ensure minors cannot purchase age-restricted vaping products. This represents a liability risk.
Limited Income from Vape Sales – For gas stations, cigarette and tobacco sales are a profit driver. Disposable vapes have thinner margins and make up a tiny share of sales for most stores.
Negative Perceptions – Some community members have negative views of vaping and gas stations may avoid carrying vapes to maintain a family friendly image.
Insurance and Licensing Costs – Selling tobacco comes with expenses like extra insurance premium charges. Vape sales may require specialty licensing. These costs can reduce profitability.
Corporate Policies – As noted, brands like Exxon prohibit vape sales at all locations to avoid risks and complexities. Franchises must follow their corporate policies.
Shelf Space Limitations – Gas stations have limited room to stock a wide range of products. Vape pens may lose out to faster selling items like snacks and drinks.
Weighing low financial upside against regulatory and community relations risks, many gas stations play it safe and don't sell disposables. Those that do have made a conscious choice and implemented responsible sales practices.
Common Places to Buy Disposable Vapes
While gas stations are hit or miss for disposable vape availability, there are a few other convenient places you can reliably purchase them:
Tobacco Stores and Smoke Shops – Specialty tobacco shops aimed at adult smokers typically carry a wide selection of disposable vape brands and nicotine strengths. This channel focuses on providing vaping products versus gas stations that offer them secondarily.
Vape Shops – Stores specializing in vape supplies almost always stock disposable vape pens. They offer the best variety and product knowledge. Many provide beginner guidance on vaping.
Convenience Stores – Stand-alone convenience stores, like 7-Eleven or Wawa, may offer disposable vapes depending on local regulations. As with gas stations, availability varies by location.
Online Vape Retailers – Ordering disposable vape pens from an online store ships to your doorstep. Though you must wait for delivery, there is ample selection and price competition.
The bottom line is if your regular gas station doesn't sell disposable vapes, visit a trusted specialty retailer equipped to responsibly meet your vaping needs.
Key Takeaways: Do Gas Stations Sell Disposable Vapes?
Availability of disposable vapes at gas stations varies greatly by location based on jurisdiction regulations, store policies, demographics, and space constraints.
Major gas station chains like Exxon prohibit disposable vape sales, while brands like 7-Eleven permit it where allowed locally.
Specialty vape shops and tobacco stores represent the most reliable retail channels for purchasing disposable vape pens.
Popular brands like JUUL and Puff Bar are carried selectively at gas stations following efforts to reduce youth appeal. Always call ahead to confirm.
With the right protocols for checking IDs and preventing underage sales, offering disposables can work for some gas stations catering to adult smokers.
Ultimately, the best advice is to contact your local gas stations directly to ask whether disposable vapes are sold before making a dedicated trip. And always have a legal photo ID ready for purchase.