Elux Legend Mini II Review – Flavors, Battery
&

Performance
The Elux Legend Mini II is one of the latest compact disposable offerings from rapidly growing vape manufacturer Elux. This detailed review explores everything this petite yet powerful device has to offer.
Getting to Know the Impressively Spec'd Legend Mini II
Despite measuring just 103mm tall and 15mm wide, the Legend Mini II boasts impressive capabilities:
550mAh Battery – Provides good vaping time given the small size
2mL E-Liquid – Enough juice for average vaping needs
20mg Nicotine Salts – Ideal moderate level for new vapers
~600 Puff Lifespan – Excellent for a mini vape
1.2ohm Mesh Coil – Optimized for robust flavor
50/50 PG/VG – Balances throat hit and vapor
Draw-Activation – Easy automatic operation
For a tiny disposable, the Legend Mini II combines decent battery life and juice capacity with a nicotine level tailored for beginners. And the advanced coil aims to produce epic flavor.
The intuitive draw-activation enables satisfying plug-and-play use – simply inhale to vape. No fiddling with buttons needed. But does it deliver the promised legendary experience?
Testing the Top Legend Mini II Flavors
Elux offers the Legend Mini II in a massive selection of fruit, dessert, candy, drink, menthol and tobacco flavors – allowing unlimited flavor adventures.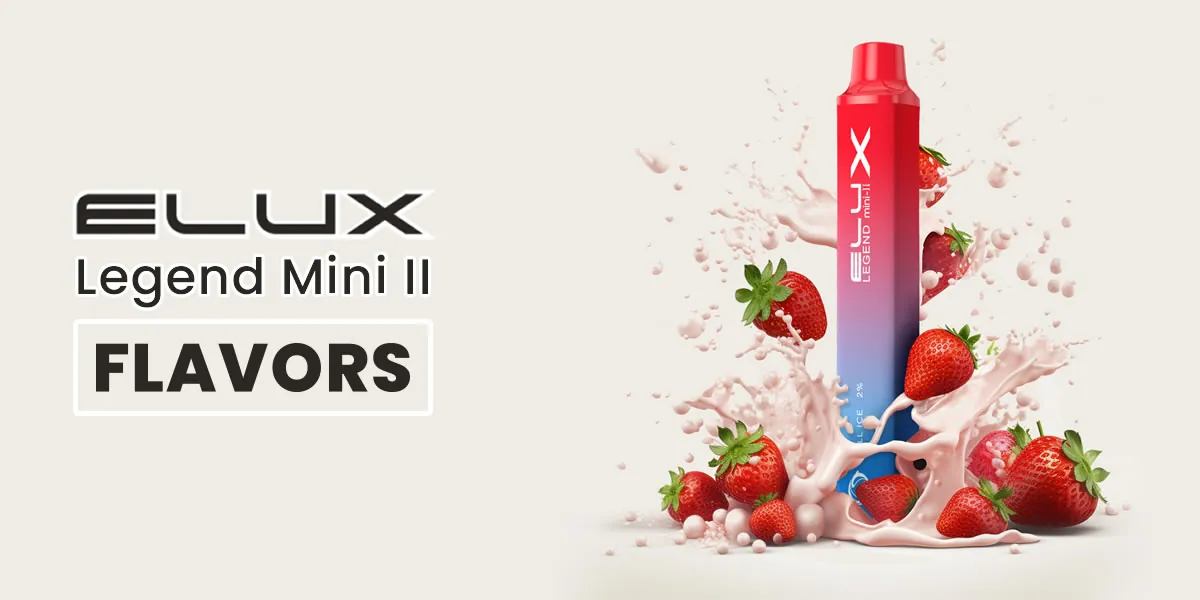 For an unbiased analysis, the flavors were tested blind:
Apple Peach Pear
This unique flavor blend evokes sweet fruit with intriguing hints of rum. Crisp green apple leads the inhale with tartness. Ripening pear supplies additional fruitiness, while peach remains subtle.
There's a distinctive boozy nuance, like biting into rum-macerated fruits. It avoids synthetic or candy-like flavors. The fruit trio of apple, peach, and pear mingle nicely with traces of barrel aging.
Cooling on the finish cleanses the palate after the fruity rum notes. Well-balanced rather than sickly sweet. An unexpected flavor profile combining orchard fruits and libations.
Cotton Candy
A sweet strawberry candy floss flavor chilled by icy menthol. Inhales offer clouds of sugary strawberry softness, like strolling through a carnival. The authentic candy flavoring tastes freshly spun.
The prominent chilling effect enhances the frosty confection experience. It satisfies cravings for chilly strawberry desserts in vapor form. Sweetness levels are restrained enough to prevent swift vaper's fatigue.
Fans of strawberry candy and icy treats will find this flavor profile delightful. It beautifully balances candy flavoring and icy freshness for mouthwatering results.
Peach Mango
A luscious blend of juicy peaches and sweet mangoes. Ripe peach flavor leads, avoiding harsh synthetic notes. Creamy mango provides tropical fruit richness. The fruits mingle beautifully with authentic profiles.
A touch too much icy menthol detracts somewhat from the sumptuous fruity notes. Slightly lower sweetness would also refine this flavor further. But the base peach and mango essences remain delightful.
Vapers seeking a natural fruit fusion will enjoy this flavor. The prominent fruits deliver a pleasant vaping experience once you acclimate to the chill and sweetener. A very tasty peach mango foundation.
Strawberry Energy
An unexpected melding of strawberry and Vimto cordial. Sweet strawberries start off before Vimto's mix of fruits transform the profile. Hints of berry, grape, and citrus – chiefly orange – fuse to evoke Vimto flavor.
The strawberry is prominent on the inhale then gives way to Vimto. Despite the odd coupling, the fruits blend together surprisingly well. Sweetener levels are higher but suit the syrupy cordial notes.
Vapers looking for an unusual fruity experience will appreciate the Strawberry Energy flavor. It transitions from strawberry to Vimto for an engaging journey. Unique and moreish.
Strawberry Ice Cream
A delightful strawberry ice cream evoking flavor chilled by frosty menthol. Sweet strawberries offer a velvety texture while vanilla provides a rich finish. Authentic creamy dessert notes shine through.
The icy chill invigorates the luscious strawberry cream. A refreshing wave after inhaling the sweet richness. Well-balanced sweetness makes this profile pleasantly indulgent without becoming cloying.
Vapers craving a cold strawberry milkshake or ice cream will find their fix here. It nails that icy velvety texture and flavor beautifully. A moreish chilly strawberry treat.
Vimto
An intense barrage of sugary mixed fruit flavor with overwhelming icy menthol. Sweet and sour fruits hit instantly – chiefly berries, grape, and orange. The sheer fruit intensity is almost medicinal.
The copious menthol badly overpowers the profile. It numbs the palate and lingers far too long after exhaling. The fruits struggle to break through the chilling assault.
Extreme vapers seeking intensely bold fruity flavor and heavy iciness may enjoy this. More balanced vapers should avoid the excessive traits however. The fruits have potential but get buried.
The proprietary recipes undoubtedly live up to the Legend name, bursting with layered, moreish flavor. The expert mixing allows each component to shine without artificial quality. These are vibrant, satisfying all day vapes.
Reviewing Battery Life and Puff Count
Battery life is decent but fell slightly short of the 600 puff estimate. During testing, the LED blinked after just over 400 puffs with frequent use. More moderate vaping should reliably achieve the full 600 rating.
Impressively, the flavor and vapor consistency remained excellent right up until the battery died. No degradation at all from first puff to last.
For the petite size, the 550mAh battery still performs admirably, providing a full day of steady use per charge. But increased longevity is always appreciated.
Evaluating the Mini Vape's Size, Look and Feel
As expected based on the name, the Legend Mini II boasts an incredibly compact size. It measures just 103mm tall and 15mm in diameter – exceptionally portable and pocket-friendly.
The simple design features a clear plastic shell allowing e-liquid color to show through. Beyond an LED indicator, no other embellishments adorn the clean, non-distracting look.
In hand, it feels well-constructed and sturdy despite the tiny proportions. The ergonomic shape enables comfortable extended vaping sessions.
For ultimate portability and discretion, the Legend Mini II's miniature yet rugged build is unmatched. The discreet aesthetics suit any setting or circumstances seamlessly.
Final Verdict on the Mighty Mini Device
In closing, don't underestimate the Elux Legend Mini II based on its pint-sized proportions alone. This tiny disposable overdelivers on smooth automatic performance and fantastical flavors worthy of its prestigious name.
The proprietary recipes result in nuanced, layered profiles that enchant the senses. And the overall construction far surpasses expectations given the petite frame.
While battery life could be incrementally improved, longevity remains respectable for the size. And flavor/vapor stay admirably consistent over hundreds of puffs.
For those seeking epic flavor and no-fuss function in a supremely portable form, the Legend Mini II warrants consideration. Elux has proven themselves among the elite disposable vape manufacturers.
By packing so much into such a small yet mighty device, the Legend Mini II shows that big things really do come in small packages.