Geek Bar B5000 Disposable Vape Review – 30 Unique Flavor Options

Geekvape is renowned for engineering top-tier vaping devices under its flagship brand. Now with Geek Bar, they craft some of the highest performing disposable vapes available.
The Geek Bar B5000 stands out in the crowded disposable market with an astounding 30 flavor varieties paired with incredibly smooth performance.
As experienced vaping reviewers, we extensively tested the B5000 over multiple weeks. In this authoritative review, we'll provide our honest hands-on perspective on the features, flavor options, battery life, performance, and overall vaping experience with the Geek Bar B5000.
Overview of the Geek Bar B5000 Disposable Vape
The Geek Bar B5000 disposable vape offers:
30 unique flavor options – the most variety available
Large 14mL e-liquid capacity for extended use
Rechargeable 500mAh battery
Around 5,000 puff lifespan
Loose MTL draw
Easy automatic draw activation
50mg (5%) nicotine strength
Durable metal and plastic construction
With 30 flavors to discover, the B5000 provides unmatched variety in a disposable device. Let's dive into the details.
Design and Build Quality
True to Geekvape's reputation for quality engineering, the B5000 features a streamlined, user-friendly design. It takes on a sleek, boxy shape much like the oval Geek Bar X6000.
The lightweight metal body has a matte finish that feels smooth and comfortable to hold. An ombre effect fades the color from light at the top to dark at the base for a stylish look. Discreet Geek Bar logos adorn the sides.
The mouthpiece uses the same plastic as the snap-on cartridge for comfort. And the magnetic cartridge connection makes filling the 14mL e-liquid seamless without leaks or messes.
Overall, the B5000 feels sturdily built to withstand real-world use and drops. The design showcases Geekvape's engineering prowess.
Extensive 30 Flavor Selection
Easily the B5000's biggest highlight is offering 30 flavor varieties – the most of any disposable vape by far. Having so many options lets vapers experience a wide range of flavor profiles.
Fruit Blends – Grape Ice, Watermelon Bubblegum, Mixed Berry, Kiwi Strawberry
Beverages – Pink Lemonade, Green Tea Mango
Mints & Menthols – Crisp Peppermint, Frosty Spearmint
Candy & Desserts – Sweet Strawberry Cheesecake, Sour Green Apple
Tropical Fruits – Guava Ice, Dragon Fruit, Passionfruit Punch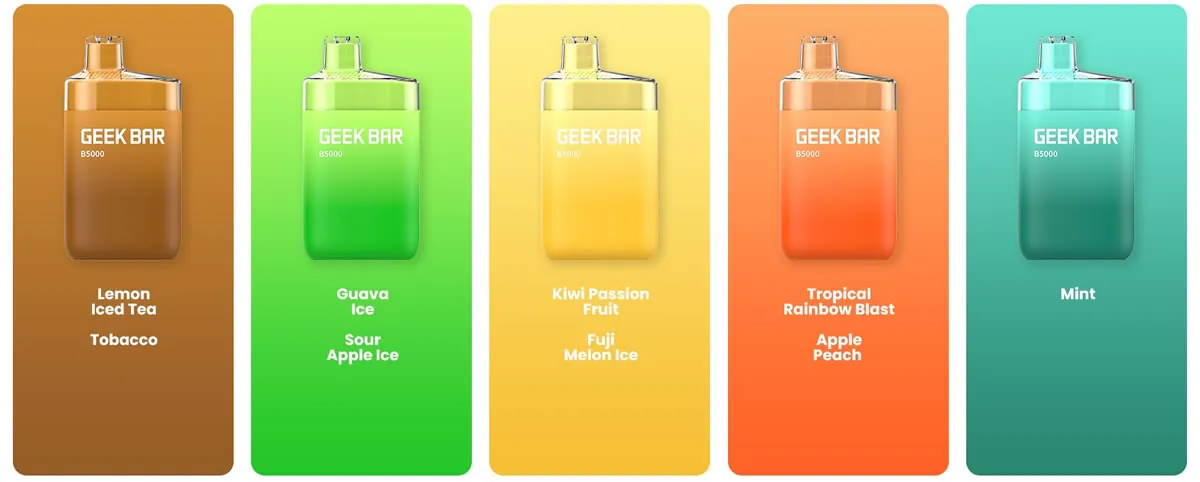 Top 5 GeekBar B5000 Flavors Reviewed
As experienced vape reviewers who have personally tried the full lineup, we want to highlight the 5 standout flavors that really impressed us.
1. Lemon Iced Tea
This uniquely refreshing iced tea and lemon combo emerged as one of our top flavors. The inhale delivers a bold, authentic iced tea flavor, followed by the sweet taste of fresh lemons on the exhale that lingers pleasantly on the palate. It's an incredibly accurate flavor replication that's perfect for iced tea lovers. The balance of tart and sweet provides all day vaping enjoyment.
2. Grape Ice
While more of a sweet candy grape than natural grape, this flavor accurately captures the chilled grape profile it aims for. The cooling effect comes through but isn't overpowering or numbing. An excellent choice if you enjoy candied grape flavors with a touch of icy exhilaration.
3. Watermelon Bubble Gum
Admittedly, we didn't really taste the watermelon in this one. But it completely nails the flavor of classic bubble gum. Reminiscent of Dubble Bubble or Bazooka gum, it replicates that nostalgic sweet, sticky chewing gum taste. So despite the misleading name, it's still a tasty candy-inspired option.
4. Kiwi Passionfruit
This flavor blends the tart tropical taste of kiwis with the sweetness of ripe passionfruit. You get an authentic progression of kiwi pop on the inhale followed by passionfruit's exotic nectar on the exhale. Easily one of the most accurate fruit flavor reproductions in the lineup.
5. Peppermint
This brisk peppermint flavor beautifully captures a pure, natural, minty flavor. Menthol fans who enjoy robust mint will love its accuracy. It provides a cooling sensation perfect for a refreshing vape.
Discover Your New All Day Vape
With 30 flavors available, the Geek Bar B5000 lineup offers unmatched variety so you can find your perfect all day vape. Use our list of the top 5 standouts as a starting point to discover new favorite disposable vape tastes.
Our Review of the Vaping Experience
In thorough hands-on testing, the Geek Bar B5000 delivered incredibly smooth, satisfying vaping performance.
The automatic draw activation makes it wonderfully simple to use – just inhale to produce thick, flavorful vapor. Nicotine satisfaction stays consistent thanks to the fast-acting 5% nic salts formula.
Vapor production remains robust through the entire 5000 puff lifespan. Accurately captured flavors like Cool Mint and Mixed Berry kept us coming back.
The loose MTL draw provides a cooler, more mellow vapor compared to the very warm dense hits of disposables like the Geek Bar X6000. But flavor intensity remains top notch.
Overall, the B5000 creates exceptional flavor and vapor production rivaling the best disposable e-cigs. Geekvape's engineering expertise clearly translates to a fantastic user experience.
Battery Life and Charging
The built-in 500mAh battery reliably provides 100-150 puffs per full charge. While not a multi-day battery like the marathon Geek Bar X6000, it still delivers lengthy vaping between charges.
The convenient USB-C charging port allows quickly topping up the battery when needed. We found the 500mAh capacity lasts long enough to finish the full 14mL of e-juice before the battery expires.
Geek Bar B5000 Review
The Pros
30 amazing flavor choices – the most available
Huge 14mL e-juice capacity
Rechargeable 500mAh battery
Accurately captured flavors like Cool Mint
Draw-activated one button operation
Smooth consistent performance
Cooler vapor with pleasant loose MTL draw
Durable, pocket-friendly design
Leak-free magnetic refill pods
Potential Cons
Battery life shorter than the X6000
Soft touch finish attracts fingerprints
Bright colors won't appeal to all
Lacks variable power or airflow adjustment
---
Our Verdict: A Can't-Miss Disposable Vape
The Geek Bar B5000 raises the bar for disposable vaping with robust performance packed with incredibly diverse flavor options. With 30 choices, it provides unmatched variety in one device.
From fruity menthols, to creamy desserts, sodas, candies, tobaccos and exotic fruits – the B5000 has a flavor fit for every vaper. Topped off with the easiest draw-activated usage and consistently smooth vapor production.
If you want to experience the widest selection of flavors in one disposable vape, look no further than the Geek Bar B5000. The monumental flavor choices and satisfaction guaranteed performance cement its status among the best disposables available today.
https://ecigator.com/wp-content/uploads/2023/10/1697450673-Geek-Bar-B5000-Disposable-Vape-Review.jpg
650
1200
Ecigator
https://ecigator.com/wp-content/uploads/2023/04/ecigator-logo-white.png
Ecigator
2023-10-16 10:10:57
2023-10-16 23:40:10
Geek Bar B5000 Disposable Vape Review – 30 Unique Flavor Options