Geek Bar E600 Disposable Vape Review: Flavor & Performance

Disposable vapes like the Geek Bar E600 offer convenience and affordability in a slim, portable package. But does it deliver satisfying performance beyond the low price point? Our hands-on review explores the flavors, vapor quality, battery life, engineering and overall value.
A Discreet and Travel-Friendly Design
Shaped like a classic vape pen, the slim, lightweight E600 slides discreetly into pockets or bags for portable vaping on the go. Its 400mAh battery sufficiently powers the device between USB-C recharges.
The 2mL pods come prefilled with 20mg nicotine salts to replicate a satisfying throat hit. Geek Bar formulated 20 options spanning juicy fruits, sweet desserts, refreshing mints and more to suit diverse preferences.
Sleek colorways that match each flavor profile add subtle visual flair. But the E600's design prioritizes compact ergonomics over flashy aesthetics. For vapers seeking a portable budget-friendly disposable, it delivers on convenience.
Top Geek Bar E600 Flavors Reviewed
The Geek Bar E600 offers an array of delicious flavor options to appeal to all vapers. From crisp fruits to creamy desserts and refreshing menthols, this disposable vape delivers intense and accurate flavors.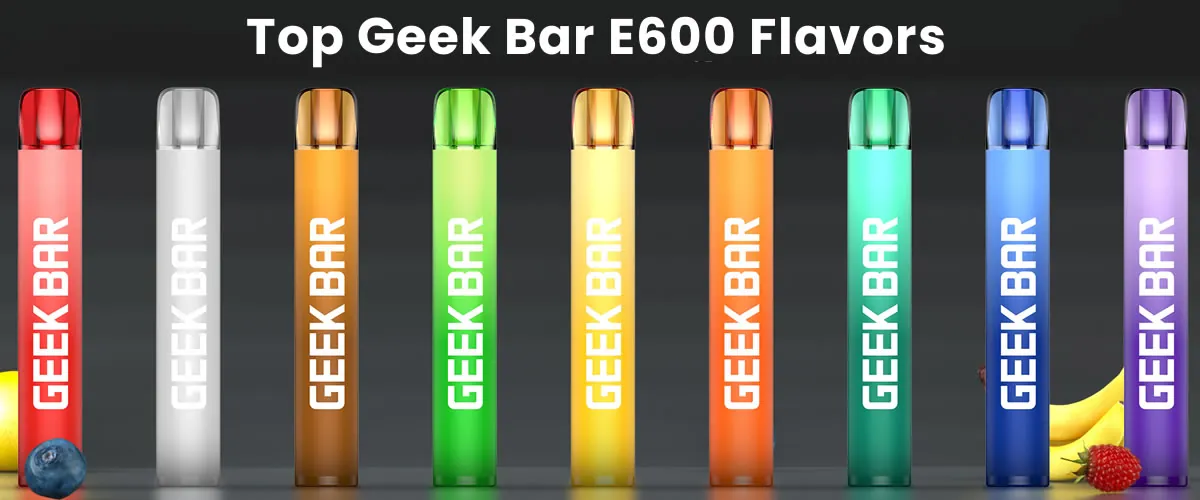 Apple Peach – A delightful blend of juicy apples and sweet peaches. The inhale brings notes of fresh picked apples with a subtle tartness. As you exhale, the peach flavor comes through, adding perfect fruit sweetness. Well-balanced to create an authentic orchard flavor.
Apple Peach Pear – A fruit medley of apple, peach, and pear flavors. The crisp sweet apple dominates the inhale. The peach adds greater depth on the exhale along with gentle pear undertones. Captures the essence of all three fruits in harmonious balance.
Grape – Indulge in the sweet succulence of concord grapes fresh off the vine. Each puff delivers authentic grape juice flavor with notes of honeyed grapes and slight tartness. Reminiscent of sipping Welch's grape soda. A nostalgic blast from the past.
Pink Lemonade – A refreshing pink lemonade flavor with balance of sweet and tart. The inhale pops with zesty lemon citrus flavor. On the exhale, subtle sugary sweetness comes through. Accurately replicates the taste of classic homemade pink lemonade.
Strawberry Kiwi – A tasty pairing of ripe strawberries and tangy kiwi. The inhale leads with juicy sweet strawberry essence. As you exhale, the kiwi's zesty tropical flavor comes through. A fruity flavor fusion that captures the vibe of spring and summer.
White Peach Razz – A unique blend of juicy white peaches and tart raspberries. The white peach flavor dominates with pleasant sweetness and a hint of floral tones. Exhaling brings a burst of raspberry to balance out the sweetness. A delightful fruit cocktail.
Geek Bar utilizes cutting-edge flavor formulation technology to craft juices that pop with flavor accuracy. Their expert flavorists extract the essential elements of real-world foods to replicate them precisely.
With the Geek Bar E600 disposable vape, you can explore and discover new flavor favorites tailor-made to satisfy your preferences. The broad range ensures an option for every palate.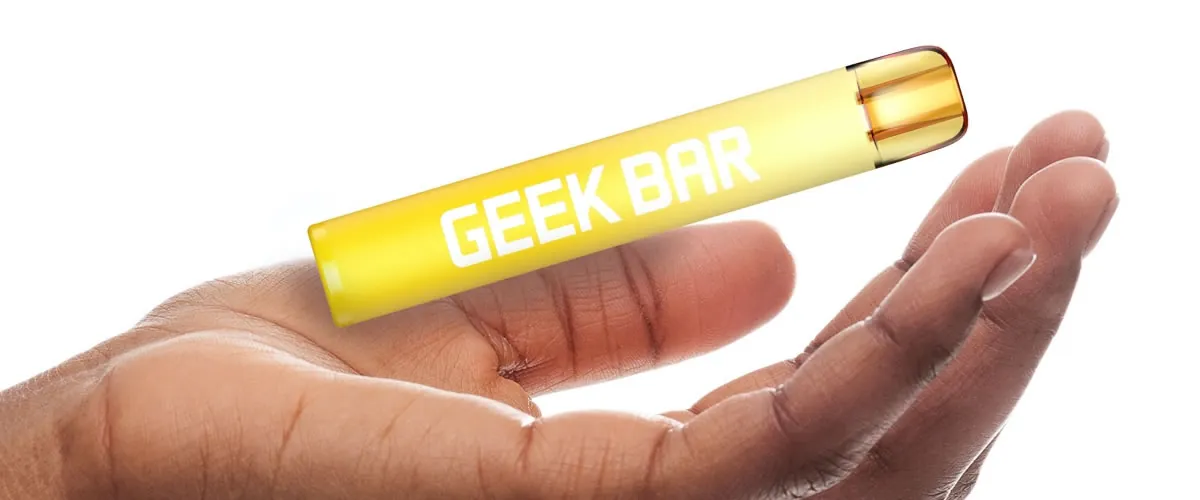 Smooth Performance Exceeding Expectations
For a compact disposable device, performance proves impressively consistent. Vapor pours out instantly when inhaling with ample density to satisfy cravings. The flavors maintain accuracy and depth from first puff to last.
The tight MTL draw caters to ex-smokers. Nicotine salts produce a smooth yet sufficiently strong throat hit. During testing, I consistently achieved the 600 puff rating before noticeable battery depletion or flavor loss.
Considering the affordable price point, Geek Bar optimized the E600's power output and longevity beyond expected benchmarks. It rivals the performance of some pod systems costing twice as much.
Intuitive Design Enhancements
While the E600's visual footprint appears basic, clever engineering enhancements emerge:
Slim mouthpiece prevents leakage for mess-free portability
Colorways matching flavors enable intuitive selection
Textured matte finish ensures a secure grip
Recessed USB-C port prevents gunk buildup
For a disposable vape, Geek Bar went above and beyond to refine the user experience through thoughtful design choices.
Final Verdict
The Geek Bar E600 exceeds expectations for a sub-$10 disposable vape. Convenience, flavor authenticity and consistent performance all impress at this price point. Smooth vapor, accurate flavors, and clever engineering make it a budget vape that punches above its weight.
For beginners and veterans alike seeking affordable convenience for travels, the E600 is hard to beat. Some fine-tuning could enhance the throat hit and battery life, but those are minor gripes. Overall, a satisfying and travel-friendly disposable vape at a bargain price.
https://ecigator.com/wp-content/uploads/2023/10/1698004887-Geek-Bar-E600-Disposable-Vape-Review.jpg
680
1200
Ecigator
https://ecigator.com/wp-content/uploads/2023/04/ecigator-logo-white.png
Ecigator
2023-10-25 19:38:30
2023-10-22 20:14:56
Geek Bar E600 Disposable Vape Review: Flavor & Performance