The Top 10 Watermelon Disposable Vape for 2023

As experienced vape enthusiasts and longtime retailers, we know a good watermelon vape when we see one. Using sales data, customer feedback, and hands-on testing, our team formulated definitive rankings of the 10 top watermelon disposable vape options available in 2022. Let's dive into the crème de la crème for juicy fruity flavor.
#1 Elf Bar 600 Watermelon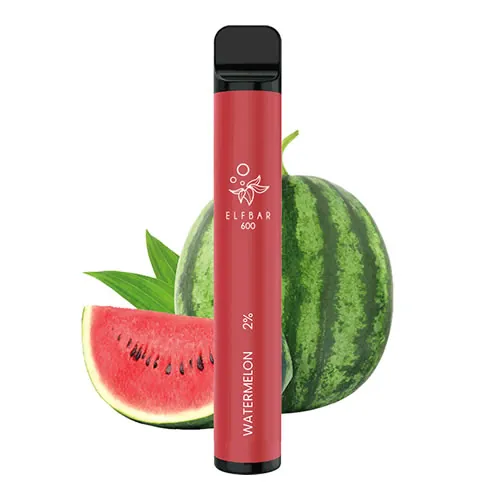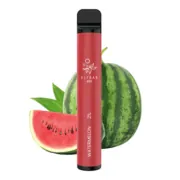 Elf Bar dominates watermelon disposable vape sales, and for good reason. Their classic Watermelon flavor encapsulates everything vapers crave. Cracking open a fresh watermelon on a hot summer day inspired this deliciously authentic eliquid.
Crisp, ripe melon essence pours through on the inhale, before lightly sweet undertones emerge. Hints of chilling menthol on the exhale keep the palate refreshed. Each puff transports you to a sunny orchard, juice dripping down your chin after a big juicy bite.
Beyond nailing the flavor, Elf Bar's manufacturing quality ensures long-lasting performance. Their smooth draw activation and sturdy hardware deliver flawless reliability from first puff to last. For an impeccable watermelon experience in a compact yet powerful device, Elf Bar Watermelon is hard to top.
---
#2 Lost Mary BM600 Watermelon Ice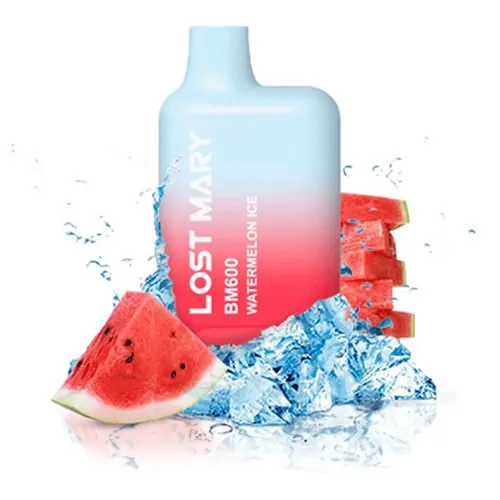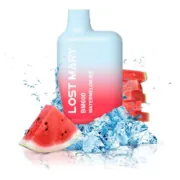 While many brands opt for straight watermelon flavor, Lost Mary sets their disposable apart with a delicious icy twist. Their Watermelon Ice eliquid balances sweet ripe melon essence with brisk chilling menthol. This adds an exhilarating contrast between hot and cold.
The initial juicy watermelon rush gets cooled off by frosty winterfresh undertones. It's an ingenious way to keep the flavor exciting. This refreshing dynamic earned Lost Mary's Watermelon Ice a stellar reputation. Vapers call it the perfect summer-to-winter crossover flavor.
Beyond the sensation, Lost Mary delivers satisfying performance in an elegantly discreet, portable chassis. For lightly frosted watermelon happiness, this disposable hits the mark.
---
#3 SKE Crystal Bar Watermelon Ice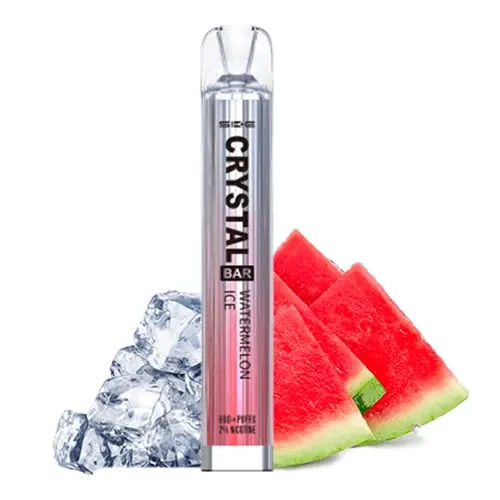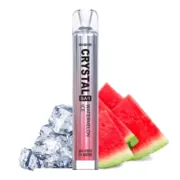 Another ingenious frozen fruit take, SKE Crystal Bar's Watermelon Ice disposable invites you to relax poolside, chilling with ice watermelon slices on a hot day. Refreshingly cool undertones accentuate the ripe, juicy watermelon essence.
The initial sweetness gives way to an exhilarating icy finish, mimicking the experience of biting into chilled fruit. Few disposables balance cooling enhancement with flavor as adeptly as SKE. Vapers rave about the authenticity and satisfaction.
For a straightforward yet delightful frozen watermelon experience in a beautifully crafted pen-style vape, SKE Crystal Bar is a winner. The compatibility of sweet watermelon and icy menthol make this a crowd favorite.
---
#4 Elf Bar 600 Watermelon Bubble Gum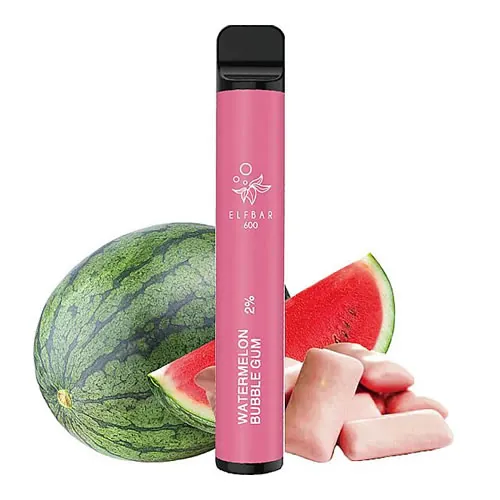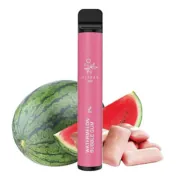 Elf Bar struck gold again, this time combining refreshing watermelon with sweet nostalgic bubble gum. The sugary candy flavor perfectly complements the ripe melon essence for a unique blend. Just like blowing bubbles on a summer day as a kid, it whisks you back to carefree innocence.
Each puff opens with juicy watermelon before the scent of bubble gum envelops your senses. Hints of cooling on the back end cleanse the palate after the sugary one-two punch. It toes the line between flavors masterfully.
For vapers seeking a fruit fusion beyond basic watermelon, Elf Bar's Bubble Gum hits the spot. Top-notch manufacturing ensures the pens live up to the delightful flavor. This playful option earned its place among the watermelon elite.
---
#5 Elux Legend Mini 2 Strawberry Watermelon Bubblegum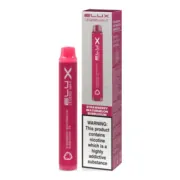 Elux crafted a watermelon lover's dream with their Strawberry Watermelon Bubblegum. Ripe juicy strawberry couples with watermelon sweetness before cotton candy bubblegum transports you back to summer's nostalgia. It covers all the fruity candy bases without overdoing sweetness.
The strawberry and watermelon interplay keeps the palate vibrant before the sugary bubblegum rounds it out. Lightly icy undertones prevent it from becoming overwhelming. Each puff unfolds a new dimension of the flavor profile.
For vapers seeking maximum fruit candy satisfaction, this all-star flavor fusion aims to please. Elux nailed the recipe and performance for a delightful sensory experience. Sweet summer bliss in every puff.
---
#6 Lost Mary BM600 Watermelon Lemon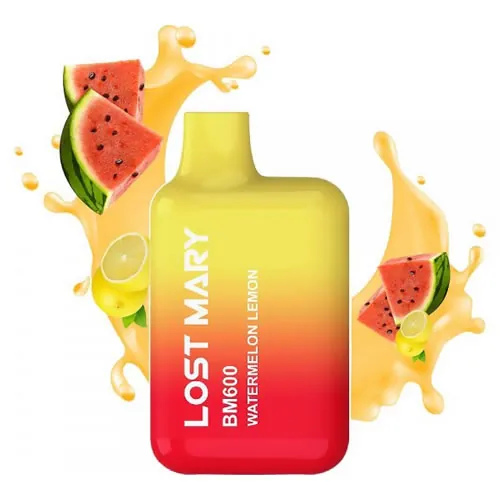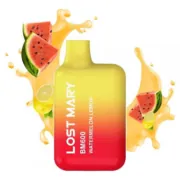 Lost Mary makes the list again with a phenomenal beverage-inspired flavor – Watermelon Lemon. Sweet watermelon juice provides the base before a burst of zesty lemon brightens up the palate. Icy cooling ties it all together into a mouthwatering fruity mocktail.
This invigorating yet comforting blend earned rave reviews. Vapers say it's like sipping a chilled watermelon lemonade on a hot beach. The flavors intermingle beautifully for juicy sweetness punctuated by tart lemon zing. A perfectly harmonious medley.
From start to icy finish, Lost Mary nailed the flavor profile on this thirst-quenching disposable. For vapers craving refreshment, Watermelon Lemon is magic in every puff.
---
#7 Elf Bar 600 Watermelon Pomegranate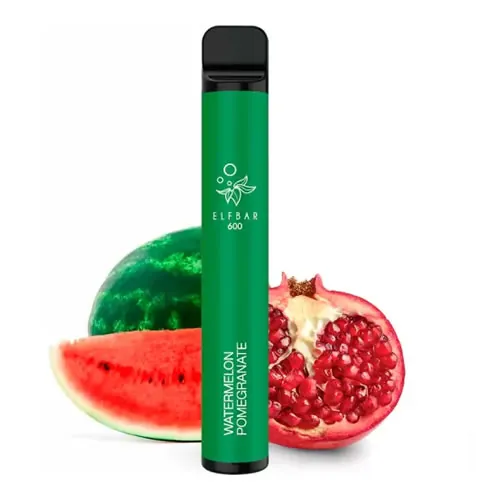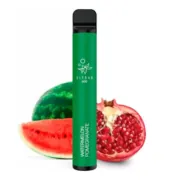 Not content with just straight watermelon, Elf Bar dreamed up another hit blend – Watermelon Pomegranate. Sweet ripe melon couples with subtly tart and rich pomegranate flavor for a fruit fusion that keeps tastebuds guessing. The flavors dance an invigorating tango before icy menthol cools off the palate.
Vapers say Watermelon Pomegranate takes them right to an exotic fruit bazaar, inhaling the scent of juicy melon and pomegranate. Well-balanced and nuanced, both fruits get room to shine before brisk menthol freshens up the experience.
For an unusual yet comforting fruit flavor journey, Elf Bar's creative Watermelon Pomegranate creation delivers. Their ability to craft multiple top-tier watermelon eliquids proves their flavor prowess.
---
#8 Elux Legend Mini 2 Watermelon Ice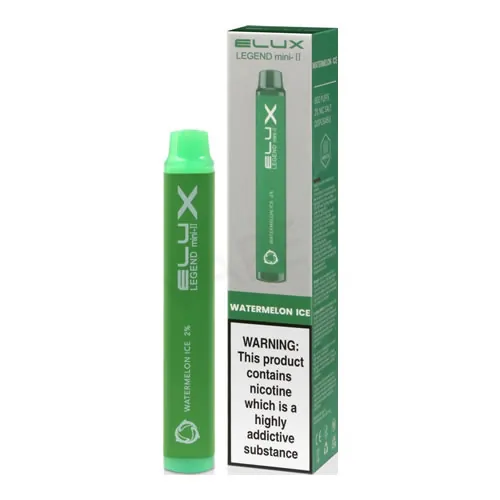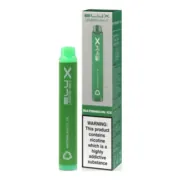 Some vapers crave an unfussy, unfiltered watermelon experience – and Elux Legend Mini 2 Watermelon Ice quenches that thirst. By focusing solely on authentic watermelon flavor boosted by icy menthol, it spotlights simplicity done excellently.
Crisp, ripe melon provides familiar sweetness before the chill takes over. The menthol accentuates the juice essence beautifully. Vapers tired of convoluted flavors flock to Watermelon Ice for its purity and satisfaction.
For straight-up refreshment in a fuss-free disposable, Elux makes watermelon magic. Crisp fruit flavor with an exhilarating chill captures everything about summer in a device.
---
#9 Gold Bar 600 Hawaiian Sunrise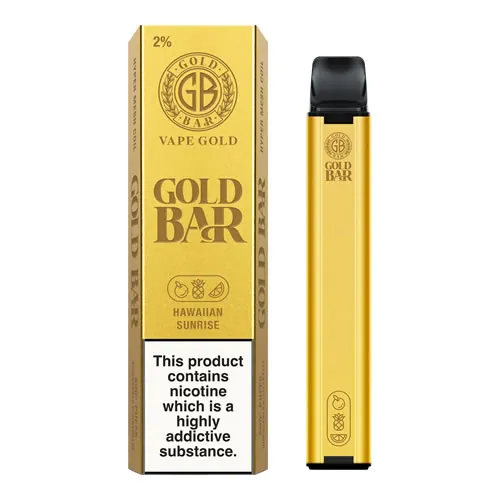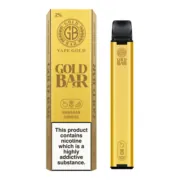 Why just settle for watermelon when Gold Bar can whisk you away to a Hawaiian oasis? Their Hawaiian Sunrise disposable captures island flavor bliss by fusing watermelon with sweet peach nectar and tropical pineapple.
The melon forms a juicy base while pineapple brings a tangy zing. Peach nectar ties it all together into a flavor profile reminiscent of lounging beachside in paradise. Light touches of menthol provide a cool breeze to complete the getaway.
For vapers seeking an escape through their device, Hawaiian Sunrise transports the senses. Well-balanced flavors and quality manufacturing ensure every puff feels like an island vacay. A tantalizing tropical trip.
Read more: Gold Bar 600 Review
---
#10 Insta Bar Air 600 Watermelon Smash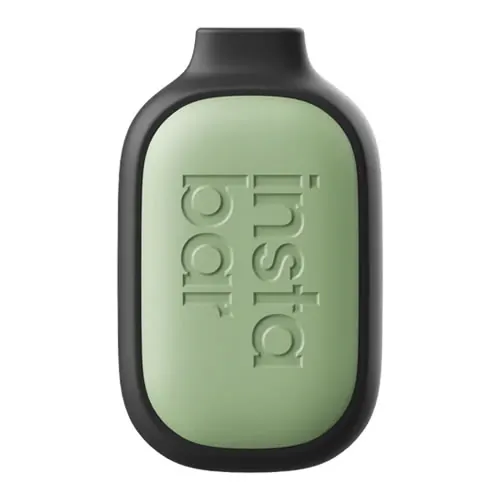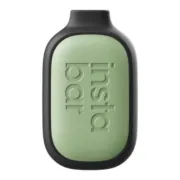 Rounding out the list is Insta Bar Air's deliciously simple Watermelon Smash. True to its name, ripe watermelon smashes the palate with sweetness before icy menthol provides a mouthwatering crisp finish. It captures the unfiltered flavor of juicy fruit at its peak.
Vapers praise Watermelon Smash for its authenticity. Every note rings true to biting into a slice of fresh watermelon on a hot day. For straight-up melon flavor and coolness, nothing beats this disposable. Insta Bar Air keeps things elegantly simple, spotlighting the fruit's deliciousness.
---
Final Thoughts on Watermelon Disposable Vapes
This comprehensive watermelon disposable vape rundown truly reveals the breadth of options available for every palate. Whether you crave authentic juicy flavor, icy fruit fusions, or candy-inspired twists, quality manufacturers have you covered.
Certain brands like Elf Bar and Lost Mary consistently churn out top-tier watermelon eliquids. But newcomers like Insta Bar Air shake things up with focused flavor. The expanded marketplace gives vapers plenty of choices to discover their perfect fruity vape.
With so many quality disposables delivering crisp, refreshing watermelon flavor and icy exhales, summer doesn't have to lose its appeal. We hope this ranking offers a helpful guide to finding your new go-to vape for staying chill all season long. Happy fruit flavored vaping!
https://ecigator.com/wp-content/uploads/2023/10/1698008254-Top-10-Watermelon-Disposable-Vape.png
1024
1024
Ecigator
https://ecigator.com/wp-content/uploads/2023/04/ecigator-logo-white.png
Ecigator
2023-10-26 20:30:41
2023-10-22 21:00:35
The Top 10 Watermelon Disposable Vape for 2023