Geek Bar DF6000 Review – Flavors and Overall Experience

Disposable vape pens provide a convenient vaping experience, requiring no maintenance while delivering satisfying flavor and vapor. The GeekBar DF6000 aims to offer an exceptional disposable option, combining long battery life, diverse flavor options, and robust performance.
As experienced vapers and flavor aficionados, we understand the nuances that contribute to an enjoyable vaping experience. Through in-depth analysis and hands-on testing, our team evaluated all aspects of the Geek Bar DF6000 to provide an authoritative review based on real-world use.
10 Geek Bar DF6000 Authentic Flavors
The Geek Bar DF6000 disposable vape offers an expansive flavor selection with options for all palates. Whether you crave fruity, dessert, menthol or soda flavors, the DF6000 has you covered.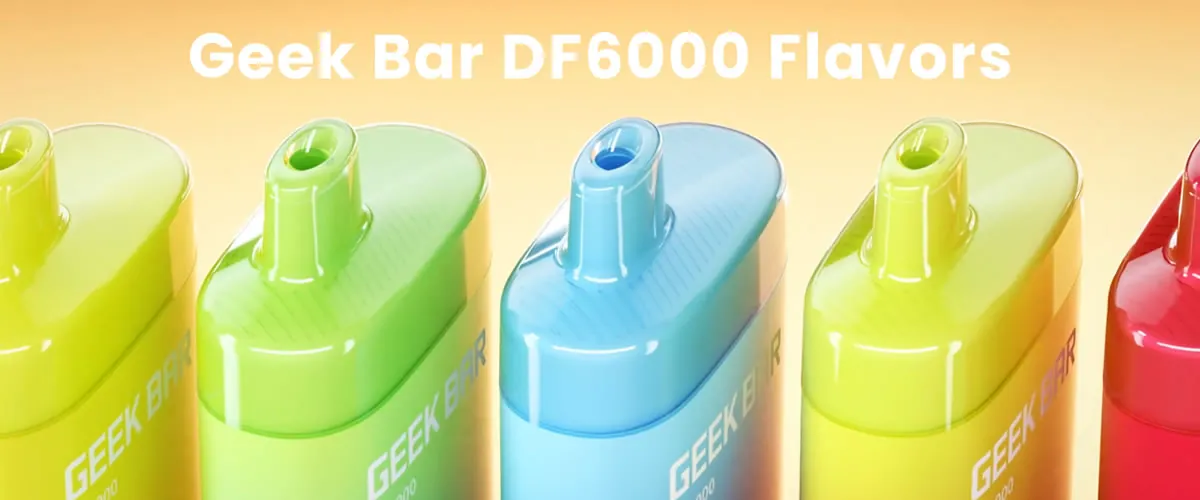 Grapes – Inhale the sweet succulence of ripe purple grapes fresh off the vine. Each puff brings notes of honeyed grapes with a light tart finish, delivering a juicy flavor akin to sipping Welch's grape juice. This sweet fruit flavor provides a nostalgic vaping experience.
Watermelon – Refresh your senses with the juicy essence of watermelon. This flavor captures the crisp sweetness of fresh watermelon, providing an authentic tangy and melon taste. Each puff feels like biting into a cool watermelon slice on a hot summer day. A revitalizing all-day vape flavor.
Strawberry – A timeless vape staple, this strawberry flavor mimics the experience of indulging in a jar of freshly picked ripe berries. The perfect balance of sweet and tart strawberry goodness makes every puff feel like a garden treat. A mildly sweet profile enjoyable for fruit flavor fans.
Mango – Feel the tropical bliss with this authentic sun-ripened mango flavor. The exotic creaminess of sweet mangoes envelops your taste buds with each puff. If you love mango smoothies and tropical drinks, this flavor transports you to island paradise. A touch of tartness rounds out the sweetness.
Banana Ice Cream – Indulge your inner child with this flavor reminiscent of sweet mouthwatering banana popsicles and milkshakes. Enjoy notes of ripe bananas, vanilla cream, and gentle rocky road bites for a dessert lover's dream. Feel the nostalgia wash over you.
Apple – Crunchy, tart green apples come to life in this bright and crisp flavor. It balances sweetness with a tangy tartness for an authentic apple experience. Each puff feels like enjoying a slice of fresh-picked Granny Smith apples. A satisfying all-day vape.
Kiwi – Welcome to zesty flavor town! This fragrant kiwi flavor delivers a unique sweet yet tart experience. The exhalecaptures the seedy and slightly tangy essence of ripe kiwis. It's a journey for your tastebuds if you enjoy exotic fruits and new flavor adventures.
Cola – Relive your childhood with this fizzy old-fashioned cola flavor. It perfectly captures the refreshing and familiar taste of bubbly cola straight from the soda fountain. A dash of lemon-lime provides added brightness to this thirst-quenching vape.
Blueberry – Pop some juicy blueberries in your mouth and savor the sweet flavor bursting on your tongue. This blueberry vape replicates that experience of enjoying fresh-picked ripe berries. It's mild and smooth yet packed with juicy blueberry essence.
Lychee – Take an exotic flavor getaway with this distinctive lychee profile. Feel the floral rose tones combine with a mineral zest and underlying sweetness reminiscent of the lychee fruit. For those who enjoy trying unique flavors, this one takes you away.
With its diverse flavor offerings, the Geek Bar DF6000 caters to every taste preference imaginable. Whether you seek fruity, sweet, icy, or soda flavors, the options ensure a satisfying vape anytime.
The carefully crafted flavors remain authentic and nuanced, using quality ingredients to capture real fruit, dessert, and drink flavors vapers know and love. Enjoy an around-the-world tour of delightful tastes with just one disposable device.
Excellent Value with Budget-Friendly Pricing
Considering its outstanding 6000 puff battery life and flavor variety, the GeekBar DF6000 is very competitively priced at around $20. Comparable disposable devices with similar performance often cost up to $10 more.
This budget-friendly pricing makes the DF6000 an appealing option for cost-conscious vapers that still want quality. You don't have to sacrifice performance to save money. The value provided by the DF6000 is unmatched.
GeekBar has also made the device widely available both online and in vape shops. During our testing, we had no trouble finding the DF6000 in stock at several retailers. The wide availability ensures vapers can conveniently get their hands on this impressive disposable vape.
Battery Built to Last with Over 6000 Satisfying Puffs
One common downside of disposable vapes is short battery life leading to frequent replacement. But GeekBar engineered the DF6000 to avoid that pitfall by integrating an impressive 650mAh battery.
This long-lasting battery keeps the vape firing consistently for approximately 6000 puffs before depletion. For comparison, many competing disposable vapes in this price range may only offer 1500-3000 puffs.
With moderate use, we found the battery easily lasted several days on a single charge. And when it does start to run low, the handy USB-C charging port allows quickly topping it back up.
The DF6000 battery life is displayed via LED lights too, so you can monitor usage at a glance. Once the battery or e-liquid is finally depleted, simply recycle the device and pop open a new one.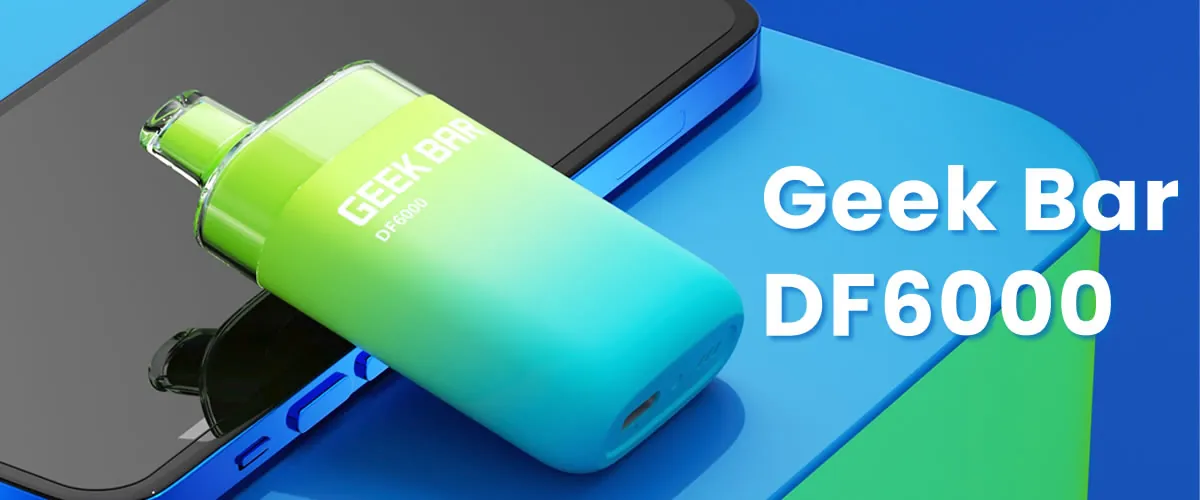 Optimized Mesh Coils Enhance Flavor Delivery
Disposable vapes often struggle with weak flavor as the e-liquid level decreases. This is typically caused by the lower-grade cotton wicks used. The DF6000 combats this issue by utilizing innovative mesh heating coils.
These optimized mesh coils deliver outstanding consistency in both flavor intensity and vapor production from first puff to last. During our testing, the flavorful vapor flow never let up, even as the liquid level dropped low.
We confirmed the mesh coils produced full robust flavor with every puff while eliminating the burnt taste that can occur with cotton wicks. The instant throat hit feels exceptionally smooth yet still satisfying too. This demonstrates the engineering behind the DF6000 for enhanced performance.
The Convenience of a True Disposable Vape
One of the biggest appeals of disposable vape devices is the convenience and ease of use they provide. There's no need to ever refill the e-liquid or change the coils. Just open the package and start enjoying flavorful vapor on demand.
Once the DF6000 battery or e-liquid eventually runs low after extensive use, simply dispose of it properly and replace it with a fresh one. The process takes seconds. We love the simplicity GeekBar achieved with a true disposable format.
During testing, we also found the DF6000 perfect for vaping on the go. Its pocket-friendly size, automatic draw activation, and mighty battery life make it an ideal travel companion. The portability and discretion also make it great for vaping in public settings.
Glowing Reviews Highlight Satisfied Vapers
When reviewing any vape device, we make it a point to analyze real-world customer reviews. This provides key insights into satisfaction and performance that specs alone can't deliver. For the GeekBar DF6000, user reviews are overwhelmingly positive.
The huge 6000 puff count and long battery life earn consistent praise across reviews. But it's the flavor quality that really seems to excite users. Reviewers describe the flavors as accurate, layered, and consistent. The smooth draw activation and throat hit get called out positively as well.
When considering the budget price along with the impressive performance, it's easy to understand the 5-star ratings. For a fuss-free disposable vape that delivers robust flavor and vapor, the DF6000 hits the mark according to vapers.
Answering Common Questions About the DF6000
How long does the 650mAh battery last? With moderate use, the integrated battery easily provides power for the full 6000 puffs thanks to its impressive capacity.
Can you recharge the DF6000? Yes, the USB-C charging port allows quickly topping up the battery when running low. Fully recharges in around 1 hour.
Do flavors stay consistent? The fine-tuned mesh coils optimize flavor delivery from first puff to last puff, even as liquid level drops.
Where to buy the GeekBar DF6000? This popular disposable vape is sold at vape shops nationwide and online retailers like Element Vape and VaporDNA.
Our Final Take
GeekBar clearly put thoughtful engineering into the DF6000 to optimize the disposable vaping experience. From the accurate flavors to the robust battery life and performance-enhancing mesh coils, every detail is dialed-in. The budget price tag makes it an even more enticing option.
If you're seeking a flavorful, fuss-free, and mighty disposable vape, the GeekBar DF6000 is easily one of the best options available. It provides a truly satisfying vaping experience in an ultra-convenient format. We highly recommend giving the DF6000 a try to experience high-quality disposable vaping at its finest.
https://ecigator.com/wp-content/uploads/2023/10/1697993397-Geek-Bar-DF6000-Review.jpg
680
1200
Ecigator
https://ecigator.com/wp-content/uploads/2023/04/ecigator-logo-white.png
Ecigator
2023-10-22 16:50:41
2023-10-22 16:50:41
Geek Bar DF6000 Review – Flavors and Overall Experience