Hyde Vape Overview: Discover the Best Flavors, Prices and More

In the world of vaping, convenience is key. Enter Hyde, the disposable vape pen taking the industry by storm. With sleek designs and simple usability, Hyde vapes are becoming a top choice for new vapers seeking an effortless way to enjoy top e-juice flavors.
But what exactly are Hyde vaporizers, and what do you need to know before trying one? This comprehensive guide will uncover everything about Hyde vapes to help you discover if they are right for you.
Brand Background
While vaping has existed for years, the disposable vape pen phenomenon is relatively new. Seeking to capitalize on this rapidly growing trend, entrepreneur Matt Lord founded Hyde Vape in 2021 in the United Kingdom.
Lord's mission was clear: create beautifully-designed, easy-to-use disposable vapes focused on flavor, convenience, and affordability. The result? Hyde has quickly become a fan favorite, with their uniquely shaped pens and wide range of flavors satisfying vapers worldwide.
What is Hyde Disposable Vape?
Hyde disposables are draw-activated, pre-filled vape pens containing nicotine salt e-liquids. They require no charging or refilling, providing a grab-and-go vaping experience.
Several models are available:
Sleek, rectangular pod-style pens designed for portability and discretion. Fits easily in your pocket or palm.
Short, stout, creatively-shaped vapes made to fit your hand. Fun tactile designs.
Options with tapered mouthpieces or wider openings for preferences in inhaling.
Most Hyde pens feature LED tip lights indicating battery level.
While styles differ, all Hyde vapes operate the same way. Simply remove from packaging, put to your lips, and inhale. The draw-activation automatically heats the coil to produce vapor. When finished, just toss or recycle.
For vapers craving convenience, Hyde hits the mark.
Most Popular Hyde Vape Models
With so many options, which Hyde pens rise to the top? Based on popularity and reviews, here are five to consider: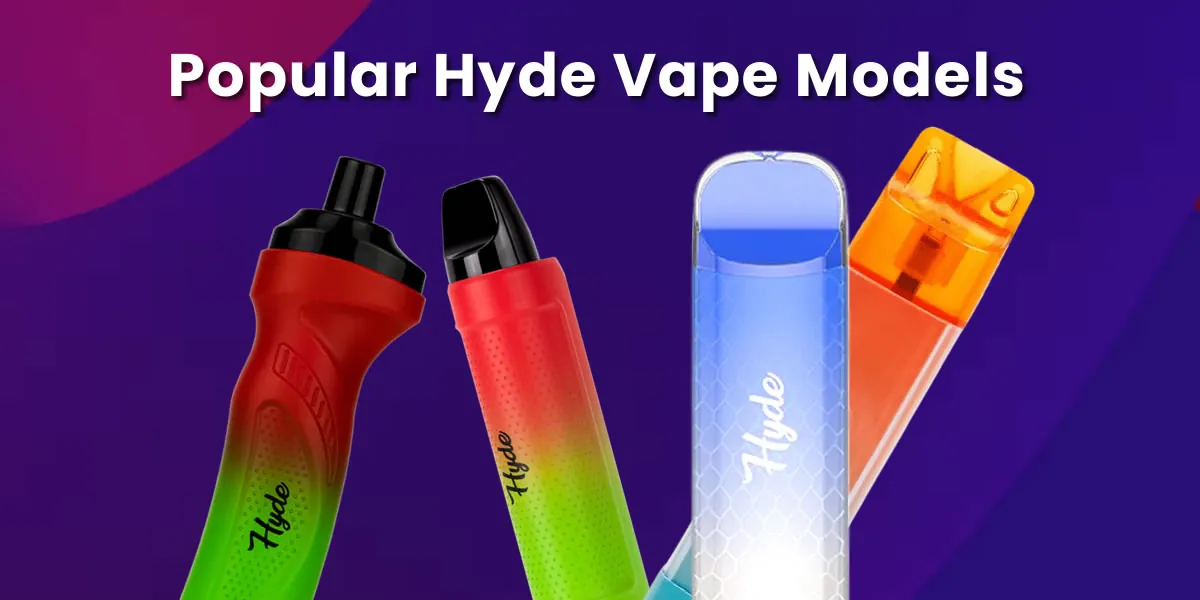 Hyde Mini Disposable
Sleek and petite pod shape
Fits completely in your palm
Pre-charged 800mAh battery
2,500 puffs per vape
5% nicotine salts
Easy draw-activated use
Duckbill mouthpiece
Eye-catching gradient colors
For affordability and portability, Hyde Mini is hard to beat.
Hyde Mag Recharge
Unique shape fits hand contours
Textured grippy finish
Rechargeable 500mAh battery
LED light indicates charge level
Up to 4,500 puffs per vape
Magnetic USB charging cable
Automatic draw activation
Available in 10 colors
Fun handle-like form with long life and easy charging.
Hyde Edge Rave
Signature box shape
Colorful plastic case wraps around inner vape components
Rechargeable 650mAh battery
4,000 puffs per disposable
Tapered mouthpiece
Features a viewing window into e-liquid level
Dozens of color combinations
Cool aesthetics with generous battery capacity.
Hyde Rebel Disposable
Chunky, stout silhouette
Soft-touch rubberized finish
Draw-activated use
750mAh battery for 4,500 puffs
5% nicotine strength
Tapered mouthpiece
Window shows e-liquid level
A straight-forward performer with excellent battery endurance.
Hyde Rebel Pro Recharge
Curvy contoured design
Textured matte finish
800mAh rechargeable battery
Micro-USB charging port
Huge 5,000 puff capacity
Easy automatic draw system
Tapered mouthpiece
Top-shelf battery life in a comfortable, hand-fitting build.
Best 5 Hyde Vape Flavors
With tons of variety, Hyde has a e-liquid flavor for every palate. Customer favorites include: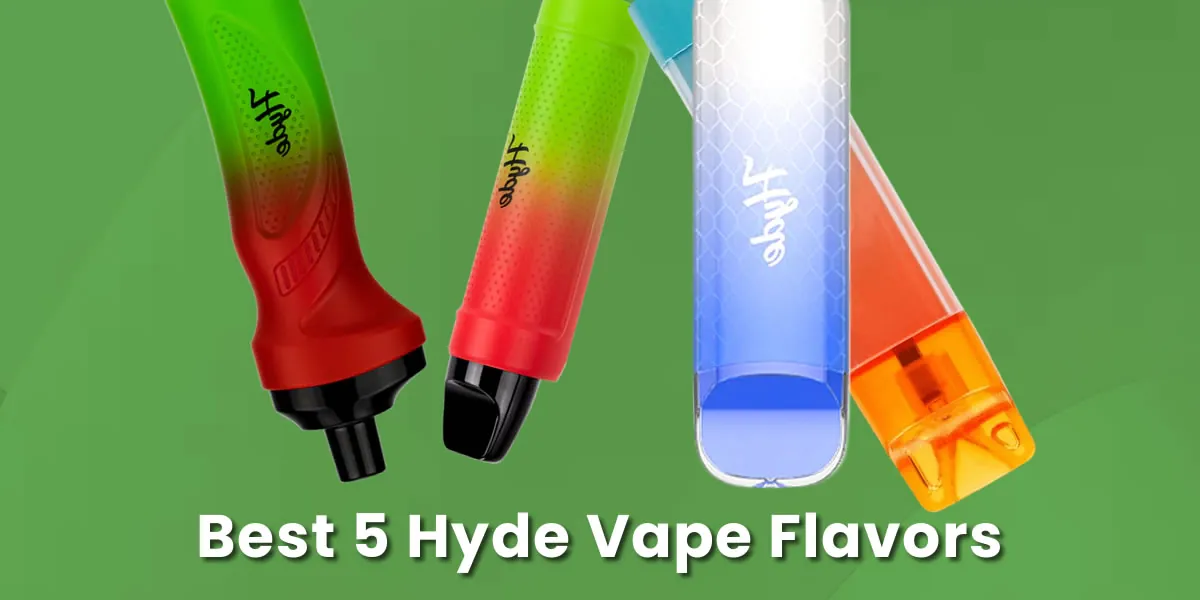 Aloe Grape
As a seasoned flavor reviewer, I can say Hyde's Aloe Grape expertly blends the sweetness of ripe grapes with the smooth, hydrating tones of aloe vera. Each puff surrounds your senses with mellow grape that's elevated by the cooling sensations of aloe on the finish. Overall, this unexpected fusion results in a satisfying and well-balanced vape juice unlike any other grape flavor I've tried. It's quickly become an ADV for me.
Blue Razz Ice
It's easy to see why Blue Razz Ice is a fan favorite after experiencing this exhilarating flavor myself. Sweet and tangy blue raspberry candy flavor mingles with icy menthol on the exhale for a sugar rush with a blast of chill. As a veteran vape reviewer, I can say Hyde perfectly nails blue raspberry candy flavor – instantly recognizable and deliciously nostalgic. The cooling menthol is the perfect accent, leaving you feeling refreshed.
Peach Mango Watermelon
This tropical trio flavor is a mouthwatering journey that transports me to an island getaway with each puff. Sweet juicy peach and creamy mango complement the watermelon's melon-y tartness flawlessly. The Hyde flavor wizards found the ideal balance to let each fruit shine in this vibrant medley. As a flavor connoisseur, this juice impressed me with how authentic and multi-layered the profile is.
Cherry Lemonade
When tasting Hyde's Cherry Lemonade, I'm instantly quenched and transported back to my childhood sipping a cold glass of tangy lemonade with just a hint of cherry's rich sweetness. Each inhale surrounds your tastebuds with zesty, sour lemonade while the cherry juice provides a satisfying sugary accent on the exhale. As a lemonade lover, I can safely say this light, fruity flavor is spot-on and ideal for hot summer days.
Neon Rain
Hyde's Neon Rain flavor transported me right back to being a kid clutching a bag of cotton candy at the county fair. It flawlessly encapsulates the light sweetness of spun sugar dissolved on your tongue. The profile is soft and delicate, allowing the authentic cotton candy essence to shine. As a veteran reviewer, I can confirm Hyde absolutely nailed replicating this classic flavor in vapor form – it's candy floss deliciousness!
From fruits to desserts and everything between, Hyde has an e-liquid for you.
How Long Does a Hyde Vape Last?
One major advantage of Hyde pens is their exceptional battery life and puff counts. Models range from:
Hyde Mini: 800mAh battery lasts around 2,500 puffs
Hyde Edge Recharge: 500mAh for 3,300 puffs
Hyde Retro Rave: 650mAh for 4,000 puffs
Hyde Rebel Recharge: 750mAh for 4,500 puffs
Hyde Mag Recharge: 650mAh for 4,500 puffs
Hyde Rebel Pro Recharge: 800mAh for 5,000 puffs
The more you vape, the faster it will deplete. But moderate use can stretch a Hyde for weeks to over a month. Rechargeable options go even longer.
For comparison, most pod vape kits need charging at least every 1-2 days. Hyde's long life is a major perk.
How Much Do Hyde Vapes Cost?
With options spanning basic to more advanced, Hyde prices vary but remain reasonable:
Hyde Mini: $16.99
Hyde Edge Recharge: $18.99
Hyde Edge Rave Recharge: $20
Hyde Rebel Recharge: $25
Hyde N-Bar Recharge: $25
Hyde Mag Recharge: $25
Hyde Rebel Pro Recharge: $26.99
Hyde ID Recharge: $25
Compared to bottled e-juice and disposable competitors, Hyde delivers strong value at every tier. Rechargeable models offer the best bang for your buck with dramatically extended lifespan.
Tips for Making Your Hyde Vape Last Longer
Want to maximize each disposable? Follow these pro tips:
Take smaller, spaced out puffs instead of frequent big rips
Vape lightly throughout the day rather than heavily in one session
Store unused disposables properly sealed in cool, dry conditions
For rechargeable models, top up the battery before it's empty
Clean the mouthpiece regularly with a dry paper towel or cloth
Avoid exposing disposables to extreme hot or cold temperatures
With careful use and maintenance, you can get the most life from every Hyde.
Where to Buy Hyde Vape Pens
As a UK brand, Hyde is widely available at vape shops across Britain. You can also order Hyde pens directly online through the company's website for UK and international shipping.
Major third-party retailers like Electric Tobacconist, VapeSourcing, and PricePointNY also carry Hyde disposables with fast shipping.
In the US, disposable vape restrictions vary by state, so verify local laws before ordering online.
Are Hyde Vapes Right for You?
For vapers seeking sheer convenience, Hyde delivers. Their quality ingredients, massive flavor selection, and exceptionally long battery life provide an enjoyable user experience.
Before jumping in, consider your preferences:
✅ If you want easy, portable, affordable vaping with no fuss, Hyde disposables are a great choice.
❌ If you prefer maximum customization and control, a pod mod or box mod kit may be better.
✅ If you like variety, Hyde's huge flavor selection will keep you coming back.
At the end of the day, Hyde makes disposable vaping more delightful. With their creative designs and flexibility, you're sure to find a model that fits your style. To unlock weeks of tasty vapor in your pocket, give Hyde a shot.
https://ecigator.com/wp-content/uploads/2023/10/1696706131-Hyde-Vape-overview.jpg
650
1200
Ecigator
https://ecigator.com/wp-content/uploads/2023/04/ecigator-logo-white.png
Ecigator
2023-10-07 19:22:23
2023-10-09 18:34:29
Hyde Vape Overview: Discover the Best Flavors, Prices and More