Icewave X8500 Disposable Vape Review
The IceWave X8500 is a premium disposable vape that sets itself apart with icy cool mint and fruity flavors and a long-lasting rechargeable battery. With over 8500 puffs per device and a Smart LED display that monitors e-liquid levels and battery life, this sleek disposable aims to keep vapers refreshed with its frosty exhales and maximized convenience.
Manufactured by the well-known vape company Mi-Pod and bearing Zovoo's branding, the Ice Wave X8500 is similar to Zovoo's Dragbar B3500 but with icy-enhanced flavors and double the battery life and e-liquid capacity. The focus is on delivering bold, crystalline flavors in a smooth, satisfying vape experience.
IceWave X8500 Key Specs
Nicotine Strength: 50mg
Draw Activation
Estimated Puffs: 8500+
Battery: 600mAh rechargeable via USB-C
Coil: 1.0ohm mesh
E-liquid Capacity: 18ml
Dimensions: 4″ x 1.67″ x 0.75″
Smart LED Display: E-liquid level and battery life
Icy Coolness Meets Maximum Convenience
With its frosty flavors and extended battery life, the IceWave X8500 is built for vapers who want an icy chill in their inhale and exhale. The proprietary nicotine salts formulations blend popular fruit and mint flavors with an extra blast of chilling menthol for a thoroughly refreshing experience.
Vapers who use disposables for convenience will appreciate the 8500+ puff capacity. That's nearly three times the lifespan of the average disposable vape. Combined with the LED screen that monitors e-liquid and battery levels and the USB-C charging port, the X8500 minimizes any disruption from depleted battery or e-liquid.
IceWave X8500 Design & Build Quality
Enclosed within the colorful rectangular chassis lies the rechargeable 600mAh battery, USB-C charging port, 1.0 ohm mesh coil, and 18ml of nic salts e-liquid.
Despite its large e-liquid capacity, the IceWave X8500 remains compact at just 4 inches tall, 1 2/3 inches wide, and 0.75 inches thick. It's small enough for on-the-go use yet large enough to deliver 8500+ satisfying puffs.
The exterior has a sleek, artistic design with colorful accents surrounding the prominent LED display. The screen uses visual fill bars and symbols to clearly indicate remaining e-liquid and battery levels at a glance.
There are no buttons on the device. Simply inhale to activate the automatic draw system for an easy, fuss-free experience.
Overall, the IceWave X8500 is thoughtfully designed both internally and externally. The premium construction and convenient features make this a great disposable for new and experienced vapers alike.
Top IceWave X8500 Flavor Reviewed
The IceWave X8500 disposable vape from Zovoo delivers bold fruit and minty menthol flavors chilled by an extra blast of icy coolness. These proprietary nicotine salt e-liquid formulations were crafted by flavor experts specifically for the American palate. Let's dive into the refreshing flavor lineup of the IceWave X8500.
Each flavor combines popular fruit, mint, or tobacco profiles with a menthol enhancement to create an exhilarating chilled effect. The icy blast never fully overpowers the base flavors though. The result is a smooth and satisfying vape experience with added frostiness.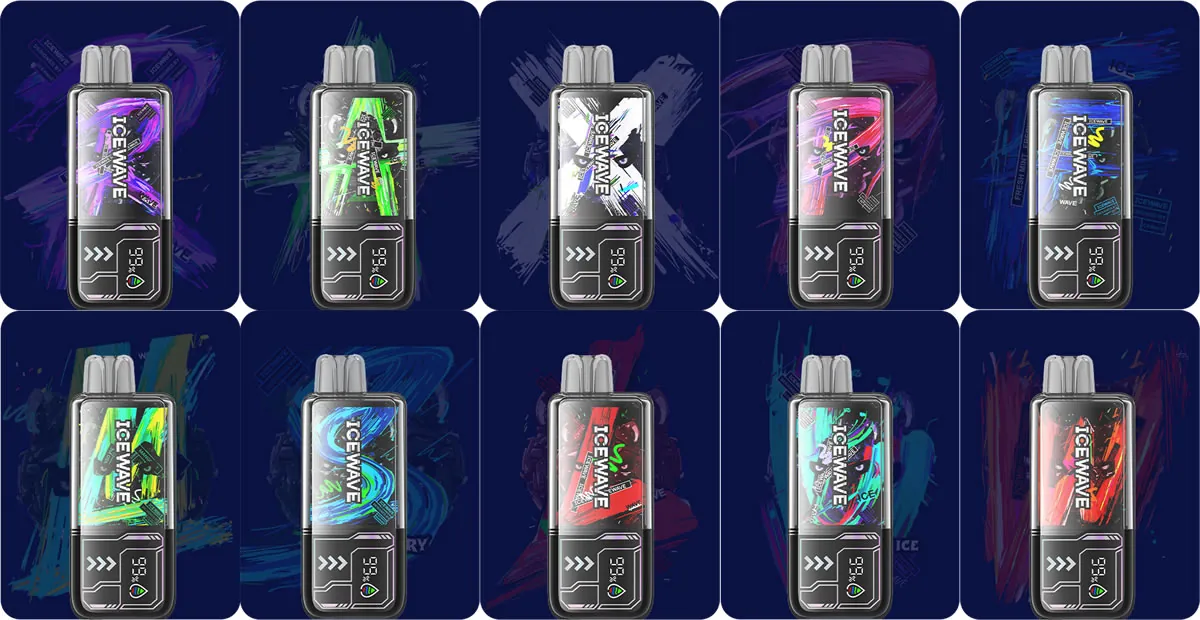 Sweet Fruity Flavors with a Chill
For sweet fruit lovers, flavors like Blue Razz Ice, Peach Ice, and Strawberry Kiwi offer plenty of sugary fruit candy goodness balanced by brisk icy menthol.
Blue Razz Ice
Candy blue raspberry is a vape classic. This flavor captures the sweet signature blue razz profile and layers on icy menthol to cut through the sugary notes for a more refreshing experience. Each puff provides a chill while still highlighting delicious blue raspberry.
Peach Ice
Ripe juicy peach is blended with icy menthol to create a sweet yet satisfying vape. The natural peach flavor remains prominent yet balanced. You get luscious peach on the inhale and icy exhale.
Strawberry Kiwi
The tropical fruit fusion of strawberry and kiwi gains an extra kick from the addition of frosty menthol. Tart kiwi and sweet strawberry intermingle for a candy-like fruit vape made even more exciting by the chilly menthol undertones.
Icy Berries & Melons
For those who enjoy chilled berry and melon flavors, options like Blackberry Ice, Honeydew Watermelon Ice, and Strawberry Banana Ice deliver plenty of fruit flavor dipped in ice.
Blackberry Ice
The sweet and tart flavor of juicy blackberries meets icy menthol for a flavor that's both cooling and complex. Each puff highlights the natural berry profile with a brisk chill.
Honeydew Watermelon Ice
Honeydew and watermelon make a refreshing fruit combo. The melon flavors gain extra frostiness from the addition of menthol for a sweet chilling experience. Lightly sweet with nice effervescent chill.
Strawberry Banana Ice
This classic pairing gets reinvented with icy menthol. The menthol adds crispness, helping further balance the creamy banana and juicy strawberry profile. A fruity vape with a frosty twist.
Minty Menthol Freshness
For vapers seeking straight icy refreshment, the Fresh Mint Ice and Clear Ice flavors deliver exhilarating chill and frosty clean finishes without any fruitiness.
Fresh Mint Ice
Crisp peppermint is infused with bold menthol to create an intense icy experience. Like inhaling a frozen mint leaf. The brisk chill amplifies the cooling properties of mint.
Clear Ice
Simple yet satisfying, Clear Ice offers pure icy menthol free of any flavors. Just fresh clean chill with each pull. The ultimate palate cleanser for in between flavors.
Unique & Tobacco Profiles
Beyond fruits and mints, the IceWave X8500 also offers unique flavors like Ribena Ice along with Vanilla Casta Tobacco for a smoother chilled tobacco experience.
Ribena Ice
Inspired by the UK blackcurrant beverage, this flavor captures the sweet yet tart blackcurrant profile and combines it with icy menthol for an intriguing cross-cultural flavor fusion.
Vanilla Casta Tobacco
The Casta Tobacco flavor mimics natural tobacco while creamy vanilla helps smooth and round out the profile. Nicotine salt captures the authentic tobacco experience with less harshness. The menthol adds chill and further balances the flavor.
Zovoo nailed it with the IceWave X8500 flavor lineup. The icy menthol enhancement adds a satisfying chill factor without completely overwhelming the base fruit, mint, and tobacco profiles.
Vapers who enjoy frosty flavors will find plenty to love in this diverse range of icy e-liquids handcrafted for the American palate. Paired with the long-lasting battery and massive e-liquid capacity, the IceWave X8500 delivers convenience and cool refreshing flavor in one sleek rechargeable disposable device.
How Does the IceWave X8500 Compare to Other Disposables?
The IceWave X8500 stands out from other disposables in several key ways:
Huge e-liquid capacity – 18ml allows 8500+ puffs
Rechargeable battery – 600mAh for extra long battery life
Icy cool flavors – Menthol blast adds frost and refreshment
Smart LED screens – Display e-liquid and battery levels
Competitors like the Yoto Minis and Elf Bar 600s only offer around 600 puffs from a non-rechargeable 280mAh battery. And most lack the convenient LED screen.
The Zovoo Dragbar B3500 is the most direct IceWave competitor with the same flavors and display features. But the X8500 doubles the battery, e-liquid capacity, and puff count for over $10 more. So the X8500 is better suited for heavy disposable users.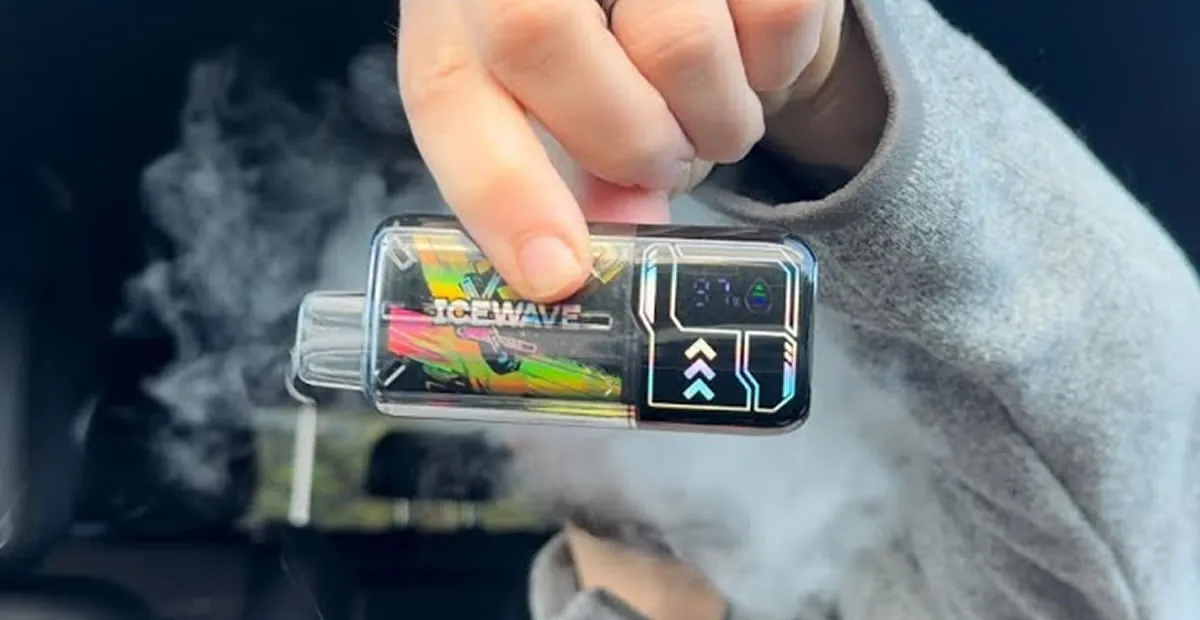 Overall, the IceWave X8500 combines exceptional convenience and battery life with bold icy flavors, making it one of the top premium disposables available today.
IceWave X8500 Review Roundup
The IceWave X8500 aims to deliver maximum convenience and icy refreshment. Based on reviews, it nails both:
"That icy chill really satisfied on a hot day and the flavors lasted impressively long thanks to the huge e-liquid capacity. The battery charge also far outlasted other disposables I've tried."
"The LED screen is so handy. No more guessing if the battery or juice is low. I also really loved the icy fruit flavors, especially Blue Razz Ice and Strawberry Banana Ice."
"For a little over $20 you get great build quality, convenient features like USB-C charging, and over 8500 puffs. Easily my new favorite disposable vape."
The only common complaints relate to the higher price tag compared to short-lived non-rechargeable disposables that offer fewer puffs. But most reviewers say the IceWave X8500 is well worth the extra investment.
Should You Try the IceWave X8500 Disposable Vape?
If you're seeking a premium disposable vape that delivers exceptionally long battery life, maximized e-liquid capacity, and bold icy flavors, the IceWave X8500 is a stellar choice.
With over 8500 satisfying puffs from a single device, vapers who use disposables as their primary nicotine source will appreciate the convenience and value delivered by the X8500.
The handy Smart LED screens provide at-a-glance monitoring of e-liquid and battery levels. So you'll never be left wondering when it's time to recharge or switch devices.
Zovoo nailed the flavors too. The icy menthol enhancement adds crisp refreshment across the board without overpowering the fruity and minty notes.
In short, if you want a disposable vape that keeps the good times flowing thanks to maximized puffs, battery life, and frosty flavors, grab the Zovoo IceWave X8500. This icy wonder aims to refresh and satisfy with the best that disposable vaping has to offer.
https://ecigator.com/wp-content/uploads/2023/11/1699250513-Icewave-X8500-Review.jpg
675
1200
Ecigator
https://ecigator.com/wp-content/uploads/2023/04/ecigator-logo-white.png
Ecigator
2023-11-06 06:21:45
2023-11-06 06:21:45
Icewave X8500 Disposable Vape Review