IJoy Bar SD10000 Disposable Vape Review

In the rapidly evolving world of vaping, truly innovative products emerge only occasionally. The iJoy Bar SD10000 stands out as one of those rare game-changers, blending gorgeous aesthetics and customization with advanced functionality.
After extensive testing, our team believes the SD10000 sets a new benchmark for the disposable vape category. Its ample e-liquid supply, battery stamina, precise airflow control, and practical smart screen integrate seamlessly with the elegant chassis design. This disposable pod offers an unrivaled vaping experience.
In this in-depth review, we'll analyze the sleek styling, generous juice reservoir, adjustable airflow modes, battery life, high-tech features, coil performance, and range of flavors that make the iJoy Bar SD10000 worthy of its "gold standard" reputation.
IJoy Bar SD10000 SPECIFICATIONS:
• Battery Capacity:650mAh
• Output Mode:Adjustable Power
• Charging Type:Type-C Charging
• Material:PC,PCTG
• Resistance:0.8Ω Mesh Coil
• Prefilled E-liquid Capacity:20ml(10000puffs)
• Nicotine:5%
An Elegant Chassis Design That Stands Apart
Disposable vapes often embrace colorful but toy-like designs geared toward mass appeal. The iJoy Bar SD10000 takes a more refined path. Its curvaceous shell sports painterly gradient patterns on the inner layer for subtle visual flair. The glossy metallic coat adds a touch of class.
In a market saturated with flashy disposables, the SD10000's sophisticated look provides an upscale alternative. The transparent mouthpiece enables you to monitor vapor production, adding both aesthetic and functional value.
Ergonomically, the slim rounded shaping feels natural and pockets with ease. Circular airflow holes give a precise degree of airflow adjustment via the integrated slider switch. And the USB-C charging port allows rapid recharging for those needing a quick top-up while on the go.
Overall, the SD10000 simply feels like a premium product in hand. For vapers wanting a disposable pod that looks and feels like a luxury vaping item rather than a toy, iJoy's elegant design aesthetics fit the bill. They've made a disposable vape that you'll be proud to carry and use in public.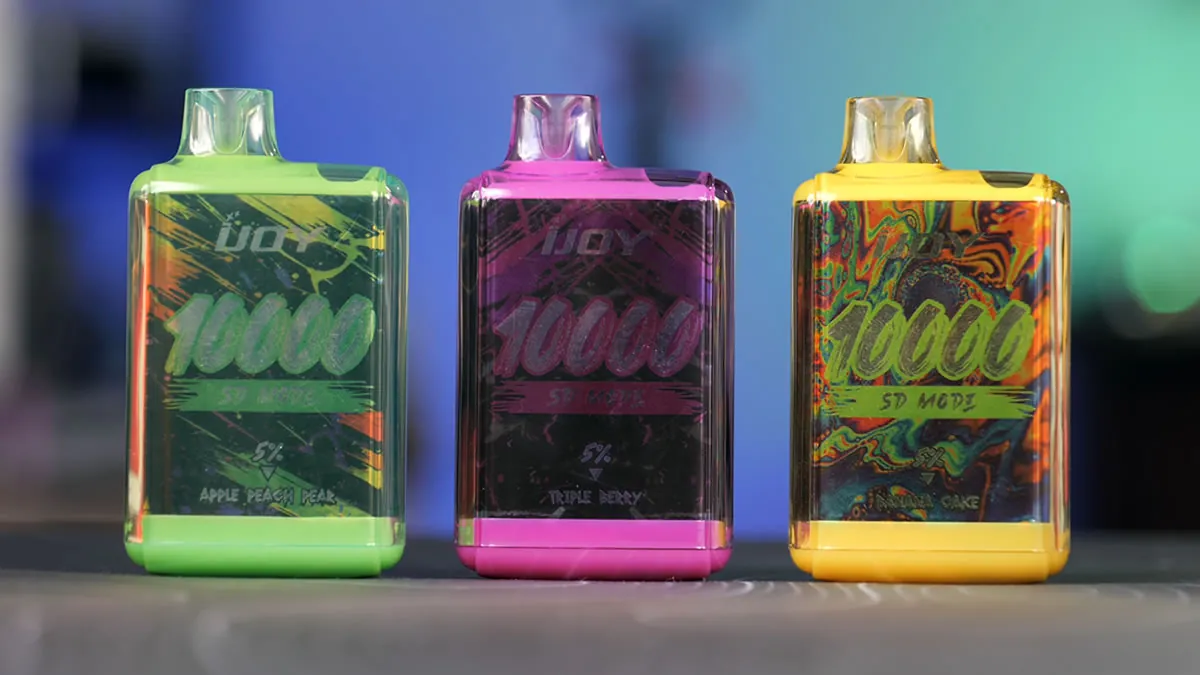 A Cavernous 20ml E-Liquid Supply for Days of Use
One of the standout advantages of the iJoy Bar SD10000 is its expansive 20ml e-juice capacity. To put this into perspective, most disposable vape pods contain 2-3ml of juice. The SD10000 holds around 6-10 times that amount.
This tremendous e-liquid supply enables you to enjoy prolonged vaping sessions of a half hour or more without needing frequent refilling. With 20ml of juice, you could potentially go days between topping up the reservoir if you aren't chain vaping intensely.
The generous 650mAh battery also keeps pace with the massive juice capacity. It reliably delivers power for all-day vaping rather than just a couple short sessions. And the higher 5% (50mg) nicotine concentration ensures you get the satisfying throat hit that high-wattage vaping provides.
For vapers who prioritize convenience and duration between charging and refilling, the iJoy Bar SD10000 is a new tier of performance previously unseen in the disposable pod realm.
Customizable Airflow via Innovative SD Modes
Disposable vapes generally do not offer any airflow adjustment. But the SD10000 yet again pushes boundaries by introducing adjustable SD airflow modes. This lets you tailor the tightness of your draw to achieve your preferred vapor temperature and density.
The S mode provides a tighter, more restricted pull that results in warmer, dense hits. This setting most closely resembles the draw style of traditional cigarettes. The D mode opens up the airflow for a cooler and airier vaping experience.
Being able to toggle between two distinct airflow settings makes the iJoy Bar remarkably versatile for a disposable device. You can fine-tune your vaping experience according to personal preference rather than being stuck with a single stock airflow.
For both MTL and direct lung vapers, the ability to customize airflow tightness is an invaluable advantage the SD10000 holds over competing disposable pods. This degree of personalization is almost unheard of in non-refillable vape systems.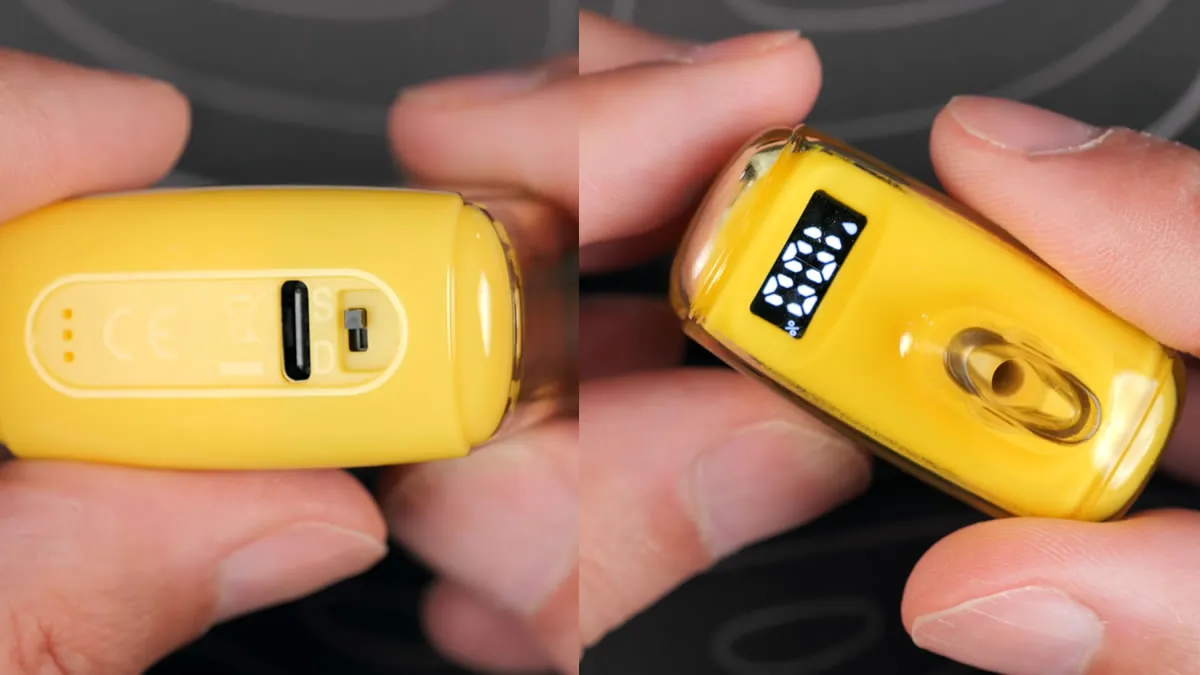 Smart Screen Provides Real-Time Feedback
Disposable vapes generally lack any sort of screen or interface to provide vaping metrics and data. But the iJoy Bar SD10000 again defies conventions by integrating a high-tech OLED display.
This user-friendly smart screen offers at-a-glance monitoring of remaining battery life and e-liquid level. After taking a puff, the screen dynamically displays how much juice and battery power is left.
Rather than guessing when your disposable pod will die, this handy feature ensures you always know your vape's status. It prevents unwanted surprises like sudden battery death or taking dry puffs from low juice.
The integration of an interactive screen demonstrates iJoy's commitment to going above and beyond the norm. This addition makes general usage thoughtfully smooth and controlled. For vapers who value gadgets and data, the SD10000 really satisfies.
Optimized 0.8Ω Mesh Coil for Disposable Performance
While the exterior tech proves impressive, the beating heart within matters most. The SD10000 comes equipped with a 0.8Ω mesh coil optimized to deliver robust flavor from disposable pod systems.
Compared to standard coils, mesh heating elements tend to provide improved lifespan and consistency. And the low 0.8Ω resistance produces ample warmth and vapor density for a satisfying experience.
Each puff from the SD10000 offers deeply flavorful vapor production. And the coil maintains this performance from first to last draw thanks to its quality engineering. The coil itself may seem simple, but represents a vital component that iJoy nailed.
Smooth, Flavorful Vaping at Your Fingertips
Considering the sum of its parts, using the iJoy Bar SD10000 proves an intuitive and enjoyable experience from beginning to end. The smart screen and airflow slider provide information and customization at your fingertips.
The mesh coil performs admirably to produce smooth, flavorful vapor. And being able to toggle between two airflow settings to your liking adds unprecedented personalization.
The draw feels more loose than true MTL, so smokers seeking a cigarette-like mouthfeel may want tighter airflow. But for prioritizing flavor richness over throat hit, the SD10000 delivers satisfaction.
With its combination of innovation and simplicity, customizable options and sleek aesthetics, iJoy has crafted a disposable pod that both new and experienced vapers will appreciate.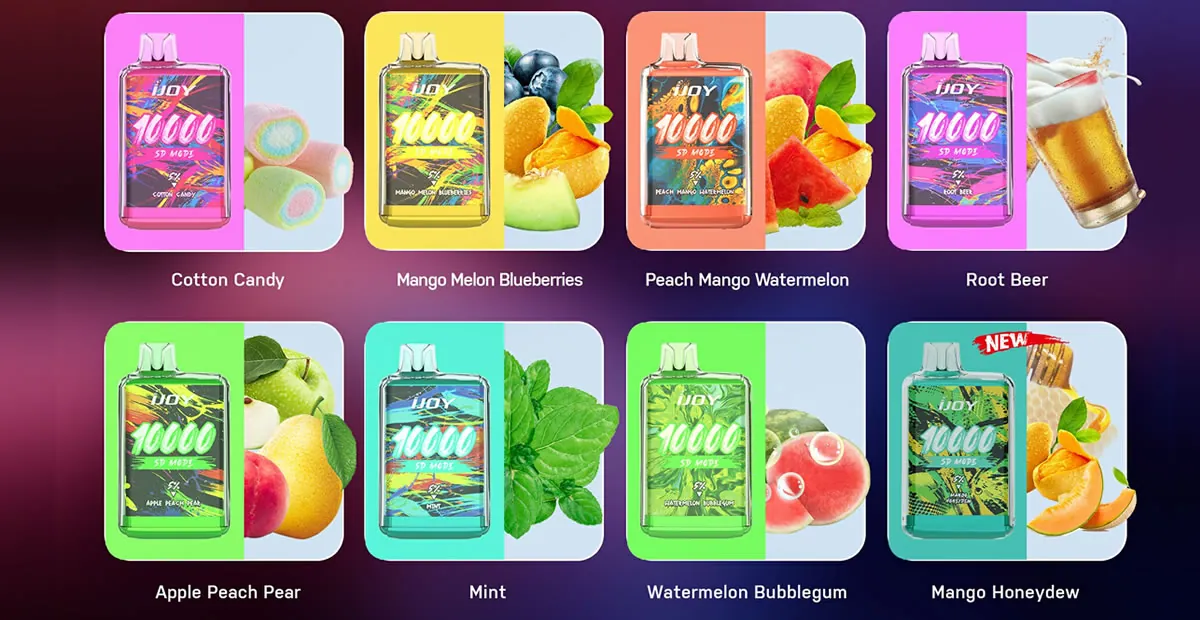 Standout Flavor Options to Suit Every Palate
One of the iJoy Bar SD10000's biggest assets is its extensive flavor selection. With 20 unique options spanning fruit, dessert, candy, beverage, and menthol profiles, this disposable vape offers exceptional variety.
Ranging from Banana Cake to Watermelon Bubblegum and beyond, the SD10000 flavors provide something for every palate. And the device consistently delivers robust flavor production and smooth draws across all options thanks to its well-optimized design.
Banana Cake
Strawberry Mango
Triple Berry
Blueberry Watermelon
Peach Lemon
Blue Razz Ice
Mint
Cherry Lemon
Cotton Candy
Mango Melon Blueberries
Watermelon Bubblegum
Root Beer
Apple Peach Pear
Pomelo Pearl Grape
Peach Mango Watermelon
Let's explore a few highlights from this diverse disposable vape flavor lineup.
Notable Flavor Profiles
Banana Cake
This flavor envelops your senses with the sweet aroma of freshly baked banana cake straight from the oven. Each puff brings the rich, indulgent taste of buttery cake layers infused with ripe bananas. Lingering notes of toasted nuts and vanilla cream enhance the dessert-like profile. The authentic banana essence provides a mellow aftertaste reminiscent of homemade banana bread. A heavenly flavor for banana lovers.
Triple Berry
A vibrant fusion of sweet strawberry, tart raspberry, and ripe blueberry that beautifully captures a berry medley. The juicy strawberry flavors offer jammy ripeness while the raspberry provides tangy punch. Rounded out by subtle blueberry accents, it strikes the ideal balance of each berry flavor. The sweetness remains restrained enough for an easy all day vape. A bright revitalizing profile.
Mint
Cooling mint blended flawlessly with a kiss of sweetness to smooth out any potential harshness. This crisp, relaxing flavor mimics the enjoyment of your favorite sweet mint gum. The mint strikes a perfect balance between pronounced energy and subtle sweetness. Each puff feels refreshing and awakening. An instant pick-me-up flavor ideal for mint fans.
Watermelon Bubblegum
An unexpected but delightful collision of flavors. Sweet watermelon candy flavor provides juicy melon essence on the inhale before classic bubblegum notes emerge on the exhale. The gum flavor expertly captures that nostalgic elastic chew. Altogether it forms an improbable yet tasty amalgamation. The watermelon sweetness perfectly complements the sugary gum.
Root Beer
Fizzy, old-fashioned root beer flavor instantly transports you back to your favorite soda fountain. It perfectly captures that robust, woodsy sweetness redolent of sassafras, vanilla, and anise. Each sip offers creamy frothy effervescence and spice. The authenticity remains spot-on. An oddly hard to find flavor, this root beer profile stands as a rare highlight.
For a compact disposable device, the SD10000 squeezes exceptional nuance into every flavor. The pod consistently brings out the best in each unique e-liquid through expert tuning.
Vapers bored with the same old mango and mint staples will appreciate just how diverse and well-crafted the SD10000 flavors prove. iJoy designed a world-class flavor experience.

Final Verdict on the iJoy Bar SD10000
After extensive evaluation, our team believes the iJoy Bar SD10000 represents a new pinnacle in disposable vape innovation. Every facet, from the sleek premium design to the suite of customization options and advanced functionality, demonstrates remarkable attention to quality.
For many vapers, disposable pods served as an affordable supplement to their main setups. But the SD10000 provides such an excellent user experience that it could readily replace rather than just supplement your daily device.
If you value customization, smart features, battery life, and flavor quality as much as affordability and convenience, the iJoy Bar SD10000 belongs at the top of your disposable pod list. It simply has no equal in terms of user experience in an elegant, pocketable package.
https://ecigator.com/wp-content/uploads/2023/11/1700489306-IJoy-Bar-SD10000-Disposable-Vape-Review.jpg
675
1200
Ecigator
https://ecigator.com/wp-content/uploads/2023/04/ecigator-logo-white.png
Ecigator
2023-11-20 15:02:31
2023-11-20 15:02:31
IJoy Bar SD10000 Disposable Vape Review